The chances are high that you have tried to access a site at some point, and it was blocked due to your location. Geo-restrictions are quite common nowadays, especially when it comes to streaming platforms, including Netflix, Amazon Prime, and Hulu. Luckily, there are a couple of solutions that can help you bypass these blockades and enjoy content regardless of your location. Our personal favorite is the Virtual Private Network. We have prepared this review, discussing the drawbacks of ExpressVPN, as well as the best alternatives to consider.
Let's get right to it!
What is ExpressVPN?
Today, there are hundreds of different providers offering this kind of service and claiming robust security features and 100% anonymity. Unfortunately, not many live up to the expectations.
Among the most popular providers is ExpressVPN, which is considered to be the leading provider due to its speed and security. However, it has a couple of flaws, as well. Hence you could be looking at the best alternative to ExpressVPN.
Before we can get into the disadvantages of subscribing to this service, we want to go through a brief presentation of what it offers. As mentioned above, it is a Virtual Private Network service that is highlighted by great server speeds and a strict no-log policy.
It certainly is one of the best providers when it comes to privacy and security because they are based in the British Virgin Islands. This country doesn't have any data retention laws, and it is not a part of the 5 / 9 / 14-Eyes alliance, either.
Additionally, it is compatible with Tor, as well as any device that you were planning to connect with. Not to mention, it uses the industry-standard OpenVPN protocol, as well as military-grade 256-bit AES encryption.
We are talking about a global provider that offers more than 3,000 different locations in just below 100 countries. However, the fact that the price is quite high and that it sometimes is not the best for streaming content is what drives us away from this option.
Downsides of ExpressVPN
There is not a single Virtual Private Network that works absolutely perfectly. However, it is the gravity of those flaws that will determine whether you should be willing to use it or not.
Let's take a look at what is wrong with the industry-leading ExpressVPN and afterward, we will give you some of the best alternatives:
Connectivity Issues
First and foremost, we want to remind you that this provider offers more than 3,000 servers. This may be the exact reason why ExpressVPN is known to have issues with a reliable connection.
Frankly, it is quite hard to keep that number of servers up and running all the time. While we didn't have any issues related to server speed, we experienced issues connecting to major US locations, Africa, and most of Asia, from time to time.
For a global provider, ExpressVPN would certainly need to pay more attention to how reliable their connection is.
Can be blocked by Netflix sometimes
ExpressVPN claims to offer the ability to unblock streaming platforms, including Netflix, Hulu, Amazon Prime, and BBC iPlayer. Unfortunately, we didn't find that to be the case.
Firstly, we had only partial success with the locations in Europe. While the UK, Italy, Sweden, and Switzerland worked, we weren't able to unblock content in the Netherlands and Germany.
Not only this, but only 5 servers in the UK were able to unblock Netflix with no issue. The same goes for the US, where we tested 20 different locations and had success with 10 out of 20 servers.
Expensive
Last but not least reason why you may be looking at an alternative is the fact that ExpressVPN pricing options may not be the most suitable for someone on a sensitive budget. While they do specify that they are a premium VPN, the aforementioned issues don't support that statement.
Firstly, their single-month plan is set at $12.95, which is more than most leading providers, including NordVPN and CyberGhost. The 6-month option is slightly more affordable at $9.99 per month.
Lastly, there is the annual subscription option, that will cost you 6.67$/month. If nothing else, they offer a reliable refund policy with a 30-day reimbursement window.
On the other hand, we weren't happy to see that there is no free trial. This means that you will have to make the costly choice before knowing whether their service suits you or not, and if not, hope that you have worked it out before 30 days.
Our Favorite Alternatives to ExpressVPN
No one can deny that ExpressVPN is a reliable service that you can count on for fast servers and great security. Still, the aforementioned flaws could be deal-breakers depending on what you are looking to get out of a Virtual Private Network.
For this purpose, we have prepared a list of viable substitutes that you may want to consider.
NordVPN
This Panama-based service is highlighted by a user-friendly interface and an indisputable ability to unblock censored sites.
Much like the aforementioned provider, it runs on OpenVPN tunneling protocol. It also uses military-grade encryption that comes in the form of 256-bit AES.
NordVPN does great when it comes to offering global service. This VPN has above 5,000 locations that are set in more than 50 countries. This makes NordVPN the best provider for accessing streaming sites.
Additionally, it works great for P2P transfers and torrenting, with no-logs collected whatsoever.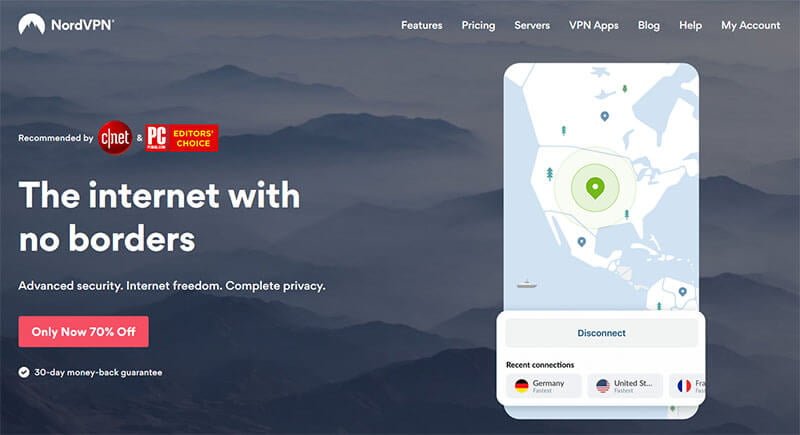 Why Choose This VPN Over ExpressVPN?
Again, NordVPN is simply the best when it comes to unblocking Netflix and other popular streaming platforms. We performed a couple of tests and found that 100% of locations in the US were able to offer unlimited Netflix content.
The same goes for the locations set in the UK, and we also had luck with catalogs in France and Germany. Of all the test sessions that we performed on 40 different locations, only one did not work.
We loved the incredible usability that comes with this VPN, as the installation process consists of three simple steps.
Why Is NordVPN Better Than ExpressVPN?
NordVPN works great for unblocking censored content and allowing unlimited P2P transfers. This provider is quite affordable, as well. The one-month plan may not be the cheapest option available, but it is still less than ExpressVPN.
Subscribing to a yearly plan will cost you $6.99. While the 3-year subscription option will set you back a mere $3.49 per month.
Overall, this is an affordable and reliable option that you are sure to enjoy.
Get a subscription at NordVPN.com >
CyberGhost
When it comes to services that are friendly for those on a sensitive budget, CyberGhost is the way to go. Given its affordable pricing options, one would think that this product doesn't offer good performance.
However, we tested it and found that this Romanian-based service is quite good. If not, we wouldn't be naming it in this article about alternatives to ExpresssVPN. The set-up process is extremely fast and easy. Plus, it has the ability to unblock Netflix, and it offers all-inclusive connectivity.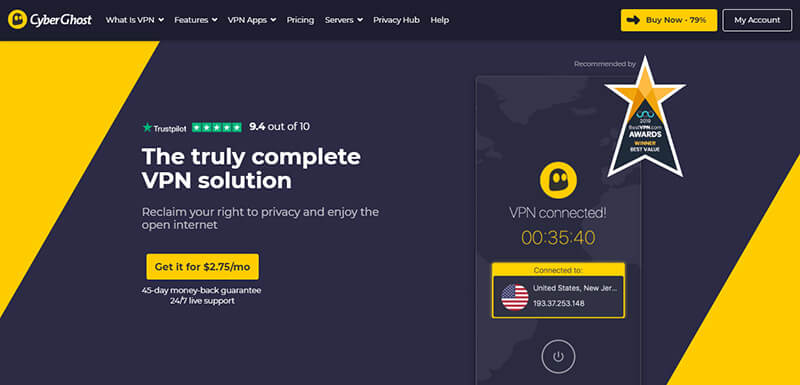 Why Choose This VPN Over ExpressVPN?
Our first answer would be because of server reliability. The BVI provider is probably the fastest on the market, but we experienced a few connectivity issues.
This is not something that you will encounter with CyberGhost. We performed a couple of test sessions and found it to work great both in the US and Europe.
The same goes for Australia and Asia, where we were able to acquire a stable connection. One of the best things is the fact that we could unblock Netflix in 75% of the locations that we tried.
Why Is CyberGhost Better Than ExpressVPN?
Much like its competitor, this service is highlighted by a strict no-log policy, as well as good encryption.
Also, the pricing options are much more affordable, featuring a $5.99 per month payment for the annual plan. Meanwhile, you would pay only $3.69 per month for the 2-year plan.
Not to mention, they offer a free trial, as well as a great refund policy (45 days).
Get a subscription at CyberGhost.com >
Surfshark
If you know a thing or two about VPNs, then you have surely heard of Surfshark. We've ranked it #3 best VPN to watch Hulu everywhere in the world – that is quite impressive!
Still, its ability to unblock censored sites is not the only reason why we consider their service to be on top of the list.
They are not transparent enough when it comes to the headquarters location. However, given the robust security and other specialty features, we believe they don't keep any logs of your connection and browsing.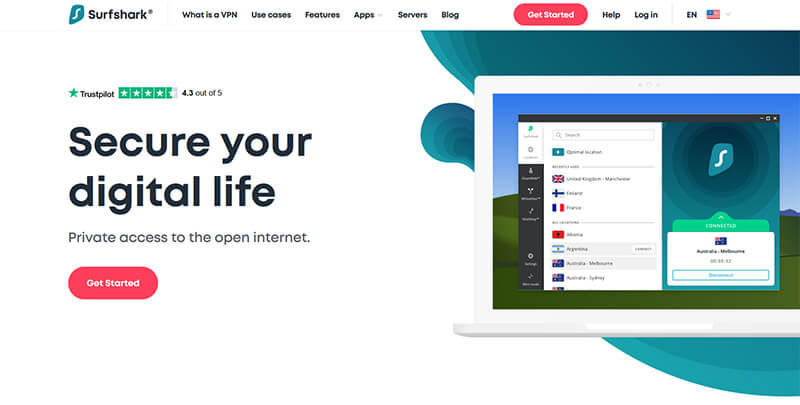 Why Choose This VPN Over ExpressVPN?
The number one reason is that it offers fast servers all around the world, as well as great connectivity. Frankly, we didn't experience a single connection time out during the few days that we have used their service.
Also, it is global and offers more than 1,000 locations in just above 60 countries. For the purpose of unblocking streaming platforms, it is a force to be reckoned with.
Why Is Surfshark Better Than ExpressVPN?
Firstly, the user interface is quite friendly and doesn't require any tech knowledge for installation. We also love the fact that, whether you are an Android, Windows, Linux, iOS, or macOS user, you will be able to run this service.
The same goes for consoles, smart TVs, and routers. On top of all that, similar to CyberGhost, Surfshark pricing options are VERY affordable. Surfshark comes at $5.99 per month for a year.
Also, there is a subscription option for 2-years, which will charge you just $1.99 per month.
Get a subscription at Surfshark.com >
The Best Free Alternative
There are many users who don't have the funds to pay a VPN subscription every single month.
For this reason, here is a free-of-charge alternative that still does fine when it is compared to ExpressVPN (in certain aspects).
Windscribe
As a provider that offers both a free and a paid plan, Windscribe is one of the most popular options on the market. Their free service is limited by 10GB of data transfer per month, but it still offers reliable performance for the most part.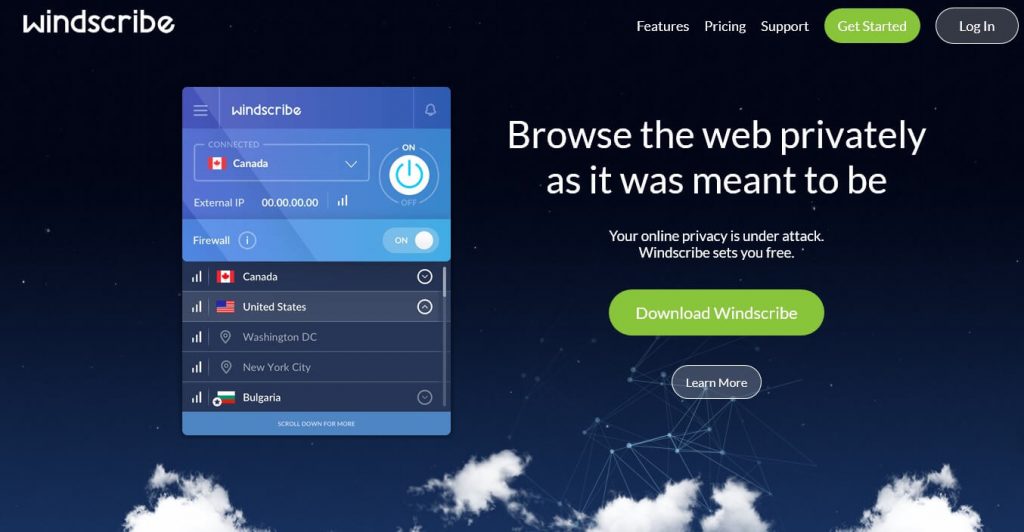 Why Choose This VPN Over ExpressVPN?
When it comes to speed and versatility of options, Windscribe can't be compared to ExpressVPN. Keep in mind that it offers only 14 locations for the free plan, while ExpressVPN has over 160.
Why Is Windscribe Better Than ExpressVPN?
With Windscribe, you have a fair ability to unblock censored sites and platforms while paying absolutely nothing. Even if you are quite limited with their completely free version.
Wrapping Up
At the end of the day, it all comes down to what you are looking to get out of a VPN. It is a fact that none of the aforementioned alternatives can stand up to par with ExpressVPN when it comes to speed and privacy policy.
However, all of these options do a much better job when it comes to unblocking Netflix and other platforms, as well as offering user-friendly pricing options.