In 2021, Netflix is still the most popular streaming platform. But, instead of Netflix & chill, we'll probably start using Hulu & chill, as this is the second-best platform of this kind. Hulu is a company from the USA, founded by ABC, NBC, and Fox. As such, the platform boasts an enormous amount of movies and TV shows that you can watch only if you're from the USA. Of course, this is where the problems arise. What to do if you're not from this country? Well, the only solution is to use a VPN!
Why Hulu isn't Available Outside of the US?
Streaming platforms are great if you're from the United States. This country, while being a part of the 14 Eyes, is still one of the best in terms of internet access. The reason being is because most of these platforms are available right here. Netflix, Hulu, HBO GO, Amazon Prime Video, Disney+, and DAZN are just some of them.
Sure, BBC iPlayer is available only in the UK but it's much less popular than the companies we mentioned above. All these platforms have one thing in common and that thing is geo-restriction. Hulu, like many others, needs to have a license to stream any of the shows it has.
For example, Hulu wants to stream Game of Thrones (it's an example, GoT is in fact only available on HBO in the US). The company needs to buy it from the publisher, in which case the publisher gives them the license that tells them to broadcast it only in particular countries. In this case, that would be the USA and Japan, since this platform is available only there.
If the company were to stream a movie or a TV show outside of these countries, the company that sold them the license would sue them. And because of that, Hulu would lose millions of dollars. So, if you thought that geo-restrictions are here for no reason, it's time to change your opinion.
How Can a VPN Help You Bypass Geo-Restrictions?
The good thing about geo-restrictions is that they can be bypassed. You can use a proxy which, in most cases, is going to fall flat on its face, and then, you can use a VPN. This tool is all you need for bypassing annoying geo-restrictions efficiently and avoid this kind of error message: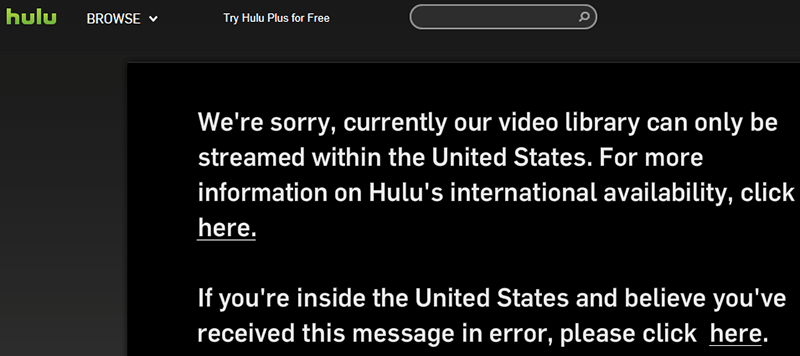 It encrypts your internet connection and lets you change your online location. For instance, you're located in India and to access this platform, you need to be in the USA. Now, you can change your IP to the one in the USA and you'll have to Hulu even if you're abroad. It is also possible to install such a service on Firestick, further expanding your possibilities.
Beware that this platform has a very strong anti-VPN protection, even stronger than Netflix! Because of that, this site effectively blocks dozens of providers, hence only a couple of them work in 2021. There's even a problem of getting a subscription on this platform outside of the US, which we're going to talk about later.
How to Set Up a VPN for Unblocking Hulu outside the US?
Now that you know that a Virtual Private Network can help you with this problem, it's time to learn how to use it. Our step-by-step guide is below:
1. Get a Subscription
The first step towards glory is getting a subscription from the provider of your choice. Scroll down to our list, choose the one you want, and get back to the step-by-step guide.
We'll use ExpressVPN because it's the best provider your money can get. Of course, it helps you unblock and watch Hulu programs with ease and even offers a 49% discount and 3 months free for a 12-month plan.
The screenshots you're going to see below are from the Window's version of the ExpressVPN app. However, these steps apply to any provider you go for.
2. Download the App(s)
When the payment is verified, the provider will give you the option to download the apps you need. We like enjoying streaming on a big screen, so we used the Windows app. Downloading lasts less than 10 seconds and once it finishes, it's time to move to the next step.
3. Install the App and Launch It
Double-click on the executable, click Next and choose where to install the app. When the installation is finished, launch the app, sign in, and you'll be greeted by the home screen.
4. Choose the US Server
From the ExpressVPN's home screen, choosing the server you want is simple. Click on the country below the big power button, scroll down, and choose the United States. After that, click on the big power button and your connection will be established.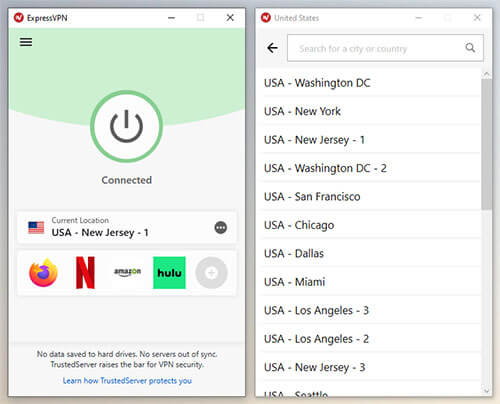 5. Enjoy Hulu to the Fullest
Type hulu.com and gain access to huge movie and TV show database that the platform has to offer, even if you're outside the US. If you don't have an active PayPal account or credit card registered in the US, see the next section – it's very important!
Getting a Hulu Subscription Outside of the USA
Hulu is really hell-bent on putting a stop to anyone living outside of the USA. Netflix, at least allows you to get a subscription outside of this country, whereas this platform doesn't allow you.
So, even if you buy a subscription from your provider and you connect to the server, you won't be able to buy a subscription on this platform!
The reason for this is that the site supports only PayPal accounts or credit cards registered in the USA. We found out that there are a couple of solutions that allegedly work and we're willing to share them with you.
Getting a Prepaid Card
The first option is getting a prepaid card. This site, for example, has one and at the time of writing, it costs $68.99. However, they say that Hulu Plus doesn't support it anymore and that they're working on a new card for this purpose.
All in all, you'll have to wait for the new card to come out and when it does, you can get it. If you get it, you can use it to pay for a subscription when you open the account. For further payments, you can buy Hulu gift cards. They can be found on Amazon, and if you want, you can look on eBay for other prepaid card options.
Making a Virtual Visa Card
Making a virtual Visa card seems like a very good option in order to create an account and get access to Hulu from abroad. A site called Entropay is good for this purpose.
Basically, it lets you set up a virtual Visa card that you can use to create a US-based PayPal account. This card won't work with Hulu directly but when using a PayPal account made with it, it works perfectly fine.
The problem is that Entropay discontinued this service in July of 2019 but there's an email for contacting them. Maybe they will offer you an alternative for fixing the problem – who knows? Contact them and see if they can help you.
Another good solution is StatesPay. This site also lets you create a virtual Visa card for $3.95 a month. You can use it to make a US-based PayPal account and enjoy streaming on this site. Here, the issue is that they don't accept new users at the moment.
So, if you have a friend that has an account here (or a credit card from the US), maybe he/she can help you get your subscription to Hulu. Or, if you're patient enough, you can wait for the service to become available again.
Best VPNs for Unblocking Hulu abroad
We said that only a handful of providers unblock this site. In this section, we'll give you a couple of them that will work flawlessly in 2021, and some that you need to avoid (PureVPN, Hola, Ivacy, Hotspot Shield…). Let's start with the best providers first:
1. ExpressVPN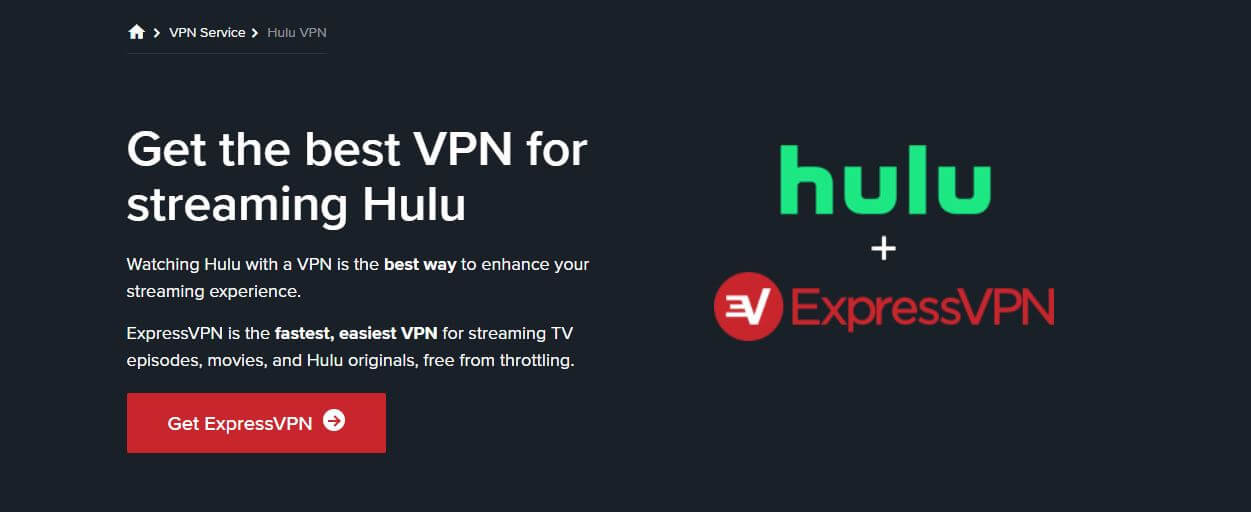 Our list wouldn't be complete without this provider. ExpressVPN comes from the British Virgin Islands, and from there, it controls 3,000+ servers in 94 countries worldwide. This number of servers leaves you with plenty of options for bypassing geo-restrictions.
With multiple servers in the USA, you'll be able to unblock any streaming platform locked to that region. Aside from this platform, ExpressVPN unblocks Netflix, HBO GO, ABC, Disney+, DAZN, and many more. Streaming while using this provider is smooth, fluid, and you won't even notice that you're using it.
That's because this provider packs some jaw-dropping speeds. In fact, it is the fastest in the game. Security-wise, you can also expect the highest level of performance. There's a zero-log policy, military-grade encryption, kill switch, and DNS and IP leak protection.
We also like 24/7 customer support here. They're very nice, pleasant to talk to, and very helpful. To summarize, ExpressVPN is THE best VPN to use in order to watch Hulu outside the US. With its 49% discount, it isn't very expensive and will be affordable for most of our readers.
It's still slightly more expensive than its competition but if we factor in the features you get, it's worth every single cent or penny you're going to give.
2. NordVPN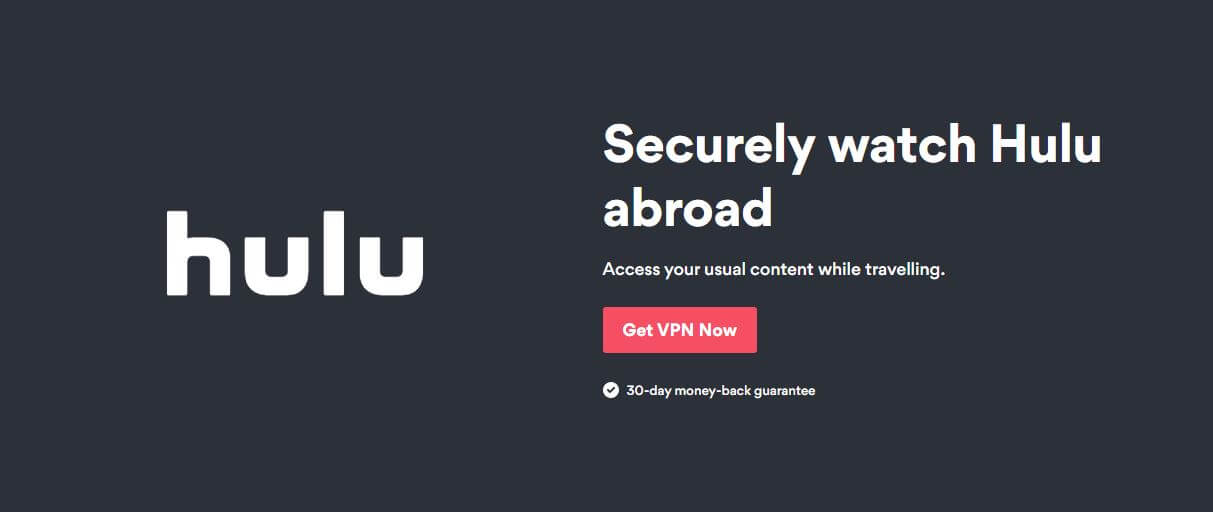 NordVPN is a provider that offers several thousand servers. To be precise, we're talking about 5,500 high-speed servers in 61 countries worldwide. With a number this high, running out of options is impossible. To make things better, you even get 1,000+ servers in the USA!
This makes unblocking Hulu while being abroad, as easy as breathing. When you manage to access the site, you'll be impressed by NordVPN's speed. The streams will be buttery-smooth and even 4K footage will easily be conquered.
In terms of security, this is probably the best provider in the business. Aside from the features we mentioned before, you get CyberSec (ad-blocker), Double VPN, and Onion Over VPN. Double VPN is basically split tunneling, while the last feature lets you use the Tor browser with this provider.
But don't use them for streaming purposes as they will slow down your Internet connection by a lot. It's mostly designed if you want to be 100% anonymous on Internet.
Right now, NordVPN offers some big discounts for long-term plans, so it's worth checking out. Given what it offers, its value for money is insane!
Enjoy Hulu Wherever you are With NordVPN >
3. Surfshark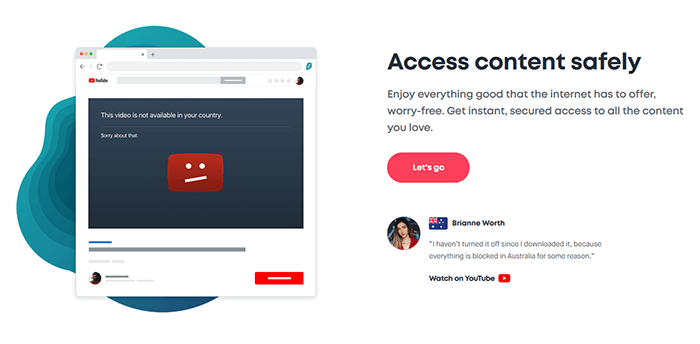 Surfshark exists merely a couple of years but these were some excellent years for the company. To be honest, we like where the company is going and in a few years, it could put up a good fight with ExpressVPN. For now, these two companies only share the location – the British Virgin Islands.
This allows Surfshark to work without keeping any logs, making it great for privacy and security. What also makes this provider great is its speed. For a provider that costs less than two bucks, you get much more than you'll pay for.
Even more expensive providers can't unblock Hulu and this one unblocks it easily. Aside from this platform, you can also access Netflix, Disney+, and other American streaming platforms. When it comes to security, there's 256-bit AES encryption, kill switch, IPv6 leak protection, and a couple of bonus features.
These include MultiHop, Whitelister, CleanWeb, and a couple more. For the price, you really can't ask for more. Find out more about Surfshark in our review.
Disabling IPv6 – Can It Help?
If you're encountering any problems while trying to unblock and watch Hulu from aborad, even when using a provider from our list, disabling IPv6 can help. You can detect this problem easily since it will appear in front of your face right away. Here's how it looks: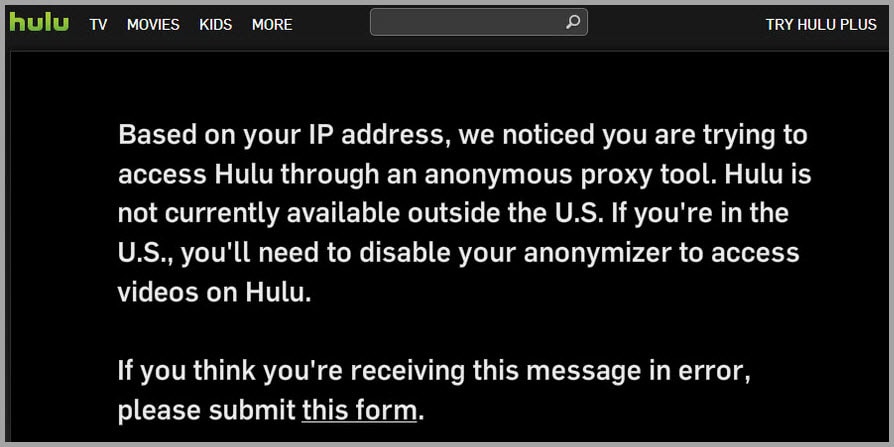 Why does this happen? Simply put, because of the IPv6 leaks. A VPN encrypts your traffic and routes it through its DNS, where your IPv4 address is hidden. However, the IPv6 address is still being sent. IPv4 and IPv6 are almost the same. On the other hand, IPv6 offers more space for creating a unique IP address since it's longer.
We assume that IPv4 protocol is soon going to die out because of the lack of unique IPs. For that reason, people will slowly shift toward IPv6 addresses. But, that's the topic for another discussion. Here's how to disable it to prevent this error from happening:
Close your Virtual Private Network and disconnect.
Press the Windows key and R to enter the Run prompt.
Type in ncpa.cp1 and press Enter. The Network Connections menu will open.
Right-click on the connection you're using and choose Properties.
In the Networking tab, find Internet Protocol Version 6 (TCP/IPv6) and uncheck it.
Click Ok.
Press the Windows key, type in Command Prompt, and run it as administrator.
Type ipconfig/flushdns and press Enter.
Connect to your provider again and enter Hulu. Your error should now be removed.
Summary
As you can see, Hulu is a much harder nut to crack than Netflix. Not only it allows you to watch its content strictly from the USA but also pay for it from this country. For that reason, accessing it abroad is very hard, especially when you haven't bought a subscription previously.
But, with the best VPN out there, such as ExpressVPN, this won't be a problem. You'll get lightning-fast speeds, rock-solid security, and the ability to bypass geo-restrictions. Enjoying limitless internet access is one of the best feelings nowadays – long live freedom!