Gone are the times when accessing our favorite sports was almost impossible. Since the inception of the internet, almost all the content we love is available at our hands' reach. Or is it? Well, it is, for the most part, if we forget about geo-restrictions that plague the internet and popular streaming platforms. If this is your first time on our site, you may be thinking – why does a VPN site talk about streaming sports? Simply put, because you need a Virtual Private Network in order to watch your favorite sports from abroad or on foreign TV channels. And in this article, we'll see why and which providers are the best.
Geo-Restrictions and Streaming Websites
In the world of cybersecurity, you often hear about the term 'geo-restriction'. Those who are dummies probably don't know what we're talking about, so let's debunk the truth behind it. Basically, geo-restrictions are here to limit certain content to a particular country or a number of countries.
We'll use DAZN, a famous sports website for streaming. This site is available in only a handful of countries – the USA, Japan, Italy, Spain, Brazil, and so forth. So, if you're from, let's say India, you won't be able to access it.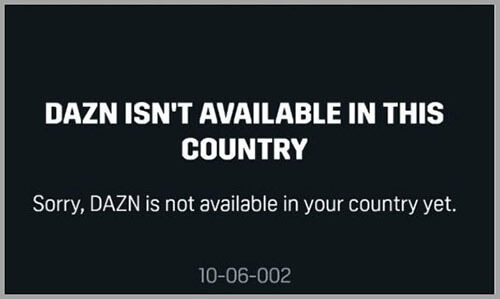 The same applies to 10Play, a TV channel from Australia. This site is excellent when it comes to streaming and offers a plethora of sports to enjoy. Needless to say, Netflix is also in this ballpark, although it's not a site about sports. Still, the USA has the largest catalog on this site and this is why many people want to access it.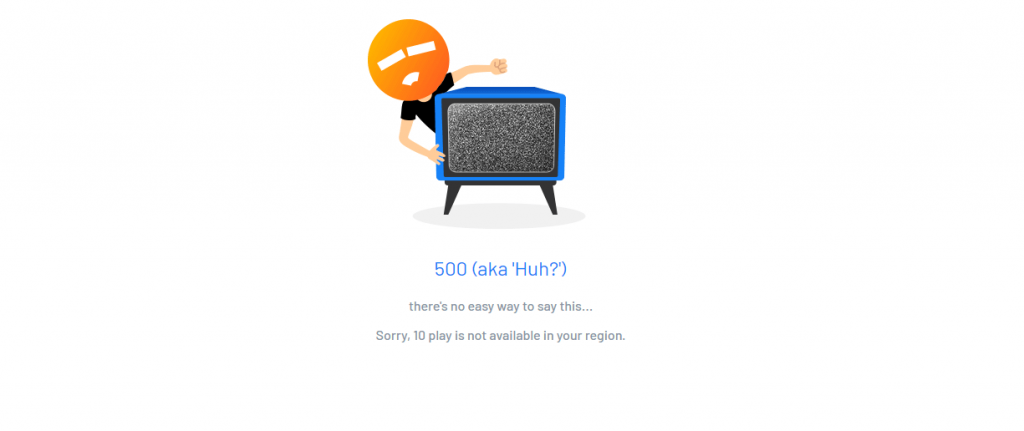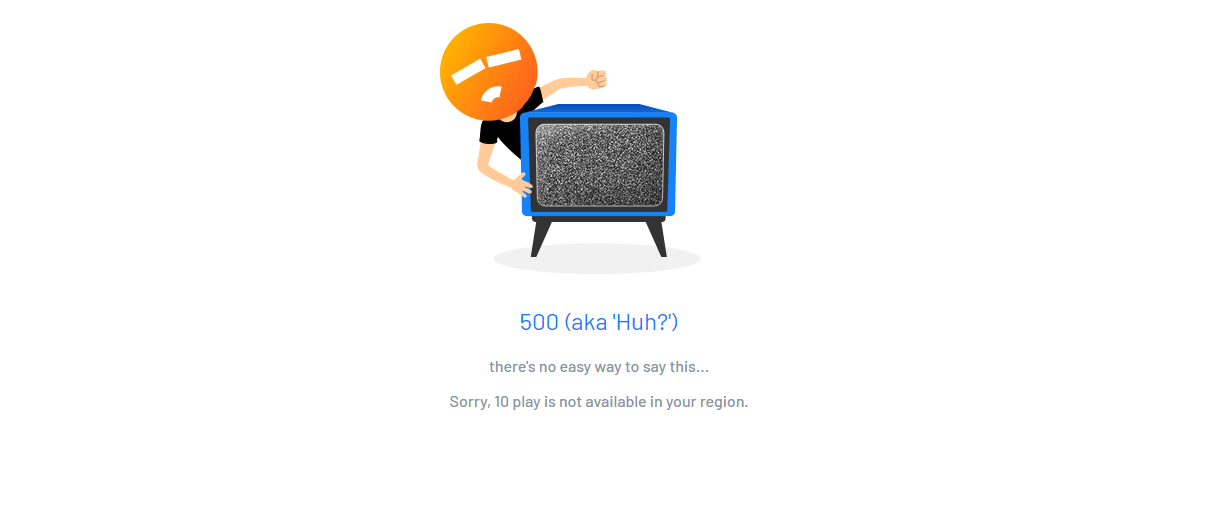 Now that you've learned what are geo-restrictions, we need to talk about why they exist. They exist because of the copyrights. If a certain company gives you the license to broadcast Serie A, for example, they'll also give you the list of countries in which you can broadcast it. Now, if you were to broadcast it outside of these countries, that company would sue you and you'd get into serious trouble.
To some of you, all of this might sound horrific but don't worry. A Virtual Private Network is a service that will come to your rescue. And if you're not acquainted with it, scroll down a bit and see how it can help in order to watch sport streams.
How Can a VPN Help?
At this point, you know that this service works wonders. Millions of people around the world enjoy it for different purposes. Not only will it keep you safe and secure online but also allow you to expand your online horizons.
This service works by encrypting your internet traffic through a "tunnel" between you and the site you want to visit. Furthermore, it allows you to connect to a server in a different country. If you're from Germany and you want to access RTS (a free swiss TV channel), all you need to do is connect to a Swiss server and RTS will see you as if you were from Switzerland.
A possibility like this is all you need for streaming sports for free. Beware that there are a few important factors when choosing a provider for this purpose. It must have lots of servers around the globe, strong encryption, and blazing-fast speeds.
We'll talk more about the best providers later. For now, let's focus on teaching you more about the service itself.
How to Set Up a VPN for Streaming Sports?
Setting up a VPN for this purpose is easy as taking your dog for a walk. A chihuahua, perhaps, not a pitbull – just so you know! In this section, we'll go step-by-step and show you exactly how to do it. The images you're going to see below are from ExpressVPN, the fastest and the best provider for this purpose.
If you don't have this provider, no problem. These steps apply to every app, regardless of your chosen provider.
Step 1 – Get a Subscription
ExpressVPN is, without a doubt, a behemoth in the world of cybersecurity. But, if you, for some reason, don't want to get the subscription, we get it. In that case, scroll down a bit and take a look at our section about the best providers for this purpose. Choose the one you want, go to its website, and buy a subscription.
The reason we recommend ExpressVPN is that it offers a huge 49% discount. This discount applies to a 12-month plan and you get 3 months free.
Step 2 – Download the Respective Apps
When you pay for a subscription, you'll usually need to wait a few seconds to be able to download the apps. Some providers will request that you verify the email address you used. Do that, return to the website, and download the apps you need.
It can be a Windows app or perhaps the one for Android or iOS platforms. Nevertheless, the download process will last a few seconds and the apps will be ready to install.
Step 3 – Install and Run the Apps
The installation process is very easy. You just need to open the installation file, click Next, choose the location, and it'll be done. If you're installing it on your phone, it's even easier. Just visit the app store, install it, and you're ready to go.
Now, it's time to run the app. When you run it for the first time, log in, and you'll get to the home screen.
Step 4 – Choose the Server
From here, ExpressVPN will make your life much easier. Its minimalistic, yet functional interface will be user-friendly even for beginners. Click on the country below the power button to open up the server list.
Here, you'll choose the server you need for a particular streaming platform. It can be ESPN, for example, and in this case, you'll need an American server.
Choose the server, click on the big, circular power button, and the connection will be established.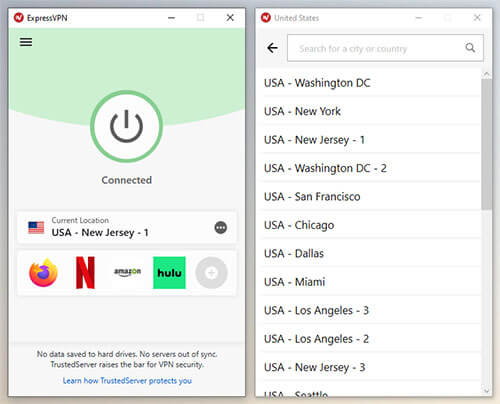 Step 5 – Enjoy Endless Sports Streaming
Get some juice, coffee or tea, and enjoy your evening. As you can see, it's very easy and you can do it in just 4 steps for the first time. When you get the subscription, you'll only use the fourth step, which means connecting to the server in less than 15-20 seconds!
Best FREE and Paid Channels for Streaming Sports
Having a VPN by your side is great. However, if you don't know what sites to access, this weapon isn't going to flex its muscles. Let's cover the most popular sports and mention some of the free websites (but also paid ones) for streaming them.
Football
"Football is the most important of the less important things in the world" – said Carlo Ancelotti. And we must agree.
This sport has some of the fiercest competitions out there and since it's a new year, you want to be prepared for the new Champions League season or seasons in the world's best leagues. Here are the best free channels for streaming football:
RTS Switzerland – UEFA Champions League (Our best recommandation, no need to create an account)
HRT Croatia – UEFA Champions League
RTL Belgium – UEFA Champions League
Armenia TV – UEFA Champions League
BBC 1 UK – FA Cup
ITV UK – La Liga
Laola1 Austria – Romanian Cup
NBA
If you're from the USA and you're traveling abroad, you're gonna miss watching your favorite teams in the NBA league. But, a VPN can even allow you to unblock DAZN and other popular streaming websites. Unfortunately, there aren't websites that allow you to stream the NBA for free.
For that reason, we'll give you a couple of premium options in case you want to pay a bit more for this satisfaction:
Sling TV ($25 a month)
Hulu ($55 a month)
AT&T TV ($65 a month)
fuboTV ($55 a month)
YouTube TV ($50 a month)
Tennis
Tennis, although not an aggressive sport compared to football, always manages to keep you on your toes. We all love watching our favorite tennis players wipe the floor with the competition and luckily, there are a few free solutions. Here are the best free sites for enjoying high-octane tennis matches from Djokovic, Federer, Nadal, and others:
BBC1 and BBC2 UK – Wimbledon
RTS Switzerland – Various tennis tournaments (all Grand Slams + some ATP 500 / 1000)
MotoGP
If you're reading this in February, there's still a chance to enjoy all the races of the season. The season starts at the beginning of March, so you have one month to prepare. Here are the best free options for enjoying blood-pumping MotoGP races:
RTS Switzerland
RTBF Belgium
To do so, you will just have to get a good VPN and connect to a server in Switzerland (to access RTS) or Belgium (to access RTBF)!
Formula One
Formula One is perhaps one of the most exciting racing competitions in the world. This year's F1 season is going to be fierce and brutal, as Mercedes and Ferrari battle their way to the top of the scoreboard. Will Hamilton once again beat all of his competition? We've yet to see that on these free platforms:
RTBF Belgium
RTS Switzerland
NFL
Once again, this American sport is reigning supreme in this country. If you're abroad, away from your fatherland, don't worry. A Virtual Private Network will help you watch Bears, Jets, and Patriots for free. Here are the best channels for enjoying NFL:
MLB
Baseball has always been a big thing in the United States. Even if you're not from this country, there's no way you haven't heard of Yankees and Dodgers. The good news is that you can watch the entire competition from anywhere in the world with this channel:
Volleyball
Volleyball is a very popular sport in Europe and somehow, men are the ones to watch it more than women. Is it because there are a lot of good-looking female volleyball players? It could be. Nevertheless, here's one free channel for enjoying volleyball to the fullest:
Laola1 – CEO European League Women, Montreux Volley Masters
Cricket
Cricket has its limited fanbase, usually from India and Australia. But, these countries are quite big, especially India, so we felt obligated to give them some options for enjoying cricket. Have in mind that these channels are NOT free and that streaming cricket for free isn't possible. Here are the options:
Willow TV ($10 a month/$45 a year)
Sling TV ($10 a month/$60 a year)
Hotstar ($10 a month/$75 a year)
ESPN+ ($5 a month/$50 a year and a 7-day free trial)
Best VPNs for Enjoying Your Favorite Sports
To access all of these sports sites from abroad, you'll need a Virtual Private Network. There are dozens of providers on the market, yet only a handful of them is really good. Here are the best providers that allow you to stream sports for free:
1. ExpressVPN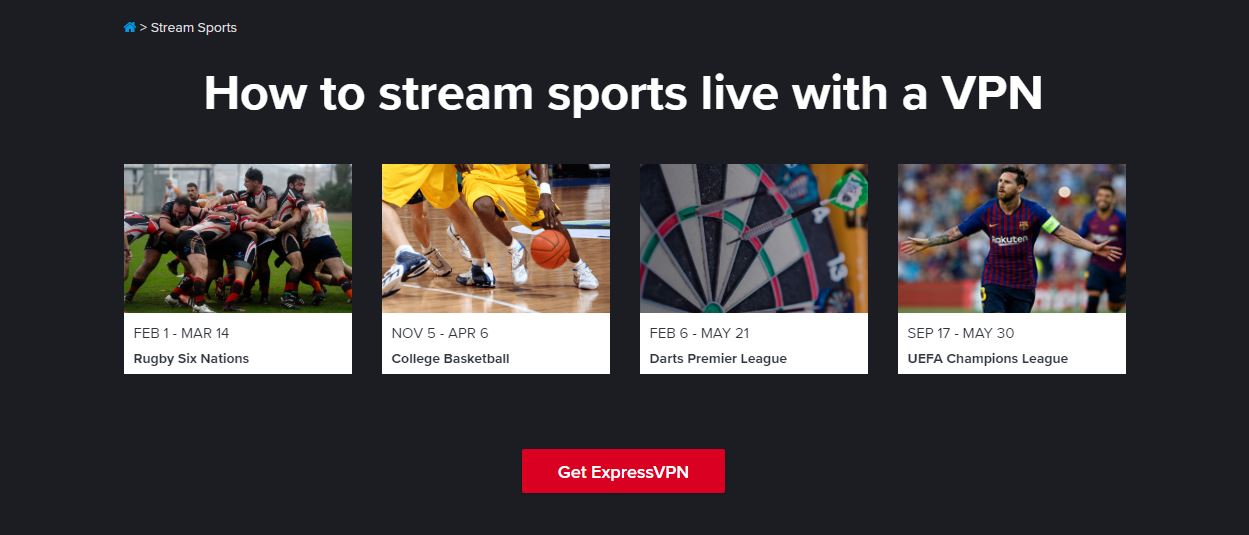 When someone says that nothing is perfect, talk to him about ExpressVPN. This provider managed to win our hearts from the day we tested it. The reason being is because it's blazing-fast and offers 3,000+ servers worldwide.
And, as you know, having a fast provider is essential for enjoying your streaming sessions. You can breeze through full HD but also Ultra HD videos with it, making it perfect even for Netflix.
Some of you will say that it's not all about the speed and technically, you're right. Because of that, ExpressVPN has other weapons in its arsenal. Security-wise, it's as tough as a walnut. The company is stationed in the British Virgin Islands, and as such, it doesn't store any logs.
On top of that, you get 256-bit AES encryption, an automatic kill switch, and DNS and IP leak protection. When it comes to geo-restrictions, you can expect it to perform like a champ. There's not a website that this boy can't unblock. DAZN, ESPN, 10Play, ABC, RTS, RTBF – it's all yours, buddy!
As we mentioned above, you'll get a 49% discount on ExpressVPN, so if you're ready to save some cash, hop in on the bandwagon and enjoy your favorite sports.
Enjoy ExpressVPN's Fast Speeds >
2. NordVPN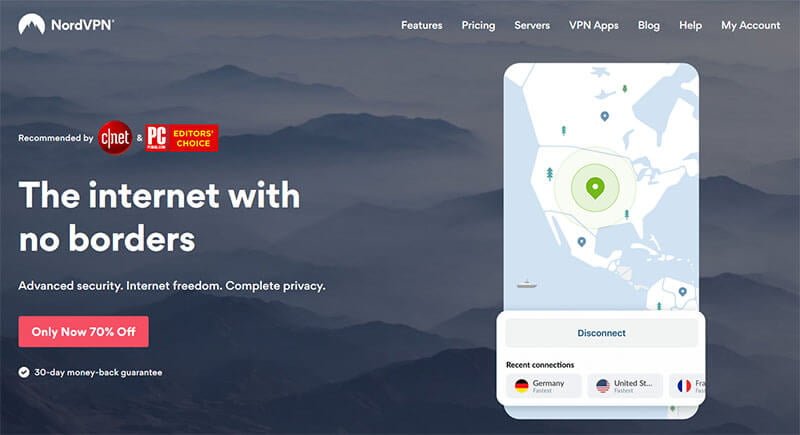 NordVPN is a solid all-rounder that's good for all purposes. Whether you want to watch porn after a long day at work or just enjoy some NBA (or any other sport), this provider will help you. The company is located in Panama. Thanks to that, NordVPN is outside of the 14 Eyes.
This makes NordVPN an extremely good option for safety and security. Aside from a no-log policy, you also get military-grade encryption and even an ad-blocker called CyberSec. This is great if you're encountering annoying pop-ups during your streams.
Speaking of streaming, much like ExpressVPN, this provider can unblock everything you throw at it and has even more servers – 5,500+ of them. Sure, it can't unblock you from your ex-girlfriend's block list but hey – be careful next time! The great thing is that it works in China, thanks to its obfuscated servers and Double VPN feature.
With its cheap pricing, numerous features, and blazing-fast speeds, NordVPN is a complete solution for all your problems. Especially if you want to watch sports on free foreign TV channels. Here's a button for you if you want to buy it. The button is free, no need to thank us.
Get NordVPN at a Discounted Price >
3. CyberGhost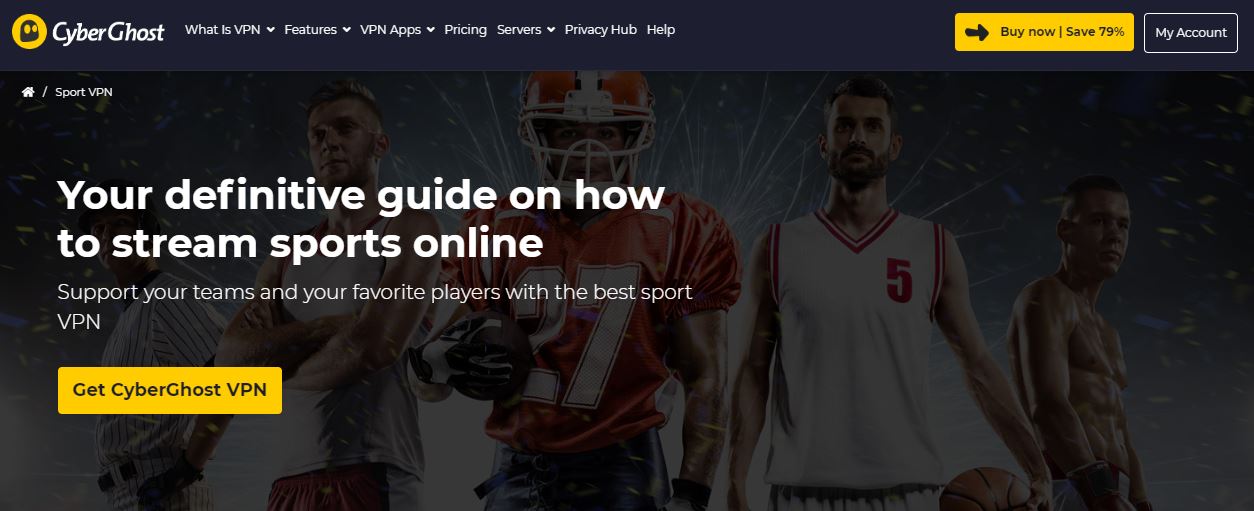 Interested in getting a provider that won't break your bank? CyberGhost is not a robber and breaking banks isn't exactly its profession.
Its profession, instead, is keeping you safe, secure, and tucked in like a baby. This Romanian provider is among the best in this business, simply because it offers its services at mind-numbingly cheap prices.
With its network of 6,200+ servers worldwide, this is the largest company in this industry. There are servers in almost all countries around the world, making geo-restrictions obsolete. So, how does it work in real life? It works like a charm and unblocks every popular streaming website (aside from DAZN).
Feature-wise, CyberGhost is very good. There's a no-log policy, 256-bit encryption, dedicated servers, and so forth. In terms of speed, it's a bit slower than NordVPN but that's okay, as it's still considered very fast. We won't spoil the price for you but if you click on the button below, you'll see it right away.
Watch Sports for Free With CyberGhost >
4. Surfshark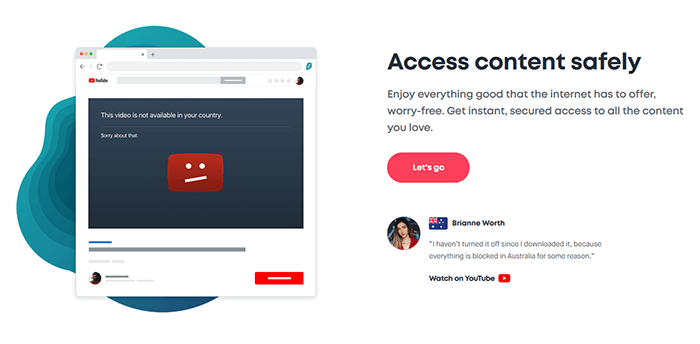 Surfshark shares the same location as ExpressVPN – the British Virgin Islands. This provider is here for just a few years, yet it's already battling it out with the fierce competition. The provider has 1,040+ servers in 61+ countries worldwide, which is considered okay.
There aren't 5,000+ servers here but the good thing is that they all work fine. Surfshark offers very good speeds and its security-oriented services are what we value a lot. Aside from a no-log policy, you get strong encryption, ad-blocker, MultiHop, split tunneling, and tons of security protocols.
Bypassing geo-restrictions with this provider is easy. Much like the other top providers, Surfshark unblocks almost any site you throw at it. If you have any problem with it, you'll be glad to have 24/7 customer support at your disposal. They're very nice and will help you in less than a few minutes.
Here's one more button for visiting the provider's website, by the way.
Enjoy Surfshark's Cheap Prices >
Summary
This has been a long read but believe us – writing was much longer! Nonetheless, those are out top 4 VPNs to watch your favorites sports channels… or unblock some free foreign TV channels.
If you still haven't made your choice, our recommendation is ExpressVPN. This provider will never let you down and will constantly give you high speeds and rock-solid security.
Enjoying your favorite sports was never this easy. Why miss out on something you love when you can have it for less than a few bucks a month?
Don't forget to play some sports, too! Sitting 24/7 in front of your monitor isn't going to make you healthier 😉