When it comes to high-quality movies and TV shows, the United States plays a crucial role. In the past couple of years, TV shows like Game of Thrones, The Wire or Chernobyl took the world by storm. Shows like this made people buy subscriptions to HBO Go – one of the best streaming platforms this country has to offer. The trick is, however, that it is available only in the US, so if you're abroad, you can't watch your favorite TV shows on HBO Go. Today, we're going to talk about VPNs for unblocking it, so stay tuned!
Why HBO Go isn't Available Outside of the USA?
Streaming platforms like Netflix, HBO, Hulu, Disney+, and DAZN have one thing in common – geo-restrictions. These restrictions exist for a reason, so they're not here only to prevent you from enjoying your favorite movies and TV shows. We're going to explain why geo-restrictions exist and how to bypass them.
Let's start with the reasons. So, HBO, for example, wants to stream Witcher. The company will then have to buy it from the publisher (Netflix) and the publisher will sell them the show and the license to broadcast it. However, this license also gives them the right to broadcast it only in certain countries, in this case, it's the USA.
If HBO were to stream the show outside of the countries given in the license, the publisher would sue them. Of course, since these are very rich companies, we're talking about millions of dollars, which can eventually lead to the company's downfall.
That's why certain shows, movies or sports events are limited only to certain countries. These American streaming platforms are one of the best in the world, which is why people are interested in them so much. Internet users who don't know about VPNs will probably bang their heads against the wall.
But you… you don't need to. And you'll see why if you read this article till the end.
How Can a VPN Help You Bypass Geo-Restrictions?
VPN stands for Virtual Private Network. This means that you get to secure your connection between you and the site you want to visit via a "tunnel". In that case, you're invisible to your ISP and the government, hence you're anonymous online.
But, this service has a crucial feature that makes it eligible for unblocking HBO GO if you're abroad – the ability to change the online location. So, if you're currently in France and you want to access the site locked to the USA, it's simple. You will have to mask your IP by changing it to an American one.
Then, the site you want to access will see you as if you were from the USA, which grants you access. Beware that not all providers can do this successfully. HBO, Netflix, and Hulu are hell-bent on preventing you from using a Virtual Private Network. And for that reason, here's more info on the best solutions for streaming.
We'll talk about the best providers for this purpose in just a second.
How To Use a VPN to Access HBO Go from Anywhere?
If you're tired of not being able to access your favorite geo-blocked sites, this is the time to change it. And here, in this section, we'll tell you how to use this service to unblock HBO Go from anywhere in the world (and obviously outside the US).
Step 1- Get a Subscription
The first step is, obviously, getting a subscription from the provider of your choice. Our recommendation is ExpressVPN and we'll use it in our guide. If you don't want to get that provider, you can scroll down a bit and take a look at our list below.
Just for the reference, ExpressVPN offers a 49% discount and 3 months free for a 12-month subscription plan.
Step 2 – Download and Install the Apps
When the payment is processed, it's time to download the apps you want. We assume that you like watching your TV shows on a big screen, so you'll need to download the Windows 10 app. Needless to say, the providers support Android, iOS, Mac, and other platforms, so feel free to get the apps you need.
After that, install the app, log in, and the home screen will appear.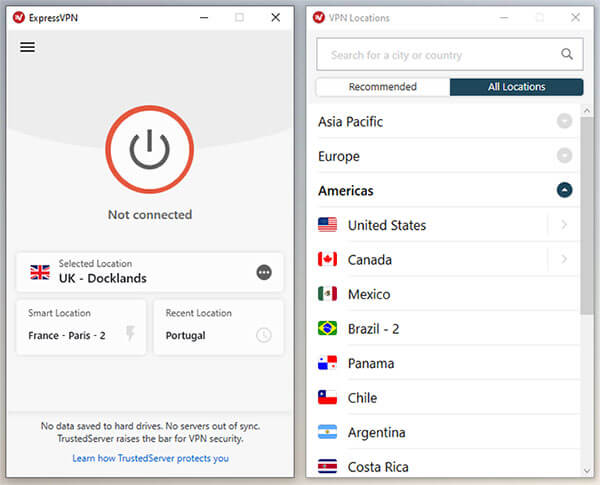 Step 3 – Connect to a US Server
Now, it's time to connect to the server. Click on the country under the big power button and the server list will open. Choose a US server, click on the power button, and your connection will be established.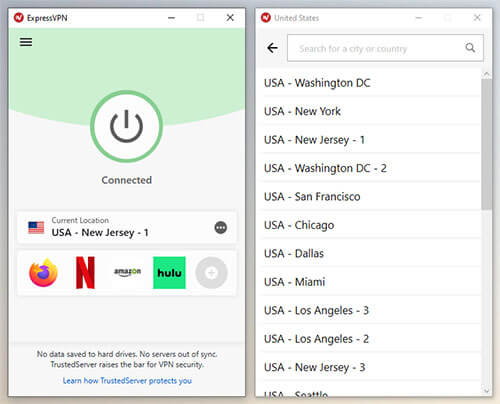 Step 4 – Enjoy Your Favorite Movies & TV Shows
You've got it up and running, champ! It's time to get a subscription from HBO (if you don't have one already!), sit back, relax, grab some popcorn or beer, and watch your favorite shows.
And of course, this apply to all of you, who are outside the United States 😉
Best VPNs for Accessing HBO Go from Anywhere
Having knowledge isn't power. But, using it, on the other hand, is. So, given that you know how to use a VPN for bypassing geo-restrictions, it's time to choose your weapon. Here are our top 3 picks in 2021:
1. ExpressVPN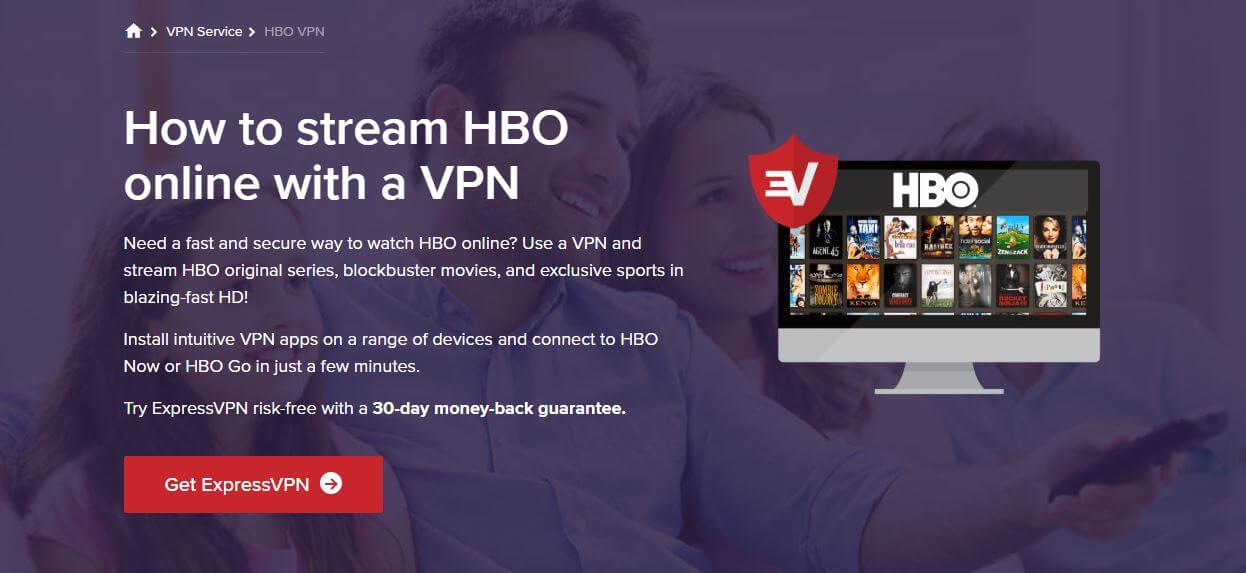 ExpressVPN is the best provider your money can buy in 2021. It is not the cheapest but the quality has a price! For the start, we're talking about a blazing-fast provider with 3,000+ servers that will make you forget that you're using it. This is great for streaming because you won't encounter buffering that will hinder your experience as soon as you start watching.
Another reason why ExpressVPN rocks is that it's very secure. The company is stationed in the British Virgin Islands, so they aren't forced to keep logs. Of course, this means that you get a no-log policy from the get-go. Aside from that, there are tons of security protocols and features that will tuck you in like a baby.
You get 256-bit encryption, DNS and IP leak protection, a kill switch feature, and split tunneling. In terms of bypassing geo-restrictions, ExpressVPN is an undisputed champ.
We managed to unblock HBO Go in a matter of seconds with it! Plus, it can help you access Netflix, Hulu, Disney+, Amazon Prime Video, BBC iPlayer, and many others.
If you're a newbie, the company also has 24/7 customer support. They're very friendly and will solve all of your problems. Just don't ask them about getting your ex back – they don't deal with that! As mentioned, you get a huge discount on an annual plan, which is all the more reason to smash the button below.
Enjoy ExpressVPN's Buffer-Free Streaming >
2. NordVPN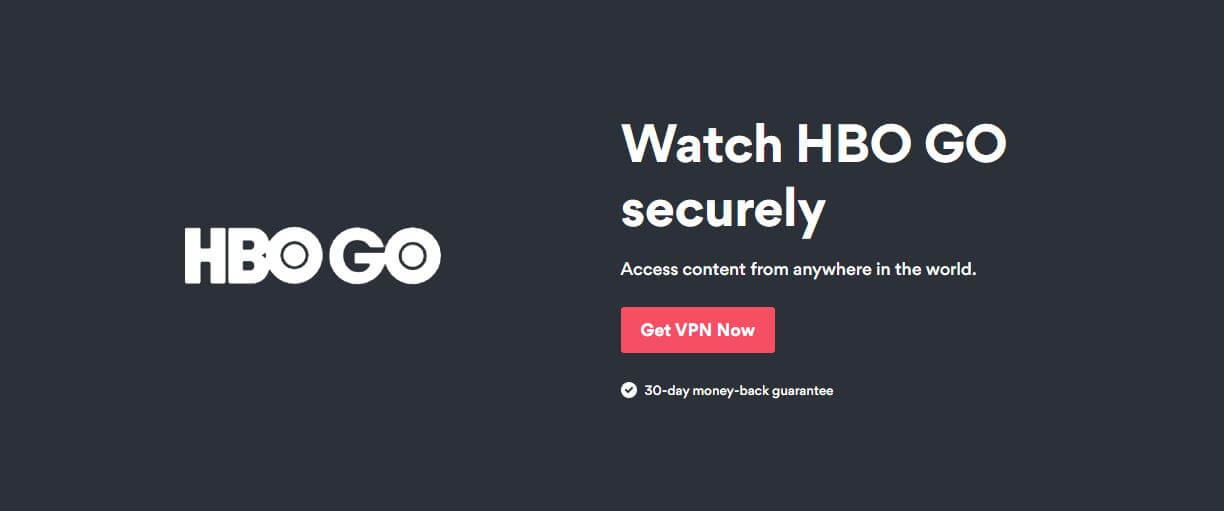 NordVPN is a Panama-based provider that has a lot to offer. For instance, 5,500+ servers worldwide. Panama is, without a doubt, a beautiful country. And if you're from there, you should be proud to have one of the best providers in the world. The great thing is that it's far away from the 14/9/5 Eyes, so the company doesn't keep logs.
This, you'll say, isn't important for streaming. Sure, but it's important for your security online. Speaking of security, they also give you CyberSec (ad-blocker), Double VPN, and Onion Over VPN features. Furthermore, there's military-grade encryption, IPv6 leak protection, kill switch, and many other features.
Speed-wise, NordVPN is fast as Lamborghini Aventador. And it roars the same way, pushing away all those geo-restrictions. HBO Go will work like a charm when using this provider abroad. And since you don't have to be from the USA to buy a subscription, feel free to use it to your heart's contempt.
Finally, the best thing is that you get a huge discount here. This year is great for getting a quality VPN. All those discounts and low prices make our Monkey excited and we completely understand him.
Grab NordVPN's for a Discount >
3. CyberGhost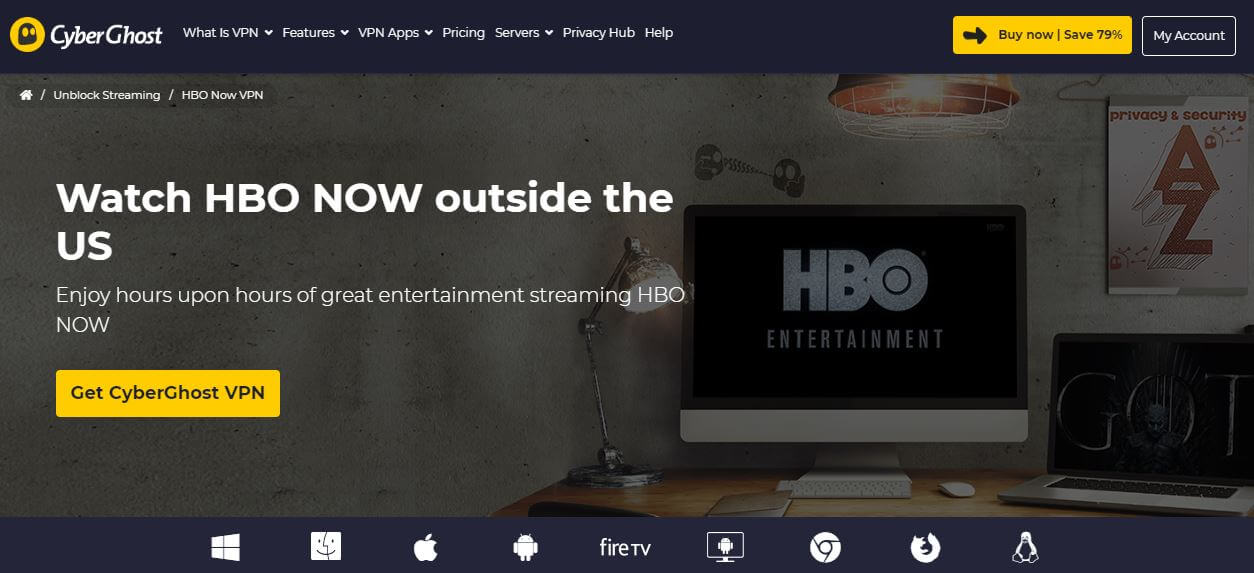 CyberGhost is the largest provider in the world. Based in Romania, this company governs 6,200+ high-speed servers in 91+ countries around the globe. The reason why it's so good for unblocking this platform is that it offers servers optimized for HBO. Let us be concise – it has dedicated servers!
Dedicated servers are always a welcome addition in a service like this. CyberGhost, particularly, offers servers for torrenting and streaming. When you choose one of these two options, you'll have thousands of options to choose from. It's very easy to get a server for HBO, making it even more satisfying to enjoy watching your favorite content.
Feature-wise, the provider isn't going to disappoint you. You get all the standard security features and even a no-log policy. Romania, the country of Lord Dracula, is going to forget about all the kinky stuff you watched with a VPN.
In terms of speeds, CyberGhost is surprisingly good. You can enjoy 4K videos and unblock other relevant streaming platforms. Oh, we almost forgot. This is among the cheapest providers you can get on the market. So, if you want to save some cash, hop on the bandwagon!
Enjoy HBO Go Outside the US With CyberGhost >
4. Surfshark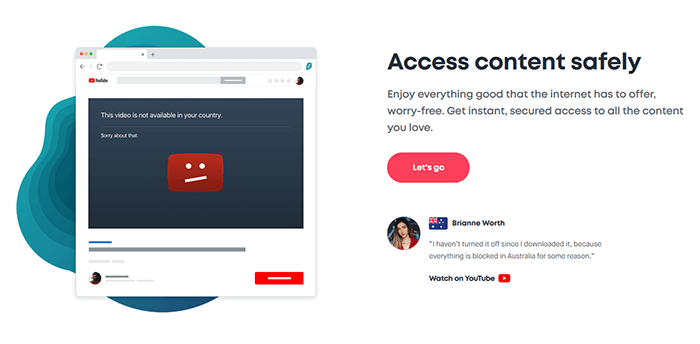 Surfshark is a provider available for merely a decade on the market. Having more experience doesn't mean you get to be among the best, which this company proved long ago. Living in the British Virgin Island will probably make you feel safe and secure online, especially when you have two giants watching over you.
For those who don't know, ExpressVPN and Surfshark are both from there. This means that Surfshark packs some neat features that will make all of your needs satisfied.
Of course, the provider easily unblocks HBO Go in order to let you watch your favorite content from abroad. It can also unblock Netflix, BBC iPlayer, Hulu, Disney+, 10Play, and many other streaming platforms.
While it's not the fastest provider, its speeds are enough to enjoy high-quality content online. Plus, you get tons of security features – even the bonus ones! For instance, MultiHop, which lets "hop" from server to server, rendering you invisible to your ISP.
There's also Whitelister, CleanWeb and an ability to connect unlimited devices to a single account. Sounds too good, does it? If you find it hard to believe, click on this button below and see it for yourself.
Unblock HBO Go With Surfshark >
Which VPNs to Avoid?
All those providers online always seem to promise all the latest and greatest features. But, as you might've guessed, a majority of them aren't worth your time. Here's what providers you should avoid for this, and any other purpose online:
PureVPN
PureVPN is a provider we recently reviewed and it left a bitter taste in our mouths. There are tons of reasons for that, so if you're interested in reading a review, you can do that here. For now, we'll just say that it's not secure.
The reason being is because they helped the US authorities arrest a man suspected of cyberstalking. And on the other hand, they promote themselves as being a zero-log company. This is straight-up lying to the customers, which we don't approve here on this site.
Avoid this provider at all costs! Even if it's just to watch HBO from abroad.
Hola
Hola is one of the worst providers you can get. We don't like hating on the provider but this one didn't manage to make us feel differently about it. It's basically a P2P proxy service disguised as a VPN. They don't use centralized servers like other providers but the bandwidth of other users. This is a HUGE problem for you.
Not only will your internet be slower but you'll also be held accountable for other people's internet activities, which in turn, compromises your privacy. Avoid Hola VPN at ALL COSTS.
Any Free Provider
Free providers won't unblock HBO Go or any strong anti-VPN site. Aside from that, they lack a no-log policy and they frequently sell data collected from the users.
If you think this doesn't happen often, you're lying to yourself. A provider we mentioned above, Hola, is one of the most infamous companies for doing that.
Furthermore, free providers will give you limited services. You get 500 MB to 2 GB of bandwidth (or 1o GB with Windscribe), plus turtle-like speeds. If you want to enjoy streaming and even torrenting, avoid free Virtual Private Networks at all costs.
Summary
HBO Go is one of the most popular streaming platforms in the world. As such, its VPN block is very strong, akin to Netflix and Hulu. With only a handful of them working, you'll need to be careful when making your choice.
To make your job easier, we'll once again recommend ExpressVPN. With 3,000+ servers in 94 countries, high speeds, and rock-solid security, you'll enjoy its companion for years to come. Just be sure not to waste your time on free providers.