We, here at Monkey Privacy, always value premium providers the most. But, as we had the chance to see, not all premium providers are worth your hard-earned cash. Some are even very expensive, yet don't live up to the expectations. Today, on our menu is Ivacy VPN, a provider that won't break the bank. It's an inexpensive provider that seemingly has a lot to offer. Are these offerings good enough, though? Is it as good as some reviewers say? Well, we gathered here today to find that out. If you're ready for an in-depth review of Ivacy VPN, welcome and let's take off.
What is Ivacy VPN?
Ivacy is a company that exists for more than a decade. To be concise, this provider emerged in 2007, when the VPN industry still wasn't at its highest. However, despite being on the market for so long, this provider is relatively unknown and is overshadowed by much better providers.
We think that its location has to do with it. The company is stationed in Singapore, which is a beautiful country. But, on the flip side, it's a member of the 14 Eyes, which isn't something you want to hear, especially if privacy is your concern.
The provider is known for its cheap prices and at first glance, it offers a good value for the money. At a second glance, though, things may be a bit different. Stay with us to find if Ivacy is worth your time and cash. And if you decide to buy it, here's a button to do it.
You'll get huge discounts via our website!
Compatible Devices and Ease of Use
Let's start with the basics. Every provider has its share of supported devices. The more they support, the more we value them in this compartment. Here's what the provider offers: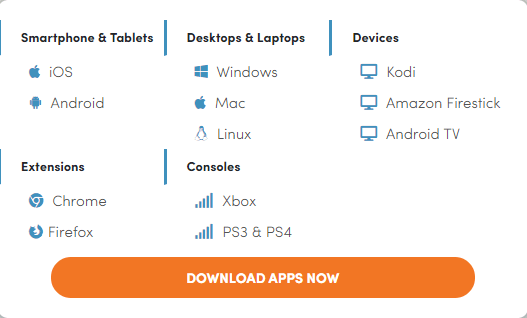 Starting from the top, we have all the basic platforms. There's iOS, Android, Windows, Mac, and Linux. Furthermore, there are extensions for Google Chrome and Mozilla Firefox, as well as other platforms. These platforms include Kodi, Android TV, gaming consoles, etc. You will also be able to configure the service on some routers.
Computers
If you wish to use Ivacy on your computer, you can do it regardless of your operating system. As mentioned above, Windows, macOS, and Linux are supported. We'll see how the installation process looks like on Windows 10 and determine if it's easy to use.
After you buy a subscription, you'll get an email for creating a password for your account. Do that and then install the app: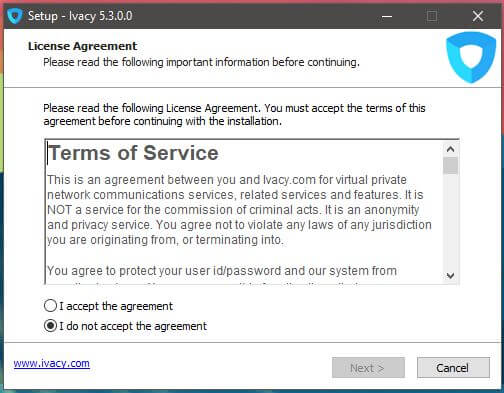 This is the initial setup screen you're going to see. It's like installing a computer game from the 2000s. That's what the installation looks like. Accept the agreement, click Next, choose where to install it, and let the installation begin.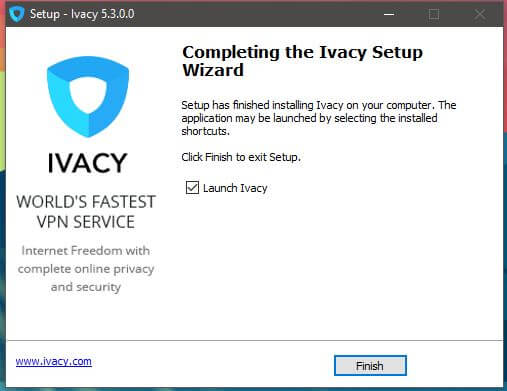 After it's done, you'll see the screen above. If you want to launch the app right away, just tick the box and click Finish. The app will open in a few seconds and you'll get this screen right away.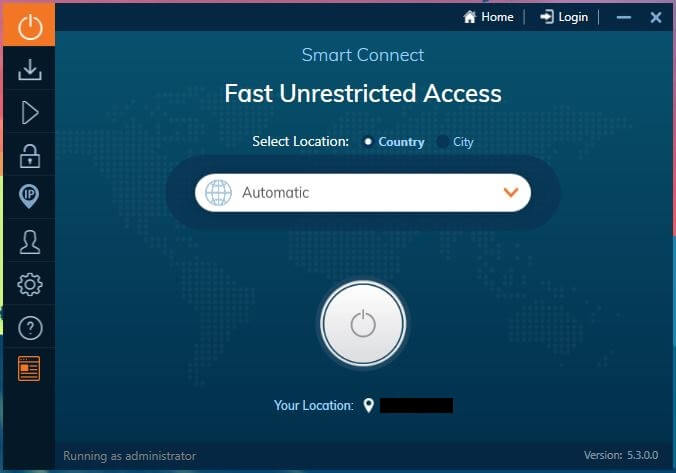 Click on the Login button above and you'll get to the login screen: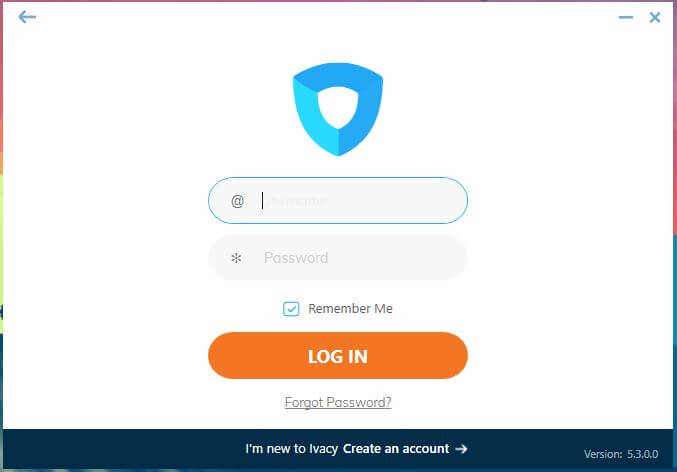 Type in your username, which is your email, and then, type the password that you set up before the installation. When you do that, the app's home screen looks virtually the same: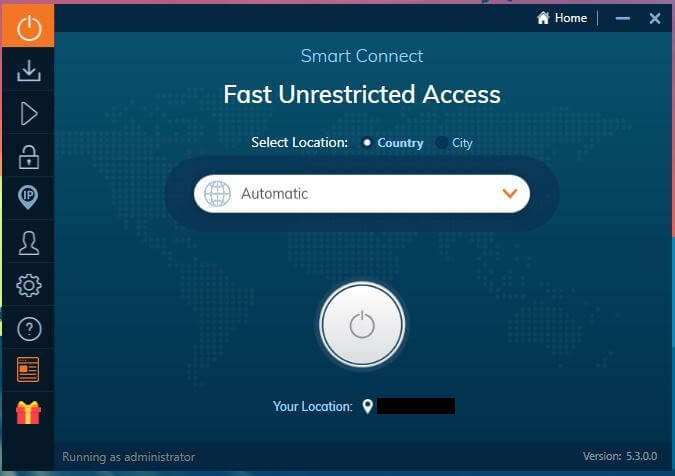 Now, click on the orange arrow pointing downward, right next to Automatic. The server list will open, so choose the server you want. We chose the US server, clicked on the circular power button and established a connection. Here's how it looks: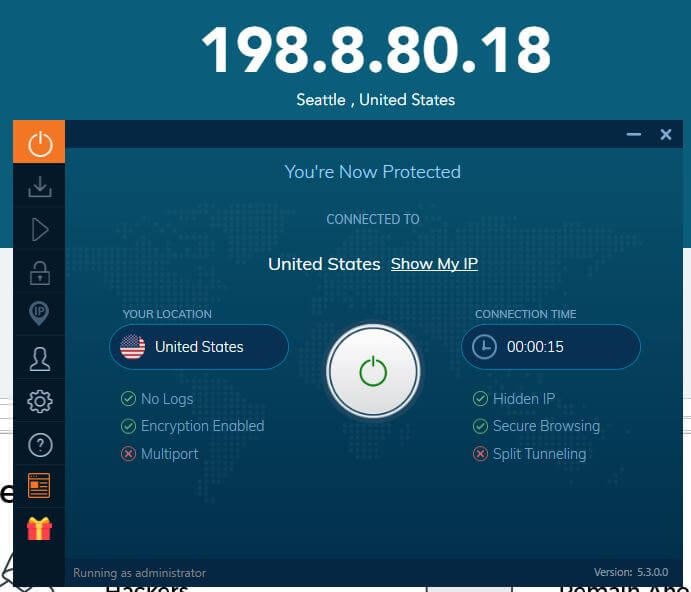 There's one thing that constantly annoyed us. Above the, now green, power button, there's the "Show My IP" button. When you click on it, the app won't show you the IP inside the app. Instead, it will open a new window in your browser. This is super annoying, as you need to open a new tab in your browser just to check your IP.
That's why you see this address above the app's window in the screenshot above. Apart from that, the Windows 10 application is easy to install and use. Which is a good news for our review of Ivacy VPN.
Smartphones and Tablets
Those who use mainly their mobile devices for internet access can also use a VPN. Of course, Ivacy made sure that both major platforms are covered – iOS and Android. We'll use our Android device to show you how the app looks.
Rest assured, the app works the same on iOS smartphones and tablets, so you won't get confused if you're an iPhone or iPad user. The first step is to download the app from the Google Play Store, as shown in picture 1: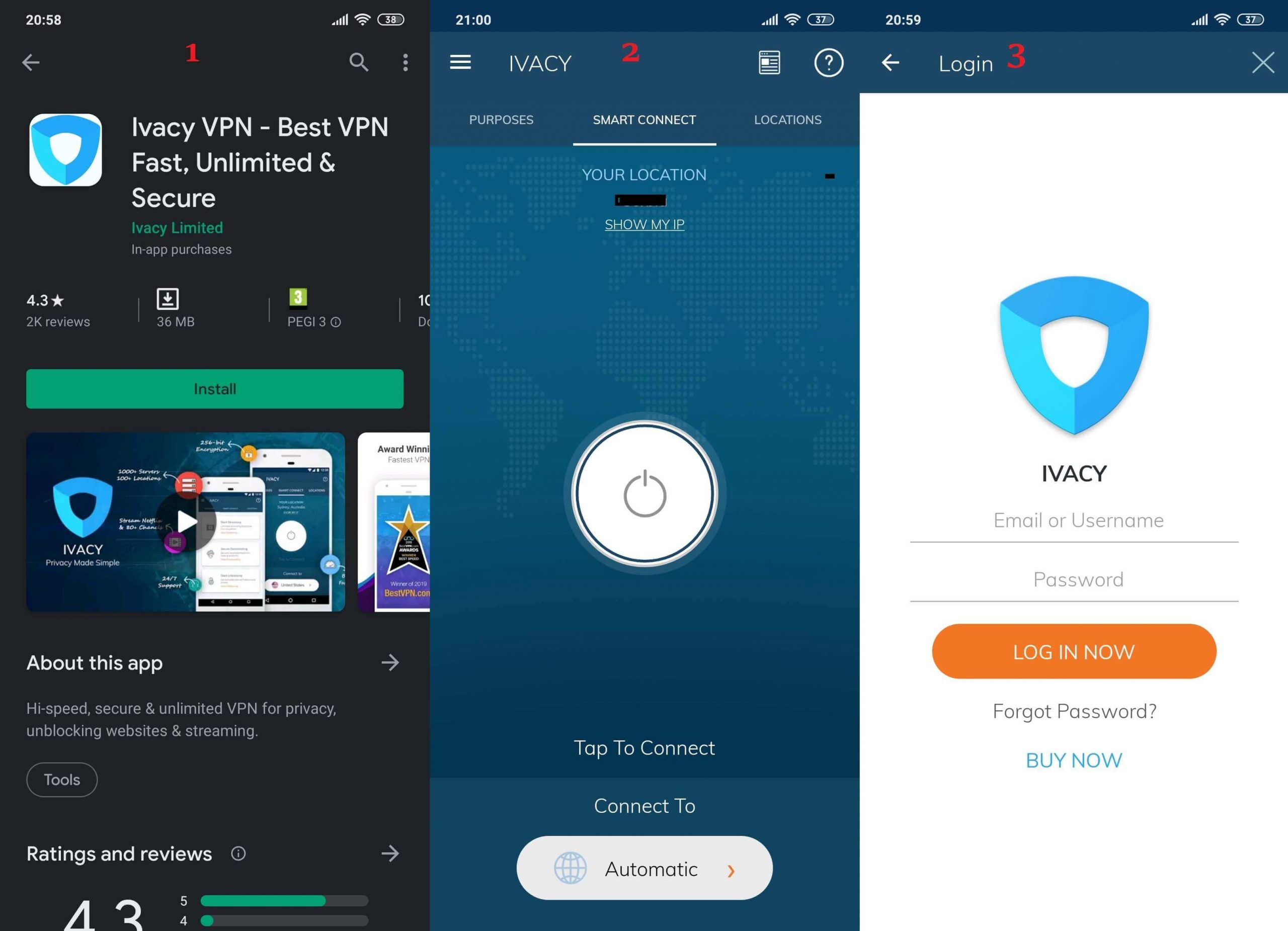 The app will download and install pretty fast. After that, open it and you'll get the home screen shown in picture 2. It's, more or less, the same as on Windows 10. Click on the three horizontal lines in the upper left corner to access the login screen. In picture 3, you see how it looks like. Type in your credentials and the app will log you in.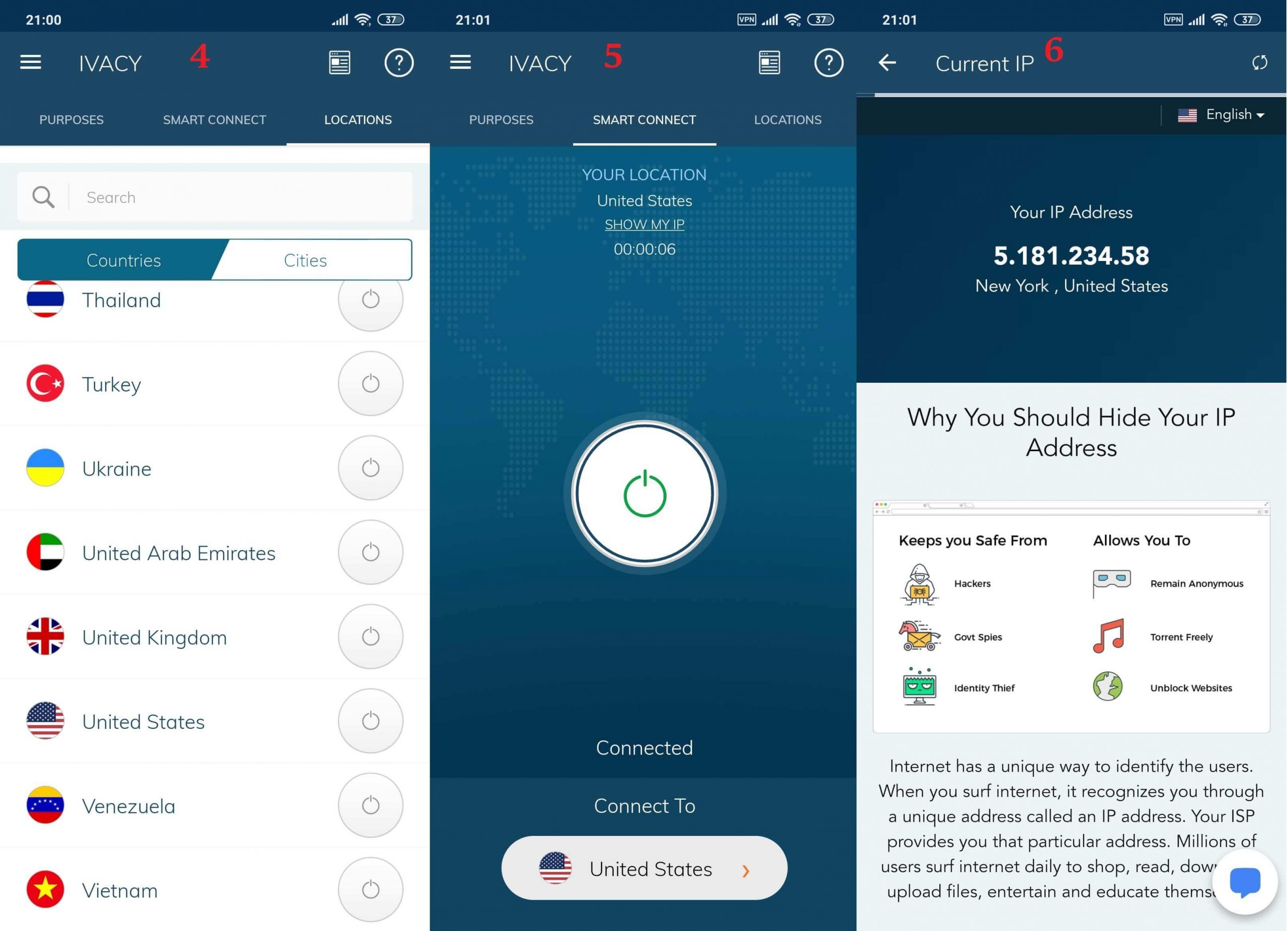 Access the server list (picture 4) by tapping on the orange arrow pointing to the right. From there, choose the server you want – our choice was the US server. Click on the power button and you'll establish a connection, which is shown in picture 5.
Now, for checking your IP, you'll have to go through the same process, which is even more annoying on a smartphone. You can see our American IP in picture 6. What we said for the Windows app also applies here. It's easy but Ivacy, please get rid of this stupid necessity with showing the IP addresses! Or show it directly into the app…
Other Devices
You've pretty much seen all the other devices in the screenshot above. But, if you scroll down on the provider's site a bit more, you'll find this image:

In the lower-left corner, you can see the Routers option, which is some good news! This means that you can cover up to 16 or 32 devices at the same time, depending on your router. Needless to say, with this compatibility, every Wi-Fi-capable device can take advantage of it.
For that reason, Ivacy put consoles, Kodi, Blackberry, Smart TV, Openelec, and other devices on the list. The device compatibility is exceptional and we have nothing to complain about, alas, we'll see if things will change.
How Fast is Ivacy VPN? We Checked Its Speed!
Here, at Monkey Privacy, we do all to make our review as objective as they can be. And when someone tells you that VPNs won't reduce your internet speed, that triggers our Monkey. EVERY provider will reduce your speeds to some extent. That's only a small price to pay for staying private and anonymous.
But, sometimes, this price isn't very small. Some providers will give you a 10-20% reduction, while some will reduce your speed by 80%! This is due to encryption, server load but also due to the quality of the provider's network. Nevertheless, let's see how we did our tests.
We did 3 tests in the morning, 3 in the mid-day, and 3 in the evening, for 3 different locations. We kept the best score and used the best location when that option was available. Our physical location is in the US (non-VPN test) and these are the 3 locations we used:
The United States
The United Kingdom
Australia
Without using a VPN, our ping, download, and upload speeds are:
Ping: 11 ms
Download speed: 211.88 Mb/s
Upload speed: 202.20 Mb/s
Now, when doing this review and tests for Ivacy VPN, our ping, download, and upload speeds respectively, for 3 testing locations, were:
US server: 62 ms / 109.65 Mbps / 147.88 Mbps

UK Server: 92 ms / 86.53 Mbps / 78.27 Mbps

Australian Server: 348 ms / 32.10 Mbps / 28.36 Mbps

As you can see, Ivacy isn't a very fast provider, which can already be seen even when using the US server. Our download speed was approximately twice as slower, although the upload speed was a bit higher. Ping of 62 ms in the US isn't very low but it's still enough for enjoying the internet experience properly.
But, when we switched to the UK and Australia, the performance started to spiral out of control. When using the Australian server, we got 348 ms ping, which is too high even for browsing. Our download and upload speeds were also significantly reduced and watching even 1080p videos on YouTube wasn't as smooth as before.
So, is the provider fast? Definitely not. There are much faster options on the market in 2021.
How Good is Ivacy VPN for Streaming?
Streaming has to do a lot with the provider's ability to bypass geo-restrictions and of course, with the speed. We determined that the speeds aren't very good but if you stick to 1080p videos, you'll probably be okay. If you're far from the USA and you're using a US-based server, you can pretty much forget about 4K Netflix streaming.
Speaking of Netflix, how does it work? Well, it's a bit… janky. It doesn't work very well. You'll be able to unblock it at one moment, and sometimes, Netflix will detect that you're using a VPN and lock you out. The results are mixed, so don't rely on it to effectively unblock Netflix every time.
As always, we'll test a couple more popular streaming platforms. Let's start with DAZN: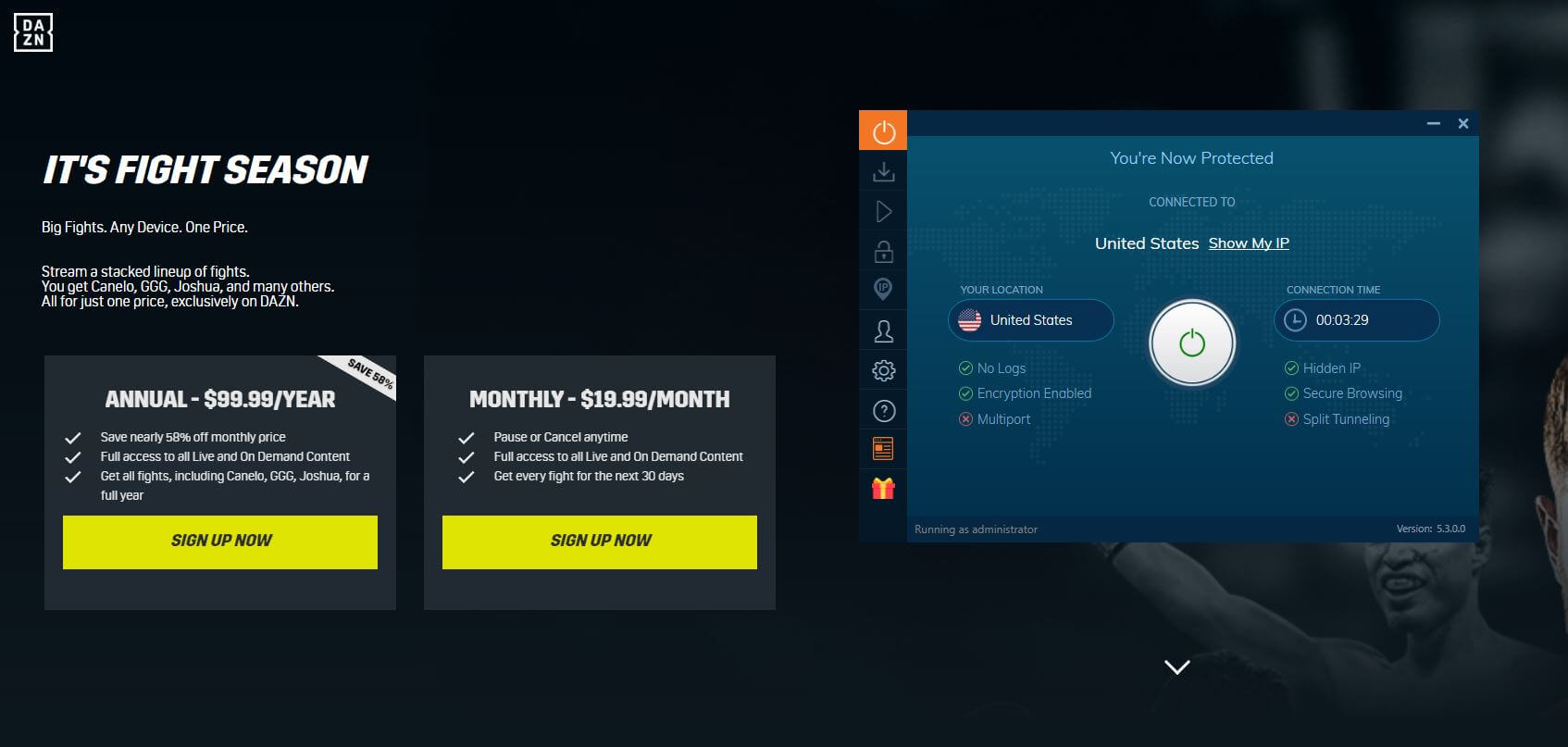 As you can see, Ivacy successfully unblocked DAZN, which is a pretty big surprise. DAZN works with only a few top-notch providers, which is why we're baffled. So far, so good. What about HBO GO? Well, take a look at this: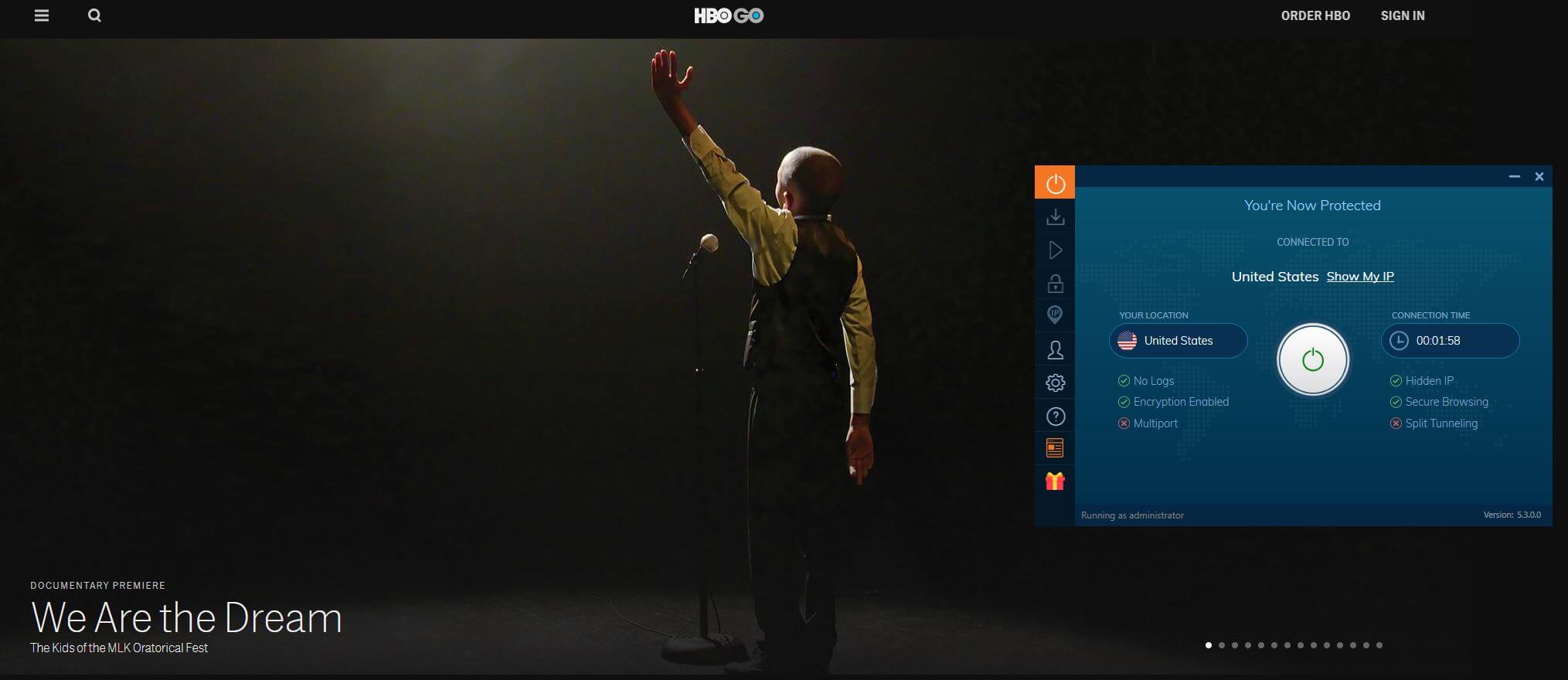 HBO GO works flawlessly with our US server. This applies to Disney+, which took us straight to the login screen, with no infinite loadings, and other annoying stuff. It was very easy to watch some programs from the streaming platform.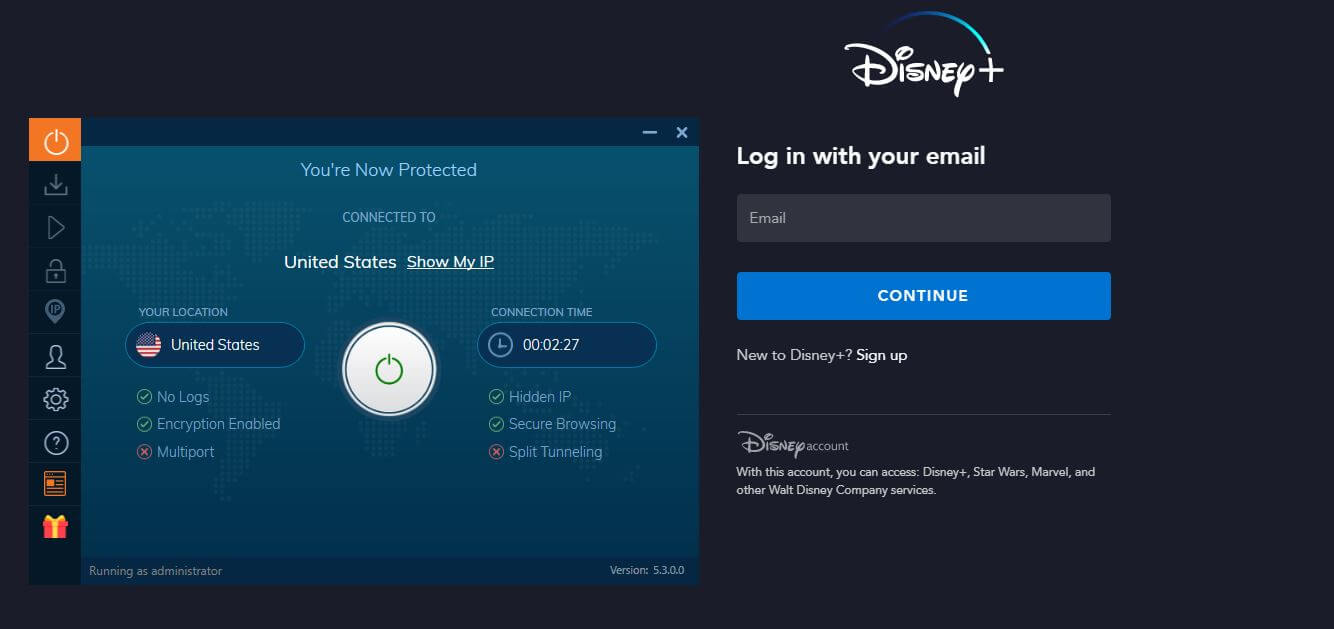 Finally, we checked the BBC iPlayer: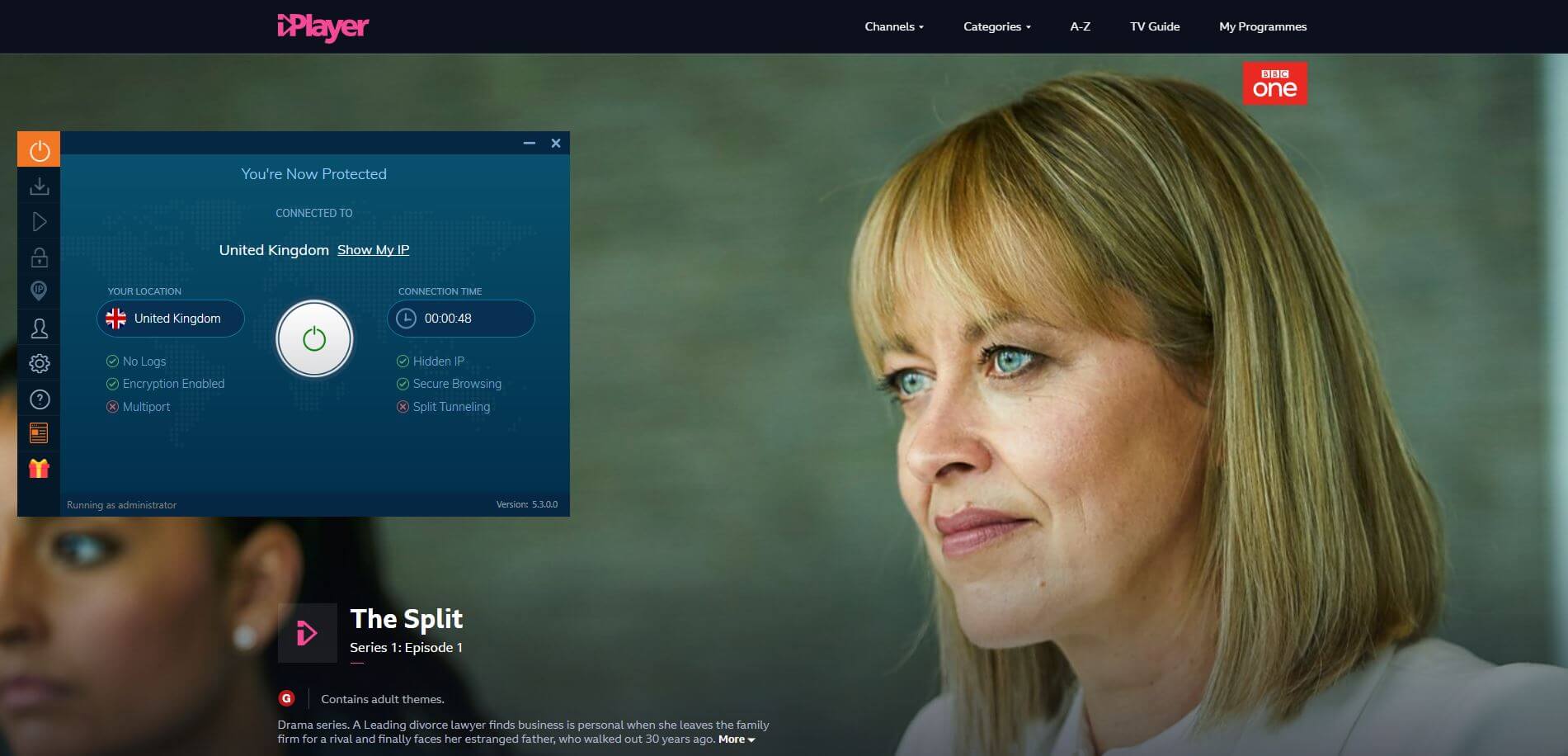 Usually, right below this black bar above, you'll see something like "Looks like you're not from the UK, blah, blah, blah…" but here, we didn't encounter it. This means that Ivacy VPN successfully unblocked BBC iPlayer with only one attempt.
We must admit that we're impressed with its performance in this department. As long as you watch only 1080p movies and TV shows and don't care about Netflix, you'll have no problems. With that in mind, the provider is good for streaming.
Confidentiality, Security & Logs
One of the main purposes of this service is to be safe and secure. You know how harsh we are when it comes to this. If a provider isn't trustworthy, we'll discard it and tell you not to buy it. Let's start from the zero-log policy that you can find on the provider's website: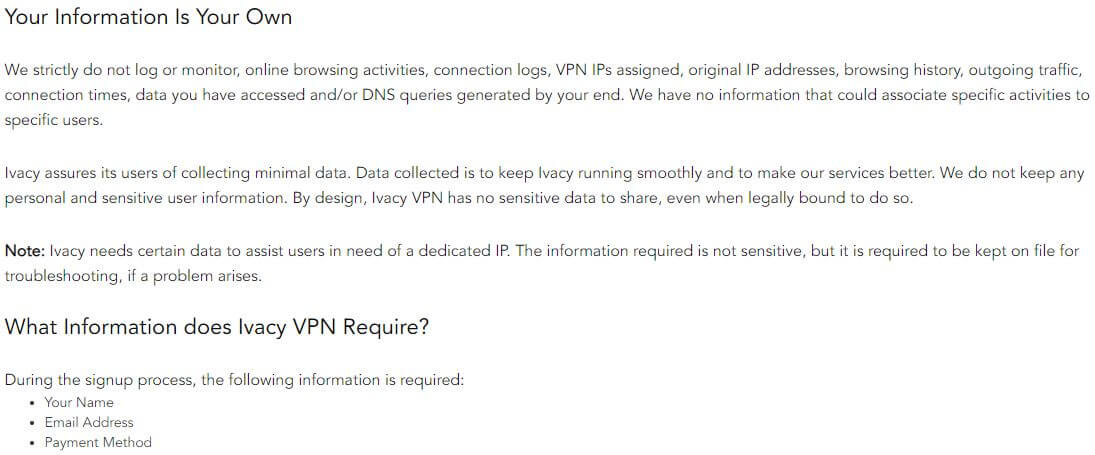 As seen from the screenshot above, Ivacy is very strict when it comes to keeping things private. They don't keep your connection logs, online history, IP address, outgoing traffic, and so forth. The only info they collect is your email, your name, and the payment method you've used. You can read the full policy here.
When it comes to security, Ivacy VPN is well-equipped. You get tons of security protocols like PPTP, OpenVPN, IKEv2, L2TP, and SSTP. With all these features, we don't expect and IP and DNS leaks, so let's see the results from our test: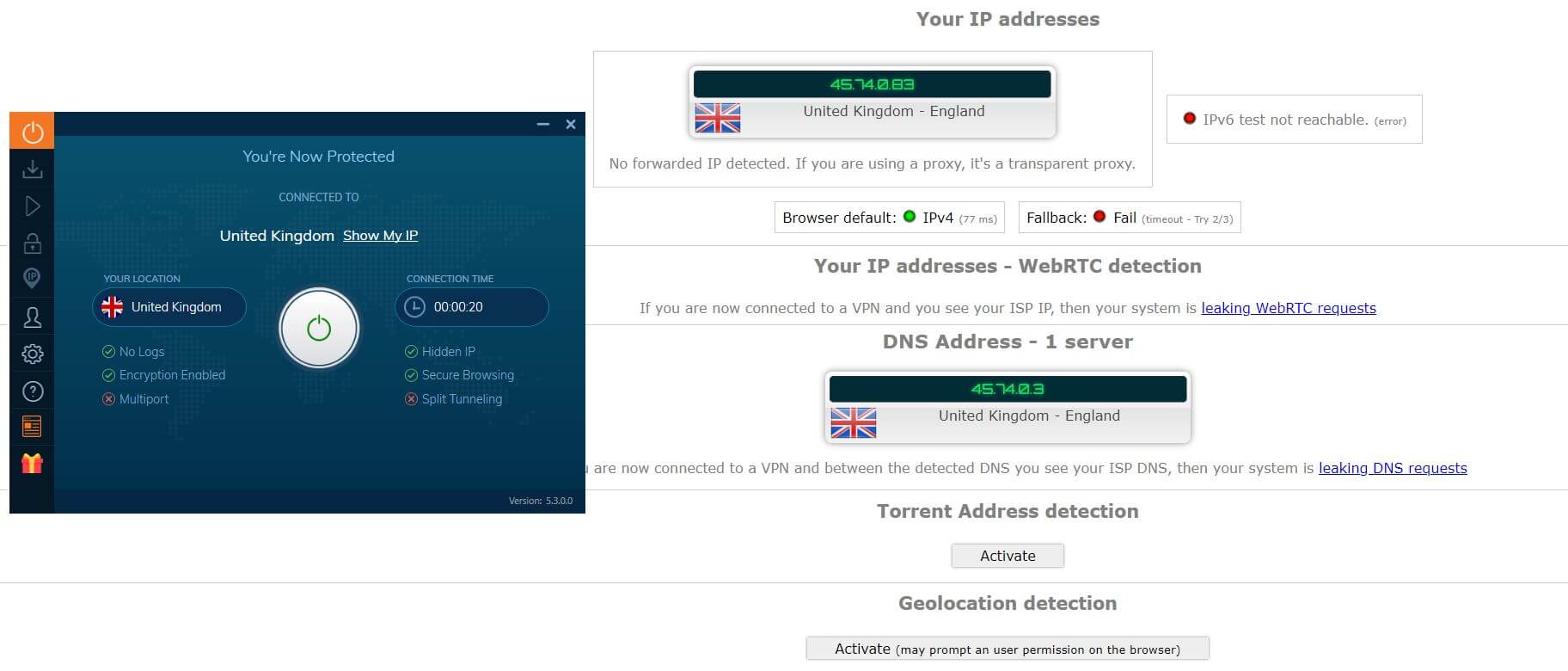 No IP and DNS leaks here, which is good news for ou complete review of Ivacy. Unfortunately, OpenVPN didn't work for us when using the Windows app.
Also, when it comes to security, we want to point our something. We found out that Ivacy VPN is owned by Gaditek, a company based in Pakistan.
The bad thing is that Gaditek also owns PureVPN, which is one of the worst providers we've tested. They also violated their zero-log policy at one point, which puts a shadow over this provider's reputation. Although Ivacy didn't do that, we'd still be careful with it. Not to forget that Singapore, the country where the company is located, is a member of the 14/9/5 Eyes!
So, is this provider secure? Yes, it is – for now! We've yet to see if it'll make a mistake like PureVPN did, in which case, we'll also deem it as one of the worst providers on the market.
Can I Do Torrenting Safely With Ivacy VPN?
The provider has dedicated servers, akin to those of CyberGhost. Here, you'll find those for torrenting but they're branded as "Secure Download." We tried to find the word "torrent" but we couldn't find it. Will the provider allow P2P file sharing? Let's see:

Judging by the image above, torrenting is allowed. The 1337x site showed us the IP we used with a VPN, so it seems okay. We recommend that you use only dedicated servers for this purpose because some rumors say that the provider blocks some of the torrent trackers.
This means that P2P support is limited but after all, it's still there on these servers. Plus, you will have access to a Kill Switch feature. So you should be safe!
Can I Use Ivacy VPN to Bypass Censorship?
Let's see if the provider can bypass censorship, as in our IPVanish test. When we talk about censorship, we usually think about the Great Firewall of China. China is hell-bent on blocking VPNs in the country, so in 2021, only a couple of them work.
Interestingly, the provider has servers in China, Shanghai. But you don't want to use them to bypass censorship. With this being said, in 2021, the provider still works in this country and can bypass censorship. Users from the UAE will also get some servers in Dubai, and there are even servers in Turkey and Russia.
These countries are known for their harsh censorship, which is why we often mention them. More about Russia's relationship with Virtual Private Networks later.
Pricing and Plan Options
We can bet you've already remembered the word "cheap" from above. Let's see what the provider offers and what we define as cheap: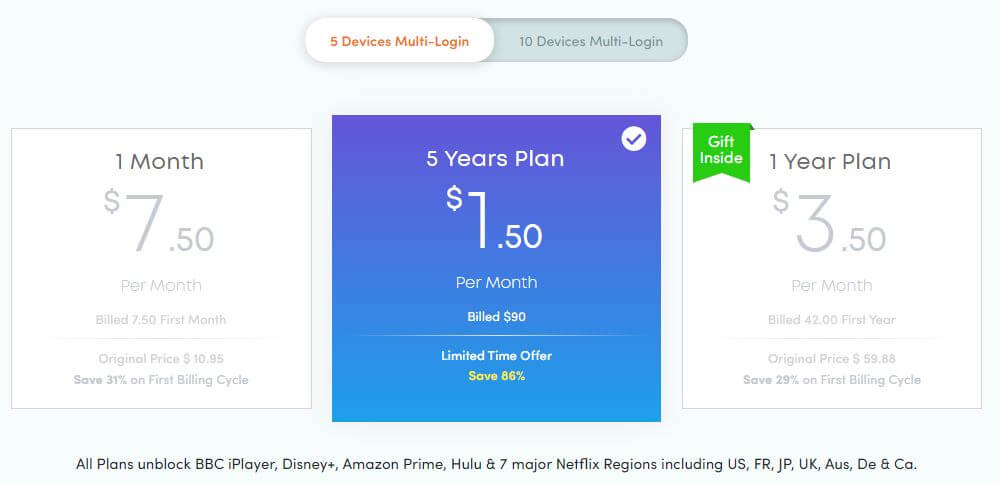 Ivacy VPN is one of those that you can get for less than two bucks. Beware that these plans support up to 5 simultaneous connections and if that's not enough, you can get one that supports 10 of them. The plan in the middle costs $1.50 a month or $90 year, and it's a 5-year plan with an 86% discount. To us, that's very cheap.
The plan on the right is the annual one. It's $3.50 a month or $42 a year. As you can see, you get some sort of gift here. Finally, the plan on the left is a monthly plan, which is the cheapest we've ever seen. It's just $7.50 a month.
Note that there are security add-ons that you can pay for additionally:

Port forwarding costs $1 a month and you can get one dedicated IP for $1.99 a month.
If you go for 10 simultaneous connections, a monthly plan will be $9.95, a 5-year plan will be $1.99 a month, and the annual plan will be $4.25 a month. Even these prices are very cheap, so it looks like a good money-saving option. Get ready to bring this theory down in just a second. In that time, take a look at the payment methods: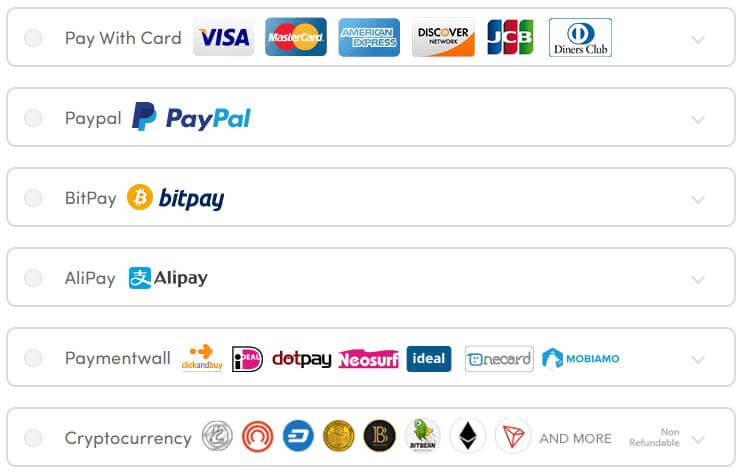 It looks rich, huh? The provider did a good job of giving you lots of options for paying, so even Bitcoin and other cryptocurrencies are there. And now, for the bad stuff – the refund policy. This is easily the worst thing about Ivacy. Take a look at this:

For the start, a 30-day money-back guarantee applies only to long-term plans. This means that a monthly plan has a 7-day money-back guarantee. Furthermore, if you used BitPay, Bitcoin, Paymentwall or Coin Payments as your payment method, you aren't eligible for a refund.
The worst thing is that, if you've consumed more than 500 MB of data or connected to VPN more than 30 times, you CAN NOT get a refund. This, of course, isn't stated clearly in the policy. We respect this deal, though. It's fair and they're not the only ones doing it.
However, if you're going to do this, at least clearly state it in your policy. Don't hide it in the rabbit hole. Just to be clear, we're talking about these 500 MB of bandwidth and 30 sessions. Other things, as you can see, are already in the policy.
If you're eligible for a refund, you can contact the provider via live chat: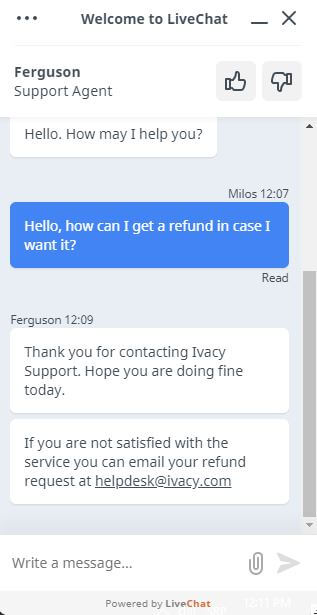 The agent will tell you to contact the company via the email in the screenshot.
How Can I Contact Ivacy VPN?
Let's see how you can contact the provider in case you need any help fixing the issues.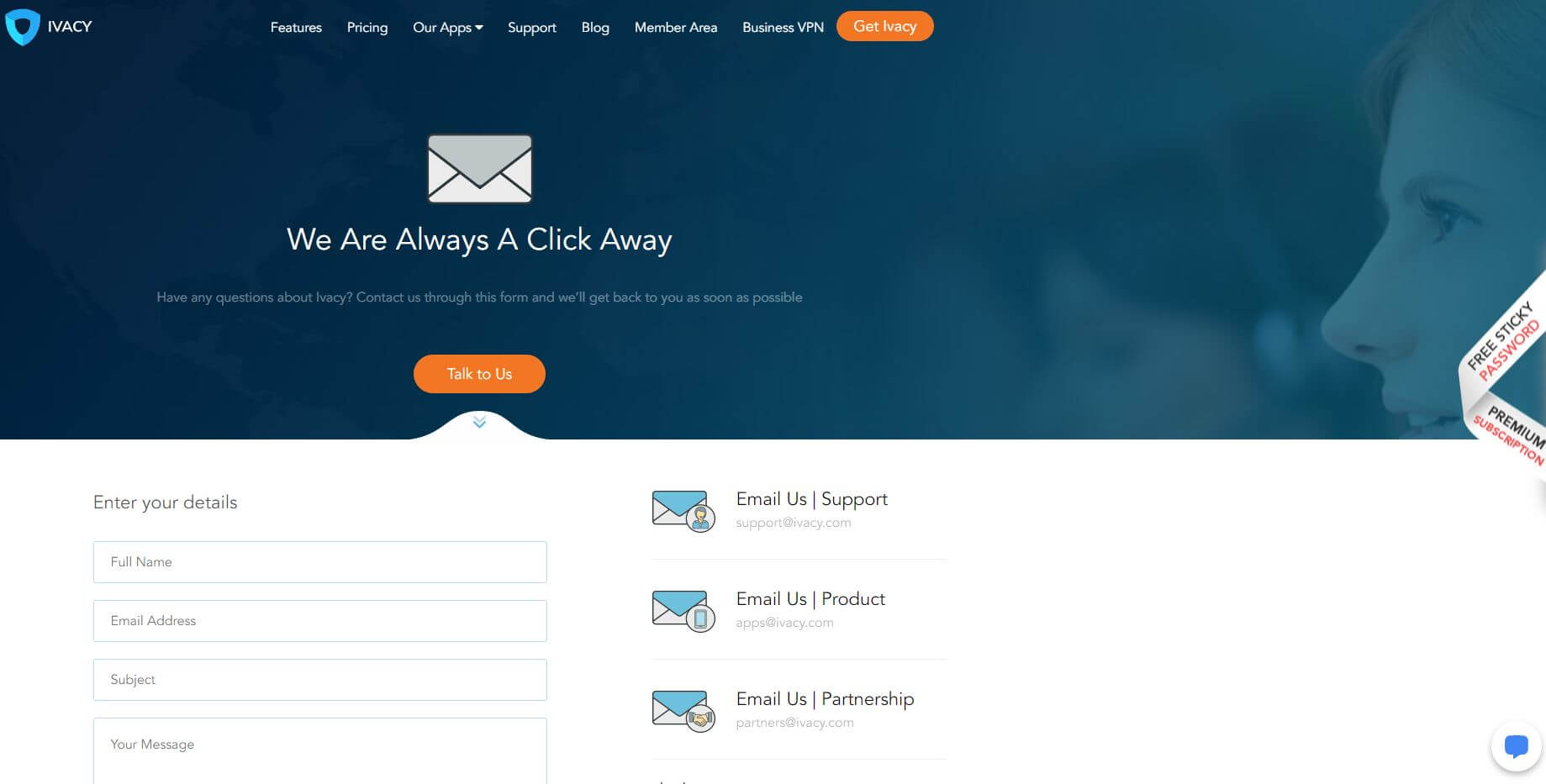 In the lower-right corner, there's a live chat functionality we used when asking for a refund. Aside from that, you get classic email support. The support team members will respond to you in less than 24 hours in this case. However, since the live chat is already here, we doubt you'll ever use email, except if you want a refund.
Overall, customer service is far from the fastest and most efficient we have come across during all our tests.

The Special Functionalities
The special functionalities are here to enhance the already basic experience that a VPN can offer. Let's see what this provider gives you for the price:
Multiport
Multiport is a feature for automatic port selection. If you turn it on, the app will scan for open ports to bypass port blocking and give you the best one in terms of speed and stability. Here's how to find it in the app: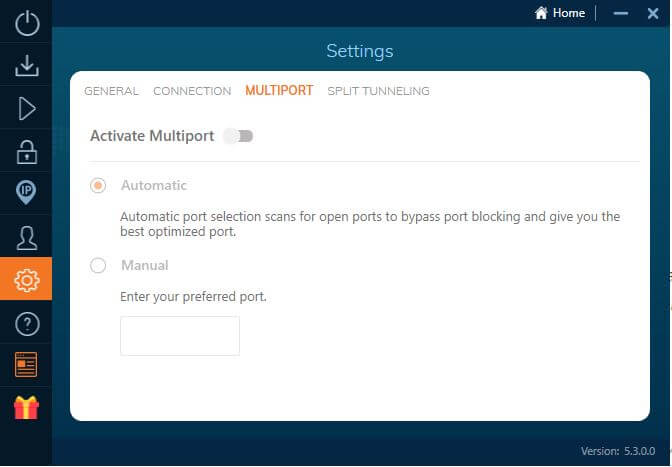 You can go for either Automatic or Manual. If you choose Manual, you get to enter your preferred port. We don't recommend doing this if you're inexperienced.
Dedicated Servers
Dedicated servers are great for optimizing your online experience for certain activities. Once again, if you move your cursor to the left, you can see what they offer: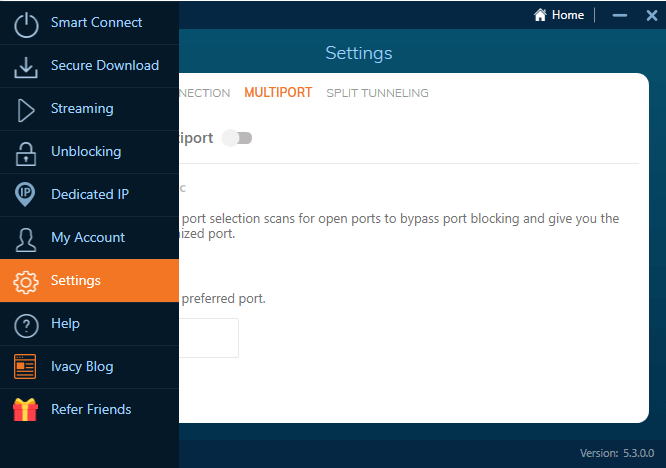 There are servers for "secure download", streaming, and unblocking sites. On the top, there's Smart Connect, which is basically the best location for you at the particular moment.
Dedicated Kodi Add-on
Last but not least, Ivacy VPN made a dedicated add-on for Kodi, which will make your job of setting it up easier. If you're an everyday Kodi user, you can read the provider's guide here. They covered everything you need to know about VPNs and Kodi, and in our opinion, this is a very good starting point.
If you've already set it up on your router, there's no need for installing the add-on, just so you know.
Other Things You Should Know
Apart from everything we just said, there are still things you need to know:
Number of Servers
Ivacy's server count isn't very impressive. They've managed to cram in only 1,000+ servers, which is very low, considering its 13-year existence on the market.
A few minutes ago, we mentioned the servers in Russia. Many providers, including ExpressVPN and NordVPN, have already removed their servers from there. This is because Russia wants to have access to users' data at any moment in case the providers want to have their servers in the country.
On the other hand, this provider didn't do it, which means that it's still working in Russia. Does this mean that the Russian government has access to your personal information when using a Russian server? Possibly. That's just something to think about.
Number of Countries
As you can see from the screenshot above, Ivacy VPN offers servers in 100+ locations. The most servers are located in Europe and North America, with the least amount being in Africa, where they have servers in only 5 countries.
Number of Simultaneous Connections
The provider offers up to 5 or 10 simultaneous connections, depending on your subscription. If you're planning to use it on your router, we recommend getting the one with 5 connections, in case you want to save money even more.
What Do Other Users Say About Ivacy VPN?
A review is just an opinion about software, hardware or whatever is being reviewed. For that reason, we always look for other users' opinions to see if they match our test results and experiences with different VPNs. This provider doesn't have quite a reputation online. Let's start from Reddit:

This time, we have two users that have the same problem – unstable connections. We also found out that not many people on Reddit like this provider. There are usually complaints about the speed, connectivity, and their shady refund policy. Let's see the IvacyVPN reviews from the Google Play Store.

Once again, connectivity issues. This user is obviously very frustrated with Ivacy for the reasons shown above. Although it has 4.3 stars on Google Play, there are a lot of negative reviews in the past couple of months (all the positive review are looking like fake ones). Now, let's visit the Apple Store and see if the provider is any better: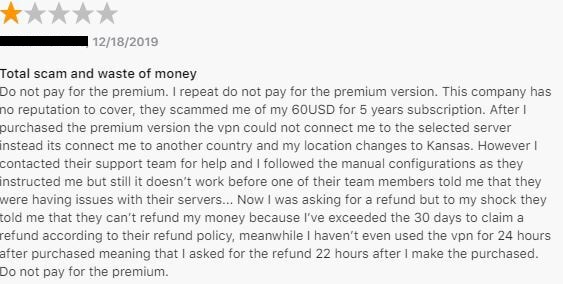 The Apple Store user review says that the service is a scam and a waste of money. The reason being is because the connectivity was poor, despite following the instructions from the provider to fix it. Furthermore, they didn't give him a refund, claiming that 30 days have passed, while that wasn't the case. So, once again, the refund issues – just as we described in the review!
Last but not least, let's check reviews from the Trustpilot users:

This review of Ivacy sounds like the user encountered an IP leak. He says that his IP address was discovered in the UK when the support team helped him fix the case with an alternative server. The interesting thing is that Ivacy has a lot of 5-star reviews on Trustpilot, though.
There are even some hilarious reviews where one electrical engineer asks for a job in this company. Or perhaps, a man asking for an honest woman.
Conclusion: Should You Take It?
Ivacy VPN is a provider we like to define as a mixed bag. It's capable of some great things but on the other hand, it falls flat on its face because of certain factors. The provider can unblock even the toughest streaming platforms, aside from Netflix. The support for routers is welcome and we like its special functionalities.
Everything else, however, is debatable. Slow speeds, questionable zero-log policy, 14 Eyes presence, bad reputation online, limited P2P support, and a small network are just some of the factors that let this provider down. Aside from its cheap pricing, we see no other reason for buying Ivacy VPN.
Should you take it, then? No, you shouldn't. Instead, you can get Surfshark, which is similarly priced, yet miles away. Or, if saving cash isn't your priority, you can buy ExpressVPN. It's the best provider in 2021 and is #1 on our list of top providers.