In the world of VPNs, getting a more expensive solution isn't always going to bring the best results. Sure, some of the more expensive providers are great but some of them fail to meet our expectations. On the flip side, some cheap providers really do a great job. And when we talk about cheap services, we can't miss PrivateVPN. This provider promises a lot for the price and if you take a look online, you'll see tons of great reviews. But, is the provider up to the task? You'll get your answer in our Private review for 2021!
What is PrivateVPN?
PrivateVPN is a company that exists for a decade now, being founded in 2009 in Stockholm, Sweden. For those who don't know, the company's full name is Privat Kommunikation Sverige AB. The Swedish providers we already know, Mullvad and FrootVPN aren't known as some of the best on the market.
This one, however, looks promising, although we don't have any sky-high expectations. The reason being is because of its country – Sweden. This country is a part of the 14 Eyes Alliance, which makes us doubt if the provider is secure enough. Or perhaps, can the Swedish government access your personal information if you're using the provider?
We're going to delve deeper into the provider's offerings and see if it's worth your time. If you, for some reason, don't want to read the full review, you can use the button below to visit PrivateVPN website now and buy a plan you want.
Compatible Devices and Ease of Use
The compatibility is extremely important for a Virtual Private Network. Nobody's using it only on a computer. Instead, people often browse the internet using their smartphones and these devices also need some protection. So, let's see what the provider has to offer in this compartment: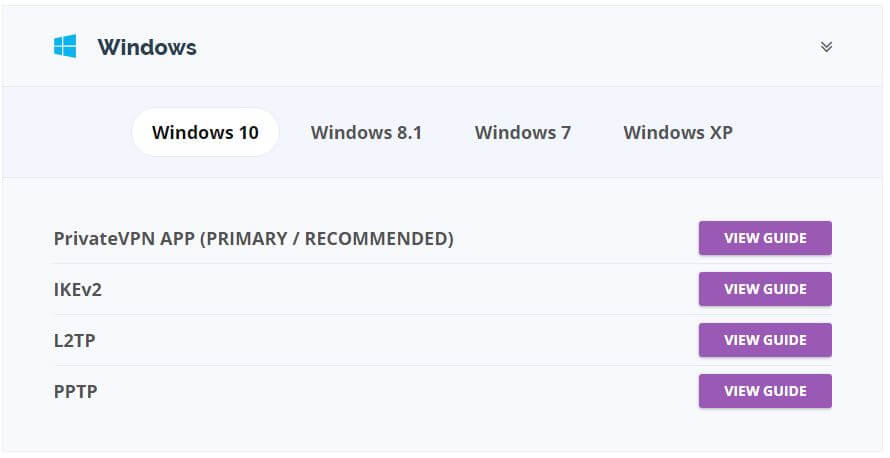 First, there's support for Windows. We like how they also support older versions, all the way to Windows XP. Underneath, you see the protocols PrivateVPN is supporting, too. Aside from Microsoft's magnum opus, the provider supports the following platforms: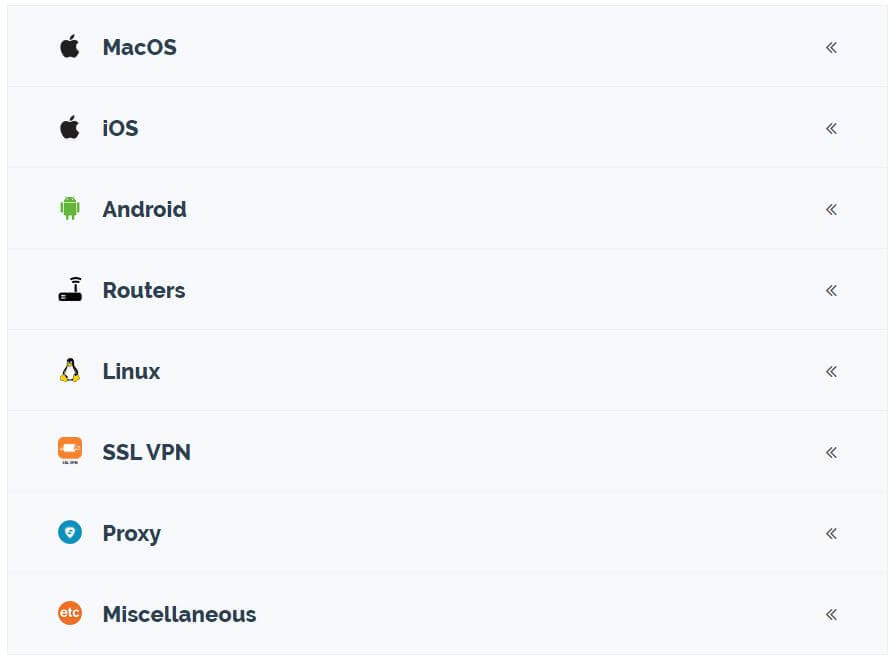 As you can see, there's extensive support for all the major platforms. There's macOS, iOS, Android, Linux, etc. Even routers are there! Off to a good start, heh? Let's talk more about its ease of use.
Computers
When it comes to computers, PrivateVPN supports Windows, macOS, and Linux. These platforms are the main computer platforms, so there's nothing to complain about. We used a Windows application to match the best user experience you can get. And as you know, Windows is currently the most used computer OS.
So, how do you install it on your Windows 10 PC? Well, first get a subscription and download the apps. Click on the setup file and you'll see this screen: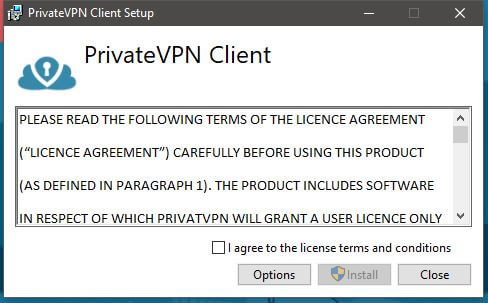 Accept the terms and conditions and click Install. The installation will then begin: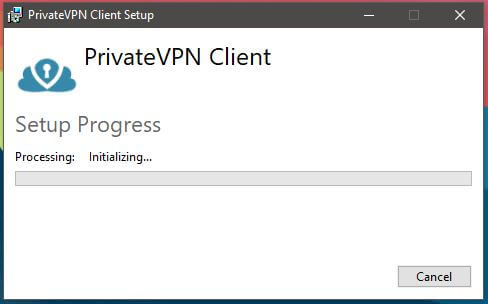 This process lasts about 10 seconds on an SSD, so you won't have to wait for an eternity. But, we didn't expect to see this screen after that: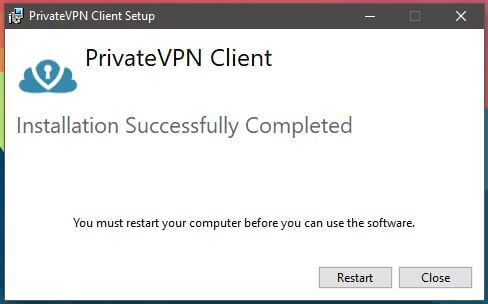 PrivateVPN requires a restart before you can use it. Not many providers will behave like this but it's not a big issue. After a restart, you'll have to manually run the app. When you run it, you'll be greeted by this screen: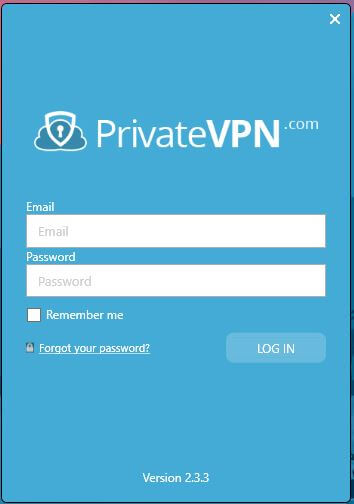 It's a login screen, so just type in your email and password, and you'll immediately get to the home screen: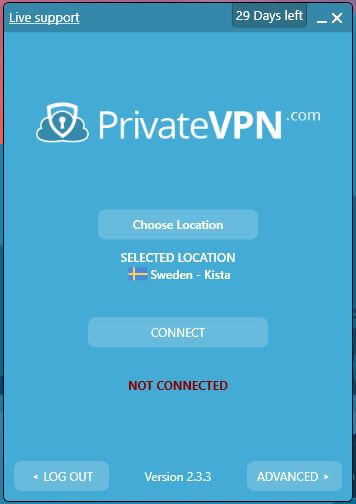 We like how simple the app is, even for the first time using it. There aren't warning, tutorials, flashy stuff, and ads. Just a simplistic login screen and a home screen. To connect, click on the Choose Location button. The server list will open: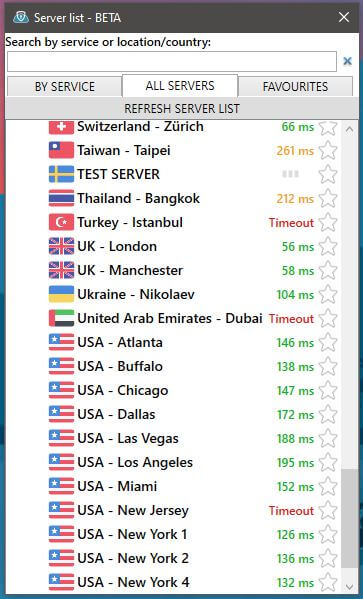 Now choose the server you want and double-click on it. Your connection will automatically be established. Here's how that looks: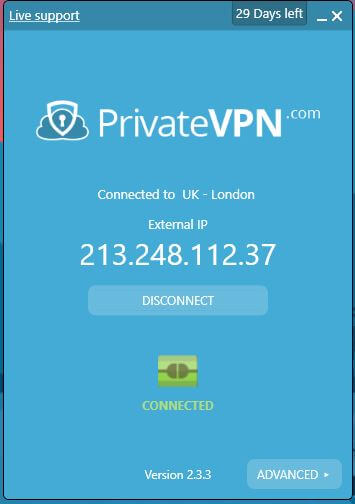 As you can see, we used the UK server and it connected in about 5 seconds. The Windows app is very simple to install and use. For us, this experience is A+.
Smartphones and Tablets
Mobile platforms are quite important nowadays, especially Android and iOS platforms. These two rivals have a good thing in common – they are both supported by PrivateVPN. As always, we'll use our Android phone to show you the installation process but rest assured, the process is exactly the same on iOS.
Visit the Google Play Store and download the app. You can see how it looks in picture 1.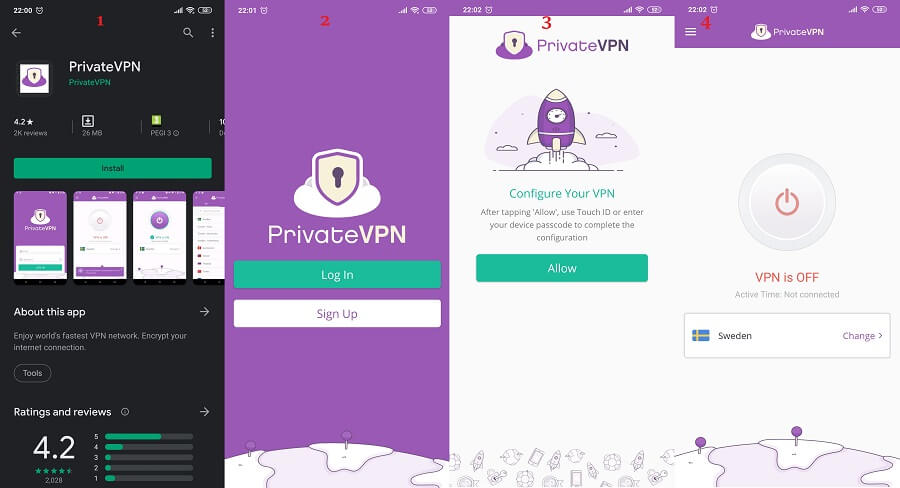 When it's installed, open the app, and you'll see the login screen, as in picture 2. Tap Log In, and as shown in picture 3, click Allow to allow the VPN to establish a connection. Finally, the home screen is shown in picture 4.
You can see that it's pretty similar to the Windows app, aside from the interface color. We'd say that the Android app is more beautiful and graphic, whereas the Windows app looks slightly outdated. To choose your server, tap on Change, right next to Sweden: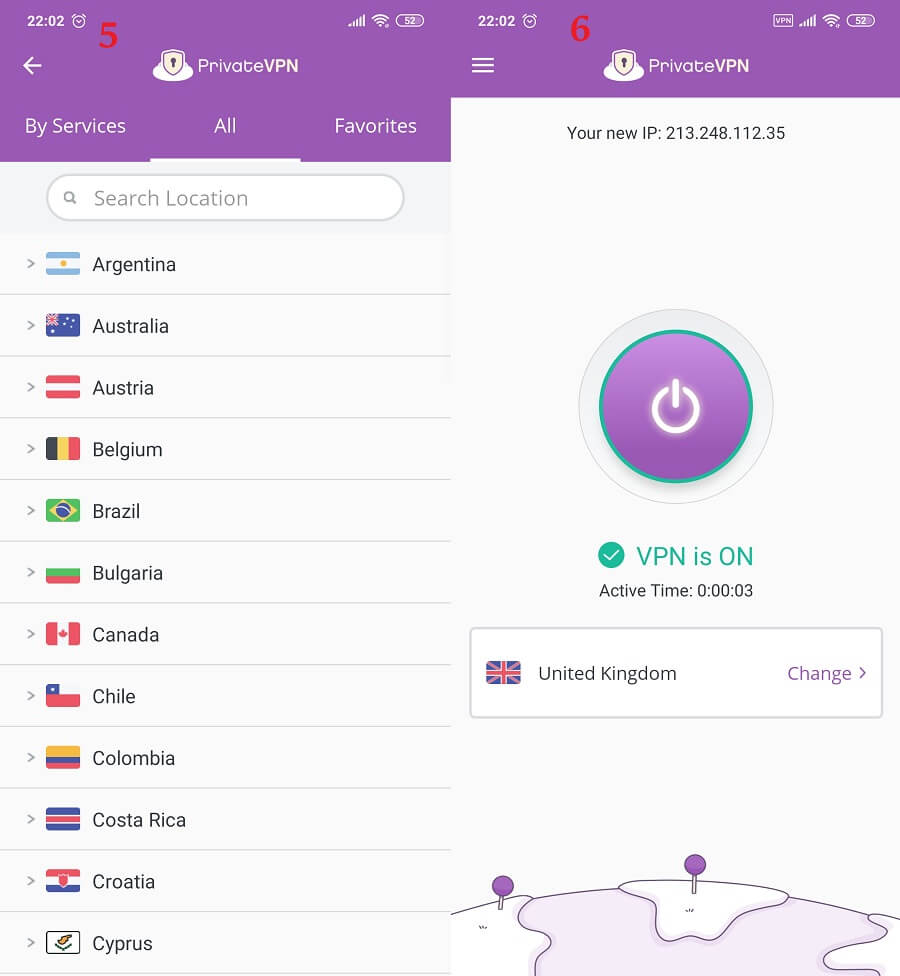 The server list in picture 5 will open. Choose the server you want and you'll be returned to the home screen. Tap the big power button and you'll establish a connection in a few seconds, as shown in picture 6.
All in all, the mobile app looks and feels great. It's easy to use and is definitely one of the better VPN experiences we had on the phone. This is definitely a positive aspect in this PrivateVPN review.
Other Devices
PrivateVPN went out of its way to bring us top-notch device compatibility. This time, they've expanded it to routers, even offering helpful installation guides.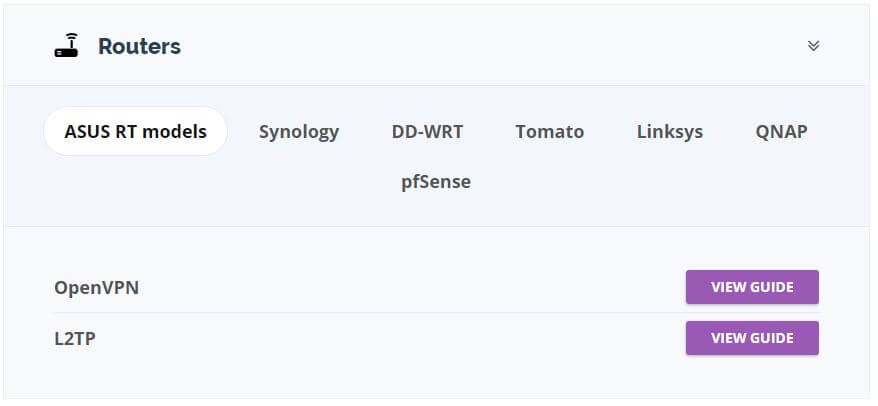 These are supported models and firmware, of which every model and firmware have their guides. Needless to say, if you install it on your router, you'll be able to protect every device connected to it. PlayStation 4, Xbox One, Apple TV, Roku, Kodi, and all similar devices will have their share of protection.
Oh, we nearly forgot to mention its add-on for Kodi! You even get a special guide for that. But, more on that later.
How Fast is PrivateVPN? We Checked Its Speed!
The speed department is where many great providers have fallen. It's like an ultimate test of strength, similar to powerlifting competitions. Can PrivateVPN flex its muscles enough? We'll see that in just a second. For now, let's just get out of the way the fact that all providers reduce your internet speed to some extent.
However, there's a big difference in 10% reduction and 70% reduction. Premium providers will reduce your speed slightly and those less-premium providers will reduce it dramatically. This depends on many factors, of which some are level of encryption, server distance, quality of the network, etc. For that reason, it's crucial to see how we did our tests.
We did 3 tests in the morning, 3 in the mid-day, and 3 in the evening, for 3 different locations. We kept the best score and used the best location when that was possible. Our physical location is in the United States (non-VPN test) and we used these 3 locations for testing:
The United States
The United Kingdom
Australia
Our internet speeds without using a Virtual Private Network are:
Ping: 11 ms
Download speed: 211.88 Mb/s
Upload speed: 202.20 Mb/s
Now, when using PrivateVPN, our ping, download, and upload speeds respectively, for 3 different locations, are:
US server: 32 ms / 172.30 Mbps / 95.76 Mbps

UK server: 119 ms / 71.28 Mbps / 86.83 Mbps

Australian server: 336 ms / 21.44 Mbps / 37.19 Mbps

For a provider this cheap, the speeds when using the US server weren't THAT bad, as you can see. But, as soon as we switched to remote locations like the UK or Australia, things started to spiral out of control. Our ping was dramatically increased and download/upload speeds saw a huge decrease.
We see that the provider isn't very consistent when it comes to speeds. For instance, when using the Australian server, our ping increased 30 times and download speed decreased 10 times. The situation with other servers will be the same.
So, to conclude this section of our review and tests, PrivateVPN isn't very fast. Its speeds are inconsistent, which will tamper with your browsing experience once you switch to a more distant server.
How Good is PrivateVPN for Streaming?
For streaming, two things in a Virtual Private Network are important – the ability to bypass geo-restrictions and speed. We saw that the provider isn't very good when it comes to speed. But, is it at least decent for bypassing geo-restrictions?
Let's start with Netflix. Using our US server, we managed to unblock it easily. Other servers work, too. Australian, Britsh, and Canadian servers worked flawlessly, for example. However, given its lackluster speeds, don't expect to stream Ultra HD content. That's not going to work on a distant server!
Regarding other streaming platforms, the provider did a solid job of unblocking them – once again, for the price. Let's start with HBO Go: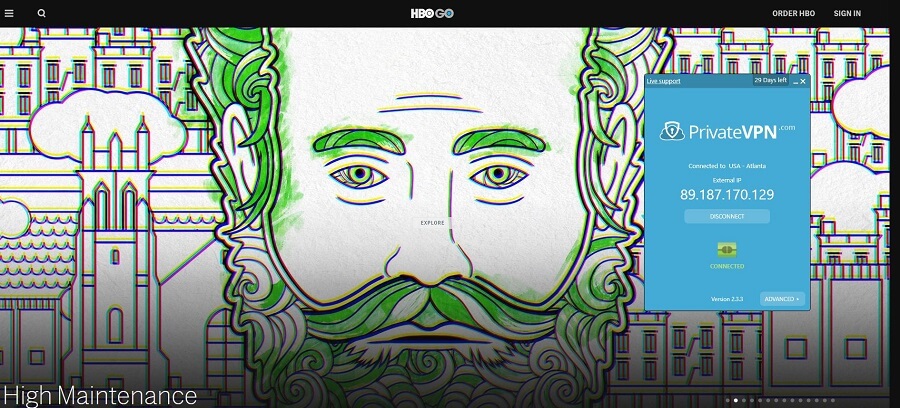 As you can see, this platform works well. Interestingly, we also unblocked BBC iPlayer with one of the UK server, which is nice to see for a low-cost provider: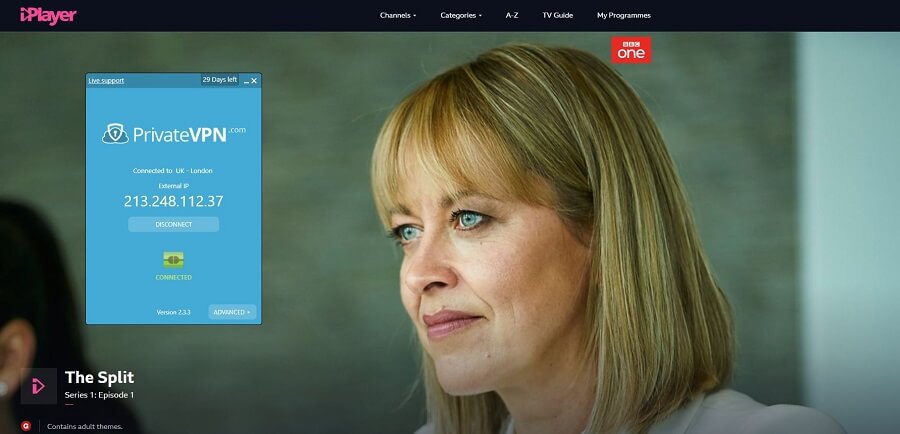 DAZN, as you can see, didn't work: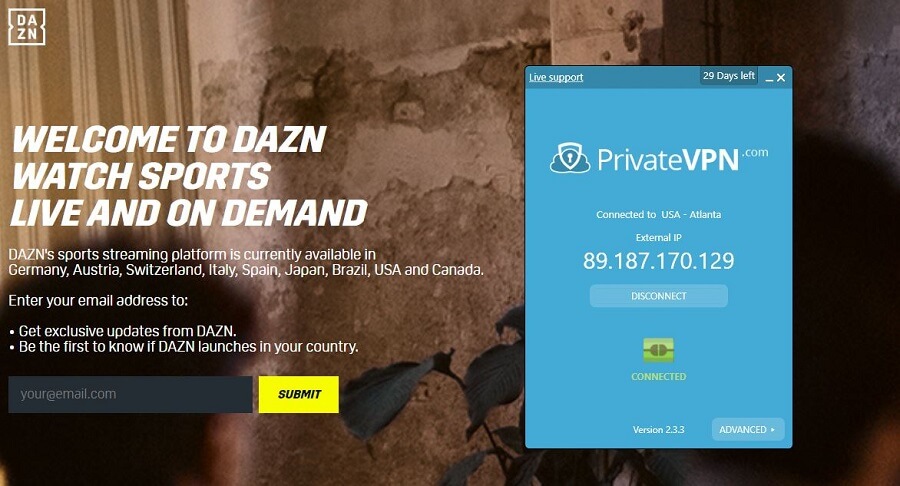 And neither did Disney+, as we ended up stuck on an infinite loading screen:
Other unblockable platforms include Amazon Prime Video, Hulu, and ABC. It's also usable to unblock Australian TV channels and streaming platforms – most notably 10Play, a popular TV channel. With all this in mind, how good the provider is for streaming?
We would say it's average. Sure, you will be able to use it to enjoy YouTube+ and other platforms we mentioned but don't have your expectations very high. You'll still have to combat inconsistent speeds, so you won't be able to enjoy your content in the highest possible quality.
Confidentiality, Security & Logs
As our site name implies, we're all about privacy and security. We hate being left under the watchful eyes of the government and ISPs, which is why want you to be secure online. PrivateVPN, as we said, is a provider from Sweden, and as such, it's under the 14 Eyes influence – or it should be, theoretically.
The provider, surprisingly, has a zero-log policy on the site. Here's a fraction of it:

At first glance, this privacy policy seems alright. But, if we scroll down a bit, we can see this:

In the first paragraph, the provider mentions the third parties that provide services on their behalf. To make matters worse, these third-party companies receive "only the necessary information" to perform their designated function. So, after all, a part of your personal information goes to third parties.
Now, you'll say that this isn't true because, in the last row of the first paragraph, they explicitly say so. But, how can we know this is or isn't the case? Whenever even a fraction of your info goes to third parties, that's some shady business. In the end, here's what the provider added:

In their words, they might change the privacy policy to accommodate to laws and principles. If the 14 Eyes demands some of the data they collect, does it mean that they'll give it away to "comply with applicable laws and principles?" They probably would.
They also use cookies, as you can see from one of the images above. However, these cookies are only used when you visit the provider's site. You can see the full policy here. Now, let's check the IP leak test and see if we encountered any DNS and IP leaks during our tests: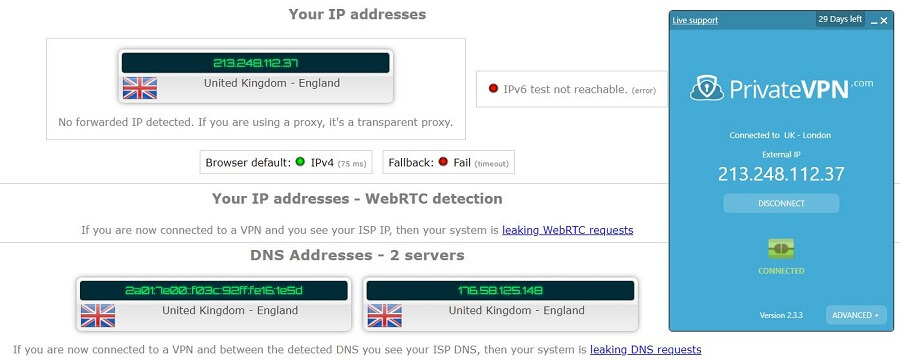 Thankfully, there aren't any IP and DNS leaks, so in this regard, we're secure. To accompany this, there's 256-bit encryption, OpenVPN, IPv6 leak protection, and an automatic kill switch. All in all, we wouldn't call this provider secure.
Sure, there are great security protocols but the shady no-log policy lets it down. For that reason alone, it's hard for us to recommend going for PrivateVPN, even though it's very cheap.
Can I Do Torrenting Safely With PrivateVPN?
Although the countries from the 14 Eyes are hell-bent on stopping privacy, this provider allows torrenting. However, there are about 25 P2P servers for you, so there aren't many options in case all of these are under high load. As always, we'll use the 1337x torrent site to see if our real IP is detected:

No, it isn't. That's some good news. Be sure to use only dedicated torrenting/P2P servers to make sure you're anonymous while performing P2P activities.
Can I Use PrivateVPN to Bypass Censorship?
Bypassing censorship in countries like China, the UAE, Russia, and Turkmenistan is getting harder these days. The Great Firewall of China, in particular, messes up with the majority of VPNs out there. With only a handful of them working, Chinese residents find it hard to get a provider that will work reliably.
This cheap provider isn't expected to bypass censorship but surprisingly, it does – thanks to its Stealth VPN feature.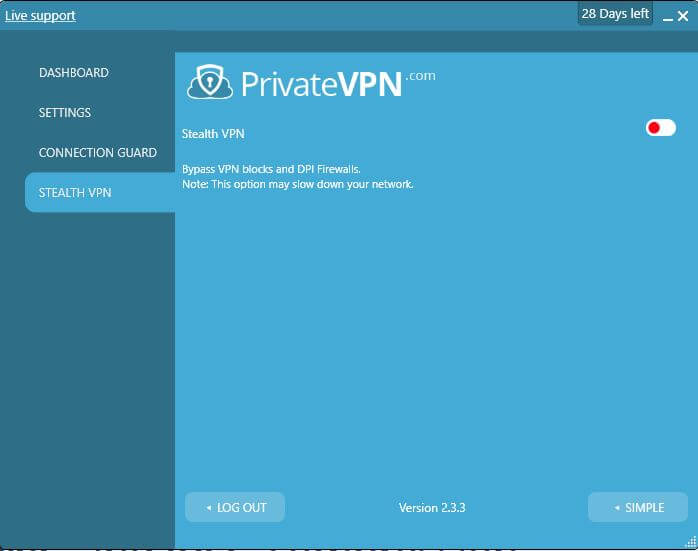 Finding it in the app is very easy. Open the settings and you should see it right away. Enabling this feature will slow your network down further, as you can see from the screenshot. Also, if the Great Firewall of China catches you while using OpenVPN, change your protocol to L2TP, as shown in the screenshot below: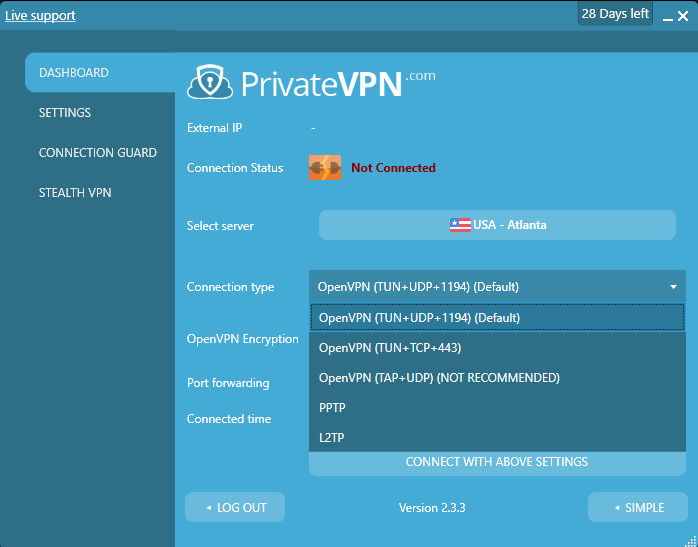 This is a tip from the PrivateVPN's FAQ page, so it should work perfectly.
Pricing and Plan Options
And now, the pricing. This is something you've probably waited for the whole article. Let's see how cheap PrivateVPN really is: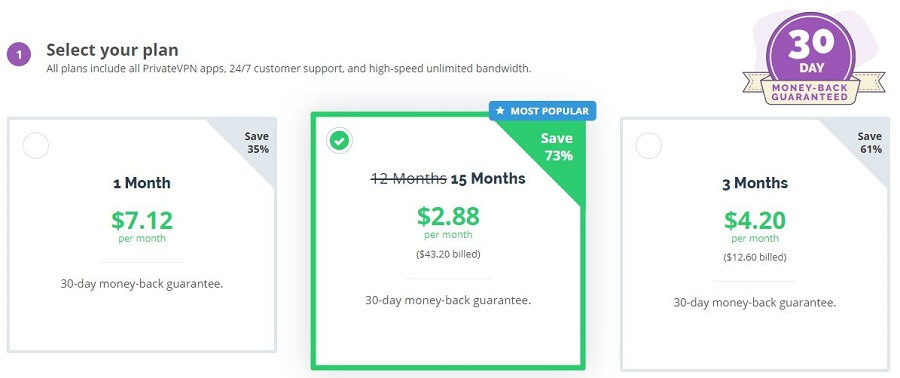 The plan in the middle is the cheapest one. You get 15 months for $2.88 a month or $43.20 every 15 months, which is a 73% discount. The plan on the right is a 3-month plan for $4.20 a month or $12.60 every 3 months. Finally, there's a monthly plan that's very cheap and costs $7.12 a month.
How does it seem to you? If you ask us, it's dirt cheap, especially the monthly plan, which is one of the cheapest we've seen. Also, the plan in the middle is very cheap, too. But, if we take a look at CyberGhost's 3-year plan that costs $2.75 a month, which is even cheaper and you get 2 months free, PrivateVPN quickly becomes obsolete.
Or if you want to go even cheaper, Surfshark offers its 2-year plan at $1.99 a month. Not to mention that these two providers would wipe the floor with the Swedish company. Regarding payment methods, you get three of them:

There's Bitcoin, making your purchase a tad more secure. The good thing is that all of the plans are eligible for a 30-day refund. Even a monthly plan! To ask for a refund, you can use the live chat feature, alas, with a catch.
The first catch is that customer support isn't available 24/7 and the second is… well, take a look:

You qualify for a refund only if you used less than 100 GB of traffic in the 30-day period. Thankfully, they've stated it clearly, so there aren't any problems.
Plus 100 GB is pretty reasonnable in comparison to the money-back guarantee offered by Ivacy.
How Can I Contact PrivateVPN?
Remember what we said about the live chat feature? Since they aren't available 24/7, your chat window will look like this most of the time: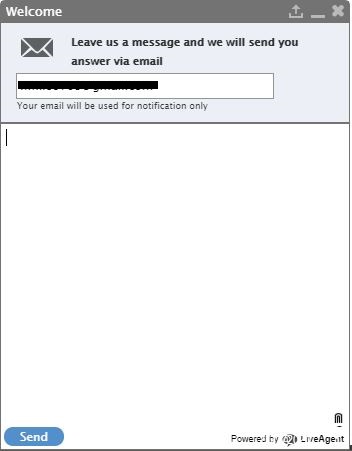 You need to type in your email and the message and hope for the best. Fortunately, the customer support was fast and we got a response in about 20 minutes via email. We ask how to get a refund in case we want it and this was the response:

Contacting the provider is also possible via email, which we basically did now. But, if you want to skip the live chat for some reason, here's how to submit a ticket.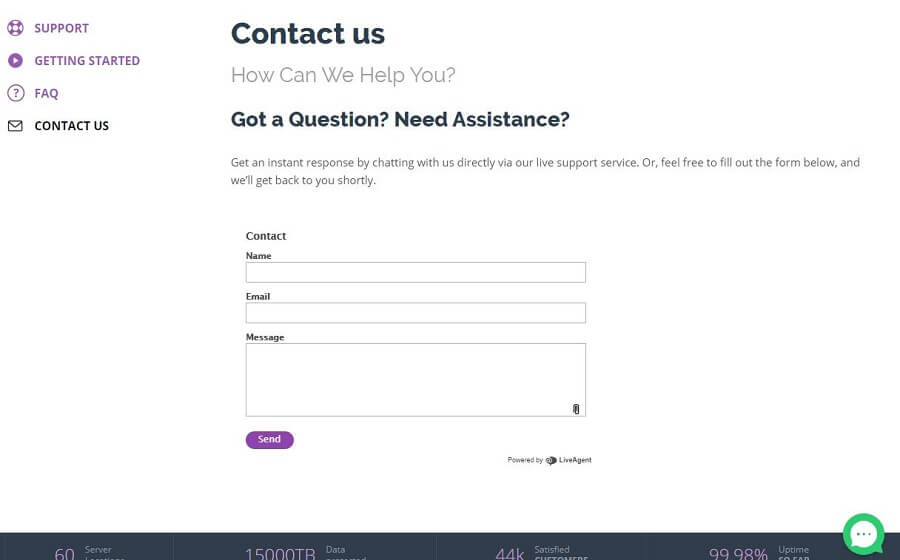 We like the fact that it's very simple to submit it. You just have to type your name, email, and message. The main problem with the provider's customer support is that you don't know when they're available. There isn't any info stating at which time you can expect live support to be active.
So, if you need some help urgently, you'll have to use the FAQ section or test out your luck and see if they're active at that particular moment.
The Special Functionalities
The special functionalities are here to make your basic VPN experience richer, thus increasing the functionality and usability. Let's see what PrivateVPN has to offer:
Stealth VPN
Stealth VPN is a feature we mentioned a few minutes ago in the review. This feature is here to help you bypass VPN blocks and DPI firewalls, allowing you to easily bypass censorship. However, be sure to use it only when necessary, as it will slow down your internet a bit.
Connection Guard
Connection Guard is basically a kill switch with a fancy name. It's here to prevent your internet traffic from traveling outside of the tunnel between you and the website you want to visit. Here's how it looks in the app: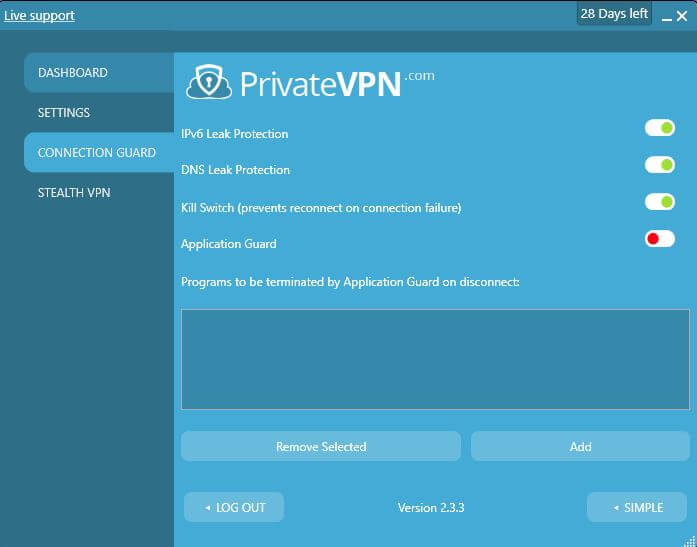 As you can see, you can enable IPv6 and DNS leak protection here but the interesting feature is Application Guard. Not only can you include certain sites but also apps that will take advantage of the kill switch.
So, if the server goes down, for example, the app you added here will immediately go offline.
Dedicated Servers
Finally, PrivateVPN is offering dedicated servers for streaming and torrenting.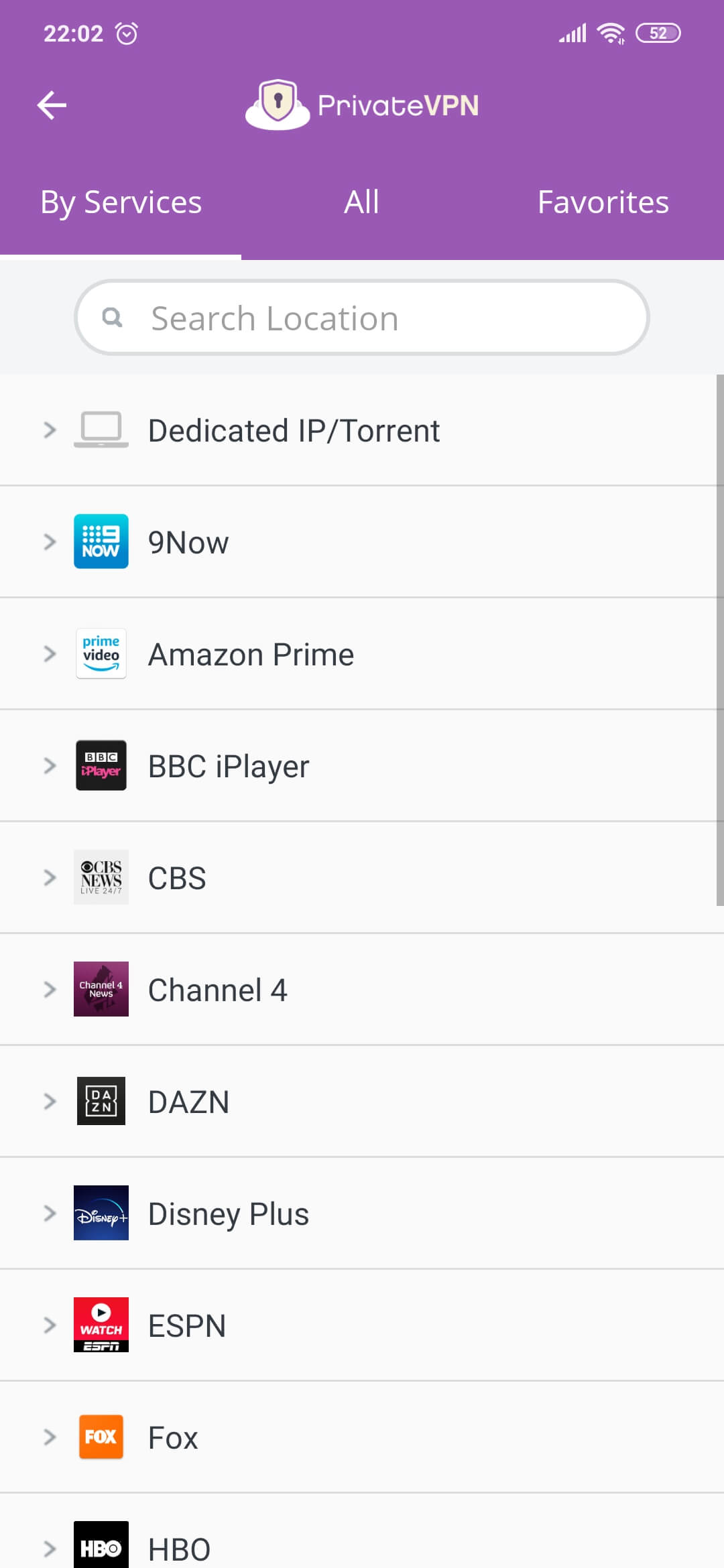 The good thing is that you also get them on the Android platform, as you can see. But, have in mind that the provider can't unblock all of the platforms shown above. For instance, there are DAZN and Disney+ and we saw that it doesn't work with them.
Other Things You Should Know
Here are the other things you should know about the provider:
Number of Servers
PrivateVPN has a very small network of servers, which is one of its biggest downsides. With only 100+ servers, you'll often experience slow speeds due to the servers being under load.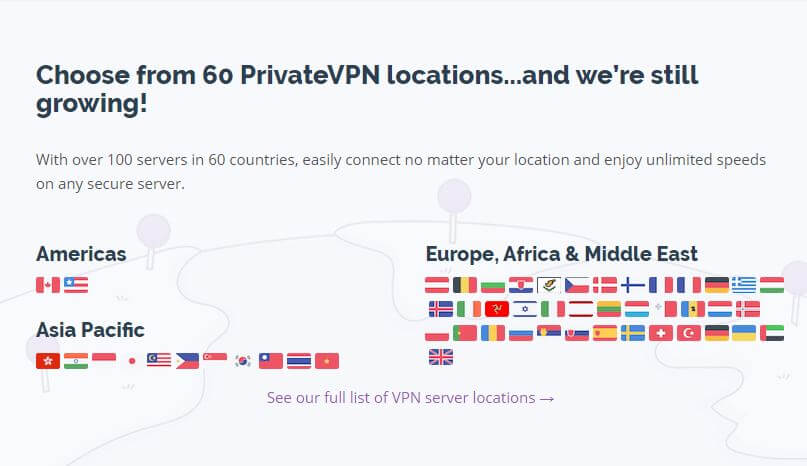 Also, the provider managed to cram in a server in Russia. As some of you know, Russia is one of the least VPN-friendly territories because of its data-retention laws. We don't know if the provider is subject to these but since they have servers there, it's highly likely that they are.
Number of Countries
As seen from the image above, they offer 60 countries, which is a lot higher than we anticipated. This means that every country has one to two servers on average.
Number of Simultaneous Connections
You can take advantage of 6 simultaneous connections on the same account.

Of course, if you connect it to your router, you'll be able to protect up to 16 or 32 devices simultaneously.
What Do Other Users Say About PrivateVPN?
Before we conclude our comprehensive review of PrivateVPN, let's see what the other users online have to say about this provider. Let's start from Reddit and a part of the user's review:
This user is very satisfied with the provider. He even says that it's better than Surfshark and NordVPN, which honestly, we find hard to believe. But, everyone has different experiences, so it is possible that PrivateVPN worked really well for this user.
Nevertheless, he proceeds by saying that he misses 24/7 customer support, Smart DNS, and a couple more features. The review we found on the Apple Store, however, is a completely different story. Take a look:

The iOS/macOS user says that the connection is unreliable. As you can see, he complains about the servers that often go down and that the app won't reconnect him automatically to the server he used. Let's see what the Android users have to say about it:

Well, the situation is the same – unreliability. This user even had to turn the app off to avoid connection problems. Finally, there's a review from Trustpilot about PrivateVPN: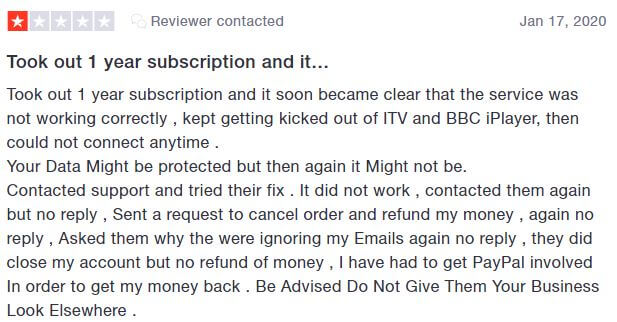 This user's feedback is a bit longer but most importantly, he gave the company a 1-star review. The reason for this is that he couldn't make BBC iPlayer and ITV to work. He also complains about poor customer service that closed his account with no refund. Because of that, he needed to involve PayPal to get his money back.
Conclusion: Should You Take It?
Let us give you the answer right away – you shouldn't buy PrivateVPN. If you have read our review carefully, you've seen when we already discarded this provider because of its shady no-log policy and collaboration with third-party companies.
Apart from that, the provider offers unstable connections, slow speeds, small server network, plus there is a lack of 24/7 customer support. Although it's very cheap, there are cheaper providers that offer longer plans and better services, such as CyberGhost and Surfshark.
As long as these two exist, it would be foolish to recommend PrivateVPN over these two. If you don't want to save money and just want cranked-up performance and services, you should buy ExpressVPN. This is the best provider in 2021, offering its services without any compromise.