VyprVPN is a provider that's not very popular in the VPN world. Its small user base is also split. Some say it's a good provider, while some despise it for many reasons. This situation is always interesting, especially when there isn't a clear indicator of whether the provider is good or bad. That's where our Monkey team steps and takes the lead. We're going to examine VyprVPN and give you our honest 2 cents or better said an in-depth review. If you wish to find out if the provider is worth your money, we suggest you read until the end.
What is VyprVPN?
VyprVPN is a Golden Frog's subsidiary from Switzerland. Golden Frog is, as some of you know, a crucial player when it comes to restoring online privacy and staying anonymous online. Recently, we reviewed one Swiss provider called ProtonVPN and this provider blew our minds with its speed and performance.
However, this provider is much less popular and as such, it doesn't have a huge user base. The reason for that is that the company stored some logs a few years ago. But, after a "bloody fight" with the government and the laws, this provider seemingly fixed its issues and is now a full-fledged zero-log company.
Today, we're going to see if what people say is true. If you, for some reason, don't want to read a full review, here's a button that will take you to the provider's website.
For you still staying with us, scroll down and continue with the review.
Compatible Devices and Ease of Use
A VPN (also called Virtual Private Network) isn't just a tool for increasing privacy on your computer. It must support a plethora of devices to be good and effective. Here's what this provider supports:

Let's start from the left. There's the Windows platform, Mac, Android, iOS, Router, and TVs. So far so good. Interestingly, we couldn't find Linux on the list but there are some guides on the provider's website regarding setting up a VPN on Linux. As always, since this isn't native support, we won't consider it as an option.
Luckily, the provider supports routers, so you'll be able to protect all the devices in your house. More about that later.
Computers
Most of you are going to use this service on a computer. After all, watching movies and playing games on a big screen feels much better. Here, you're going to get two options – Windows and Mac. We're going to use our Windows 10 computer to show you the installation process and the app itself, to determine if the app is easy to install and use.
After buying a subscription, you'll be prompted to download the apps you need. Of course, click on Windows and the download will start. When you open the installation file, you'll get this screen: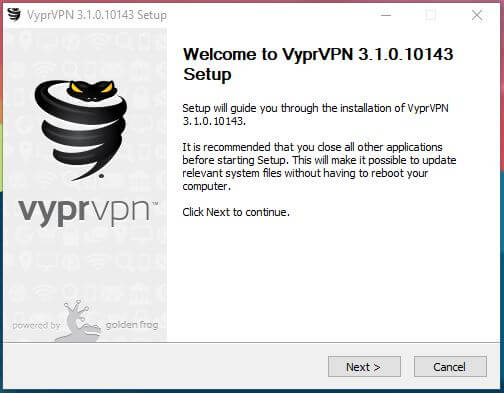 Click Next and then, accept the agreement shown below.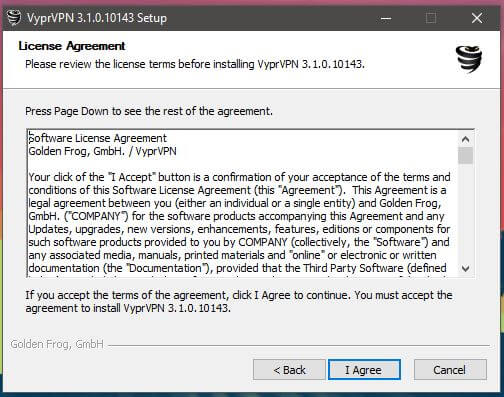 After that, you'll need to choose where to install the app and the installation process will begin. Interestingly, VyprVPN needs to restart your computer so it can work properly:
Accept that and when your computer reboots, you'll have to manually open the app. When you open it, you'll immediately arrive at the home screen: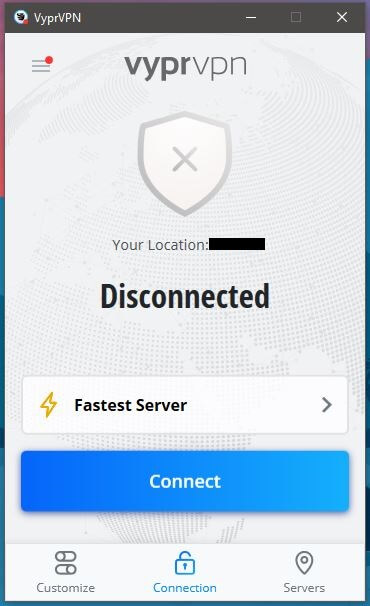 Click on the three horizontal lines in the top left corner and then log in: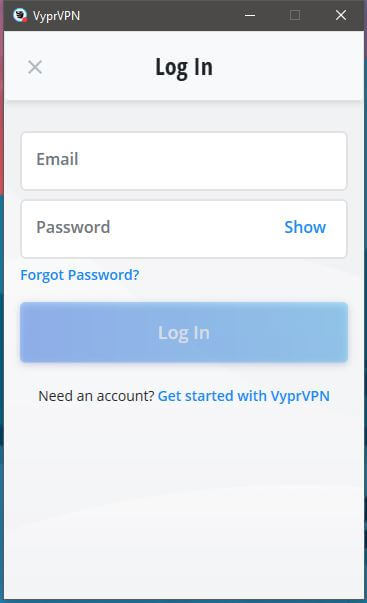 When you do that, the app will look exactly the same as in the previous image. Click on Servers, choose the one you want and the app will automatically connect to it. Here's how that looks: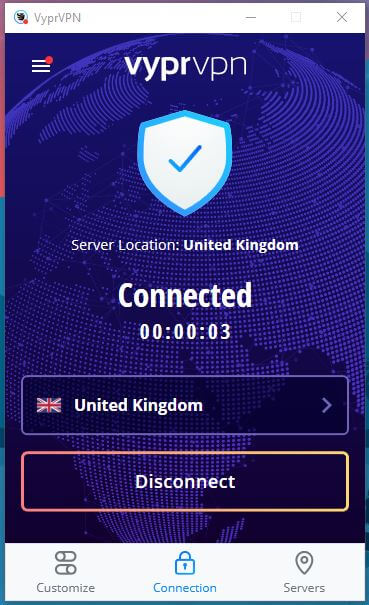 We like how the whole home screen changes when you establish a connection. It lets you know what you just did and to us, this does an amazing job of making the app easier to use and grasp. So, in terms of ease of use on the PC, it's excellent.
Smartphones and Tablets
Smartphones and tablets have become big parts of our lives. Sure, tablets are slowly becoming obsolete as we slowly punch through that 7-inch display size on smartphones. But, nevertheless, mobile platforms can give you equally good online experience as computers. Here, the provider supports iOS and Android platforms.
We'll use our Android device to show you the installation process and the app of VyprVPN in this review. First, you want to visit the Google Play Store, as shown in picture 1.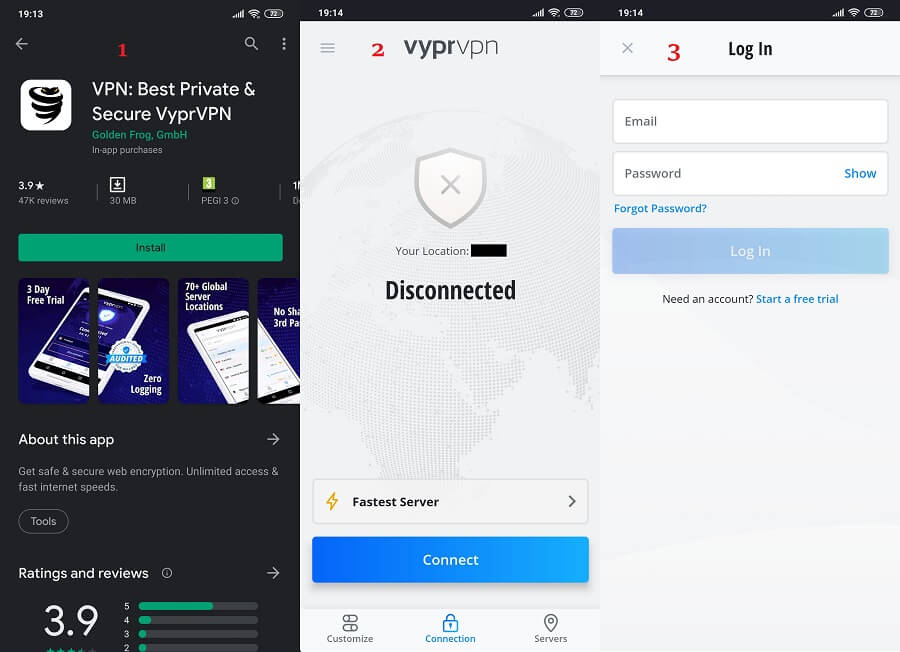 Download the app and open it. You'll see that it looks, more or less, the same as on PC, which is shown in picture 2. The process of logging in is now the same. Click on the three horizontal lines and open the login screen shown in picture 3. Type in your credentials and the app will log you in quickly.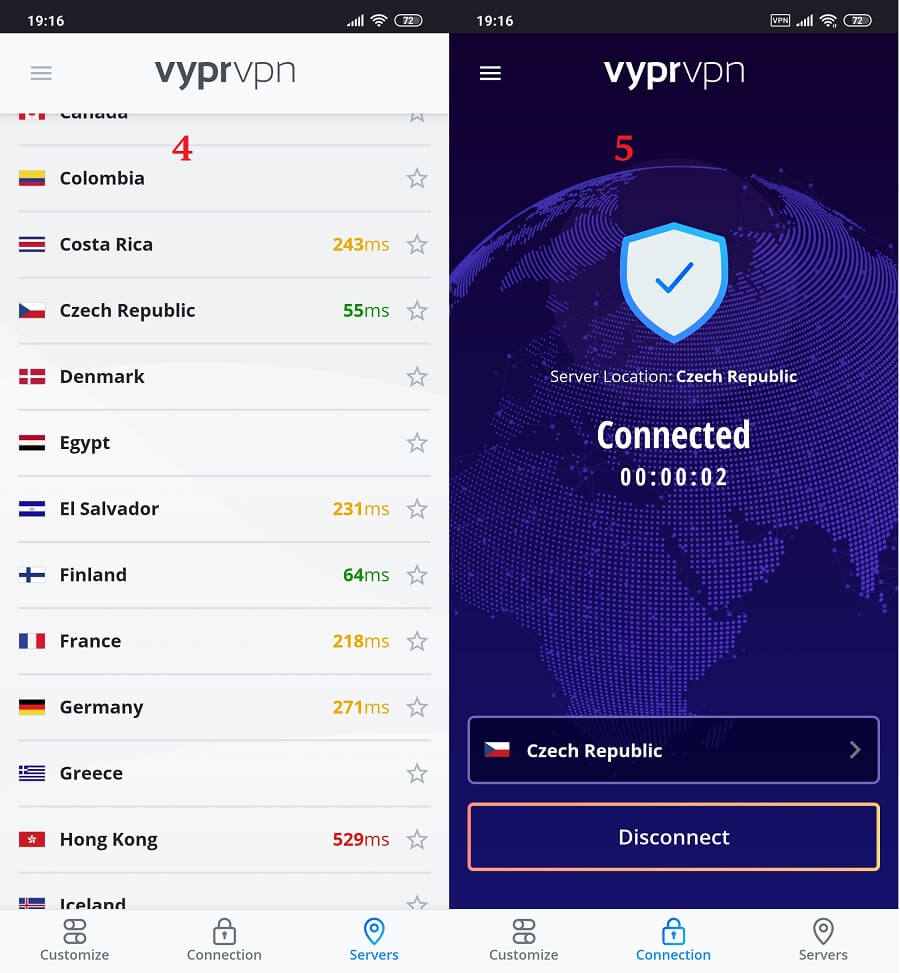 Open the server list by tapping Servers in the bottom right corner (picture 4). Now, choose the server you want and the app will establish a connection. We've chosen the Czech Republic as it had a ping of 55 ms, which is okay for browsing. In picture 5, you see how the app looks when the connection is established.
We've got nothing else to say about the Android app. It's very easy to install and use, hence you won't have any problems even if you're a newbie.
Other Devices
It's the time we talk about other devices now. Simply put, it's the router that will allow you to protect all the devices in your home.

They even have a special page dedicated to it, as well as dozens of guides for different router firmware. For those who don't know, a VPN connection to the router will protect up to 16 or 32 devices simultaneously.
Here, you can count in Xbox One, PS4, Smart TVs, IPTV boxes, Roku, Kodi, Apple TV, and so forth. We're glad that VyprVPN went an extra step in this department, making its device support extensive and thorough.
How Fast is VyprVPN? We Checked Its Speed!
When you see the word "Vypr" (Viper) in the provider's name, you expect some fast speeds. Whether you just thought of viper, a snake, or Dodge Viper, a supercar, both of these monstrosities are FAST. Before we get into speed testing, it's important to say that all Virtual Private Networks decrease your internet speed to some extent.
Some will do it by 10-20% and some will crumble your network with their dramatic decreases of 70-90%. This is all due to the level of encryption, server distance, quality of the network, etc. Where does this provider sit? Well, let's see, shall we?
For this VyprVPN review, we did 3 tests in the morning, 3 tests in the mid-day, and 3 tests in the evening, for 3 different locations. We kept the best score and used the best location when it was possible. Our physical location is in the USA (non-VPN test) and we used these 3 locations for testing:
The United States
The United Kingdom
Australia
Without using a VPN, our internet speeds are:
Ping: 11 ms
Download speed: 211.88 Mb/s
Upload speed: 202.20 Mb/s
When using VyprVPN, our ping, download, and upload speeds respectively, for 3 testing locations, are:
US Server: 39 ms / 157.88 Mbps / 181.23 Mbps

UK Server: 94 ms / 97.62 Mbps / 105.71 Mbps

Australian Server: 295 ms / 34.67 Mbps / 48.90 Mbps

The speed when using the US server wasn't that bad, to be honest. Ping of 39 ms is still enough for an enjoyable online experience and the aforementioned speeds allowed us to enjoy streaming and gaming. The interesting thing is that our upload speeds were constantly higher than download speeds, which isn't what we expected.
We did a lot of streaming and needed more download speeds. Even though the UK server wasn't very bad (we've seen worse), the Australian server showed the worst results. With a ping of 295 ms and significantly decreased upload/download speeds, our online experience faltered quickly.
How fast VyprVPN is, then? Well, it's not very fast but it's not turtle-like, either. We would say it's good for the price unless you're using very distant servers. In that case, the provider will not give you the experience you want.
How Good is VyprVPN for Streaming?
Whether you want to watch sports on foreign channels or just enjoy your Netflix sessions after work, streaming is a big thing nowadays. It's not strange that Amazon is making millions out of its Prime platform or Netflix with its multi-million audience.
Let's start with Netflix, as always. The provider can unblock it easily, albeit not on every server. We tested the US servers in Chicago and New York, and our results were phenomenal. However, Canada and Australia, for example, didn't work well. We don't see it as a huge minus because the USA has the largest catalog, so you'll be able to enjoy it nonetheless.
What about BBC iPlayer? Here are the results: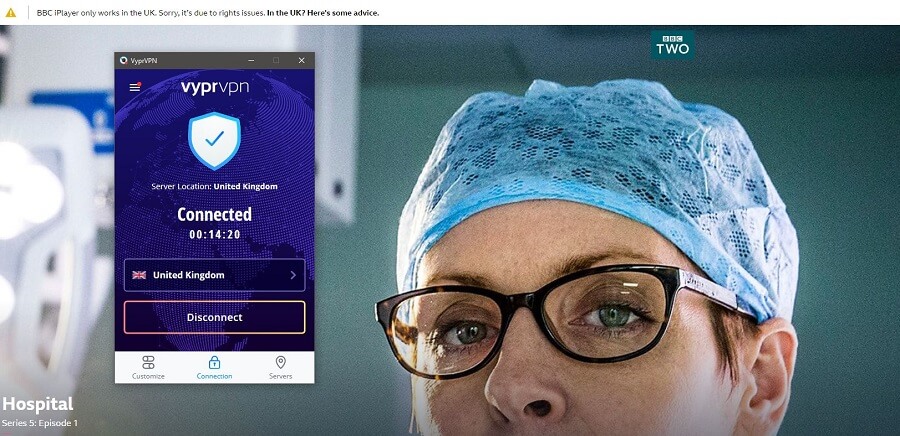 As soon as we connected, we got the message on the top of the screen, saying that we aren't from the UK, meaning that it can't unblock BBC iPlayer. So, we decided to try Disney+ and here's what we got: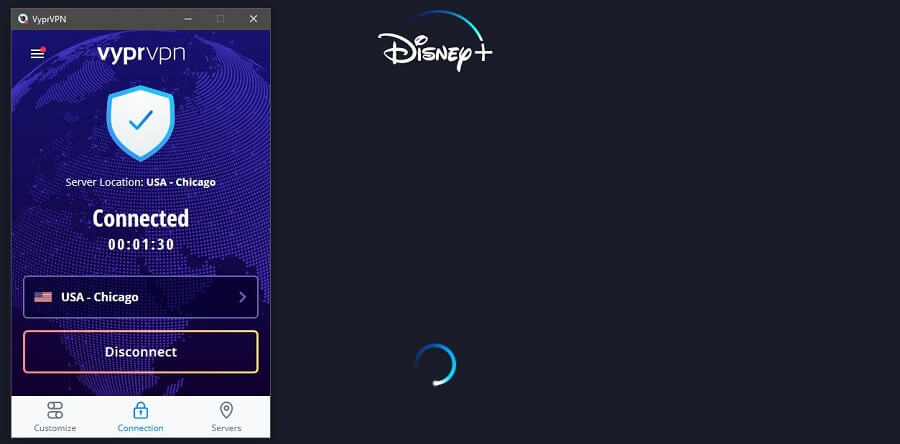 An infinite loading screen – just as we expected. And now, let's see if DAZN will be unblocked: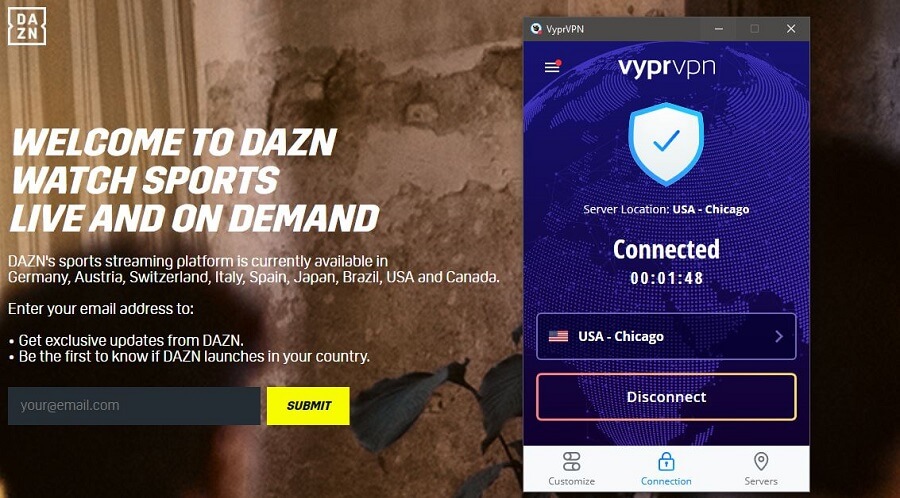 Nope, the provider won't unblock DAZN, either. Finally, we tried HBO Go and to our surprise, it worked: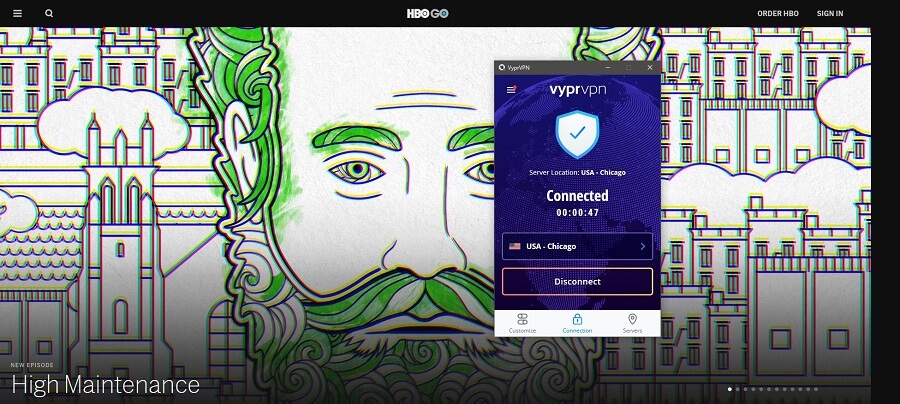 When it comes to other relevant platforms, it can only unblock Amazon Prime Video. So, when it comes to streaming, we got mixed results or better said, not very good results during our review of VyprVPN. It's very sad because the speeds aren't THAT bad. If only it could unblock Disney+ or BBC iPlayer, it would be much better.
But, with these results achieved, we can say that VyprVPN isn't very good for streaming, despite the fact that it can unblock US Netflix.
Confidentiality, Security & Logs
Security and privacy weren't the provider's strongest points a few years ago. VyprVPN knew that and went on to fight against data-retention laws to achieve its goal. After a few years of fierce battle, here's what they had to say: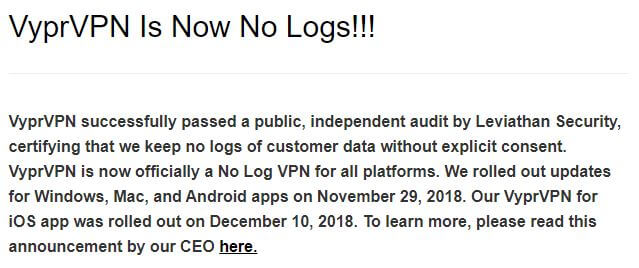 They became no-log in 2018, thanks to Leviathan Security, a third-party company that they cooperated with. And sure enough, their zero-log policy quickly became a genuine one, so here's how a fraction of it looks now:

In short, they don't store any logs. But, what they store is your email, payment methods, and the way you use ONLY their website. Furthermore, this information is stored in an anonymized format, so it can't be traced to a particular user. You can read the full no-log policy here.
To make sure we're completely safe and secure online, we've conducted an IP leak test. Here are the results: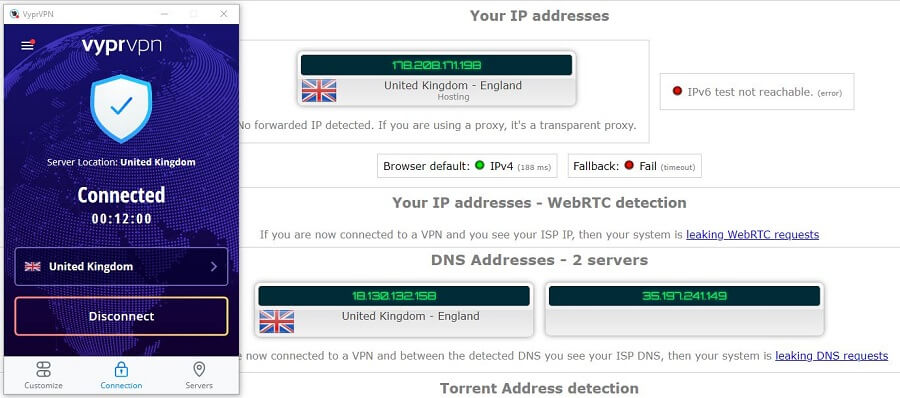 As you can see, we've encountered no IP and DNS leaks, which is great. Apart from that, you also get 256-bit encryption, an automatic kill switch, and even a NAT firewall for blocking malware. The security protocols include PPTP, L2TP/IPsec, and OpenVPN protocol. There's even the Chameleon protocol, which we're going to talk about later.
So, in terms of safety, VyprVPN does a decent job.
Can I Do Torrenting Safely With VyprVPN?
Before 2018, when the provider still kept some logs, torrenting was strictly forbidden. Because, if DMCA were to were to request information about users, the provider would have something to give it. This time, when they keep no logs, it's much more torrent-friendly.
Still, we found some reviews from before November 2018, where users complained about being unable to torrent safely with VyprVPN. Allegedly, VyprVPN sent them warnings that they'd suspend their accounts for downloading a pirated movie, music albums, and so forth.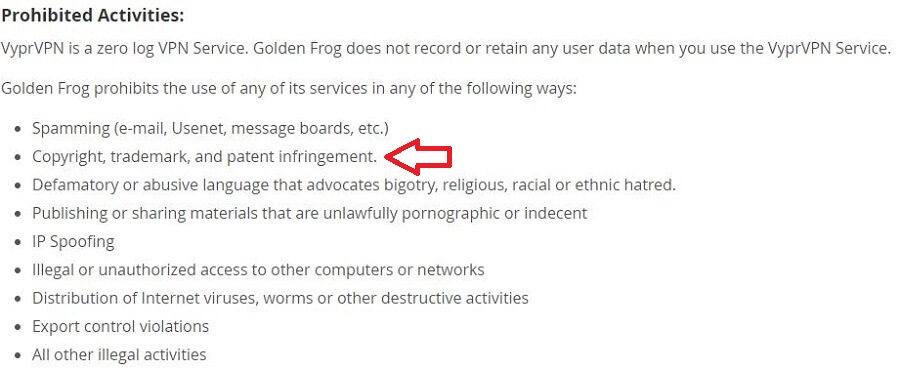 Nowadays, that doesn't seem to be the case. We tested it out with the 1337x torrent site to first see if our IP is exposed. Here's what we got:

We downloaded this game and nothing happened. Due to past issues with torrenting, we aren't so inclined to trust the provider so easily in this regard, despite the fact that they're now zero-log. The P2P file-sharing definitely is theoretically allowed but if we were in your place, we would still be careful.
Can I Use VyprVPN to Bypass Censorship?
Censorship these days can become so obnoxious, that it can make you never want to visit the internet again. If you find it hard to believe, you've probably never lived in China, Turkmenistan, Indonesia, Russia or the UAE.
The Great Firewall of China, as everyone calls it, is the greatest weapon in fighting against the freedom of speech and unfortunately, VPNs. China actively blocks a great percentage of providers, leaving you with a handful of quality offerings for this country.
Surprisingly, VyprVPN is a very good service to use in China! And this is possible due to its Chameleon protocol, a proprietary technology of this company. You can find it easily in the app among the other protocols:
It's basically a protocol that gives you all the security of OpenVPN, yet scrambles your metadata to prevent you from being detected while using a Virtual Private Network. The feature works great in every country we mentioned, so it's safe to say that the provider can bypass censorship.
Pricing and Plan Options
Whether or not the provider is expensive depends on how much you're willing to give for your online security. Let's see how much the provider costs without wasting a second more of your time:

The plan on the left is the cheapest one. It's a 2-year plan for $2.50 a month or $60 every two years, at an 81% discount. In the middle, there's an annual plan at $3.75 a month or $45 a year, at a 71% discount. And finally, a monthly plan at a whopping $12.95 a month, which is very expensive.
Arguably, this is a cheap provider. However, when we compare it to some of the better providers, we can see that it's not cheaper than many of them. For instance, it's much more expensive than Surfshark. Surfshark gives you a 2-year plan for $1.99 a month. Now, you'll say that $0.5 isn't a big difference.
But what if you multiply it by 24 months? You get $47.76 every 2 years for Surfshark, whereas VyprVPN costs $60. With that fact alone, it's pointless recommending this provider over Surfshark. Nevertheless, here are the payment methods: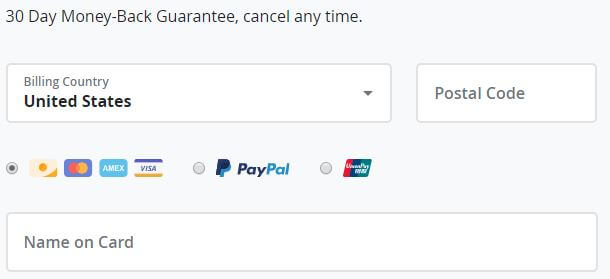 The provider isn't very generous, as we can see, and you also can't pay with Bitcoins. On the flip side, the provider is generous when it comes to refunds. Every plan, including the monthly one, is eligible for a 30-day refund. To request a refund, use the live chat feature: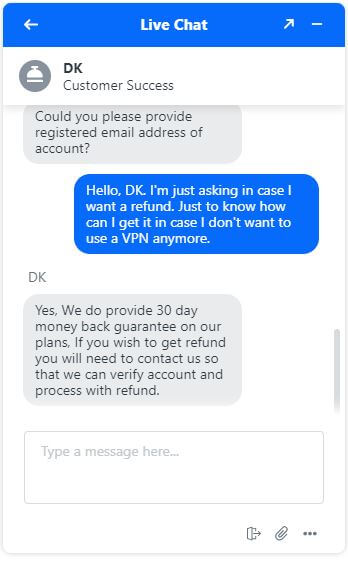 Honestly, we don't like these wishy-washy answers. We asked this man or woman how we can get a refund in case we don't want a VPN anymore. He or she immediately thought that we want a refund right away. After a bit of explaining, we finally got the answer we wanted.
Also, the refund policy isn't shady. You can't get a refund if you buy a subscription from the third-party sellers and that's it.
How Can I Contact VyprVPN?
Contacting VyprVPN is very easy due to the aforementioned live chat feature mentionned in our review. The image below shows you two ways of contacting the provider: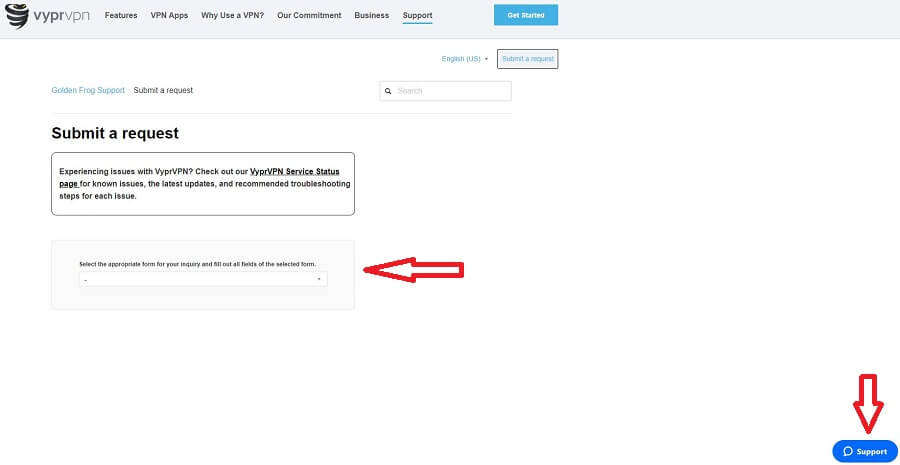 You can submit a request by clicking on Support above or just use the live chat. We're always for the latter option if it's available. You get your answer right away and fix your problems in a few minutes. If you don't want to contact them for some reason, there's also a FAQ section and a blog.
So, if you're not in a hurry, take your time and learn something new.
The Special Functionalities
The truth about VPNs is that they all offer basic functionalities like kill switch, IP leak protection, encryption, and so forth. But, the special functionalities, on the other hand, are here to enrich that basic experience. Here's what VyprVPN has to offer:
Chameleon Protocol
We already mentioned this feature before. It's great for bypassing censorship and it works really well, especially in China.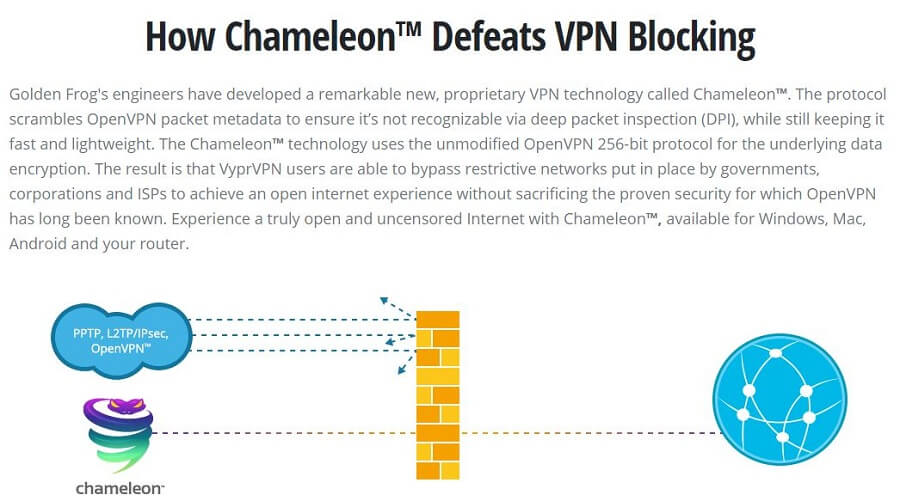 The bad thing, though, is that this feature isn't available on iOS, so the iPhone users will not be able to use it. Luckily, Windows, Mac, and Android fully support it.
Public Wi-Fi Protection
VyprVPN has another trick upon its sleeve – public Wi-Fi protection. You can find it in the app by just opening the settings: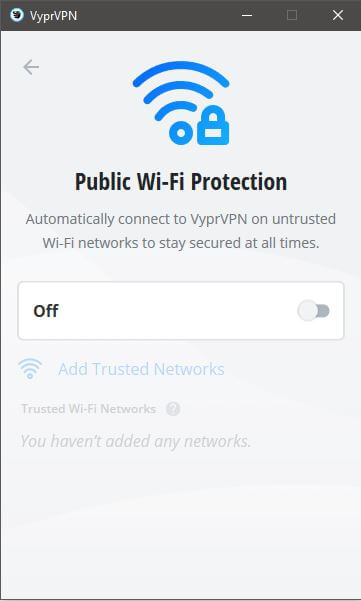 As you can see, you can add trusted networks, and when you do that, VyprVPN won't turn on. However, all untrusted networks will trigger the VPN and it will enable its protection. It's a very useful feature in case you forget to turn it on, for example.
Then, when you sit in a cafe with your friends, you can safely connect to the Wi-Fi network, knowing that the provider will keep you safe and secure.
VyprDNS
Finally, there's the VyprDNS feature.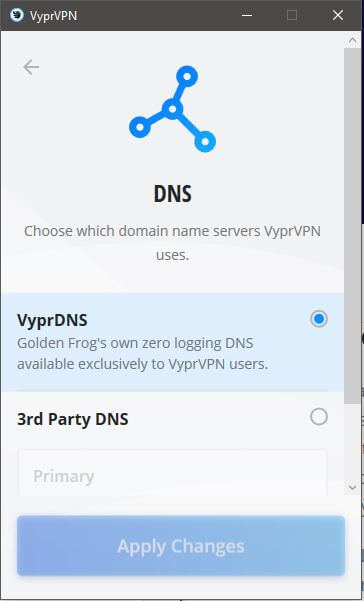 The company offers you its DNS by default but also lets you choose 3rd party DNS, which we don't recommend. The reason for that is that the company's DNS is programmed in a way that it doesn't keep logs. On the contrary, when people are using their ISP's DNS, they're configured to store logs, compromising your privacy and security online.
We like how privacy-oriented the provider has become since it became zero-log.
Other Things You Should Know
Our in-depth review wouldn't be in-depth if we don't talk about all there is to mention about VyprVPN. Here are other things you should know:
Number of Servers
VyprVPN's server network isn't very impressive, which is going to deter many potential buyers from buying it. The provider offers 700+ servers worldwide, which in 2021, isn't impressive.

They also have servers in Russia, which should give you some reasons for concern. Russia is known for its data-retention laws and as such, it requires every VPN that operates there to provide users' information if needed.
Other than that, the provider gives you servers in countries like Maldive, Macau, Pakistan, El Salvador, and Bahrain. Not many providers have servers there and this one does, which is always good in the case of this review and test of VyprVPN.
Number of Countries
VyprVPN offers its servers across 70 locations in the world. The vast majority of these locations, however, are in Europe.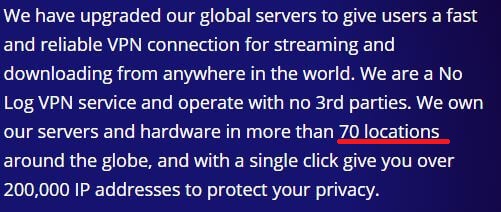 If you're from Africa, you'll only have servers in Algeria and Egypt. But, given its small network, it's strange how they even managed to cram in the servers in the countries we've mentioned above.
Number of Simultaneous Connections
In terms of simultaneous connections, you get five of them.

It surely isn't anything to brag about, given that Surfshark offers an unlimited number and is cheaper. Connecting it to your router will increase this number significantly, so that's something to look forward to.
What Do Other Users Say About VyprVPN?
Finding a lot of opinions and reviews online about this provider isn't an easy task. Not many people use the provider, which is why these reviews aren't abundant. Still, we did our due diligence, so here's what people have to say, starting from Reddit:

The user wrote quite an interesting review about VyprVPN service. Allegedly, the macOS software doesn't get uninstalled when you uninstall the app. This can mean that the provider keeps some logs even after you uninstall the app, despite claiming that they're no-log.
Still, we have to look at the date of writing the review – it's one year ago. That can be one year and eleven months or just one year – who knows?! Remember that the provider is no-log for about one year and 4 months as of writing this article.
Let's see the review from the Apple Store now:

It's hard to find a review from 2021 about this provider on the Apple Store, which speaks a lot about it. This review is a 3-stars one and says that the provider doesn't work in China for the most part. Otherwise, as the writer says, it's "good."
Here's an opinion left on the Google Play Store:

Interestingly, this user also complains about the app's usability in China but he also adds that customer support is slow. Thankfully, he probably got his refund, so he didn't waste money in vain. For the end, here's a review from Trustpilot: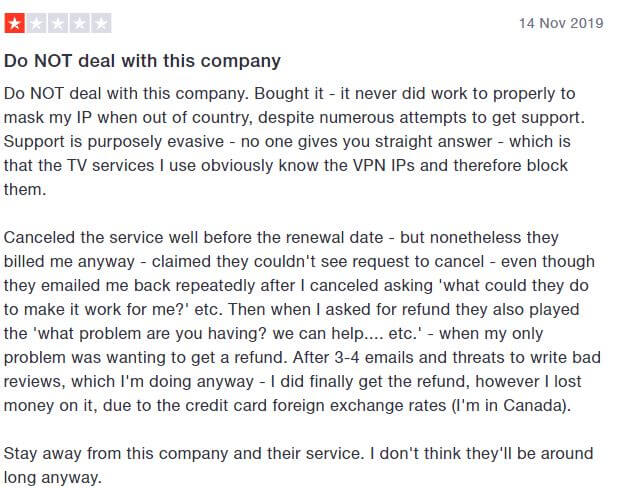 This is a bit longer review but long story short, his dissatisfied with all the features that VyprVPN offers. Starting from its ability to mask the IP address, bad customer support, and even problems with the refund. It's a quite negative review, so take a close read and be the judge.
Conclusion: Should You Take It?
You've all waited for this section, so let's make it as clear as possible. For the price, VyprVPN isn't necessarily a bad provider. It unblocks US Netflix, isn't very slow, offers a no-log policy, and 24/7 customer support.
However, the company isn't trustworthy when it comes to P2P file sharing and won't unblock a majority of the relevant streaming platform. To make matters worse, there's a cheaper provider that's miles ahead of this provider – CyberGhost.
If CyberGhost didn't exist, we would probably recommend it at some point. But, with CyberGhost being cheaper, yet offering better performance, we don't recommend buying VyprVPN. Those who are just interested in high-quality VPN services can also get ExpressVPN.
This is the best provider you can get in 2021 and although it's not the cheapest, it's worth every penny.