Indonesia might seem like an ideal country for your next vacation. And while it's a very good place to rest from the fast and busy lives we live, its residents know the struggles. From the beginning of time, this country is very problematic in terms of information flow. This is because of censorship and government surveillance that plague the country for quite some time. Your freedom in this country is questionable and so is internet freedom. However, you can improve the latter by using a VPN that is working properly in Indonesia. But, which one to choose? Let's find out!
Why You Should Use a VPN in Indonesia?
When we talk about countries like Indonesia, some people question the legality of a service like VPN. The good news is that it's perfectly legal here. With that in mind, here's why implementing additional security in this country is a good idea:
Bypassing Censorship
China is a champ when it comes to censorship but Indonesia isn't very far away. While more than half of Indonesians use the internet, we estimate that only a small percentage of them can really take advantage of it. The laws in this country allow the ISPs to block and censor any website and even images that they deem inappropriate.
The bad thing is that these sites and images are completely normal to other people and countries. If you're in this country and you have friends and family abroad, you'll have a hard time communicating with them. The reason being is because many messaging services are cut out.
Furthermore, the government claims that all this censorship is here to protect the citizens from hate speech or terrorism-related content. But, what do LGBT and porn sites have to do with terrorism? Or perhaps, sports channels and dating apps?
Aside from these internet laws, the country is conservative when it comes to women. If you're a woman, you can't reveal your shoulders or kiss your boyfriend in public. The fines for this are very high and although not as high as in some other countries, you still don't want to be fined just for doing something like this.
While a VPN can't protect you from a problem we just mentioned, it will protect you from all the censorship on the internet while being in Indonesia. You'll be free to access any site you want and you can even unblock porn sites in a few seconds!
Avoiding Government and ISP Surveillance
The government here gave full rights to the ISPs to monitor your online activity. This means that every step you take online will be, sooner or later, detected by your Internet Service Provider. Basically, the internet will then be a minefield for you.
You must be careful not to do this, that, or that. But, a Virtual Private Network lets you obfuscate your IP address, rendering you invisible to the prying eyes of the ISP or the Indonesian government. The best thing is that you can do it in a matter of seconds, so even if you're a dummy, this won't be a problem.
Unblocking Geo-Restricted Websites
When you come home from the job, you just want to lay down and watch some Netflix or Hulu shows. If you're not from the USA, this will be impossible for you, since these platforms are available only there. There are tons of geo-restricted sites online and they don't have to be streaming sites.
To access these sites, you'll need to change your IP address to the IP in another country. This, of course, can be done with this service. Indonesia isn't blessed when it comes to the large Netflix catalog, meaning that you'll have to find a workaround.
And now, since you've found it, it's time to make your online adventures even better.
Best VPNs With Servers in Indonesia
We know what you're going to ask now – Monkey, if I'm from Indonesia and I'm traveling abroad, which VPN provider should I choose? Here's what Monkey has to say:
ExpressVPN: ExpressVPN is your top choice for this country. It offers blazing-fast speeds, rock-solid security, and will unblock geo-restricted sites easily. Of course, it has servers here, so if you're abroad, get ready to enjoy your local content in its full glory!
NordVPN: It is one of the largest providers, offering 5,500+ servers in 61 countries worldwide. It also has 5+ servers in this country and they're more than enough to for enjoying local TV shows and movies.
CyberGhost: CyberGhost is a giant in the world of cybersecurity. Being a provider that constantly grows, they offer 6,200+ servers, of which 4 of them are in Jakarta. Although they don't support P2P file-sharing, enjoying Metro TV, RCTI or MNCTV will be a breeze.
Getting your favorite provider is a piece of cake. You have to click on the provider's name and buy a subscription for the price of a piece of cake a month! Then, install the apps, connect to the server in this country and voila – you're ready to enjoy!
Best VPNs for Indonesia
Residents of this country won't necessarily want to enjoy local content. Some of them just want the almighty features of this service. Well, that's okay, pals. Here are the top VPN choices for Indonesia.
Let's review these providers and see why they're awesome!
1. ExpressVPN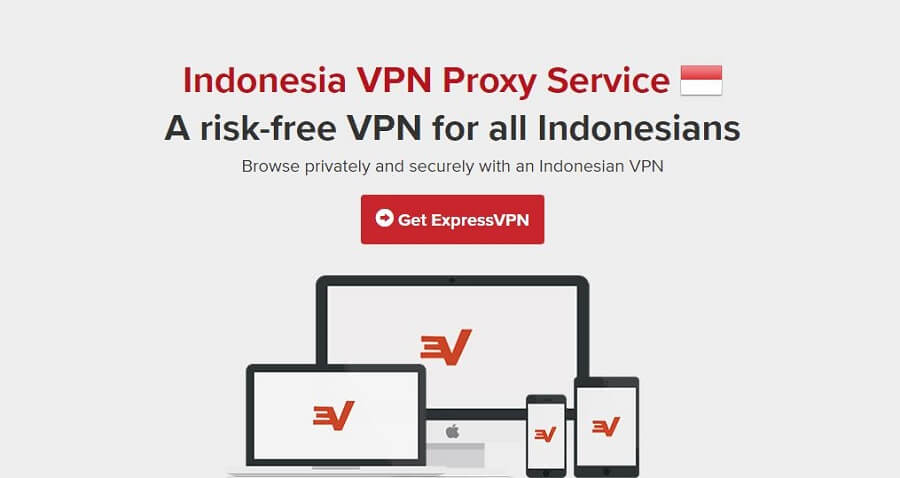 ExpressVPN is a provider that cuts no corners. You get everything you need here, and possibly something you don't need. It allows up to 5 simultaneous connections and has 3,000+ servers, so you can protect all your devices. And since it supports routers, it's easy to turn your home into a VPN machine for blasting through geo-restrictions.
Speaking of them, ExpressVPN will unblock every site with a snap of a finger. Netflix, Hulu, HBO Go or any Indonesian local TV will be at your palm's reach. Those who like fast speeds will be happy to know that this is the fastest provider you can get.
With it, watching even 8K content is easy and you'll be able to enjoy Netflix's Narcos or Witcher in 4K, too. Security-wise, you get military-grade encryption, zero-log policy, DNS and IP leak protection, and a kill switch.
ExpressVPN also has great 24/7 customer support, which is one of the best in the industry. We can go on like this for days but it's enough to grasp how good this provider is. To get a 49% discount and 3 months free for a 12-month plan, smash the button below.
Enjoy ExpressVPN's Fast Speeds >
2. NordVPN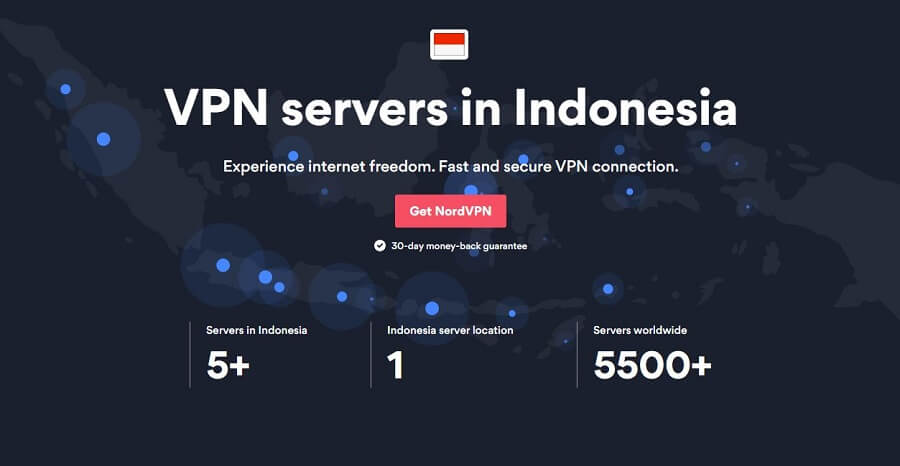 NordVPN is here to give you the best services you can get for your cash. While not the cheapest, it's among the cheapest VPN providers for Indonesia. Yet, you'll also get a no-compromise experience. If that sounds too good to be true, just know that the provider has millions of satisfied users in 2021.
The company is stationed in Panama and as such, it's far from the 14 Eyes, so it gives you a clear no-log policy. In terms of speed, it's a tad slower than ExpressVPN, which is, believe us, still considered very fast. But, what makes it special is the security department.
It's like having Terminators guarding your house. You get 256-bit encryption, Double VPN, Onion Over VPN, and lots of security protocols. We like that you can use NordVPN with Tor, so you can even access the deep web or dark web without any worries.
Get NordVPN for a Discounted Price>
3. CyberGhost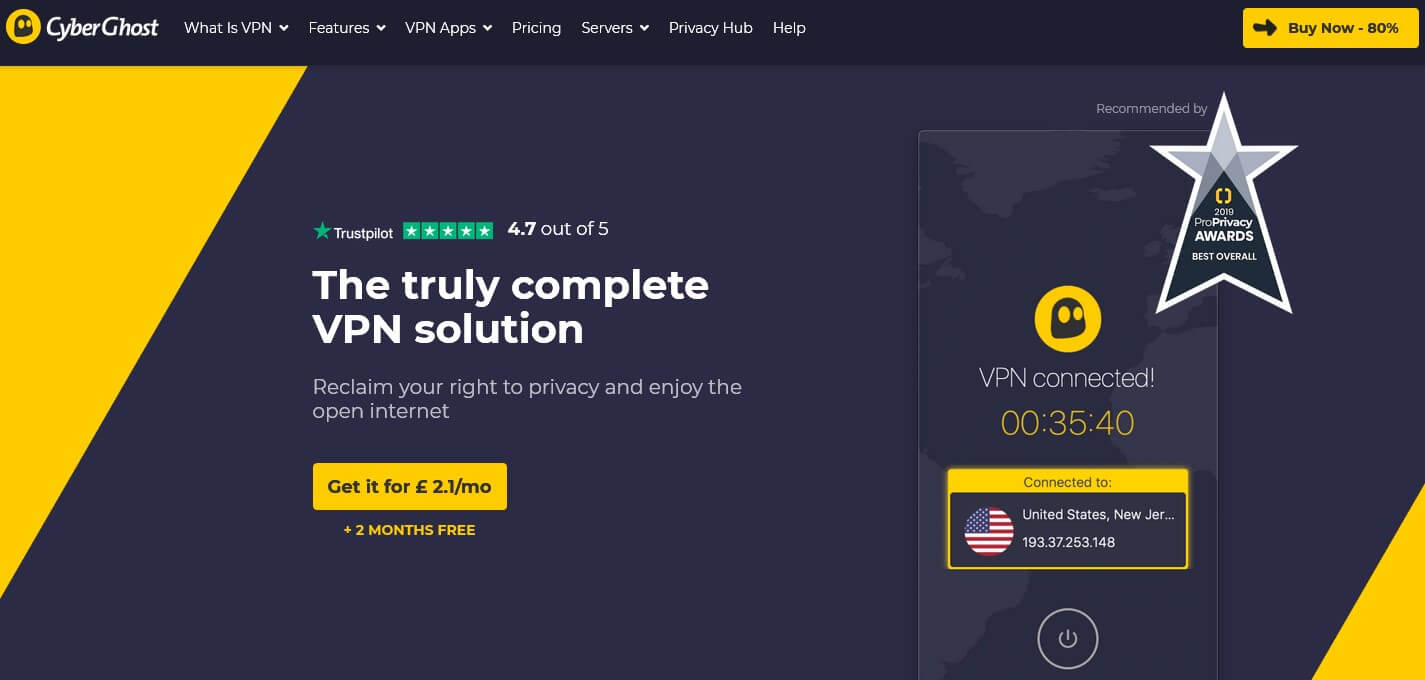 Romania maybe isn't the most popular country for traveling but they have CyberGhost, which is enough to make it awesome. This is a very cheap, yet quality provider that will teach you that you don't have to break the bank for a quality Virtual Private Network.
For the start, the provider offers dedicated servers. They're here to make your streaming or torrenting experience smooth, fast, and secure. With 6,200+ servers, you'll never run out of options, which will make you never want to get your money back.
Apart from that, we're talking about a very fast provider which took the third spot on our list of top providers. What about its security, though? Romania is one of the most VPN-friendly countries, so you don't need to worry.
The provider doesn't keep logs, so you'll stay secure and tucked in like a baby. Babies are expensive to have but CyberGhost isn't – it costs less than you expect, we can bet on that!
Enjoy CyberGhost's Cheap Prices >
Why You Should Avoid Free VPNs?
We offered you some dirt cheap options for this country. If you'd still like to save two or three bucks a month, hear this. Free VPNs aren't as good as you think! The reason for this is that they lack tons of features that you'd get for a few dollars a month.
One of these features is a no-log policy, which is crucial for a country like Indonesia. This means that they keep some logs, such as IP addresses, browsing history, cookies, and so forth. Some of them even sell this data to third-party companies for revenue, leaving your privacy in jeopardy.
If that's not enough for you, just know that you'll also have limited bandwidth (500 MB to 2G usually) and snail-like speeds. We don't say that all free providers are bad but approximately 90% of them aren't worth your time.
So, to conclude – do not use free VPNs in Indonesia… or elsewhere!
Summary
The internet is a huge world of information and content that you can't access properly in this country. Unless you use a Virtual Private Network, you'll have to suffer the consequences of the government's decisions.
If you've already decided to improve your quality of online experience, it's time to make a choice. Our recommendation is ExpressVPN. This is a provider that will offer you zero compromises. You'll get fast speeds, the ability to unblock Netflix, and rock-solid security.
Now that you're here, throw our Monkey a banana and you're free to go.