Thailand is, without a doubt, one of the most beautiful countries in the world. When the summer comes, thousands of tourists visit this country and enjoy its food and beaches. But, little do they know, this isn't the best place in terms of internet freedom or freedom in general. If you're a resident of this country, you know what we're talking about. On the other side, if you're planning your next vacation in Thailand, you better prepare a bloody good VPN. Otherwise, you'll face censorship and constant surveillance. Let's examine your options.
Why You Should Use a VPN in Thailand?
Before we start counting down the best providers for Thailand, we need to see why you should use a VPN here. And oh boy, there's a lot to talk about! Here are the reasons for using this service in this country:
Avoiding Government Surveillance
Thailand isn't a member of the 14 Eyes Alliance. However, this means nothing. The countries from this conglomerate aren't the only ones that monitor their citizens.
In fact, our approximation is that 90% of the countries in this world conduct some sort of surveillance. If not, there's still Google and other companies that will do that job.
Nevertheless, here, you're under constant surveillance – 24/7. Before 2014, this country was relatively free. However, after the military coup, in 2014, the government came up with the new law. This law implied that the government or other third parties that cooperate with it can access ANY information on the internet without your consent or knowledge.

So, you might browse the internet without knowing that someone's breathing behind your neck. And this surveillance can have some excruciating consequences, as we're going to see in the next section. For now, let's just say that a service like this will help you get rid of government surveillance in a single click!
Bypass Censorship
We know how harsh China and Russia are when it comes to censorship. Well, let us introduce you to Thailand, a country that is equally as harsh. Let's start with the event that happened in 2016. The law student that published a BBC documentary got a five-year jail sentence because the Royal Family from Thailand deemed it "inappropriate" and "unflattering."
One year after that, in 2017, the government, or better said, the Thai Ministry of Digital Media blocked all the links leading to that documentary. The nephew of the former Prime Minister also got an 8-year jail sentence only for posting a comment on Facebook regarding the documentary.
To make matters worse, the government started rapidly blocking all the websites they deem inappropriate. Right now, we're looking at thousands of blocked sites! Even Wikileaks, Dailymail, and pornography sites are on this list.
Simply put, censorship is a big problem in Thailand… hence you will need a good VPN. Not only there are tons of inaccessible sites but they'll also punish you violently for breaking the laws. You can either get fined or get a jail sentence, depending on the scope of your violation.
Although the laws seem firm, they actually aren't. Because, one day, the site may be legal, while the other day, the government might block that site because it suddenly became illegal. You don't want to play this game of hide and seek. For that reason, grab a VPN and you'll solve all the issues.
Access Geo-Restricted (Streaming) Sites
Accessing geo-restricted websites is what many of us want. Netflix, Hulu, HBO Go, Disney+, ABC, and other sites represent the pinnacle of content streaming. Albeit, these sites are available only in the USA. So, how do you access them? For the start, by using a VPN.
It allows you to change your IP to another country, which makes accessing these sites a breeze. There are also many benefits if you are playing online games. You can connect to a distant game server and play without lags and high pings.
Beware that not all providers will allow you to do what we just mentioned. There are some that advertise themselves as being great and awesome but that's not the case. Before you buy any VPN for Thailand, we suggest you take a look at our site and make your decision accordingly.
Best VPNs With Servers in Thailand
Taking a business trip or a vacation out of your homeland can be unpleasant because you're missing your favorite local content. However, accessing Amarin TV, ONE 31, and MCOT HD from abroad is easy with a proper provider. Here are the best VPN providers with servers located in Thailand:
ExpressVPN: It is a provider that many of you know of. It's the fastest VPN you can get and thankfully, it has servers in Thailand. Get ready to experience local content abroad in its full glory!
NordVPN: NordVPN is one of the best money-saving options in 2021. The provider has 7 servers in this country, which is enough to make the best out of your online activities.
CyberGhost: This Romanian giant has thousands of servers worldwide, of which 8 of them are in Bangkok. If you want cheap, yet quality services for accessing local content in Thailand, this is a great option to go for.
Setting up a provider of your choice is dead simple. Click on the name of the provider, buy a subscription, install the apps, connect to the server in this country, and soar the internet like an eagle.
Best VPNs for Thailand
Now, if you don't care about local content and you just want a blazing-fast, rock-solid experience, this is a section for you. These providers don't necessarily need to have servers in a particular country but this time, you're lucky – they do! Here are our top choices:
1. ExpressVPN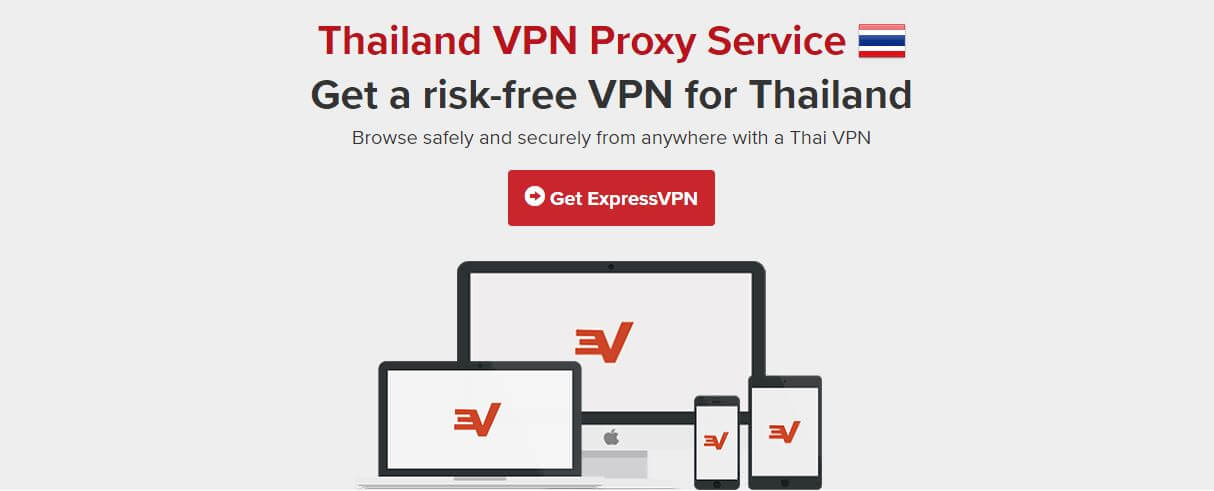 If you want an experience with no compromises, ExpressVPN is the one to go for. Sure, it's not the cheapest provider but quality costs. So, what do you get for the price? In one word – everything. Starting from the blazing-fast speeds, this provider will give you top-notch gaming, streaming, torrenting, and browsing experience.
In terms of security, you're looking at an Alcatraz-like provider. No personal info will escape from the provider's deadly jaws, leaving you safe and secure online. ExpressVPN is from the British Virgin Islands, so they keep no logs and have a strict zero-log policy on the website.
Apart from that, you get 256-bit encryption, an automatic kill switch, DNS and IP leak protection, and a couple of security protocols. In 2021, you can get this provider for a discounted price. We're talking about a 49% discount and 3 months free for a 12-month subscription plan.
There's a 30-day money-back guarantee for every plan you choose, so you won't waste your money if you don't like it.
Enjoy Fast Speeds With ExpressVPN >
2. NordVPN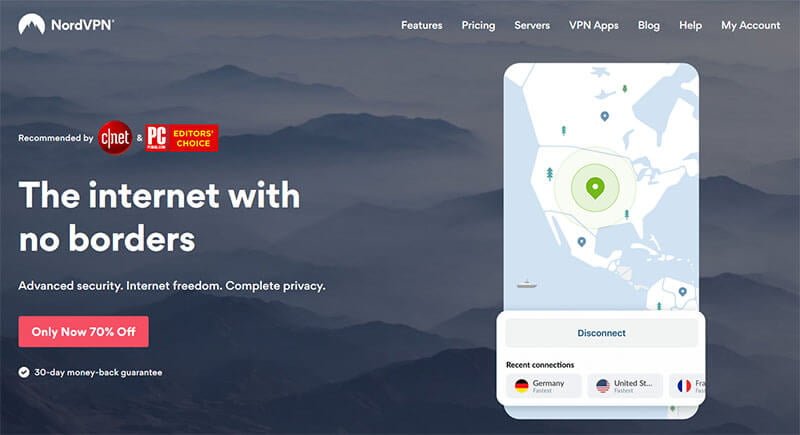 NordVPN is the champ when it comes to the value for money. This Panama-based giant sports 5,500+ servers in 61 countries around the globe, making it one of the largest providers. These servers are fast… like, really FAST. And you also get tons of security-oriented features.
These include CyberSec (ad-blocker), DNS and IP leak protection, Double VPN, Onion Over VPN, and many more. We like the fact that it supports Tor, which will add more to your security and anonymity online. When it comes to bypassing geo-restrictions, NordVPN will not disappoint you.
You can access Netflix easily, as well as DAZN, Amazon Prime Video, BBC iPlayer, and many others. What else can we say? Oh, we can – click on the button below and get a huge discount. It's NordVPN's birthday and it's giving you some money-saving offerings.
Enjoy NordVPN's Rich Offerings >
3. CyberGhost

Finally, we have CyberGhost. Our ghostie offers 6,200+ servers in 91 countries worldwide, and as such, it's the largest provider in the world. One thing we always mention about it is how cheap, yet effective it is. It's great for beginners, as it offers an intuitive interface and dedicated servers.
These servers are for torrenting or streaming and they will amp up one of the activities you choose. It's also usable with Roku, so you can stream endlessly and enjoy high-quality TV shows and movies. Speaking of that, CyberGhost is also great for unblocking geo-restricted sites and will access Netflix and other platforms with ease.
Security-wise, you get all the standard features, including military-grade encryption, no-log policy, IP and DNS leak protection, and so forth. They're even more generous than other providers, offering you a 45-day money-back period for their largest, 3-year plan.
Why You Should Avoid Free Providers?
Free VPN providers are very tempting, especially in if you live in Thailand. You get all the features you love for exactly 0.00 bucks.
Sounds awesome, doesn't it? Well… if it was the truth – yes, that would be good. But, in reality, free providers always fall flat on their heads due to the lack of features, some very important features like a no-log policy.
Since they lack a no-log policy, they usually keep logs, and some of them even sell the logs to third parties! A popular free provider, Hola VPN, is known to do this. However, this is just one example, as there are dozens of them.
And for a country like this, it's very important that your provider DOES NOT keep logs. Aside from what we said, free VPNs are pretty limited. They offer you limited bandwidth, limited speeds, and they can't unblock Netflix in a vast majority of cases.
So, are free VPNs good for Thailand? No, they aren't. Evade them at all costs!
Summary
To summarize, Thailand is a very nasty country in terms of government surveillance and censorship. Sure, you'll enjoy its landscape, food, and culture but after that, you just want to visit the internet and share your photos in a bikini from the beach.
Accessing the internet safely in this country isn't an easy thing. But, if you get a decent VPN provider, that won't be the case. For that reason, we recommend you ExpressVPN. This provider will never leave you behind and will always give you fast speeds, rock-solid security, and 24/7 customer support.