We all want to access some foreign content online or just enjoy our local content from abroad. Well, for that purpose, you'll need to somehow change your IP address. In this particular case, we'll talk about getting a Belgian IP, which will let you access your local bank account or enjoy watching RTBF or VIER easily. Stay with us to see an easy method for doing that.
Use a VPN to Change Your IP
VPN stands for Virtual Private Network and it's a great service if you want to access streaming services from everywhere. But, since it's not all about streaming, this service takes care of your safety and security online, which is crucial in this day and age.
Since you want to access Belgian local content, you'll need it to change your IP address. The question is – how does it help? Well, when you connect to the service, it lets you change your IP and when you do that, it encrypts your connections with a so-called tunnel.
Now, your data flows from your location, through the tunnel, and ends up at the website you want to visit. This way, your data is protected by the tunnel, so that your ISP, government or Google can't track you. Of course, this also means that your online location is now in the country you want, which is our primary goal.
How to Get a Belgian IP Address from Anywhere in the World?
What if we told you that you can get almost any IP address in the world from the comfort of your home? Here's how to do it:
1. Get a Subscription
The first step is to buy a subscription from the provider of your choice. If you're still in doubt, let us introduce you to ExpressVPN, the best provider in 2021. This is our recommended option, so we'll adapt our steps to it. Rest assured, the same steps apply to other providers, too.
Now, let us mention ExpressVPN's 49% discount and 3 months free for a 12-month plan. It's a great time to get it for a cheap price!
2. Download the Apps and Install Them
Download the apps from the provider of your choice, and install them. Upon installation, log in to your account, and you should see the app's home screen. Beware that you can also use it on your mobile devices, so you aren't necessarily locked to your PC.
3. Connect to a Belgian Server
When everything is set, it's time to travel to Belgium – online! Click on the country under the power button, scroll down, and find Belgium. Click on it, and then, click on the power button to establish a connection. After a few seconds, everything will be done.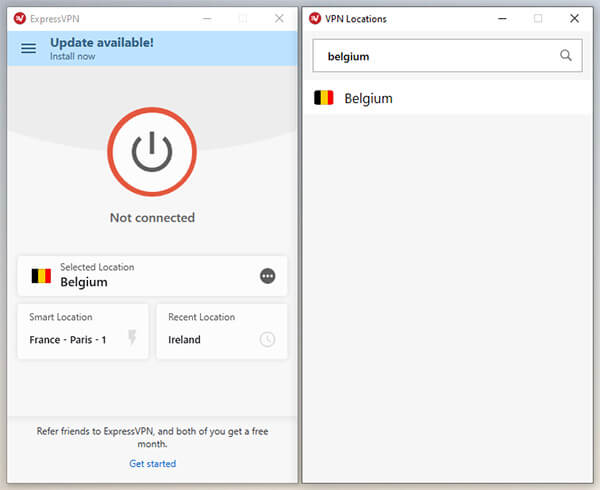 4. Enjoy the Benefits
Finally, you can access the content from this country and enjoy it to the fullest. In case you want to do it again, simply use the third step and you'll get a Belgian IP. A single-click login – it can't get easier, buddy!

What are the Benefits of Getting a Belgian IP Address?
If you're a resident of this country from abroad, you already know the potential benefits. But, if you want this IP for other reasons, you don't know why using it is a good thing. Here's why:
Accessing Belgian Streaming Sites
Did you know that Belgians have access to Netflix? This catalog might not be the biggest but it packs a lot of great movies from this country. Also, with a Belgian IP, you can enjoy local TV shows, movies, and even stream sports.
Using Your Bank Account from Abroad
Belgian banks are pretty harsh when it comes to accessing a bank account from abroad. Because of that, you can get locked out of your account, leaving you without the ability to withdraw your money. But, if you have a VPN, you can access it as if you were from this country.
Keeping Yourself Safe and Secure
Security is a pretty big thing online and with this service, you'll get an abundance of it! Now that your connection is flowing through this tunnel, no hacker, ISP or the government officials can track you.
Top 3 VPNs to Get a Belgian IP Address
Ready to surf across the Belgian internet-land from anywhere in the world? Here are the top 3 picks in 2021:
1. ExpressVPN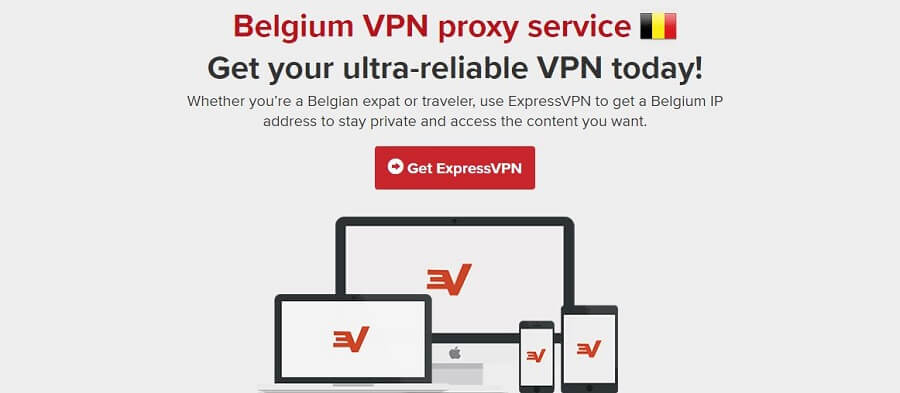 ExpressVPN packs quite a punch, so strong, that it blows away every other provider on the market. The reason being is because of its enormous speeds, 3,000+ servers, and impenetrable security. That's all you need, right? Of course!
With its ability to bypass geo-restrictions, enjoying sports on RTBF is easier than ever. Furthermore, it offers a no-log policy, so they don't store logs, leaving your data available only for you. To accompany that, ExpressVPN offers split tunneling and 256-bit AES encryption.
You even get to use its 24/7 live chat support, which is great for solving potential issues right away. And since it supports routers, you can connect up to 16 or 32 devices in your household simultaneously – on a single account!
Get a 49% Discount on ExpressVPN >
2. NordVPN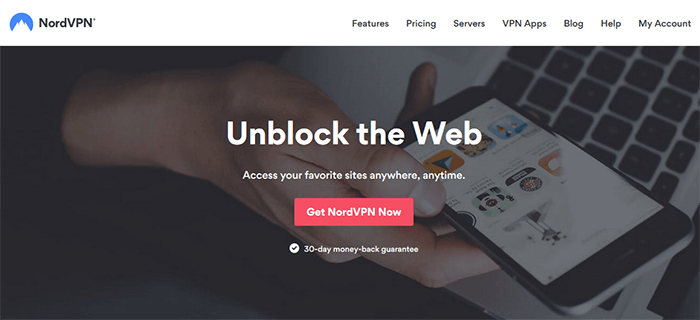 NordVPN is a Panama-based provider with 5,500+ servers worldwide. A huge portion of these servers is in this country, leaving you with lots of options for getting an IP. The speeds here are more than stellar, allowing you to stream 4K Belgian movies on Netflix.
Accessing your bank account safely is entirely possible, thanks to NordVPN's security features. There's Double VPN, allowing you to route your traffic through two different servers, and even obfuscated servers are here, for bypassing censorship.
All of that, you can get for a pretty affordable price, making NordVPN a great all-around choice.
Get a Belgian IP Easily With NordVPN >
3. CyberGhost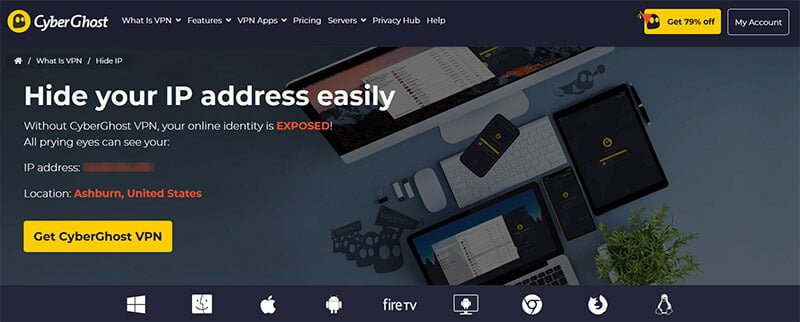 CyberGhost is a versatile provider that won't break the bank. It offers its amazing service at low prices, which is why many newcomers like it. With its dedicated servers for streaming and torrenting, the provider will greatly enhance your online experience.
Furthermore, CyberGhost does have a Chrome extension, so you can use it as a proxy. Albeit, a full-fledged VPN is always better. In terms of security, you get a no-log policy, military-grade encryption, and DNS and IP leak protection, which is very important for this purpose.
The provider has 6,200+ servers in 91 countries worldwide, effectively covering almost the entire planet. Being reliable, fast, and secure, CyberGhost is a provider we always gladly recommend.