Pornhub is a very popular porn site that everyone knows about. When you see the black-orange logo, you immediately know what's up. Well, the same kind of logo uses a VPN service made by this company – VPNhub. It's quite unusual for a company like this to branch out into a different industry but at the same time, it's interesting to see if they did a good job at it. Today, on our menu, we have VPNhub, a provider that we reviewed and are ready to share our impressions.
What is VPNhub?
As its name says, VPNhub is a premium VPN service made by Pornhub. It's stationed in the USA, which can be a problem in terms of security. The USA is a part of the 14 Eyes Alliance, and as some of you know, every country in this alliance is under government surveillance and data-retention laws.
Furthermore, the provider doesn't have quite a respectable reputation online. If you Google-search it, you'll see lots of bad reviews and negative experiences. From the get-go, we had a very bad impression simply because we read a lot of reviews online.
But, even first impressions can change, so we went into this VPNhub review as objective as possible. With that in mind, we're going to see if this provider is worth your time and money. For those who would like to buy it right away, here's a button for visiting the provider's website.
Compatible Devices and Ease of Use
Every provider offers a roster of devices that it supports. Sometimes, this roster is poor, and sometimes, we get thorough support for every major and minor device. Where does this provider stand? Well, take a look:

If you see only four platforms, congrats, your eyes are still intact! Right from the start, we can see that the provider isn't very generous. To translate the image, these platforms are, from left to right, Windows, Mac, Android, and iOS. For a VPN this expensive, we expected a lot more in this compartment.
We'd say that modest users will not have anything against it but modest users also won't pay a lot of money for this kind of service.
Computers
As you've seen juste before in this review, VPNhub has apps for Windows and Mac when we talk about computers. Unfortunately, they don't support Linux. The computer app requires a premium subscription to work, while the smartphone app can be used as a free, standalone app. More about that later.
For now, let's use our Windows 10 computer and show you the installation process and the app. Upon buying a subscription, we downloaded the setup file, ran it, and we got this screen: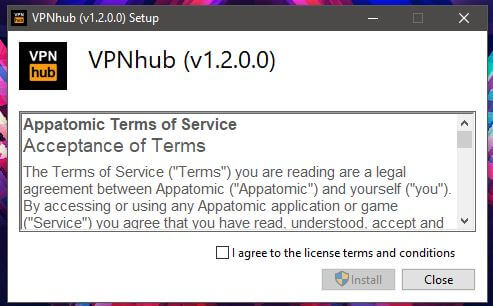 If you're too lazy to read these terms of service, agree to them blindly and click Install. The installation process will begin right away: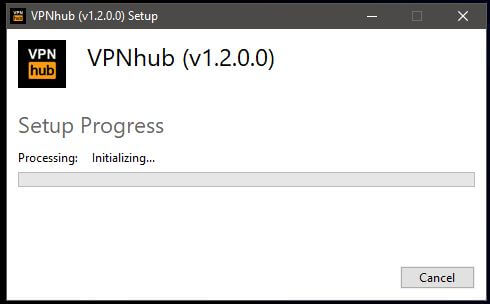 It lasts about 5 to 10 seconds, which is very fast. When the setup is done, you'll get this screen: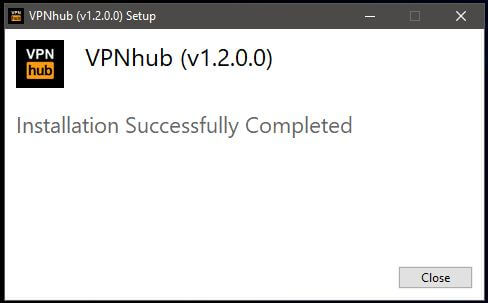 Click Close and now, you're ready to launch the app. Double-click on the desktop icon and the app will open: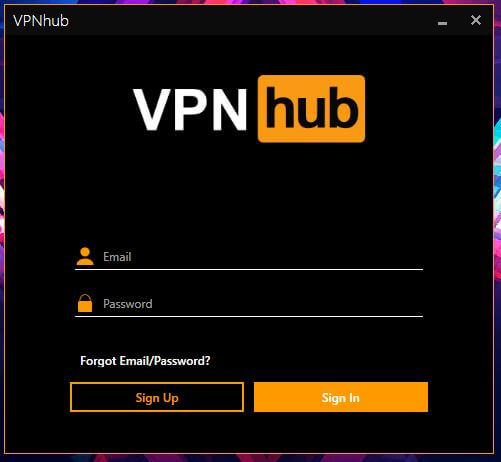 This is a login screen and is compulsory since the app requires you to make a premium account. Enter your credentials and sign in. The home screen looks like this: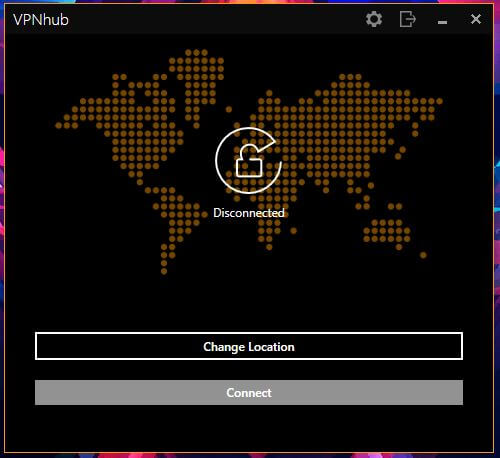 To connect, click on Change Location to open the server list which looks like this: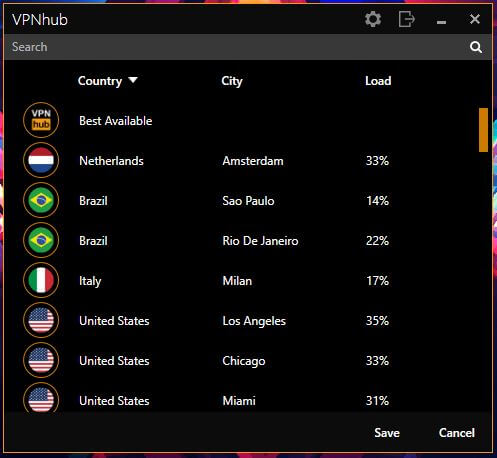 You can use the best location, which is at the top. However, we used the US server in Miami. It had only a 31% load, making it great for speed. When you click on it, click Save and then, click Connect on the home screen: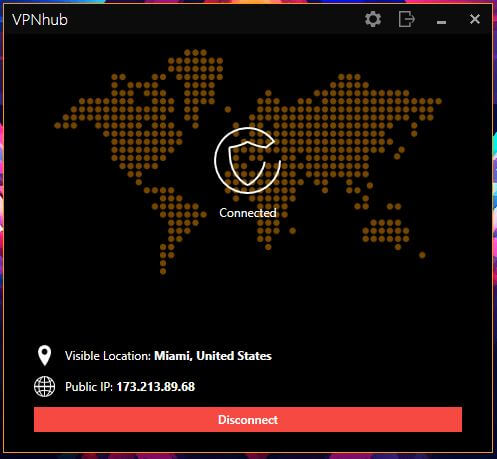 Here's how the screen looks when you're connected. If you want to change the server, you need to disconnect first. All in all, the ease of use of the computer app is solid. It's easy to use and we didn't have any issues connecting to any server.
Smartphones and Tablets
Let's see what our mobile platforms say. As mentioned, VPNhub supports iOS and Android here but as always, we'll use our Android phone to show you the installation process and the app.
First, download the app from the Google Play Store, as shown in image 1.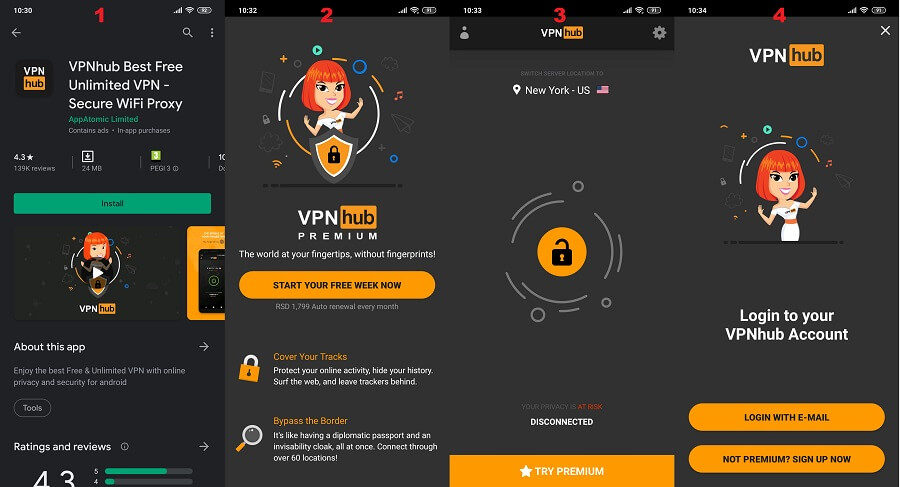 When you run the app, you'll get the screen shown in image 2. We had issues to avoid this screen, as it didn't contain any button to log in – just this free week and sign-up buttons. The Android app can be used for free for a week, though, so you can test it for yourself.
To avoid this screen, we turned off the app, booted it again, and voila – we got to the home screen which you can see in image 3. Accessing the login screen here was easy. Click on the button in the top-left corner and you'll see it right away. The pre-login screen in image 4 shows two options. Click on the first one.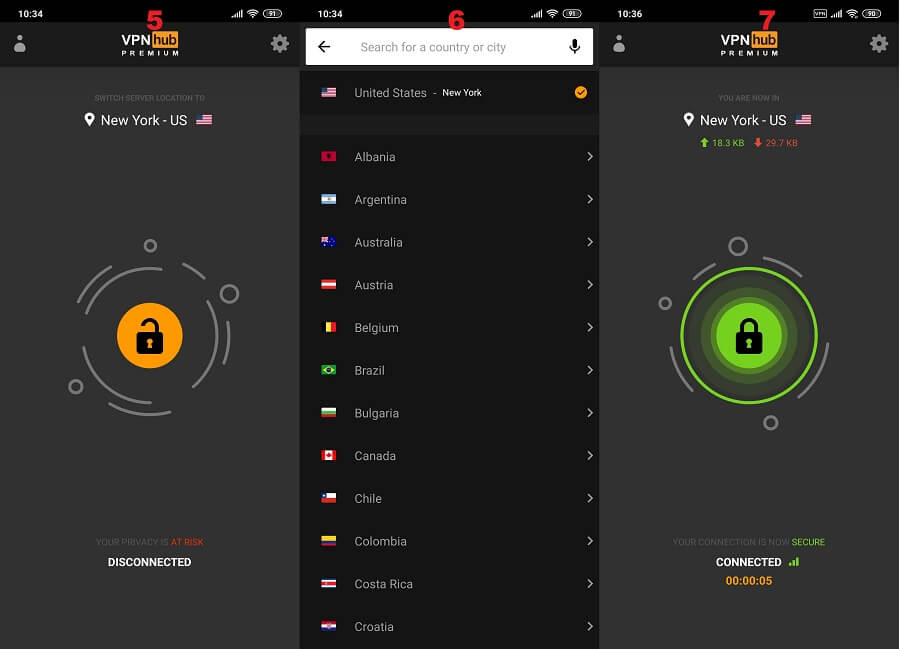 Type in your credentials, log in, and you'll see how the true home screen looks like in image 5. Access the servers list now, by clicking on the New York – US. The servers list is shown in image 6, and there, you need to choose your location. We chose the first one, which you can see in image 7, where we successfully established a connection.
We didn't like the app for smartphone very much, especially because of the small issue at the beginning. Its dark theme is beautiful, on the other hand, and will save your eyes if you're looking at displays of all sorts often.
Other Devices
If a provider like VPNhub doesn't support at least routers, we can't give it a high grade in this compartment of our review.
Unfortunately, VPNhub supports only the four platforms we mentioned, so you can't connect it to your router. Before ramping up its prices, Pornhub should think about giving correct service, and not getting money for lackluster performance.
How Fast is VPNhub? We Checked Its Speed!
With all this in mind, you probably hope that speeds are worth mentioning. Sure, we always mention speeds but not every provider can satisfy our high criteria. Before we move on to the speed tests, we need to mention one important fact. Every VPN will reduce your internet speed to some extent.
However, there's a huge difference between 10% and 80% reduction. This divides good and bad VPNs. Because let's face it, no one likes waiting minutes for the page or the video to load. Nevertheless, speed reduction depends on factors such as network quality, server distance, server load, etc.
So, how we did our tests? We did 3 tests in the morning, 3 in the mid-day, and 3 in the evening, for 3 different locations. Also, we kept the best score and used the best location when that option was available. Our physical location is in the USA (non-VPN test) and we used these 3 locations for testing:
The United States
The United Kingdom
Australia
Without using a Virtual Private Network, our speeds are:
Ping: 11 ms
Download Speed: 211.88 Mb/s
Upload Speed: 202.20 Mb/s
Now, when using VPNhub, our ping, download, and upload speeds respectively, for 3 testing locations, are:
US Server: 77 ms / 108.51 Mbps / 126.75 Mbps

UK Server: 120 ms / 74.32 Mbps / 30.96 Mbps

Australian Server: 388 ms / 17.13 Mbps / 25.39 Mbps

As you can see, VPNhub has had disappointing speeds overall during our review and tests. Even the US server didn't show any great results. When you look at the Australian server, you see how bad the situation is. Our ping sky-rocketed to almost 400 ms, with our download and upload speeds not being enough even for streaming/uploading 1080p content.
Long story short, VPNhub is VERY slow, making your browsing experience a chore, not an enjoyment.
How Good is VPNhub for Streaming?
Because of its speeds, this provider is bad for streaming from the get-go, unless you're really close to the server you're using. But, that would mean that for unblocking Netflix, for instance, you got to be close to the USA, where Netflix works without a VPN. It makes no sense, right?
Let's see what the provider can unblock. Netflix doesn't work on the US server. We tested a couple more and couldn't get it to work properly. You might be able to enjoy sporting events on sites like 10Play but due to its snail-like speeds, we highly doubt it.
For those who don't expect to unlock HBO outside of the US, VPNhub has a pleasant surprise: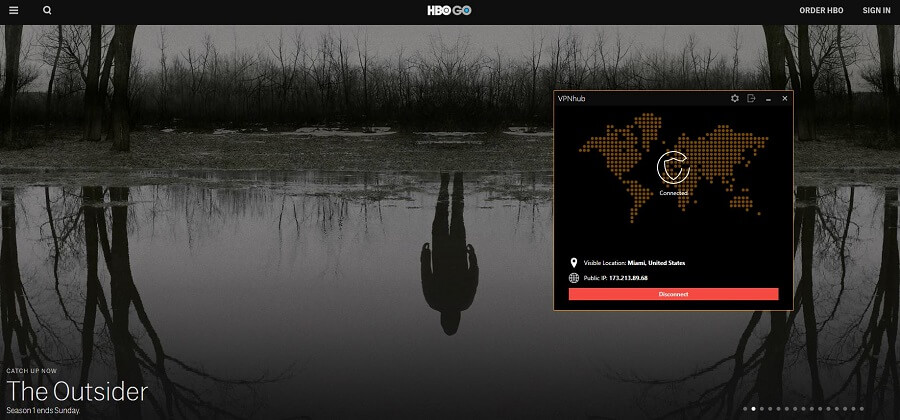 HBO GO actually worked during our review of VPNhub. Let's see what Disney+ will say:
Disney+, surprisingly, works. We managed to get to the login screen from the home page, which is excellent. Now, what about DAZN?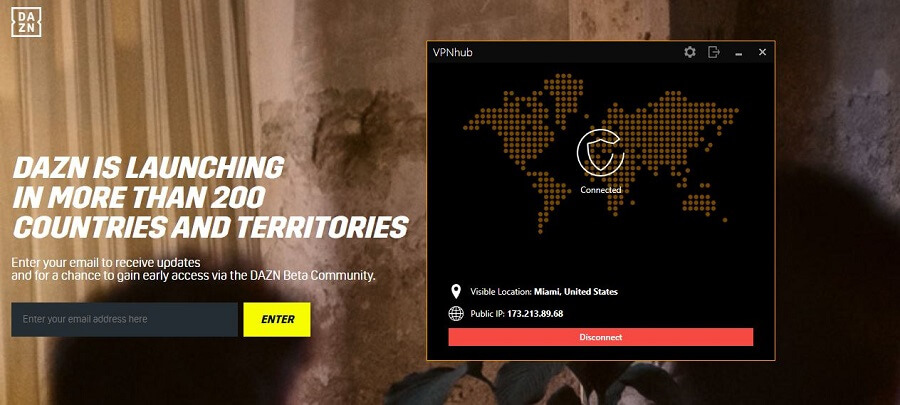 DAZN doesn't work, which is something we already anticipated. Finally, let's check BBC iPlayer: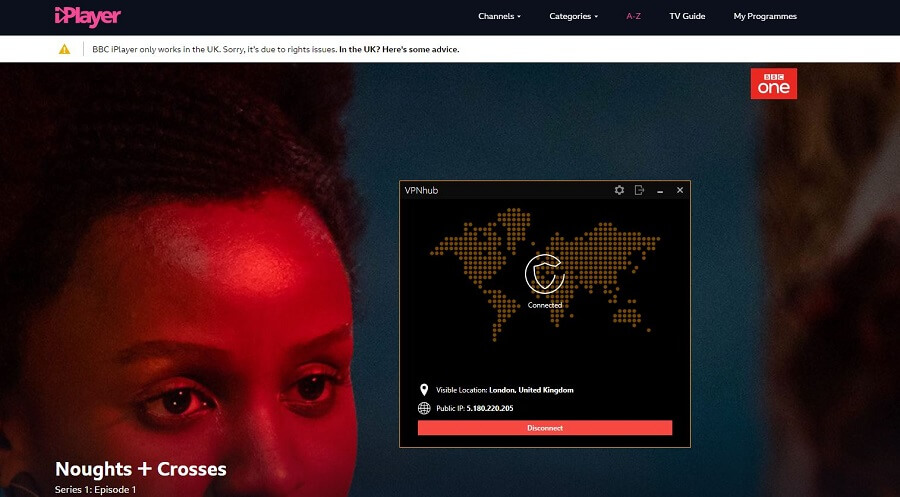 BBC iPlayer doesn't work with any of the UK servers we tested.
So, to digress, VPNhub unblocks HBO Go and Disney+ of all the major platforms. Sure, you can unblock online casinos, porn sites, etc but when it comes to streaming, don't have very high expectations.
All of this, coupled with very slow speeds, results in a very unpleasant streaming experience overall, making this provider bad for streaming.
Confidentiality, Security & Logs
This is where things start to get interesting. Pornhub (with RedTube and You Porn) stands behind AgeID, an age-verification platform that makes sure that the user who wants to watch porn is over 18 years old. This system was made specifically for the UK, so the UK residents now can't watch porn if they're under 18.
That's okay. We also don't recommend porn to people under this age. However, this same company has a VPN service that bypasses the AgeID, so it basically aims to "destroy" its own security measure. Furthermore, VPNhub is partner with IPVanish, a provider that stomped over its zero-log policy at one point.
IPVanish gave logs to the US authorities, so they could catch a suspect. These logs contained username, search history, timestamps of connection/disconnection, real name, and even IP address! If you think that this provider is any different, you're very wrong. Let's check the privacy policy:

Just look at this! The company works with third parties and collects your mobile ID, browser type and version, system, platform, devices you use, and your IP address. Even worse, they collect, use, and share your data with third parties. Now, take a look at this:

It's basically what we said but with the addition of automatic data collection technologies. They're simply logging too much for comfort. And the final nail in the coffin is this:

They even share your personal information with other countries in the world, which is just crazy if you ask us. While their standard security features are great, such as DNS and IP leak protection, 256-bit encryption, and kill switch, we can't get over what we just discovered.
Let's check our IP leak test now and conclude this section of our VPNhub review afterward:

We didn't encounter any leaks, which is fantastic. However, this "zero-log" policy is all but genuine. With all this information they collect, we can't recommend buying VPNhub. If you want our brutal honesty, we recommend staying away from it at all costs. Do not buy it, do not use a free trial, and simply don't bother entering its site.
Can I Do Torrenting Safely with VPNhub?
No, you can't because the provider doesn't allow torrenting. Did you think a VPN like this would allow P2P activities? We just talked about its logging practices that will not allow you to download any copyrighted content without getting caught.
If you're from the USA, we strongly advise not to use VPNhub for torrenting. Those who know what DMCA is will know how dangerous it is to use a provider that doesn't support P2P. For those interested, here's a screenshot from the 1337x torrent site:

This is our fake IP address and that's good. However, we didn't want to mess with it, so we didn't initiate the download. We don't want to get a copyright strike. For that reason, VPNhub is not recommendable to avoid DMCA and enjoy P2P file sharing.
Can I Use VPNhub to Bypass Censorship?
Do you want a short answer? No, you can't because VPNhub doesn't work in China. Why is China important? Well, because of the Great Firewall of China that actively repels VPNs around the world. In 2021, only a handful of them work, and as we said, this provider isn't one of them.
If you live in countries like the UAE, Russia, Turkmenistan, Belarus, and China, we recommend that you don't use this provider. Its data-retention habits and 14 Eyes jurisdiction will quickly compromise your privacy, leaving you exposed to the prying eyes of the governments.
Pricing and Plan Options
We said earlier that the provider is very expensive and now, it's time to mention how expensive it is. Here's a screenshot from the provider's website:

We'll try not to go into rant mode but would you look at this? The flashy plan on the left is a 3-year plan at $3.49 a month or $125.64 every 3 years. Next, there's a 2-year plan at $4.99 a month or $119.76 a month.
There's also an annual plan at $6.99 a month or $83.88 a year and finally, there's an expensive monthly plan at $13.99 a month that comes with a 7-day free trial. We know a few decent providers that are at least 10 times better than this one, yet cost less or the same.
For $3.49 a month, you can get NordVPN's 3-year plan. Furthermore, Surfshark offers its 2-year plan at $1.99 a month, whereas this one costs $4.99. Heck, even ExpressVPN has an annual plan at $6.77 a month and VPNhub costs $6.99.
There is absolutely NO REASON to buy this VPN. The only reason we bought VPNhub is for review purposes, which we don't recommend doing. Just look at this refund policy:

We highlighted the word 'refund' so you can see it. The provider made sure that this word is buried deep into the text, so you can make your eyes into a mush while struggling to find it. To translate, you have 96 hours e.g. 4 days to request a refund.
Why they didn't make it transparent so that we don't have to search for it for minutes? Instead, they buried it, making us read the whole thing over and over, just to grasp how the refunds work. And if you want a refund, you can't use the live chat because it doesn't exist – just fantastic!
How Can I Contact VPNhub?
Instead, you'll have to contact VPNhub's support that works like a dead horse. Here's how to do it:

Scroll down to the bottom of the page, click Contact Support and your default emailing app will open. In our case, that was Microsoft Outlook. They don't even have a proper ticketing system, so we can't request help directly from the site.
That's, unfortunately, how you can request a refund. Oh, and did we mention that VPNhub support takes ages to respond? Like 10+ hours. You can visit the gym, watch half a season of Witcher, and take a shower, and if you're happy, the support team will respond.
The Special Functionalities
Pornhub, we know that you have a website full of all types of kinky stuff. If your website covers all of the aspects of human's twisted brain, why can't your VPN give us some great features to work with? As you might've guessed, VPNhub doesn't have any special functionalities, which is insulting to potential buyers.
If a buyer pays a pretty hefty price for your service, you're expected to justify that price. Just because Pornhub owns the company, doesn't mean you have to pay a fortune to receive a lackluster product. Sure, it's good for unblocking porn but so are ExpressVPN, NordVPN, CyberGhost, and Surfshark
Plus, these providers offer a ton more features and cost way LESS, which is crucial here.
Other Things You Should Know
Although we already said a bunch about this provider, there are still some things left untold. Let's talk more about them:
Number of Servers
Expecting this provider to have a huge number of servers is like expecting a pig to fly. Here's what the server count looks like:

Thousands of servers? More like 1,000 servers. Yes, VPNhub has 1,000+ servers worldwide, which isn't a very imposing number. In fact, it's way less than we expected for the price.
And just one suggestion – please specify the EXACT number of servers in the future, don't use words like 'thousands', 'hundreds', etc.
Number of Countries
As you can see from the image above, you get 60 locations, which isn't very bad. And surprisingly, there's no Russia on the list. But once again, whether it has servers in Russia or not, it's already neck-deep in problems because of everything we just said.
Number of Simultaneous Connections
Since VPNhub doesn't support routers, you'll need to be satisfied with 3 simultaneous connections. Very disappointing.
What Do Other Users Say About VPNhub?
There aren't a lot of reviews online about VPNhub. However, let's take a look at some of them we found.
Starting with Reddit, we have a user that proved that VPNhub doesn't allow torrenting:

As you can see, this cut-out from the privacy policy proves what we said earlier. This was a response to one user that asked if the provider allows P2P. Interestingly, there aren't any reviews of this provider on Reddit. You can mostly find people commenting on its relationship with Pornhub.
What about Google Play? Let's check this review:

The Android user says that the app used to work well at some point, with fast download speeds. But, as of recently, not only it got slower but customer support didn't reply to his email. We mentioned that customer support is straight-up bad, so here's proof from this user.
Finally, we'll check the review from the Apple Store: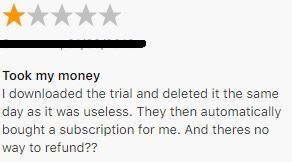 This is interesting – this user canceled the subscription and the service still bought a new subscription for him, which is illegal for the company to do. We usually check Trustpilot for more reviews but this time, there aren't any reviews for VPNhub on this site. In fact, no specific page for it exists!
Conclusion: Should You Take It?
VPNhub is a provider from the USA that looks more like a scam than an actual VPN. Because it's not safe, stores tons of information, has slow speeds, small server network, and lacks the live chat, we don't recommend buying VPNhub AT ALL.
On top of that, this provider is very expensive, yet offers worse performance even when compared to some of the best free providers. If you're looking for a VPN that costs similar to this one, we recommend buying ExpressVPN.
It offers a 49% discount and 3 months free for a 12-month subscription plan. As for this provider, stay away from it if you care even slightly about your privacy and security.