Spain is yet another European country that is a member of the European Union. The EU gives certain perks for its members but there are some big downsides, too. One of them is the surveillance program in which many countries from this continent are involved, including this one. The 14 Eyes Alliance is a notorious organization of which Spain is a loyal member. Because of that, enjoying your privacy in Spain isn't going to be possible without a VPN. Without further ado, let's talk more about this issue and see what are your best options in 2021.
Why You Should Use a VPN in Spain?
Taking a glance at the Freedom House website, we can see that this is a free country. The ranking of 94/100 isn't there for no reason. But, as we always say, the internet is a whole another dimension, so we can't always apply the same rules there. Let's see why using a VPN can be beneficial when in Spain:
Avoiding Government Surveillance
If you've just arrived in Spain, know that you can enjoy the internet freely. All the social media sites are here and you can post pretty much anything. But, there were some political issues recently that made the government reconsider the way they lead the country.
As we mentioned, European countries are the ones promoting the Data Retention Directive. So, the ISPs from these countries must collect data related to the country's residents. This data includes IP addresses, browsing history, and timestamps.
The Spanish version of this is, thankfully, a bit less intrusive. They are allowed to keep your data for 12 months but in some cases, it can even go to 24 months. We don't know what are these cases but if you're doing something suspicious online, you can possibly trigger this event.
Since buying a Virtual Private Network isn't going to break a bank, we suggest that solution. You'll pay less than a few dollars a month but you'll save yourself some annoying problems with the law.
Torrenting Safely & Anonymously
Just a quick disclaimer – we do not condone torrenting or violating copyrights in any way, shape or form. But, if you're using BitTorrent, know that the Spanish government won't turn a blind eye always. Back in 2011, the government came up with some strict rules and anti-piracy laws, making it one of the least torrent-friendly countries in Europe.
4 years later, in 2015, there were some reports claiming that little less than 90% of downloaded material in the country was illegal. For that reason, the Spanish government started blocking torrent sites actively, and unfortunately, The Pirate Bay is just one of them.
So, if you want to continue performing your activity, we recommend getting the required protection. Some people still torrent without a VPN service active in Spain but we aren't much of risk-takers when it comes to personal security.
Avoiding ISP Throttling
Some Internet Service Providers in this country became infamous for their throttling practices. ISP throttling is a process in which your internet provider slows down your internet speed. Now, you'll ask why and we'll give you one simple explanation – because of streaming and/or torrenting.
When doing these activities, you're using huge chunks of data, which isn't something your ISP loves. To prevent you from enjoying your online time, they slow the internet down, making you bang your head against the wall.
But, don't think your PC or router is faulty. They're not. It's just your evil ISP trying to make your life worse. If you're watching Spanish Netflix a lot, you can expect this issue to arise. That's why we recommend going for the US version, of course, by altering your IP with this service.
Accessing Geo-Blocked Sites
Speaking of Netflix, don't you want to access the US or the UK version? Here's the list of the best providers for this purpose: https://monkeyprivacy.com/best-vpn-netflix/. How do they work? As we said, they alter your IP to the country you want.
For example, you're in this country and you want to change your online location to the USA. You do this and now, the US-based content will be accessible. Bypassing geo-restrictions isn't only applicable to Netflix.
If you're abroad and you want to watch local sports or TV shows, you can also use it. Needless to say, sites like 10Play, ESPN, Disney+, Amazon Prime Video, and BBC iPlayer will all be accessible with a good VPN provider, regardless of your location, whether you're in Spain or elsewhere.
Best VPNs With Servers in Spain
Now that you're acquainted with all the magic of Virtual Private Networks, accessing Telecinco, Antena 3 or La 1 from abroad will be a piece of cake. Here are our best VPN picks with servers in Spain:
ExpressVPN: This provider is the most significant one on the market. When it comes to servers in this country, the provider has servers in Madrid and Barcelona. Most importantly, they both support all the security protocols and are very fast.
NordVPN: NordVPN offers 41 servers in this country, supporting P2P file-sharing and other security protocols. This is one of the best providers in the world, so you can expect some fascinating performance.
CyberGhost: The Romanian giant, CyberGhost, has 68 servers in this country – 24 in Barcelona and 44 in Madrid. It's cheap, reliable, and works flawlessly, regardless of your location.
To use some of these providers, click on the name you want and get a subscription. Then, install the respective app, connect to one server based in Spain, and enjoy your online voyages.
Best VPNs for Spain
Are you ready to take your privacy to the next level? If so, here are the best overall choices for Spanish residents. Below are brief reviews of each provider, to see why they are so good for the purpose.
1. ExpressVPN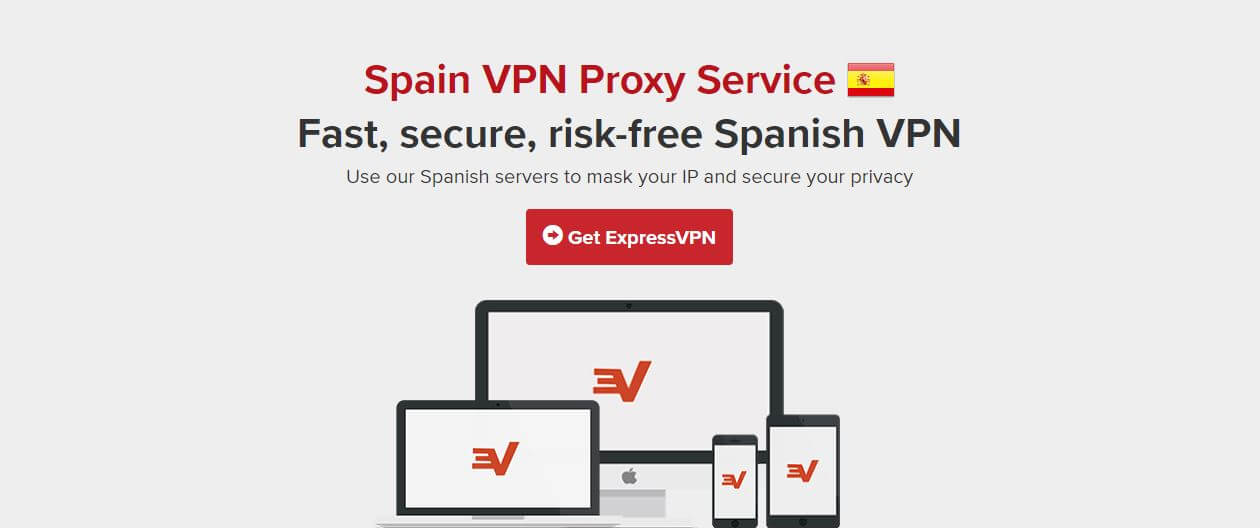 Whether you're using Windows, iOS, Android or iPad, ExpressVPN is the best in the business. The company comes from the British Virgin Islands, a place where security is valued more than anything. For that reason, you'll get a crystal-clear no-log policy from the get-go.
ExperssVPN offers some insane speeds, so for you watching Netflix a lot, there you go – feast on it! 4K or 8K videos, it doesn't matter. You'll be able to conquer them all.
We also like the addition of split tunneling. It allows you to route your internet traffic through two different IPs, leaving you space for accessing your local bank account or PayPal profile.
Aside from that, you can expect military-grade encryption, kill switch, and DNS and IP leak protection. We reviewed ExpressVPN recently, so be sure to take a look at our review after this article. Also, we want to inform you about a 49% discount and 3 months free for a 12-month plan that the company offers.
And in case you don't like it, there's a 30-day money-back guarantee.
2. NordVPN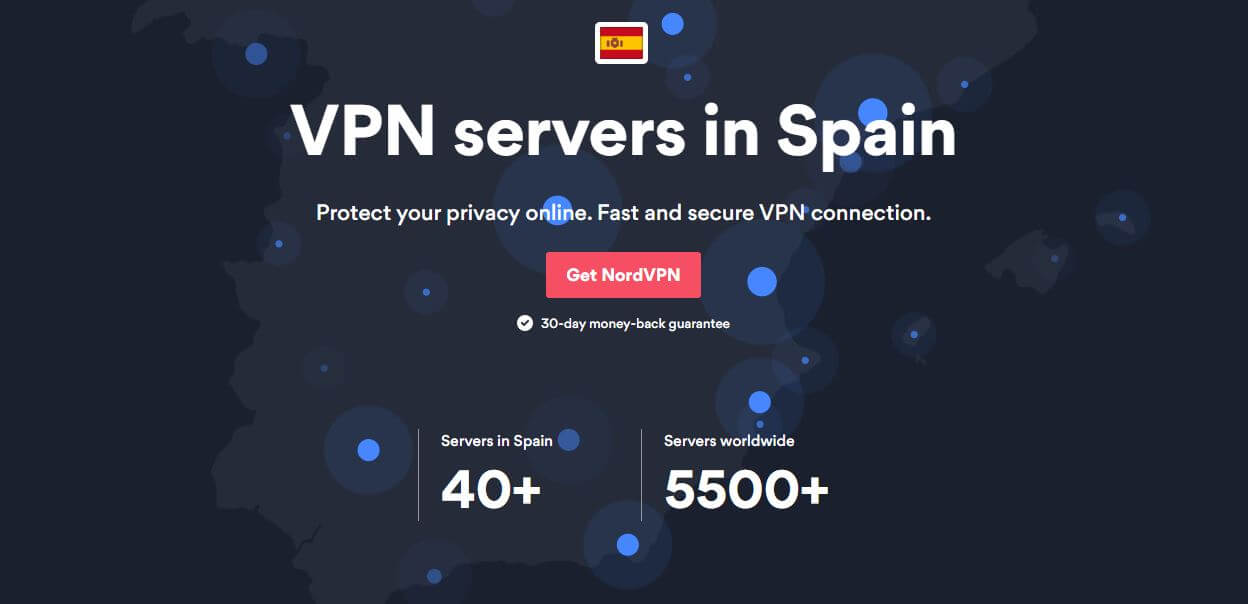 NordVPN is a cunning player in the cybersecurity industry. And before you even think about it – it's not a scam. It's cunning in a way that it always pierces through the toughest geo-block and anti-VPN algorithms.
This allows you to unblock Netflix and Amazon Prime Video easily, as they can't detect that you're using NordVPN. The best thing is that it supports routers, so you can cover up your entire house. For those wanting a free iteration of the provider, they have a free extension available on Firefox.
While this extension isn't a full-fledged product, it will protect you to a certain extent. For full protection, get a subscription on NordVPN. It's secure, blazing-fast, and will do everything you want from it. Especially if you are planning on using this VPN in Spain.
EnjoyNordVPN's Rich Offerings >
3. CyberGhost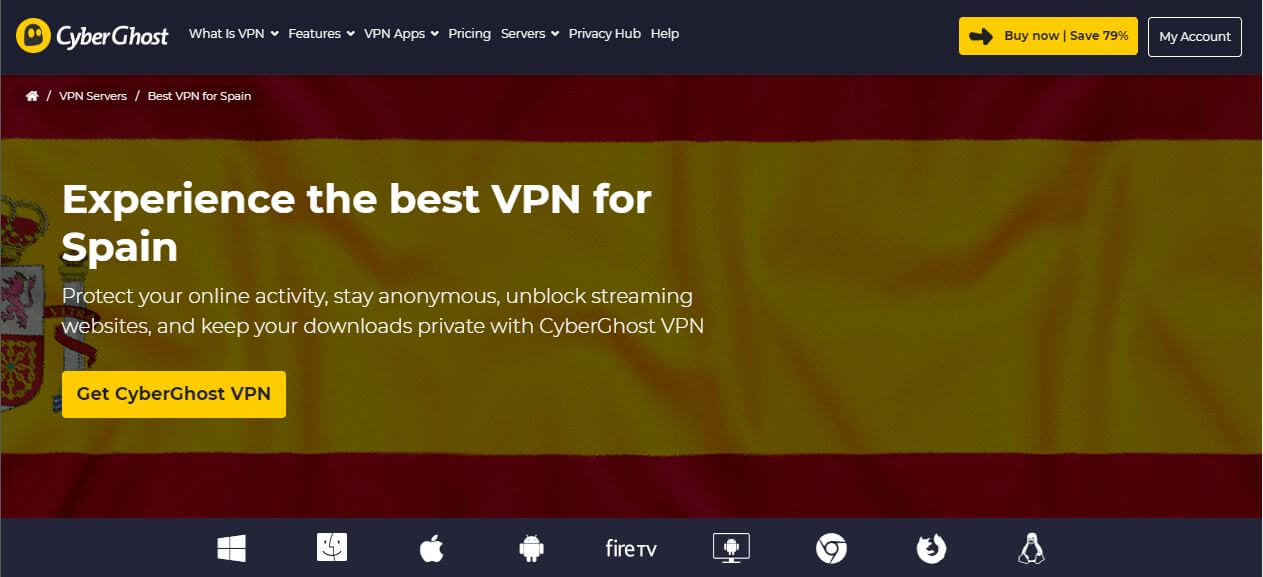 Saving some cash in today's day and age is a priority for many people. CyberGhost is here to hear you – maybe because it's a ghost and can do so, who knows… Nevertheless, this is a very affordable solution for your household, that will take pride in protecting your every device.
Being so cheap, one would think that it's bad when in reality, it's one of the best in the world. CyberGhost is a Romanian provider with sealed-shut security that doesn't allow you to ever get compromised.
There's a no-log policy, kill switch and other security features. Plus, there's an addition of dedicated servers for streaming or torrenting, to make sure that you're always getting the best experience.
With its strong ability to bypass geo-restrictions, it's even great for streaming or gambling, making it a versatile service for everyone.
EnjoyCyberGhost's Largest Network >
Why You Should Avoid Free VPNs?
Using free VPNs in Spain isn't recommended. The reason being is because they lack some crucial features. For instance, a no-log policy. This feature is the one that's either going to make it or break it.
When the provider lacks it, it means that it's keeping some logs of your internet activity. It can be your IP, your location, timestamps or even browsing history.
To make things worse, some free providers usually sell this information to earn revenue. Or, in case you're torrenting where it's illegal (like in Spain), the provider can give your IP to the government and they can arrest you.
Furthermore, we're talking about very slow speeds and limited bandwidth. You also can't unblock Netflix in 90% of the cases, so there's not a single reason to bother with these providers. We always say that you should pay for a service like this and enjoy it without hassle.
With that being said, avoid free providers for this country!
Summary
The summertime is approaching and you're probably thinking about your next holiday. If it boils down to Spain, don't go in unprepared. We just gave you a couple of excellent choices, so be sure to choose the one you like.
If you want our opinion, we recommend ExpressVPN. This provider never let us down, it's constantly the fastest, and offers some impressive features. Grab your subscription, enjoy your online activities, and you don't even need to thank us.
Whenever you're safe and secure, that makes our Monkey happy. And us, too.