If you're someone that loves everything related to food, you know how Italian cuisine is like. We all love eating pizzas and pasta, making Italy one of the most relevant countries in the world in that matter. Located in Europe, this is a firm member of the European Union. And, as such, the country possesses a high level of freedom, akin to all of the EU members. But, despite being free, certain limitations in terms of internet access still exist. That's why you'll need a quality VPN when in Italy. Let's see what are your choices.
Why You Should Use a VPN in Italy?
Taking a look at the Freedom House ranking, this country has a pretty good score of 89/100. The higher the number, the freer the country, and as we can see, the situation here is pretty good.
But, the internet is a whole another world, hence different rules apply there. Here's why using a VPN (VIrtual Private Network) might be a smart thing to do in Italy:
Avoiding Censorship
The good thing is that the government doesn't control the internet too much. While we believe there's some surveillance here and there, which we're going to prove later, accessing the internet freely is possible. Social media websites, for instance, aren't forbidden.
Facebook, Instagram, YouTube, Twitter, and Snapchat are all available. But, when it comes to censorship, there are some issues. The content on local television is censored on a daily basis, accompanied by pornography and some foreign betting websites.

If you want to enjoy every content censorship-free, getting a Virtual Private Networks is a good idea. You'll be able to obfuscate your IP, rendering yourself invisible to the ISP and the government. This will allow you to anonymously access porn sites, foreign betting sites, and watch any type of content you want.
Torrenting Anonymously
The European Union seems like a pretty good deal at first. Many European countries are there, aside from the UK, Switzerland, and some Balkan countries. With the exception of the UK, we noticed that many countries from the EU have strict anti-torrenting laws.
Some of the countries are Germany, France, Belgium, and of course, Italy. So, if you want to download torrents here, know that you'll need the best VPN possible for Italy. On top of that, the Italian government blocked a couple of crucial torrenting sites in the past couple of years.
Even in the opposite case, where the sites are unblocked, we don't suggest performing this activity without protection. The laws often change, especially these laws, and you don't know when it can become illegal and considered a crime.
Bypass Geo-Restrictions
Finally, if you live here or you're just visiting, bypassing geo-restrictions will be your top priority. Living in a country like this means not being able to access US Netflix, which is the best iteration of this platform. Netflix sports thousands of TV shows and movies but only for certain countries.
This country, unfortunately, isn't one of the best for this purpose. Needless to say, you'll probably want to watch HBO GO, Sky TV, Hulu, Disney+, DAZN or BBC iPlayer. These are all geo-restricted sites that require a VPN to be accessed properly from Italy or other foreign countries.
Conversely, if you're an Italian and you're traveling abroad, you'll want to watch some local content from the outside. All of the aforementioned issues can be solved with this solution, which is just one more reason to consider getting it.
Best VPNs With Servers in Italy
We told you to consider getting a Virtual Private Network but we didn't say which one. Here are the top VPN with servers based in Italy, in case you want to watch Canale 5, Italia 1 or 7 Gold:
ExpressVPN: If you want a provider fast as Ferrari, ExpressVPN is here to help you. The provider has thousands of servers worldwide, of which some of them are in Milano and Cosenza. These are all high-speed, high-security servers, making them perfect for any purpose.
NordVPN: NordVPN, a giant from Panama, also has its share of servers here. We're talking about 60+ servers, supporting P2P and all of the high-end security features.
CyberGhost: CyberGhost is the largest provider on the planet, and as such, there's no way they don't have servers here. In Italy, you can expect 114 blazing-fast servers, of which 72 are in Milano and 42 in Rome.
Getting in touch with the provider of your choice is as easy as a piece of paper. You need to click on the provider's name, get a subscription, install the respective apps, and enjoy your freedom.
Best VPNs for Italy
If you don't care about local content too much and you just want a decent solution, look no further. Here are our top 3 picks for this country in 2021:
1. ExpressVPN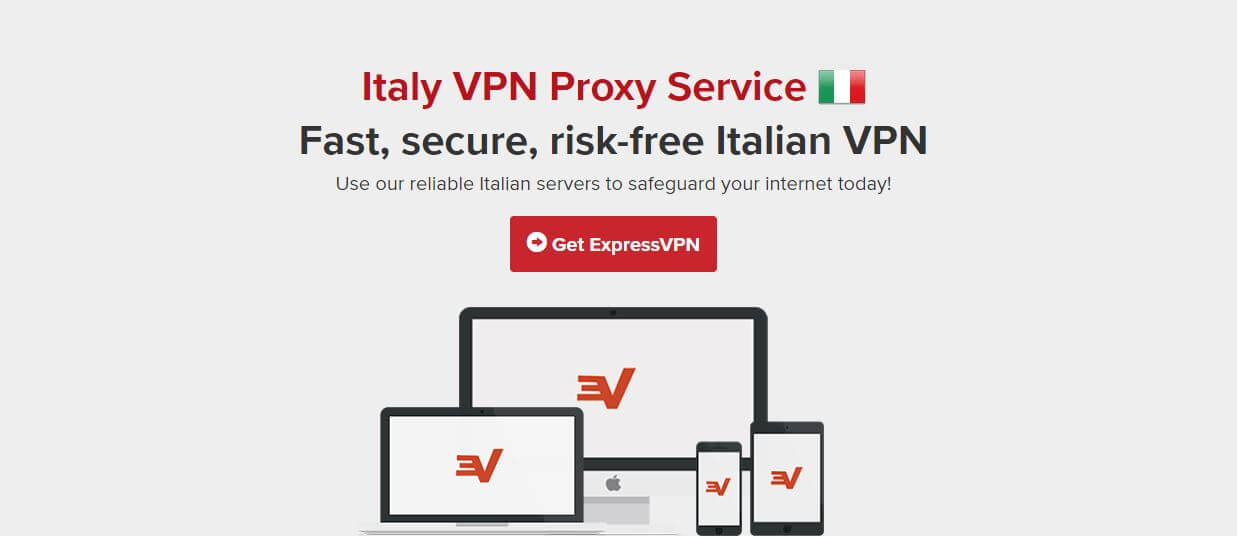 Wondering what's the best VPN to use in Italy this year? Well, ExpressVPN is THE best. Here, on this site, our Monkey friend loves high-speed providers and we must agree – we don't have other choices. This provider is, without a doubt, the fastest one, yet offers rock-solid security, which is a perfect combo.
Speaking of security, you can thank the British Virgin Islands. This location is far away from the 14 Eyes influence, so the provider isn't forced to store logs. Aside from a no-log policy, you get 256-bit AES encryption, kill switch, DNS and IP leak protection, and split tunneling.
Italians will also like that they can unblock Netflix and other streaming sites. And when abroad, accessing local channels and watching Serie A is easier than ever. To make things better, there is even an extension for Chrome which acts as a full-fledged VPN.
We like how thorough this provider is. It's unique and offers its services at the highest possible level. If you think you've gotta break the bank for it, you're wrong. ExpressVPN offers a 49% discount and 3 months free for a 12-month plan.
You can even get your money back with a 30-day money-back guarantee. What more to ask for?!
Get Fast Speeds With ExpressVPN >
2. NordVPN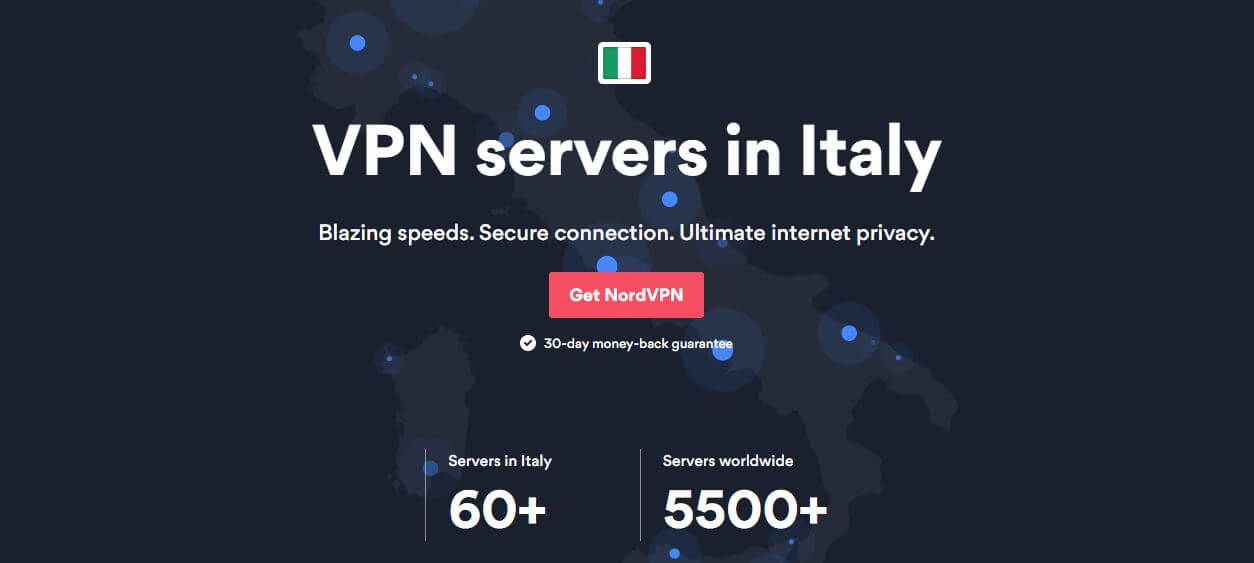 NordVPN carved its name in the world of cybersecurity a long ago. In 2021, this is one of the most influential VPN providers on the market, especially in Italy. Boasting more than 5,500 servers in 60+ countries worldwide, you're looking at a real behemoth.
This means that you're never going to run out of choice, so you'll always be able to enjoy streaming, torrenting or browsing the internet. Speed-wise, NordVPN is fast as a cheetah. It allows you to watch 4K videos with ease, which is excellent for sites like Netflix and BBC iPlayer.
Speaking of those, NordVPN unblocks them with the US and the UK servers respectively. Being from Panama, the provider also gives you a no-log policy and rock-solid security. If you don't want to empty your wallet in a second, this is a pretty good choice.
It's all but expensive, yet offers some astounding performance. The button below will lead you to its website, so take a look for yourself.
Enjoy NordVPN's Rock-Solid Security >
3. CyberGhost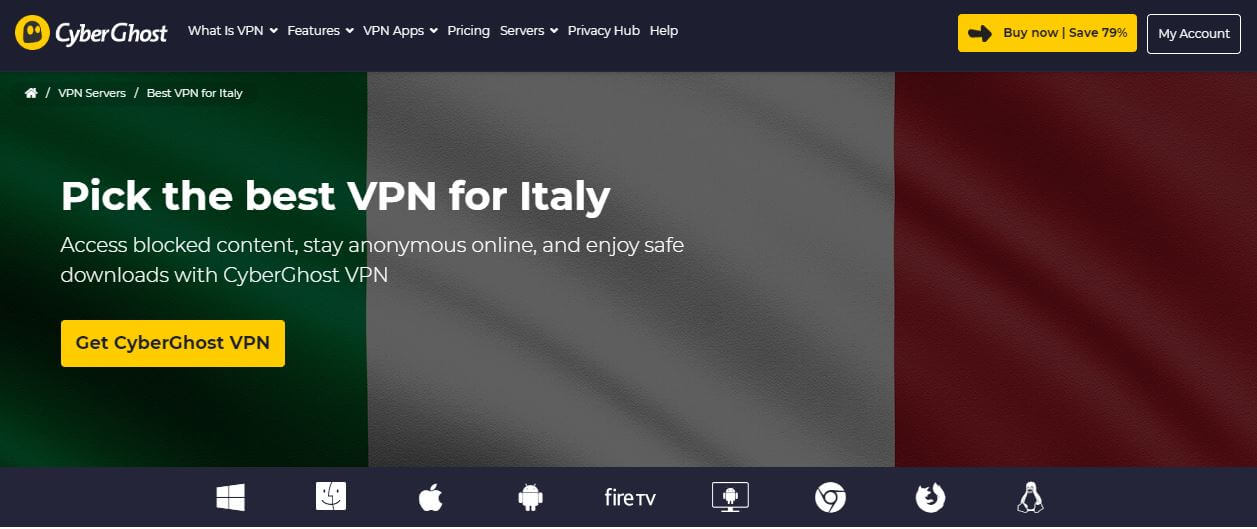 With more than a million of ghosties worldwide, CyberGhost is an important name in this industry. By the way, ghosties are those who subscribed to this provider! It's cool how cute of a name they've come up with but you know what's even cuter? The services you get from the company.
For the start, we're talking about 6,200+ servers in 91+ countries. That's… a little too much, you would say. Well, it actually isn't. You get dedicated servers for streaming and torrenting, enhancing your speeds and stability while performing these activities.
Having a huge number of servers is very good in this case because not many servers are overloaded. This means that enjoying fast speeds is easy at almost any time of the day. In terms of security, you can expect all the standard features and even a no-log policy.
CyberGhost is very cheap at the moment, and it's the cheapest provider of this caliber. If you're currently shopping for an affordable Virtual Private Network, we suggest that you take a look by using the button below.
Save Money With the huge discount offered by CyberGhost >
Why You Should Avoid Free Providers?
What's the case with all these free providers? You're probably seeing Windscribe and TunnelBear ads all over the internet. Heck, even Linus Tech Tips promoted TunnelBear at some point, so, we guess that they must be good… or not?
Not to discourage you but let's just say they're not that good. Now that we got your attention, let's mention the lack of a no-log policy in these providers. This, of course, means that the provider keeps logs of your internet activity, even including your IP address and browsing history.
Data of this kind is very expensive, which is why many free providers sell it to third parties. We must stress how dangerous this is and how much it can compromise your security. Oh, and one more thing – you'll get slow speeds that are maybe a little faster than a baby snail.
Furthermore, you get limited bandwidth, a lack of support for P2P (in some cases), and the inability to unblock streaming sites. If all of this seems okay to you, we can't hold you. But, we can tell you that you should always use paid VPNs in Italy, for the reasons we mentioned above.
Summary
So, is this country similar to China or the UAE? No, it's far from it. But you still need protection online, so don't discard what you've just read. Torrenting and geo-restrictions remain a problem even to this day, and the only way to combat these issues is by using a quality provider.
By quality providers, we mean ExpressVPN. This company is cybersecurity's best offering in 2021. With high speeds, stable connections, and strong security, you can't find a better deal for the price. Start this year on a good note and if you didn't get your New Year present, you can buy yourself one in the form of a subscription.