In the past, and now, in 2021, VPN lovers always seemed to steer clear of providers from the USA. Usually, the best providers are far away from the countries that belong to the 14 Eyes Alliance. However, PIA is different. It's an American company that's, surprisingly, one of the most popular in the world of cybersecurity. Having so many users and servers, we decided to test and review Private Internet Access out and see if it's worth your hard-earned cash. We suggest you don't go anywhere because this will be an interesting read! 
What is Private Internet Access aka PIA?
As mentioned above, Private Internet Access is a company from the United States, founded in 2010, that focuses on bringing privacy-oriented experience with its VPN. Furthermore, this is one of the oldest companies in this industry, so at least, it has lots of experience on its side.
But, a few months ago, PIA was sold to another company called Kape Technologies. This company also holds ZenMate and CyberGhost. Although these two providers are considered good, the problem is that Kape Technologies doesn't have a very good reputation.
As a matter of fact, Kape Technologies is notorious for its malware and adware, as well as selling users' information to third parties. This puts the provider in a very bad position. Numerous users on Reddit claim that they've already canceled their subscription as soon as they found out about this acquisition.
With that in mind, our job is to see if the provider is still the same or has already started descending into the oblivion. Below is our comprehensive review of Private Internet Access, so let's proceed.
Visit Private Internet Access >
Compatible Devices and Ease of Use
Every provider offers a couple of platforms it supports, so it's no different with this one. Here's a screenshot from the provider's website: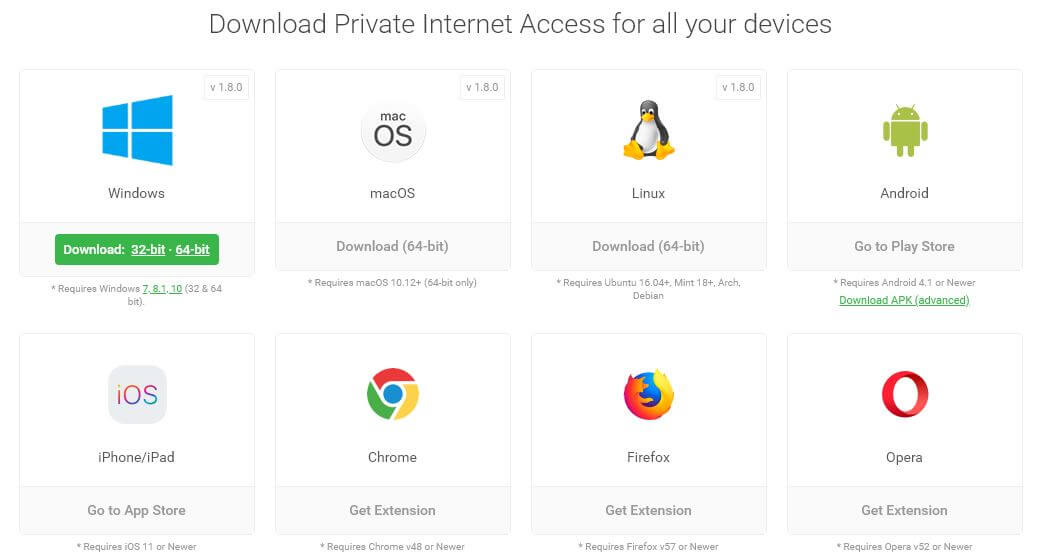 As you can see, there's the Windows platform, macOS, Linux, Android, iOS, and a few browser extensions. There's a Chrome extension, Firefox extension, and an Opera extension. Although there aren't Firestick (Fire TV) or routers on this list, the company has a guide on how to install it on a router. We'll talk about it in just a minute.
Computers
Let's start with our beloved computers. The supported platforms here are Windows, macOS, and Linux. As always, we'll use Windows 10 to show you the installation process and see how good the ease of use is. The first step, of course, is to get a subscription because the provider doesn't offer a free trial.
Next, download the windows app, click on the .exe file and you'll get this screen: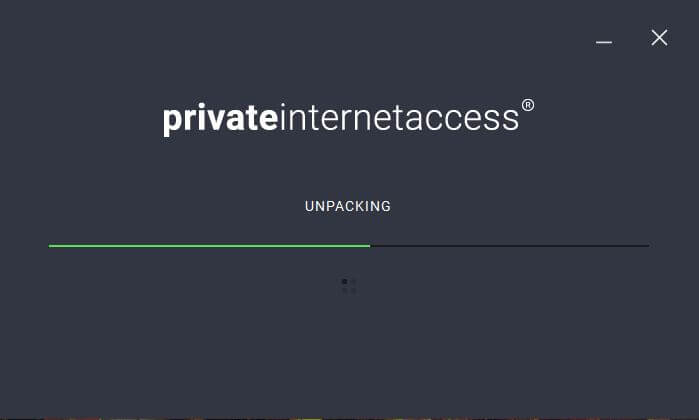 Right from the get-go, the app starts installing. This method works quite well in our opinion. You don't have to choose anything. You just have to click on the icon, wait for 5 to 10 seconds, and the installation is finished. After that, the app will open: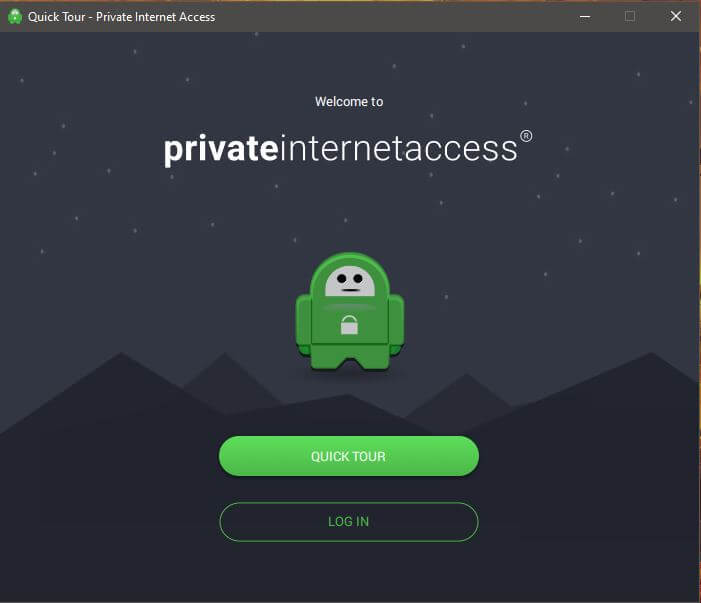 This is how the initial screen looks like. You can take a quick tour if you want but since we've already used tons of VPNs, we won't do that. Instead, we'll log in…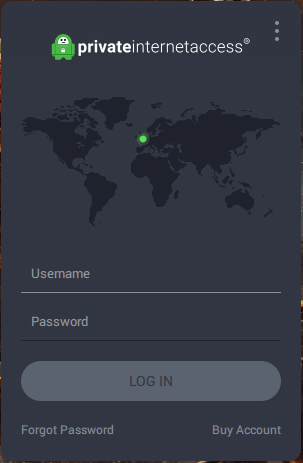 … and see how the home screen looks like: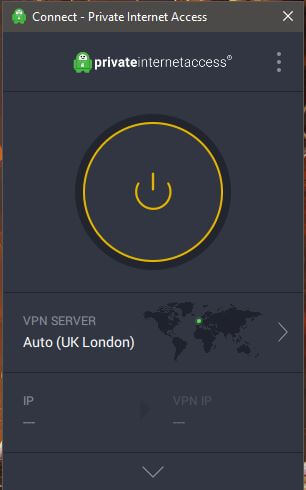 As you can see, the interface is very easy to use. To open the server list, you need to click on the arrow pointing to the right, next to "Auto (UK London)." When you click there, the server list will open and you can choose the country you want. We've chosen the USA and clicked on the big power button, so here's what happened: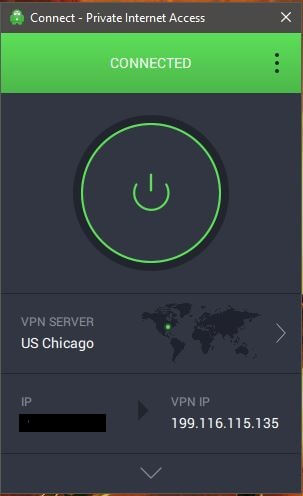 We're now connected and our new IP is shown under on the right side. When it comes to ease of use, PIA is definitely one of the best providers we've used. If you still don't know how to use it, check our tutorials on how to install a VPN.
Smartphones and Tablets
Now, what about mobile platforms? Well, the company won't disappoint you, either. They support Android and iOS platforms, which is applicable to tablets since they use the same operating systems as smartphones.
We have an Android device, so the screenshots you're going to see are from the Android version of the app. Picture 1 shows the app on the Google Play Store. Download it for free.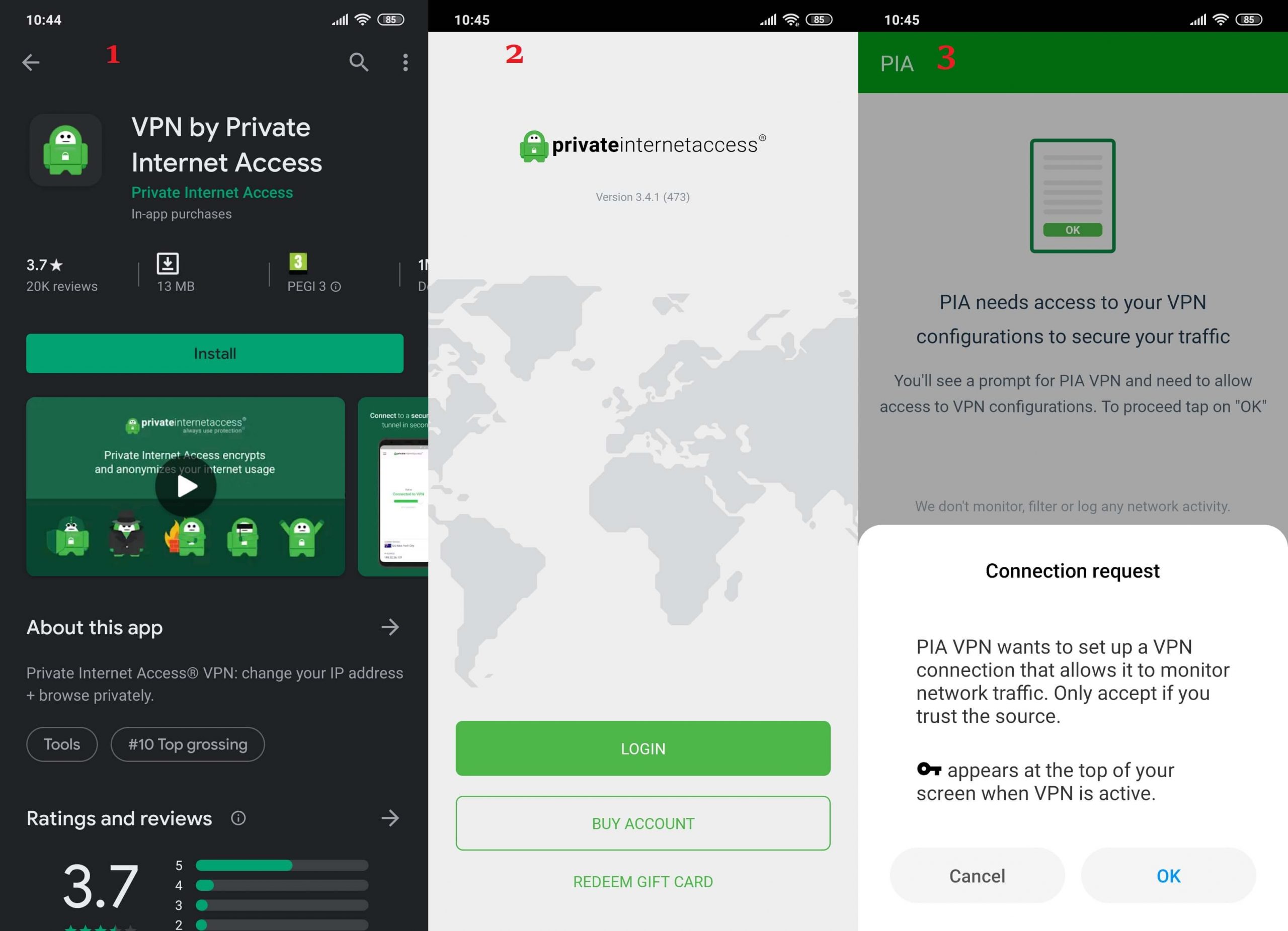 When it's installed, open the app and you'll get the login screen shown in picture 2. Enter your credentials and log in. Next, in picture 3, you'll need to allow PIA to establish a connection. Click OK and the app's home screen will appear – picture 4.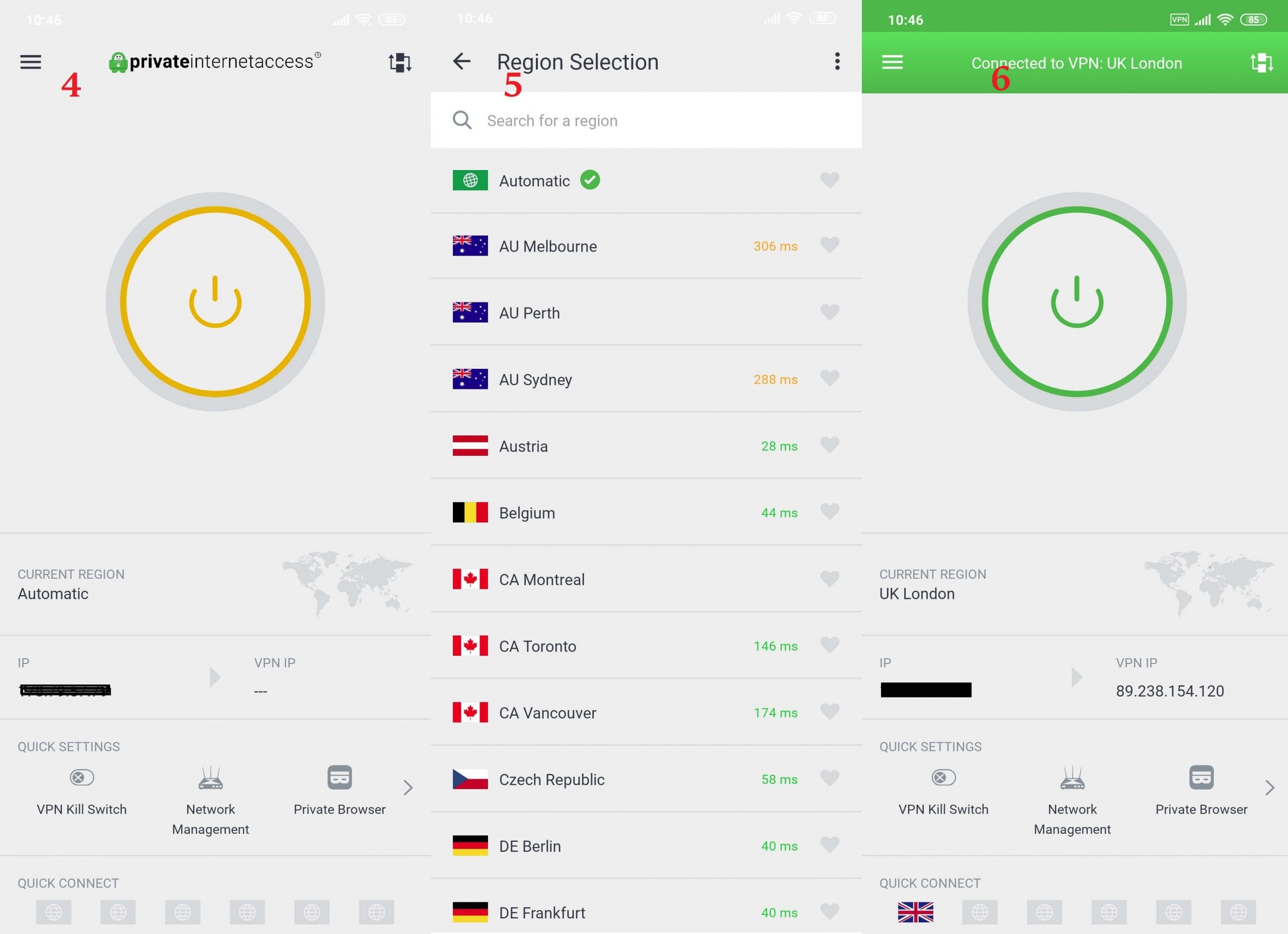 Tap Current Region and the server list will open, as shown in picture 5. You'll see the pings next to each country, which is something we really like. For instance, we had a low ping in Berlin. As you can see, it's 40ms. Nevertheless, we went for the UK server located in London and connected to it.
In picture 6, you see how the screen looks like when the connection is established. The upper part of the app turns green and you get a small 'VPN' sign in the notification bar. All in all, the mobile app is very simple and intuitive.
Other Devices
We said that we're going to talk about routers in a minute, so let's do that right now in our Private Internet Access review. Here's a screenshot from the provider's website regarding this issue: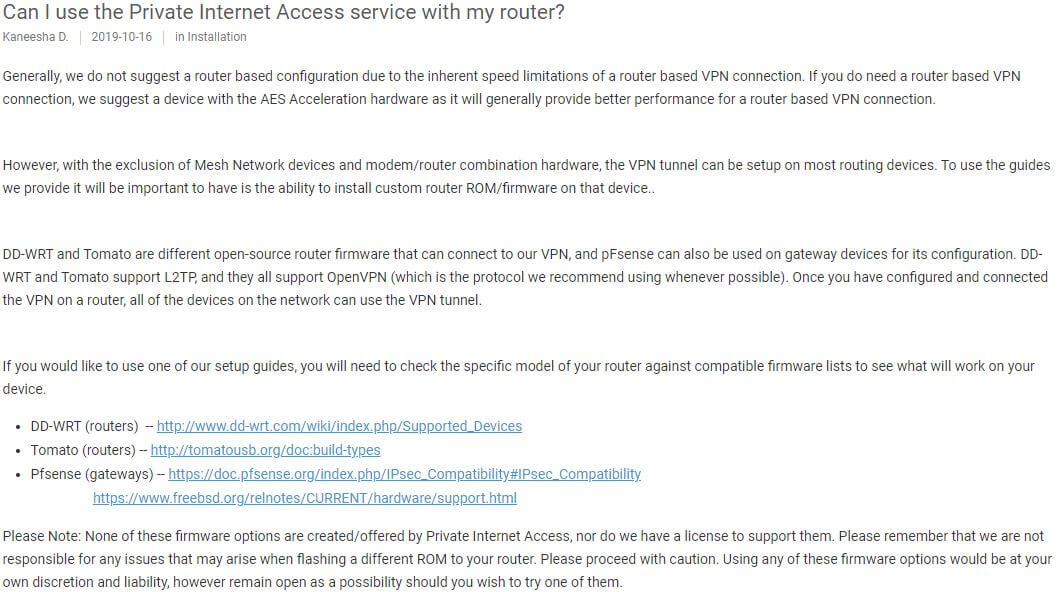 In short, the provider doesn't suggest using a VPN on your router but it offers a few helpful guides on how to do that. They proceed by mentioning that you'll need a special ROM on your router – DD-WRT or Tomato.
But, if you take a look at the last paragraph, you'll see that they don't have a license to support this firmware. So, in case your router gets busted if the firmware installation doesn't succeed, PIA has nothing to do with it.
Alternatively, if you have a router that already supports this service, the job will be much easier. You'll be able to protect your gaming consoles, IPTV boxes, Apple TV, Firestick and other devices. Still, we can't say we're happy with the company's support for routers.
If you'd like to use this service on your router, go for ExpressVPN or NordVPN instead.
How Fast is PIA? We Checked Its Speed!
Browsing the internet at a snail's pace is what makes even the calmest person nervous. And that's alright. We live busy lives and we want our internet to be as speedy as a cobra. Before you buy any Virtual Private Network, know that all of them reduce your internet speed to some extent.
Top providers will produce only a slight reduction while the free ones, for instance, will completely wreck your internet connection. This depends on multiple factors. It can be the server distance, the level of encryption, and so forth. Because of that, it's important to see how we did our tests.
We did 3 tests in the morning, 3 tests in the mid-day, and 3 tests in the evening, for 3 different locations. When it was possible, we used the best location and kept the best results. Our physical location is in the USA and we used these 3 locations for our tests:
The United States
The United Kingdom
Australia
Without using a VPN, our internet speeds are:
Ping: 11ms
Download speed: 211.88Mb/s
Upload speed: 202.20Mb/s
Now, when using PIA, our ping, download, and upload speeds respectively, for 3 locations, are:
US server: 28ms / 161.23Mbps / 140.89 Mbps

UK server: 97ms / 108.45Mbps / 76.35Mbps

Australia server: 308ms / 45.56Mbps / 53.07Mbps

Let's start with the US. The speeds weren't that bad, the ping of 28ms still produced buttery-smooth experience, and download/upload speeds were enough for enjoying the internet to the fullest. What about the UK? Well, the speeds are solid, and even this higher ping didn't hinder our experience too much.
But, you have to have in mind that our internet is already very fast. People with slower internet probably won't have the same experience. Finally, Australia produced the worst results. With a ping of 308ms and drastically reduced download/upload speeds, our online experience was significantly degraded.
All in all, PIA isn't very fast, so don't have your expectations sky-high.
How Good is Private Internet Access for Streaming?
Some of you love streaming on Netflix. In fact, we guess that most of our readers love it. We know how it is when we finish our work and just want to enjoy a lazy afternoon in front of our screens. Will PIA allow you to do that? Surprisingly, yes – it will.
The provider easily unblocks US Netflix, which grants you access to the largest movie and TV show catalog on the planet. We tried connecting using other relevant countries such as Canada, Australia, and India, and voila – it worked!
Let's check other platforms now. We'll start off with HBO GO. Here's a screenshot: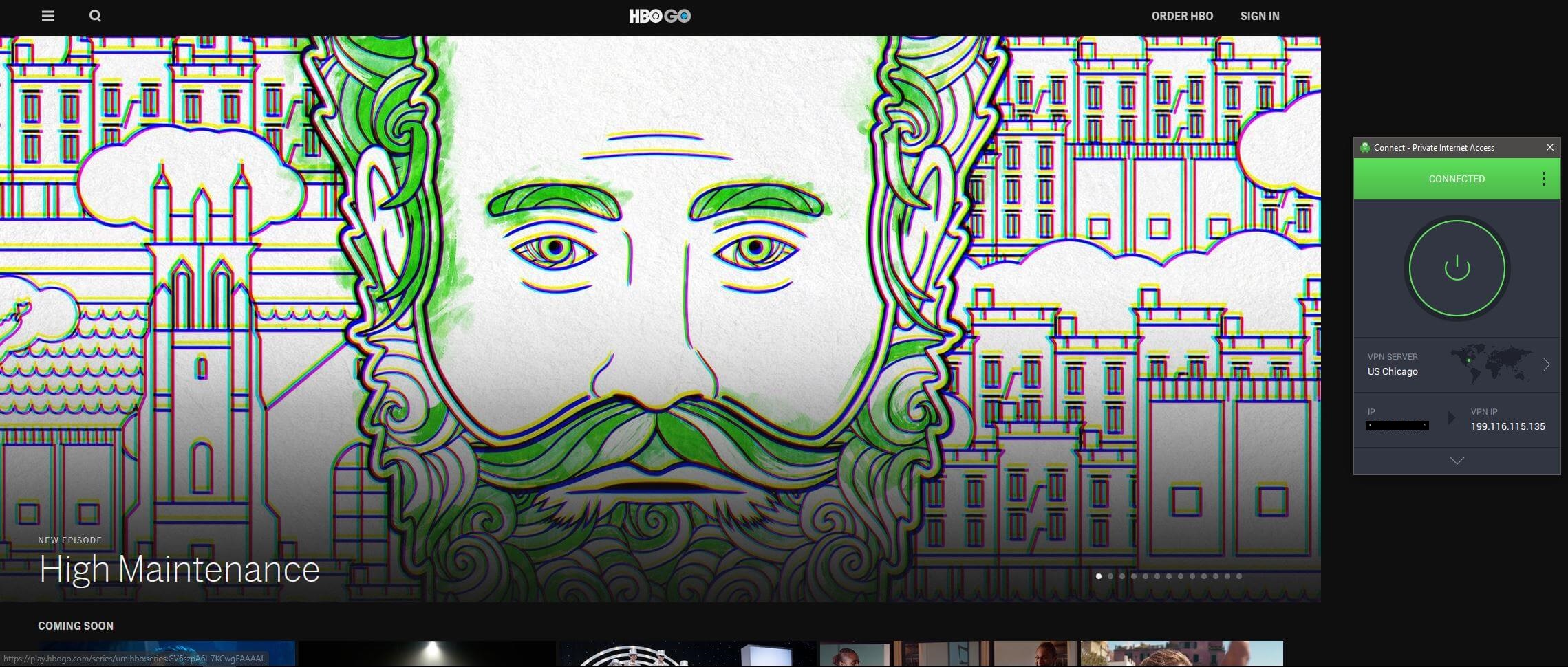 As you can see, HBO GO works perfectly fine when using our US server. Of course, HBO GO is available only in the USA. Unfortunately, this is as far as the provider can go, as both Disney+ and DAZN can't be unblocked. Here's a screenshot of Disney+ buffering for ever: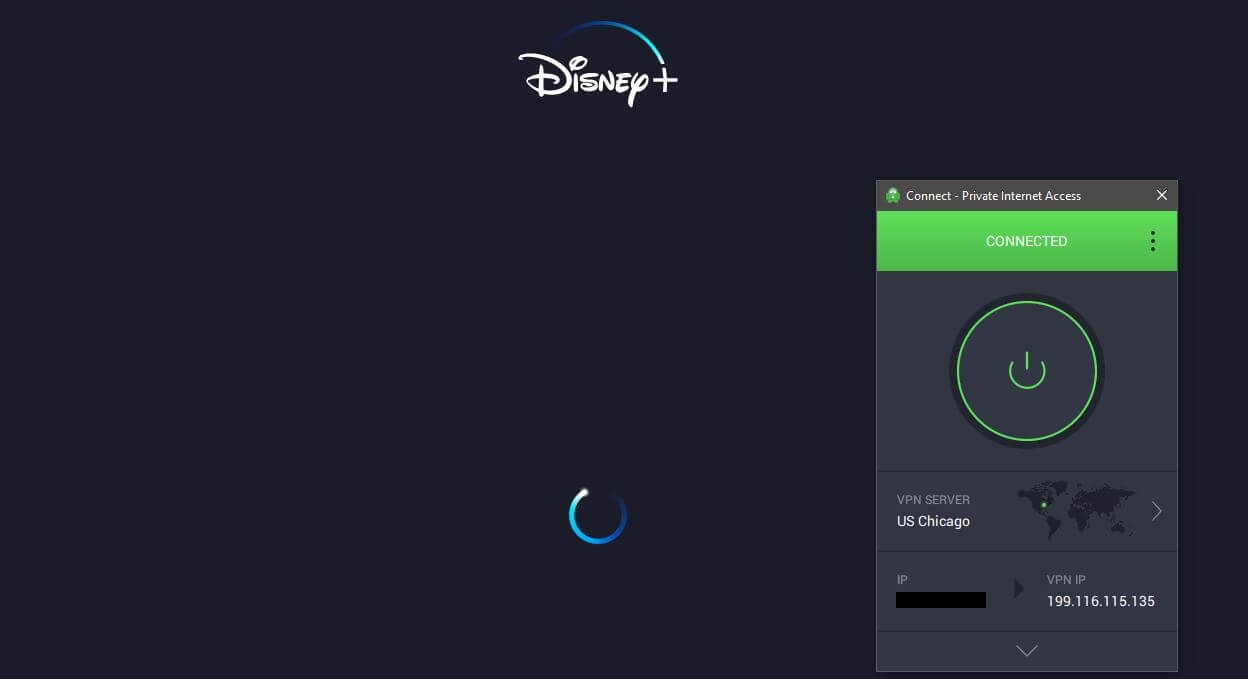 At first, we thought we had access, just to be greeted by an infinite loading screen. Now, here's a screenshot of DAZN: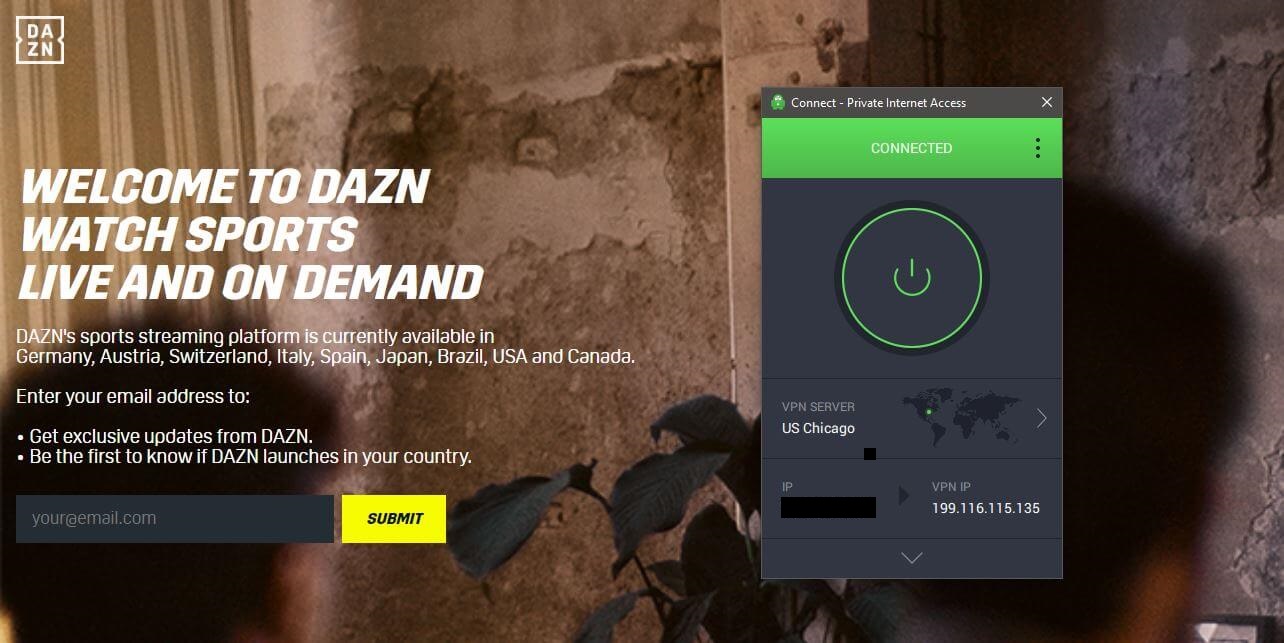 DAZN is a tough nut to crack and to be honest, we didn't expect PIA to unblock it. So, how good is this provider for streaming? If you want to watch Netflix and HBO GO, it's extraordinary but that's where the story ends.
It can't unblock BBC iPlayer, DAZN, Disney+, Hulu, and Amazon Prime Video. For that reason, we'd say that it isn't very good for streaming but it isn't very bad, either, since you can still enjoy many Netflix catalogs.
Confidentiality, Security & Logs
When Kape Technologies bought this company, one question immediately popped in our heads – does it keep logs? Does good old Private Internet Access keep logs? This used to be a very good company in this regard. Despite being from the USA, millions of users enjoyed it and didn't have any problems regarding privacy.
It's time to check their no-log policy and see if something changed in a period of a few months: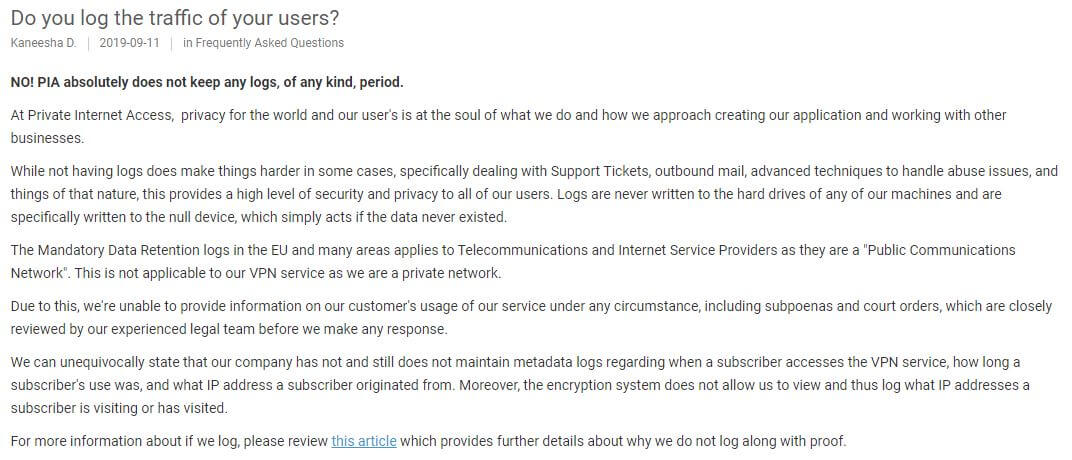 As you can see, PIA doesn't keep any important logs. We like the fact that they proved their loyalty to their customers on several occasions. There were two cases – one in 2015 and one in 2017.
The government wanted the company to hand them over their logs, only to find out that they don't have anything to hand over because they don't keep logs.
You can find more evidence here. Apart from not keeping logs, it's also important to see if there are some IP leaks when using the provider. Here are our test results: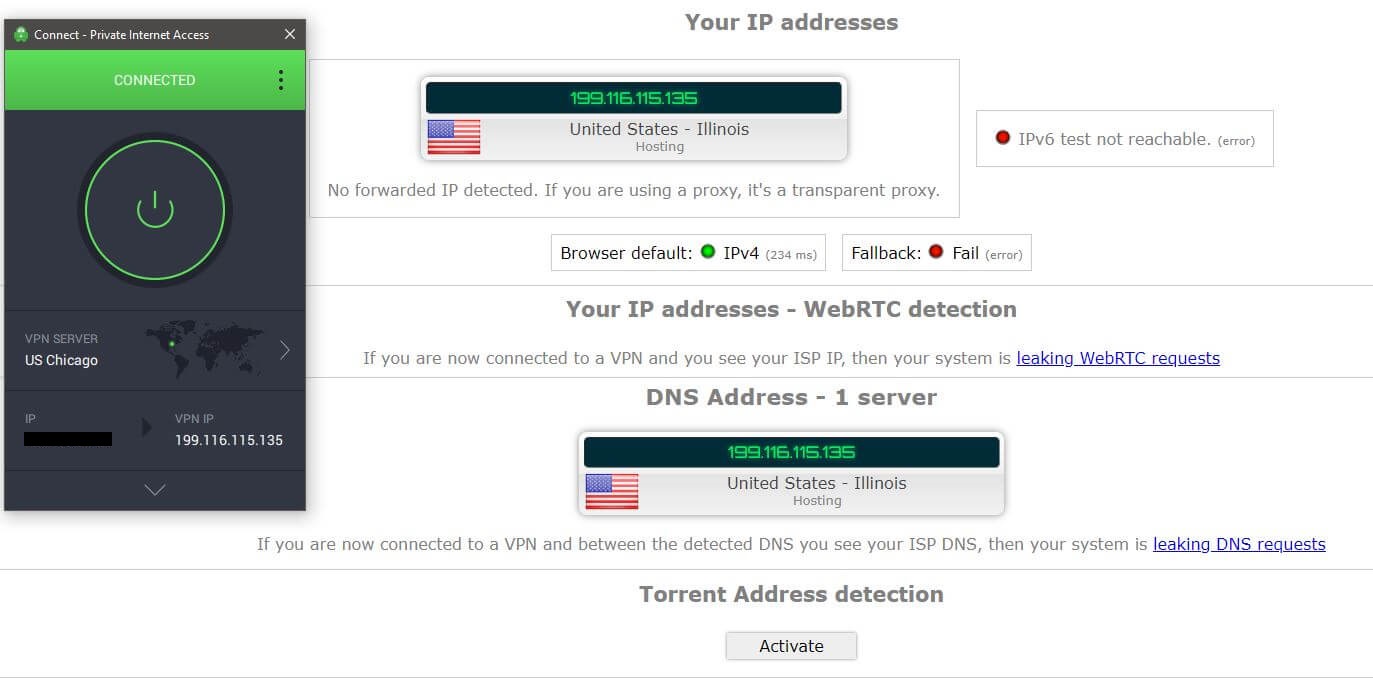 As seen from the image above, there were no IP leaks, making us safe and secure online. Speaking of safety and security, you get 256-bit encryption, OpenVPN, an automatic kill switch, port forwarding, and DNS and IP leak protection. Despite not being very fast, the provider is at least safe and secure.
Can I Do Torrenting Safely With Private Internet Access?
Torrenting in the USA can be a devil's business. This is one of the least torrent-friendly countries in the world. And, as we know, this company is located there. However, there are still the two main conditions for torrenting that a VPN must fulfill – a no-log policy and P2P support.
Luckily, the provider has both. P2P is supported on all servers and there's a strict no-log policy. As always, we'll use a 1337x torrent site to see if our real IP is exposed. Take a look below:
The IP displayed here is the same one from above. This means that we're completely anonymous and ready to download our game.
Can I Use PIA to Bypass Censorship?
When talking about censorship, the first country that comes to your mind is probably China. Yes, there are other countries with these issues but China is probably among the worst countries. The Great Firewall of China still remains a threat to many providers on the market.
The truth be told, only a couple of them work at this point, so if you try to go blindly and gamble, know that you're probably going to lose. What about PIA, then? This American behemoth seems very powerful, right? Well, the Great Firewall of China, once again, defeated it.
Still, there are some users that successfully used it via L2TP protocol. This protocol is harder to detect but on the flip side, it's less secure, so we don't suggest messing with it. Bypassing censorship with PIA is, with that in mind, very hard.
You'll maybe have luck and make it work one day or one week and next time you try, you'll fall flat on your face. If you're from China, we suggest getting ExpressVPN instead.
Pricing and Plan Options
So far, the provider has been a mixed bag. Let's see will its pricing make this deal better:

That flashy subscription plan in the middle will probably immediately catch your attention. This is the largest plan they offer and it's an annual one. As you can see, the annual plan costs $3.33 a month with a discount, which is $39.95 a year. We must admit that this is one of the cheapest annual plans we've ever come across. If you have a coupon, you can lower the price, too.
But, the downside is that there's no 2-year plan, for example. Nonetheless, if you compare this yearly plan with other yearly plans, you'll see that this is a very good offer. There's also a 6-month plan that costs $5.99 a month or $35.95 every six months. And finally, the monthly plan costs $9.95 a month.
The prices aren't very high, which is good. Also, there isn't a free trial, so you must go premium from the get-go. Just keep in mind that this is not a top-of-the-line provider, so don't expect some crazy possibilities. Instead, expect some possibilities when it comes to payment methods. Take a look: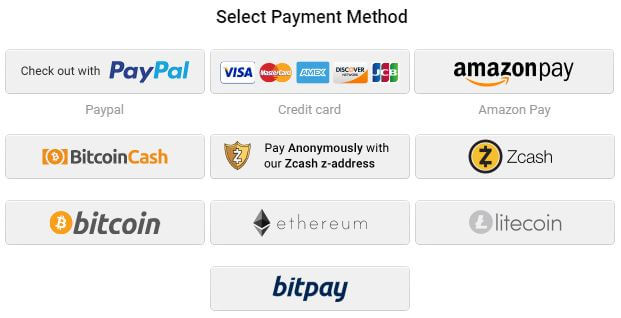 PIA has definitely done its homework, just look at how rich the image looks. You can pay with your PayPal, credit card, AmazonPay or cryptocurrencies. Using a coupon is also possible with crypto. Bitcoin is here, and so is Zcash, Litecoin, Ethereum, and a couple more.
In case you want to cancel and get a refund, PIA can give you one in the first 7 days of your purchase, regardless of the plan you've chosen.
We expected a 30-day money-back guarantee here, so it's a bit disappointing in regards of our complete review of Private Internet Access. To request a refund, you'll have to submit a ticket since they don't offer a live chat feature. More about that in the next section.
How Can I Contact Private Internet Access?
This is where things take a different turn. Contacting the company can be quite complicated for a person that never used this service. There's no live chat, so you can't get your problems fixed right away. Instead, you'll have to click on Support in the upper part of the home screen: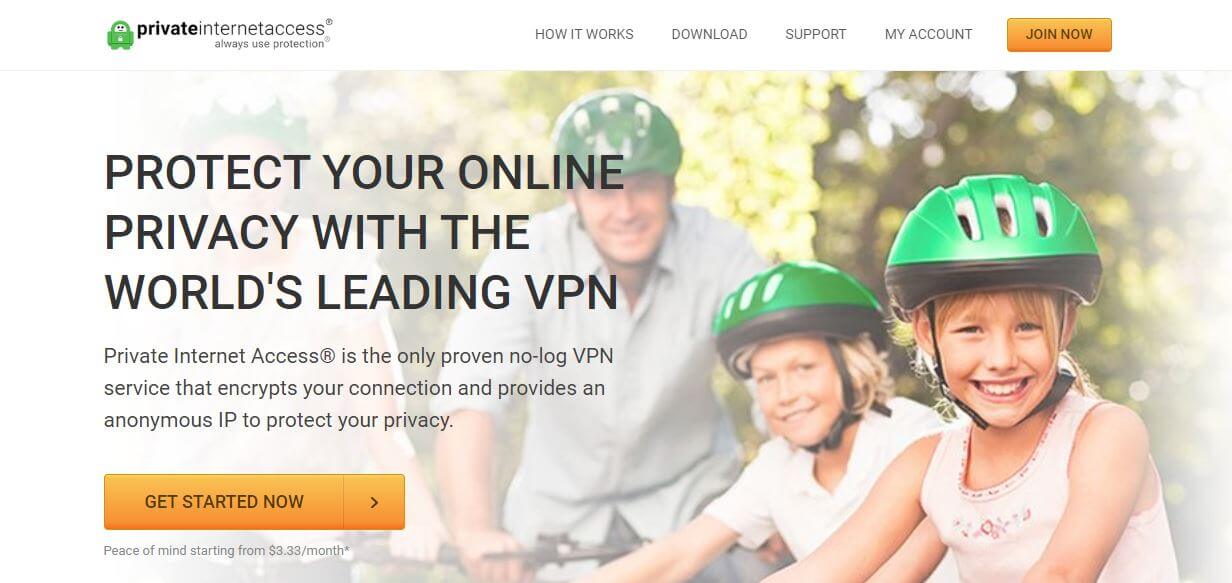 By the way, does this cover picture look shady to you or it's just us? Dad and his children smiling on their bikes… what does it have to do with this service? Nevertheless, just click Support and you'll get this screen:

Finally, click on Contact Us and you'll be greeted by this long ticket that you'll need to fill: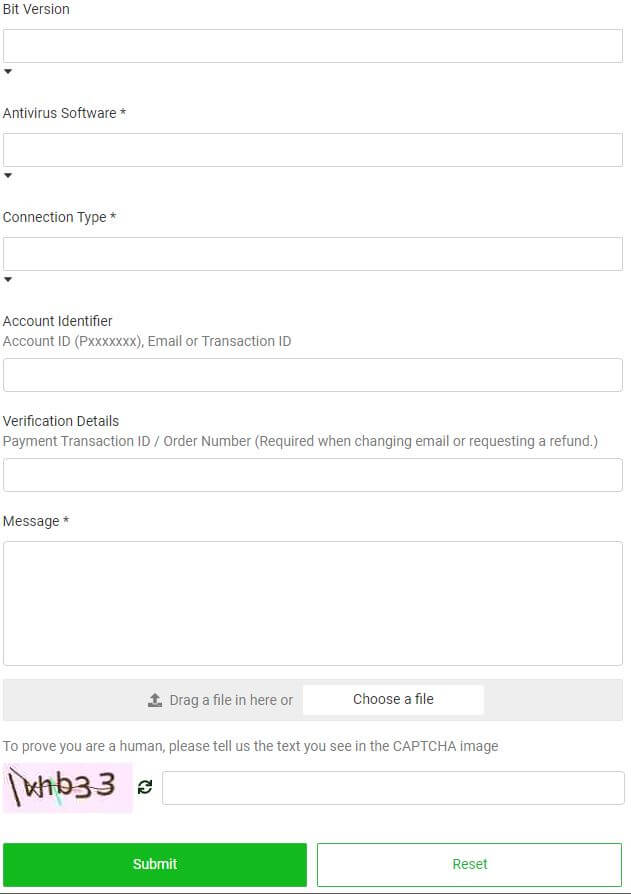 That's not all. There's more stuff to fill if you scroll up! It just couldn't fit our monitor, so we can't display it all at once. For a beginner, this looks and sounds excruciating. Unfortunately, this is the only way to contact the company, so you'll have to ride it out if the problem occurs.
To make matters worse, they aren't very fast to respond. Sure, there's the classic 24-hour period but if you have a big issue and you want to resolve it right now, forget about it.
The Special Functionalities
The special functionalities are here to complement the basic features and make your experience better.. Let's see what the provider has to offer in this department.
PIA MACE
If ads and pop-ups are making you want to punch your monitor, you're in for a treat. MACE is here to block them or better said, squash them like a real mace. Here's the functionality shown in the app: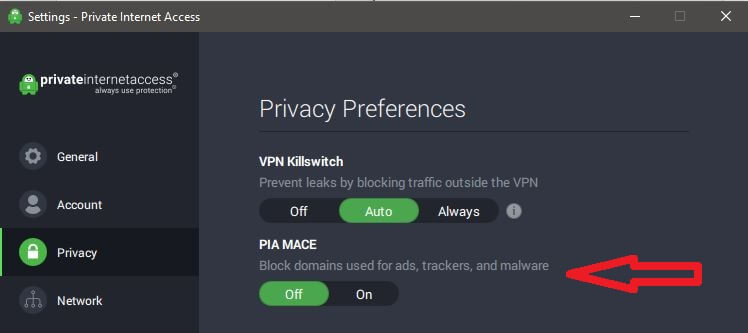 Enabling it will block trackers, ads, and malware, making you safer online. We tried enabling this feature and it works well. You won't see ads on websites, making them load a bit faster than usual.
Split Tunneling (Beta)
Split tunneling is great for splitting your internet traffic through two different IP addresses. Here's how it looks in the app: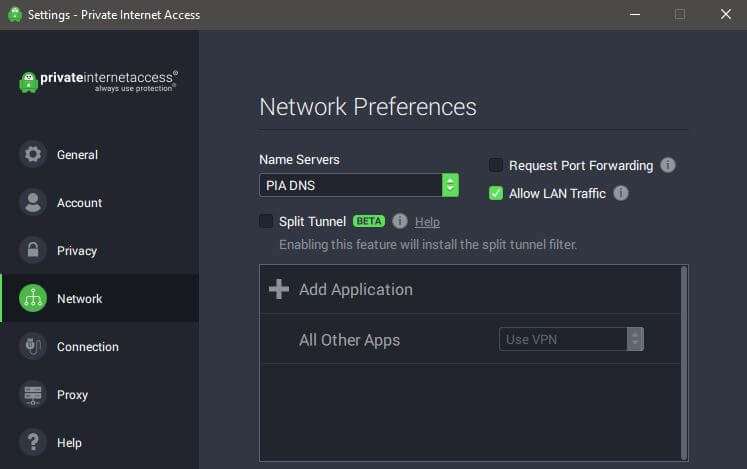 If you enable it, you can choose which apps will use a VPN and which won't. For instance, Netflix will use it and your PayPal or a bank account won't. You add them to the list shown in the picture and the changes will apply immediately.
Be aware that this feature is still in the Beta phase, so it might not always work as intended. Also, both MACE and split tunneling aren't available on the iOS systems. All other platforms are supported.
Other Things You Should Know
We still haven't talked about all the important things in regard of the provider, so let's not forget them now. Here are more things you should know about the company:
Number of Servers
This provider has a pretty large server network, offering almost 3300+ servers worldwide. Here's a screenshot from the provider's website to prove it:

The largest number of servers is in the USA, the UK, Canada, Australia, the Netherlands, and Germany. There are no servers in Russia but some of them are in the UAE and Hong Kong. We also like that you can do a quick speed test of the servers in a particular country.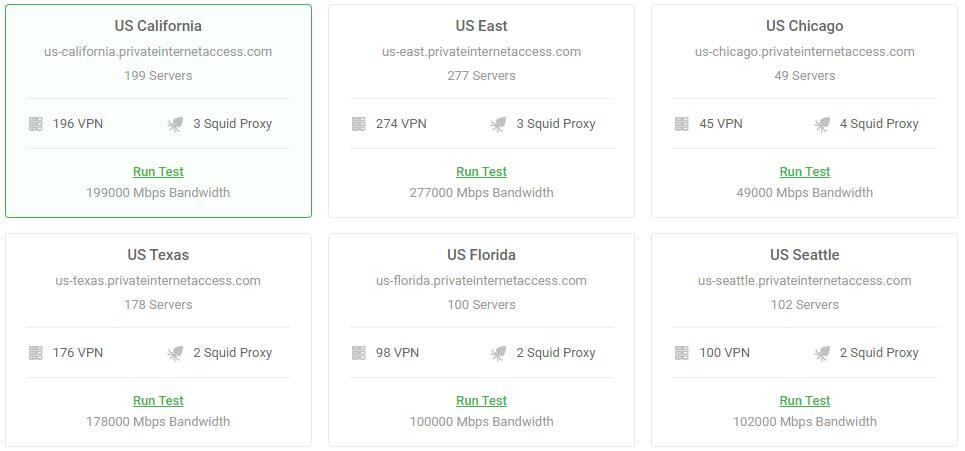 This feature is available on the website and not in the app.
Number of Countries
As seen from the image above, there are 29 countries. This is a fairly small number, given that ExpressVPN offers approximately the same number of servers, yet 91 countries.
Number of Simultaneous Connections
Private Internet Access offers you 10 simultaneous connections.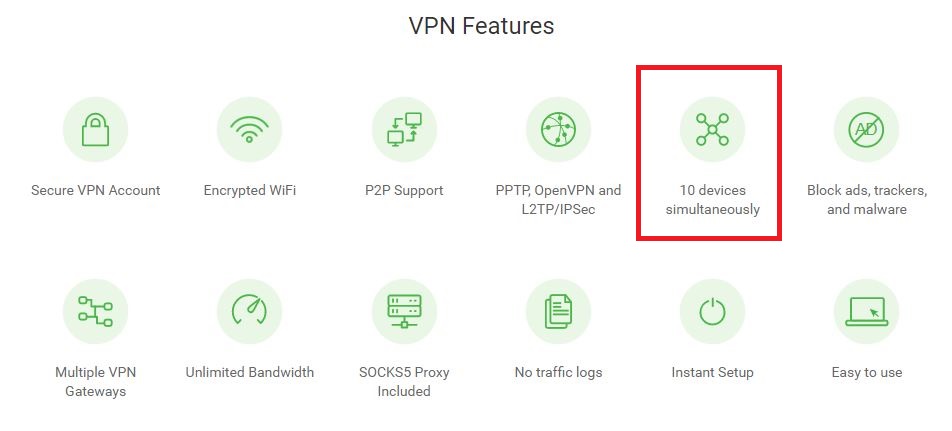 This will probably be enough to cover every device in your house. If you manage to go through the complicated router installation, you can increase it to 16 or 32.
What Do Other Users Say About Private Internet Access?
As we get closer to the conclusion, it's time to see if other users like Private Internet Access. The first review comes from a user from Reddit. Here's what he had to say: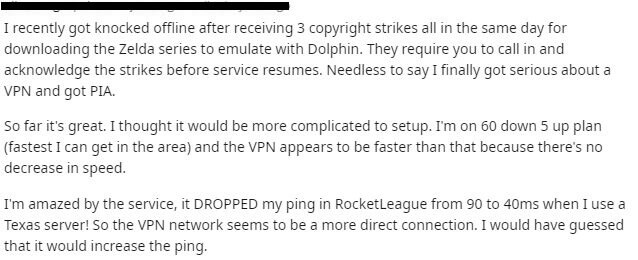 Long story short, this user is very satisfied with the provider. Interestingly, he claims that his ping decreased from 90 ms to 40 ms when using a Texas server, albeit, he didn't mention what was his location. Still, when using this service, ping should always be a bit higher, which makes this experience peculiar.
The next review about Private Internet Access comes from the Apple Store. Here's what it says: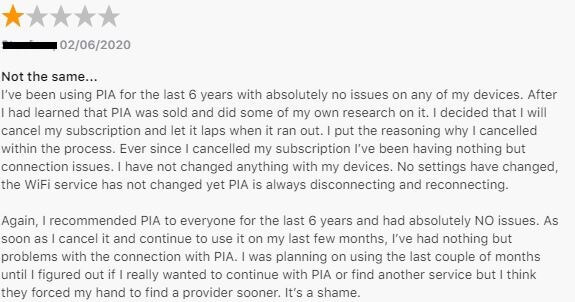 If you go through other reviews of this provider online, you'll find issues like this. Basically, the user says that he started having issues after the company's acquisition.
Ever since he canceled his subscription, the connection problems started to appear, despite not changing anything on his end. The user ends the review by saying that he used PIA for the last 6 years without any problem.
Let's see what's the situation in the Android world:

This user had a really bad experience with the provider. He says that his download and upload speeds were 0 Mb/s, which means that there's no internet. The worst thing is that it happens in 90% of the cases, in his words. This forced him to leave the provider and recommend other users to avoid it.
Finally, there's a review from Trustpilot:

As you can see, this is a new review, written in February 2021. This user complains about the slow speeds, which we also mentioned in our review. He even says that it drains the phone's battery faster and disconnects for no reason.
The interesting thing is that he already tried another VPN and that this one is better. This makes us think of the provider he tried. All in all, the Trustpilot user isn't very satisfied with the provider.
Conclusion: Should You Take It?
Private Internet Access is an interesting provider. It seems like its users are divided into two factions – one faction hates it and the other loves it. But, with the company's recent acquisition, many users started to rapidly cancel their subscriptions since their parent company doesn't have a good reputation.
So, is PIA worth your money? In 2021, we aren't so sure.
If you decide to buy it, be prepared for some slow speeds, lack of options for contact, a small number of countries, and its inability to unblock a vast majority of streaming websites. The good thing is that it can unblock Netflix and you also get P2P support, and some bonus features.
At this price, however, many providers offer 3-year plans. NordVPN, for instance, gives you its 3-year plan at $3.49 a month. The difference in price is negligible, yet it's a far better VPN, and so are ExpressVPN and CyberGhost.