When it comes to internet browsing, there are two types of people – Firefox & Chrome. We can talk about which one is better and why but there's no point in that since both of these are excellent. Firefox progressed enormously during the past couple of years and is now head-to-head with its counterpart Chrome. And to be honest, many users prefer this browser as their daily driver because it's simple, doesn't waste RAM, and can install extensions. Well, extensions are what we're talking about today – to be exact, VPN extensions for Mozilla Firefox.
What are the Benefits of Using a VPN Extension for Firefox?
Installing a VPN extension on your Firefox browser is an easy thing to do. But, you may be wondering why you should do that. So, here are the benefits you can get:
Bypassing Geo-Restrictions
Many of you access Netflix or Disney+ using your computer. Logically, it's better to enjoy your favorite show on a huge 25-inch screen than on your 6-inch smartphone screen. Now, if this is the browser of your choice, you'll have a hard time accessing these sites outside of the USA.
But, one thing you can do is get a VPN plugin and fix the problem. This plugin will allow you to change your online location, thus granting you access to geo-restricted platforms. Netflix, for example, is accessible even without it. However, if you compare the US catalog with any other, you'll have a good laugh.
The US catalog has approximately three times more content and some of it is available in Ultra HD. Sites like Disney+, DAZN or TenPlay are completely inaccessible from outside of the USA, for instance. If you type in Disney+ website address, you'll see what we're talking about.
Nevertheless, bypassing geo-restrictions is only one of many benefits a Firefox extension can give you.
Improving Privacy & Security
When using a VPN, especially on Firefox, you want to feel safe and secure, don't you? We understand. There's nothing worse than having someone snoop on you while you watch… you know, inappropriate stuff like porn. Know that if you don't have this protection, your ISP and the government can always see what you do.
And if you live in a country where porn or betting sites are forbidden, pray to God that he helps you if you're caught. Government surveillance is a pretty big problem nowadays, and a plugin like this can help you remedy it easily.
It's done by obfuscating your IP address, making your completely invisible. Furthermore, it's important that the provider does not keep any log, which is called a zero-log policy. With that in place, your security and privacy will be intact at any time.
Save Money on Flight Tickets
When the cold, harsh winter passes, beautiful days come. And when the sun shows its beautiful rays, you feel the need to distance from your native environment.
You want to fly somewhere, don't you? Well, a Virtual Private Network can help you save tons of cash on flight tickets. Of course, you can use the extension to get the best deals on flight tickets.
It works as we mentioned. You take the IP address from a different country, enter the flight ticket comparison website, and check the prices. We have an article about how to save money on plane tickets here, so be sure to check it out.
Avoiding ISP Throttling
Finally, we have ISP throttling that many of you don't know of. So, what the heck is it? It's when your ISP (Internet Service Provider) slows down your internet when you're using huge chunks of data. Usually, it happens when you're streaming or torrenting because of the reason we just mentioned.
If you've noticed stuttering and endless buffering when watching Netflix, this can be the cause of ISP throttling. Netflix is, in fact, a victim of this problem and some ISPs forced it to pay a fee to avoid it. Internet Service Providers are vicious and are willing to compromise on the quality of their services, just to earn more money.
Thankfully, hiding your IP will fix this issue immediately.
Top 3 Best Premium VPN Extensions for Firefox
Let's start with the premium stuff. Because the premium is… well, premium! And we don't want you to settle down for anything less than that. Here are our top extensions for Firefox:
1. ExpressVPN
ExpressVPN is easily the best VPN addon/extension for Mozilla Firefox. The reason for this is simple – it's a true VPN and not a proxy! This means that even the extension like this will protect the entire computer, making it very well worth your cash. Speaking of cash, this plugin isn't free, so you'll have to pay for a subscription to use it.
But, believe us when we say this – it's worth every penny. ExpressVPN is the fastest provider right now and will allow you to stream, torrent, and browse the internet endlessly. Furthermore, the plugin is just a shortcut to booting your Virtual Private Network, which explains why it's a complete product and not a proxy.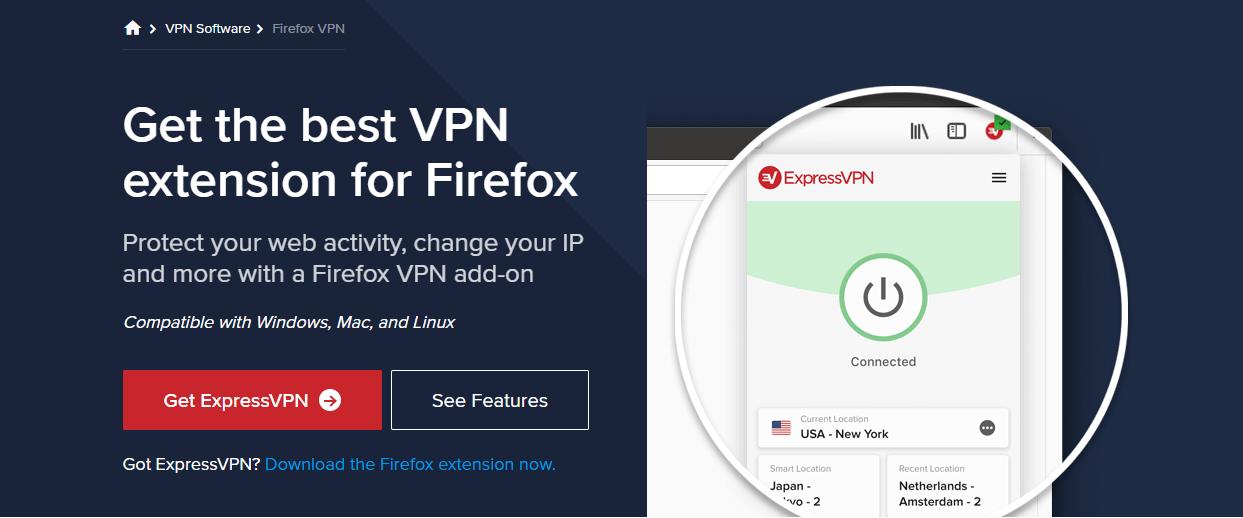 The service offers 3,000+ servers in 94 countries, making it one of the largest providers in the game. We like the addition of an automatic kill switch, which will disconnect you from the internet if the connection cuts. This will always keep you safe, secure, and anonymous online.
Last but not least, ExpressVPN offers a 49% discount and 3 months free for a 12-month subscription plan. If you don't like it, there's a 30-day money-back guarantee so your money will return where it belongs – in your wallet.
2. NordVPN
NordVPN is a fast-growing company that manages to win our hearts over and over again. The reason being is because it's fast, reliable, and offers a plethora of features. For the start, they have a VPN extension usable on Firefox which works pretty well.
Unlike ExpressVPN, this is more like a proxy than a full-fledged VPN. On the flip side, it's lightweight and won't hinder your browsing experience. Plus, you get an ad-blocker, so you can forget about annoying pup-ups and all of that stuff.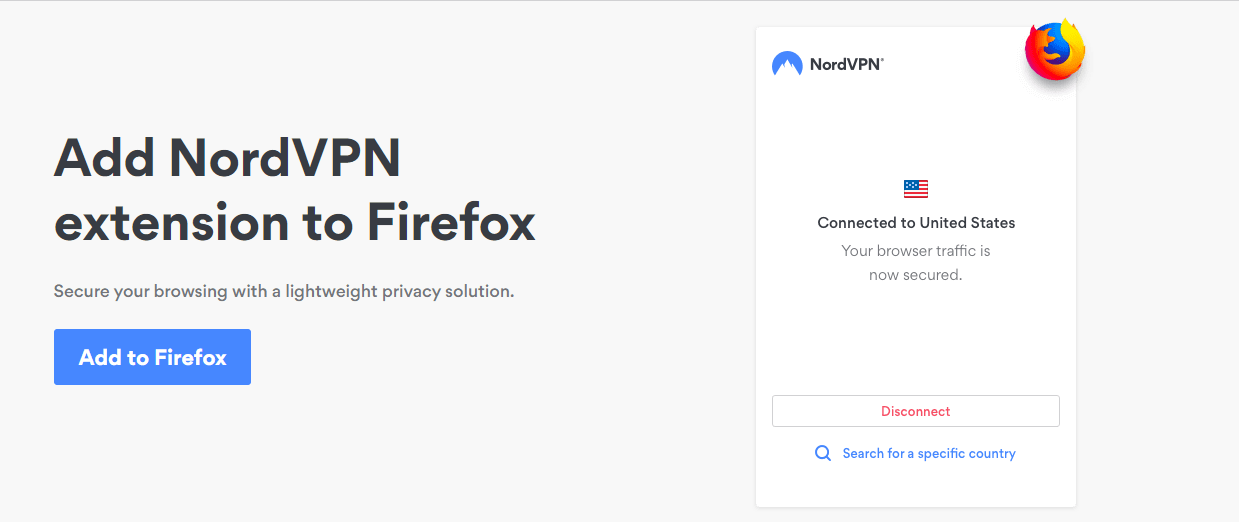 Since it works as a proxy, it means that traffic that goes through Firefox will be protected – only that traffic, though. But, if you're trying to use other browsers or applications, NordVPN won't be able to cover that. This is useful if you're mostly browsing the web. For torrenting, this extension will be useless.
If you decide to go for a full product, NordVPN has much to offer. 5,500+ servers around 59 countries, all the latest security features, zero-logs policy, and much more.
3. Surfshark
Surfshark is an excellent provider from the British Virgin Islands. Aside from offering fast speeds, you can also enjoy its ability to bypass geo-restrictions, which is great for streaming. The extension for Firefox offers just that – world-class encryption and endless streaming possibilities.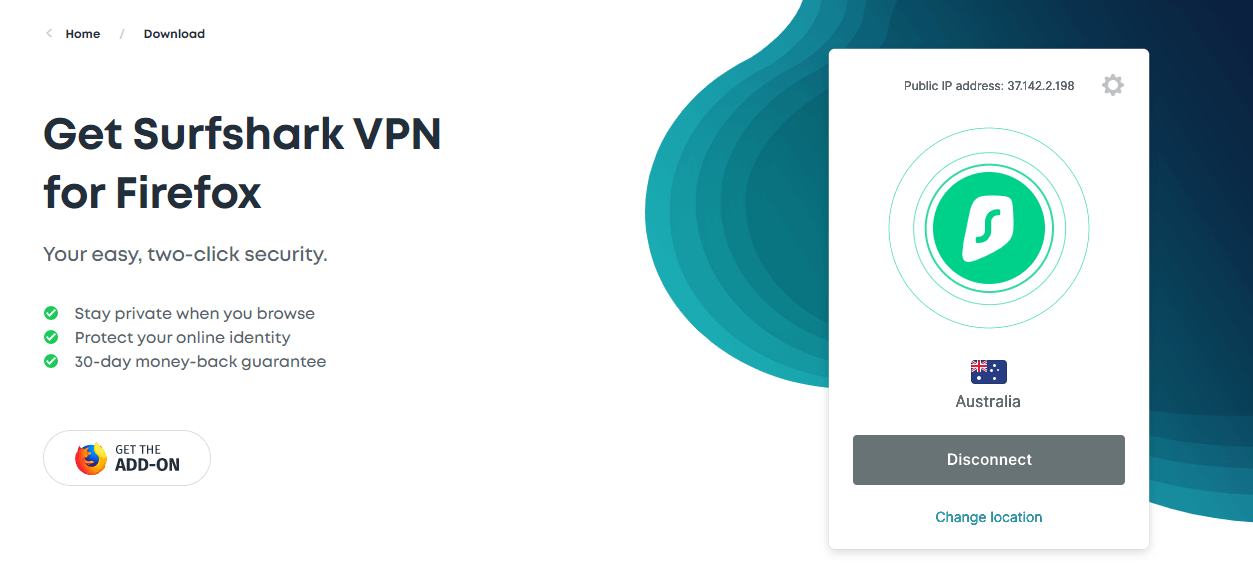 The great thing about the app is that it won't slow down your internet. You won't even notice that you have it turned on because it works in the background, keeping you safe and secure all the time. To make things better, there's a strict no-log policy, so don't be afraid to visit any website you want.
We recently reviewed Surfshark and were quite impressed with it. If you want a full experience, we recommend buying a subscription for less than two bucks a month and enjoy your 2-year blissful period with it!
Few Reasons Why You Should Avoid Free Extensions
Wait, there are free VPN extensions available on Firefox? Glad you asked – yes, there are. However, free extensions aren't on the same level as the paid ones. For instance, our top choice was ExpressVPN but this one requires a subscription.
Here's why free providers aren't as good as the paid ones:
You Get a Stripped-Down Experience
When you get something for free, you must be ready to accept some compromises. Free providers often come with limited speeds and limited bandwidth for instance. So, you'll often get a few gigabytes of data per month, and in some cases, even just 500MB.
Furthermore, free extensions are often just proxies with five or six locations to choose from. Now, you'll say that NordVPN is also a proxy but it's vastly different. You still get a no-log policy, unlimited speeds, and all of its features.
Inability to Bypass Geo-Restrictions
One of the features you won't get is this one – the ability to bypass geo-restrictions. Free extensions won't help you with that very much. If you're an avid fan of Netflix, Hulu or HBO, you can forget about it. And if we add limited bandwidth and speeds to it, you'll see how lackluster this experience can be.
Lack of Security Features
Security features are of the utmost importance in a service like this. One feature that many free providers lack is the zero-log policy. This means that they store your browsing history, IP address, location, and other information.
Free providers often sell this data to third parties, which is how they earn money. They can also earn by implementing ads but however you look at it, both ways will hinder your privacy and security.
Top 3 TOTALLY Free VPN Extensions for Firefox
Despite being generally bad, there are some free VPN extensions on Firefox that we recommend. Of course, just in case you want to save some cash. Here are they:
1. CyberGhost
CyberGhost is completely free for this browser. In 2021, the company counts more than 15 million satisfied customers around the world, making it one of the most successful corporations in this business. We all know this provider as being cheap, yet reliable and fast. Luckily, this is what you get here.

For the start, CyberGhost comes from Romania, and as such, it offers a no-log policy. The Firefox plugin was built on Ethereum blockchain, granting complete privacy, security, and anonymity online. Needless to say, it allows you to bypass geo-restrictions, thus allowing you to stream on Netflix and other similar sites.
Important to mention is that it does not protect you from webRTC leaks, albeit their desktop and mobile solutions do.
2. Windscribe
Windscribe is a free provider that most free providers can look up to. In its desktop version, the company offers 10GB of free data a month if you don't want to pay for a subscription, which is very generous. Its extension is as equally as impressive.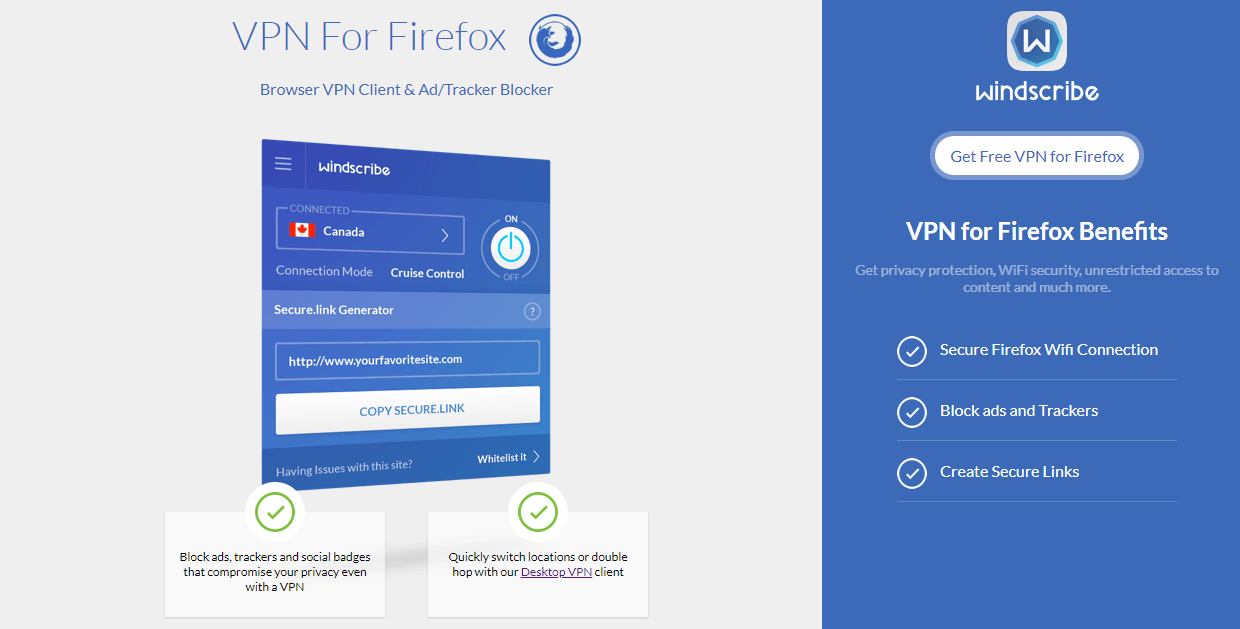 We like that it's constantly updated, so you won't need to bang your head against the wall if something doesn't work. The plugin also offers a secure link generator, different connection modes, and the ability to remove all trackers from social media websites.
Accompanied by a crystal-clear zero-log policy, Windscribe represents one of the best free choices for your favorite browser.
3. Hotspot Shield
If you don't want to pay and subscribe, Hotspot Shield has a perfect solution for you – a free VPN add-on for Firefox. So, how good it is? We would say it's okay. It offers an ad-blocker, malware, and cookies blocker. Plus, you get unlimited bandwidth, so you can browse to your heart's contempt.
The encryption is pretty decent and will let you stay anonymous online. However, you don't get to choose server locations. This is reserved for those who subscribe to a premium plan. Other than that, Hotspot Shield is a decent addition.
How to Install a VPN Extension on Mozilla Firefox?
Now that you have all the best choices, let's see how to install them on your browser. We'll use ExpressVPN as an example but the steps are all the same for every provider. First, you'll need to download the app from the Firefox Store.
To make things easier for you, the download link is here. Beware that you can use it once you get the subscription and not for free! Click on the green button showed in the picture below and it will be installed in a few seconds.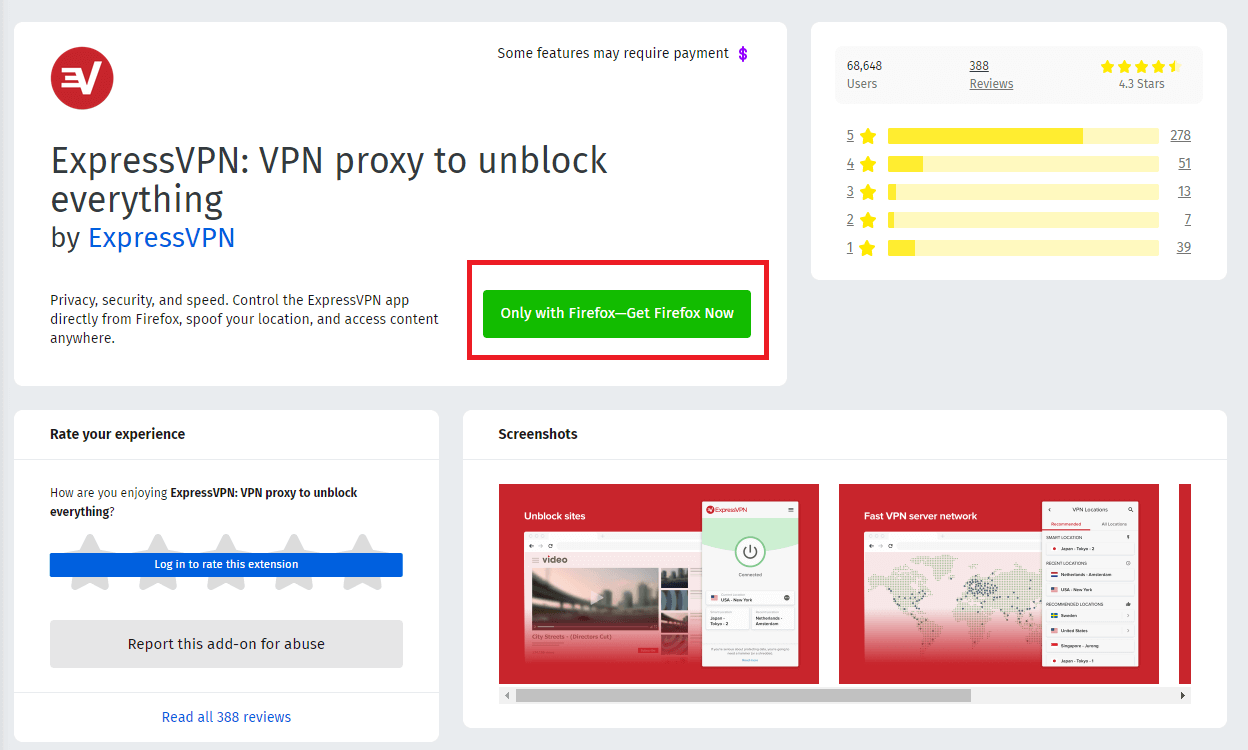 When the installation is finished, you can access the extension by clicking on its icon in the top right corner in your browser. Take a look: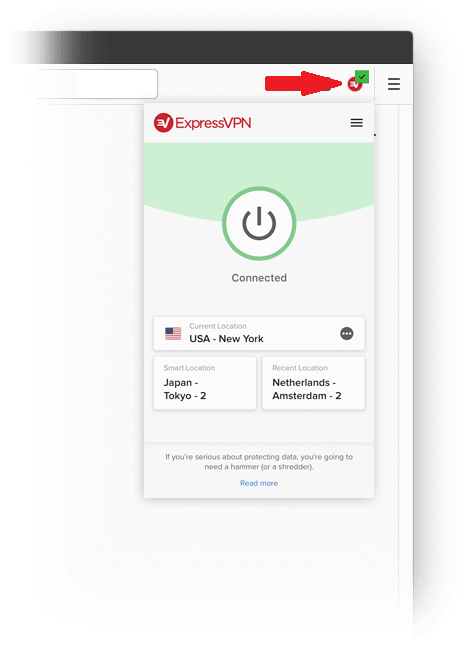 You'll also see that the interface is the same as the app. The big power button is used for connection and below that, you can choose some of the 94 locations that the provider offers. Remember that this is just a shortcut to your app, which is why it's a full VPN and not just a proxy.