Traveling season is active pretty much throughout the whole year. Whether it's summer or winter, you sometimes want to hop into a plane and travel the world. However, this activity is money-consuming if you're not trying to look for the best deals. Even if you did, chances are that you're going to save very little cash. So, what are the solutions? We're going to talk about our solutions for making your flights a lot more cheaper in this article. Therefore, we suggest strapping up and not leaving until we reach the end destination.
Why You Can't Pin Down Good Deals on Airfare?
Trying to pin down a good deal on airfare seems like an impossible task. The prices fluctuate on a daily, if not hourly basis, and finding a decent deal is simply a time-consuming task. But, there's a reason why it is like that – because websites take advantage of your location when displaying prices on the local market.
There are several ways they can do that and these are explained below:
Website Cookies
You probably know about website cookies. Every website uses them and you get an explicit notification about it. Usually, this notification is displayed at the bottom of the screen, with the Accept or Okay button for confirmation.
However, not everyone knows what they're about. Simply put, cookies track you and store your browsing history. They're here to detect when you're searching for the same thing more than a couple of times, which allows the websites to increase the prices of flights.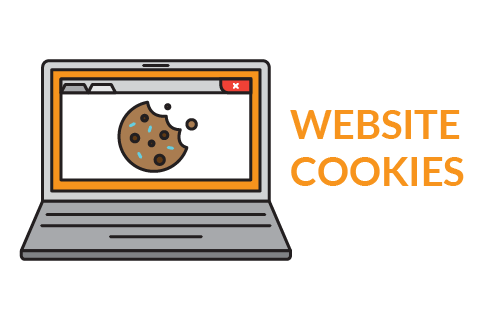 The prime examples of this are comparison websites suchk as Kayak, Skyscanner… Here, you're looking at a price comparison between several airfare companies, for example. Then, not everyone sees the same comparison. You might see that the particular plane ticket costs $50 and someone else will see that it costs $65.
As you can see, cookies are to be taken seriously if you want to save money on flight tickets!
IP Address
Without a VPN, your IP (Internet Protocol) is visible to everyone on the internet. Of course, websites won't hesitate using it to their advantage. This is why flight prices are vastly different depending on the country you're located in.
You could try connecting to a server in India to check prices, for example. In this country, ticket prices are often more affordable. Hiding your IP is a very simple thing to do and we'll talk more about it in just a minute.
GPS on Your Mobile
Let's make something clear – GPS is an amazing feature. For example, if you're traveling to a foreign country, you can use Google Maps to pinpoint your location in the world. From there, you can use the navigation to find your way to a place you want.
As much as it's useful, it can be… well, not so useful. Having Google or any other website know your location means that they can take advantage of it when displaying prices. This happens a lot when people seek the best deals for flight tickets on their phones.
HTML5 Code
HTML5 code is mainly used for detecting your location when you use a computer. It's not among the most popular methods, although it's still vastly implemented by websites.
Wi-Fi
Depending on the permissions you give, websites can see your location using the Wi-Fi network you're connected to.
To digress, many factors play an important role in determining the price of plane tickets. The point of sale, the currency you use for payment, your location, and many other factors are into play. We think that using a Virtual Private Network is the safest and simplest method for saving cash when booking a plan ticket, so let's talk more about it.
How to save money on flights thanks to a VPN?
Saving money when shopping online is possible with a VPN. We're not talking only about tickets here. For example, you can save money when buying games, especially if you're from Europe. Now, how is that possible?
It's possible by changing your IP address to an IP address in a different country. Some countries are much more expensive, while some low-income countries usually offer the best deals. Because of that, we recommend using a provider with a huge number of servers, so you can further expand your options.
Here are the steps you will have to follow in order to potentially save money on your airline tickets:
Clear your browser's cache and cookies
Choose one of the 3 VPN providers we list below (our favorite is ExpressVPN in this case as it covers 90 countries)
After installing the application, start it in order to select a server. Here there is no sure value, you will have to test different countries.
Once you are connected, open a private browser window on your browser
Go to the local version of a site such as Expedia, Skyscanner to proceed with your search for the best deal for your plane ticket.
If this is not conclusive and you don't see big reductions, you will have to start again from step 1 and try another location proposed by your VPN provider!
In the example below, we decided to search for a flight Paris – Los Angeles (from 3/7 to 3/21). And this is what it resulted in:
By using Kayak.com and having a UK based IP address:

With a Norwegian based IP address, here is the quote Kayak gave us:

With our IP address set in India, this is the prices we managed to get:

Unlike many of our competitors, we do not pass you on miraculous savings! The savings that you will be able to achieve will really vary according to the periods, your dates and the countries that you will test via your VPN.
In our example, we managed to get a minimal discount (approx 15$). But be aware that it will be easy for you to get discounts of 50, 100 or even $ 500 (depending on the base price of your tickets).
Best VPN Providers for Saving Cash on Plane Tickets
Our Monkey friend is always generous, hence we decided to go his way. In other words, we'll give you 3 best options for saving cash on plane tickets that fulfill all the necessary conditions.
Without further ado, here are our top picks:
1. ExpressVPN

ExpressVPN is a great provider for every purpose. It lets you protect every device in your house, given that it supports every major platform. You can activate protection on your Mac, for example, and enjoy anonymous internet browsing there.
However, our point of interest is how to get cheap airplane flights. The provider offers more than 3,000 servers worldwide in 94+ countries. This means that you have 94+ options for checking the prices of the tickets online. You can choose the country you want from the drop-down list, connect to it, and then see the best deals online.
Thankfully, this is the fastest provider, so you won't wait for minutes to load website pages. Furthermore, ExpressVPN has a wide array of security features that you'll love. For example, 256-bit encryption, DNS and IPv6 leak (very important for this purpose), and an automatic kill switch.
We also like that you can use it on a router, making every device connected to it protected. Given its enormous capabilities, ExpressVPN is also great at unblocking geo-restricted websites like Netflix, Hulu, DAZN or Amazon Prime Video. So, if you're in the middle of your flight, you can use it to stream your favorite TV shows and movies.
Finally, the provider doesn't keep logs of your sessions since it's from the British Virgin Islands. This is very important, regardless of the purpose you're using a VPN for.
ExpressVPN offers a 49% discount for a 12-month plan, accompanied by 3 free months. If you don't like it, you can get your money back within the first 30 days of purchase.
2. CyberGhost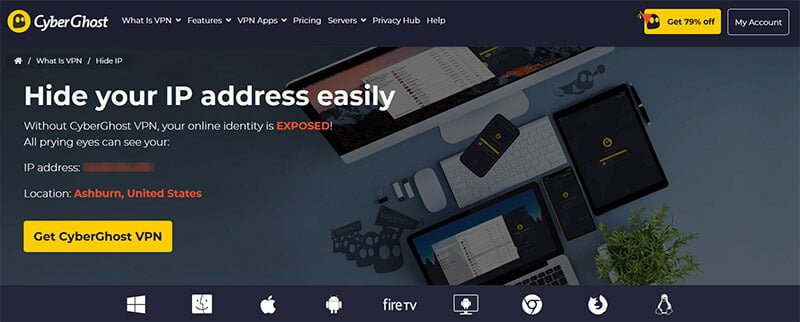 CyberGhost is a very good provider in our eyes. If you're all about huge server counts, you're in for a treat. This is, by far, the largest provider at the moment. It has 6,100+ servers across 90 countries, allowing you to change your online location with ease.
Since plane ticket prices depend on your location, it's crucial that you can alter your IP quickly to catch the best deals. Luckily, CyberGhost allows you to do so, thanks to its speed and ease of use. If you're a beginner, you'll like its interface that screams simplicity.
And if you're not, well, you'll like its plethora of high-quality features at your glance. For the start, you get a no-log policy from this Romanian giant. Romania is far away from the 5 Eyes alliance, so the provider isn't forced to save logs.
Furthermore, you get military-grade encryption, DNS leak protection, automatic kill switch, and dedicated servers. Even if you aren't interested in saving huge chunk of money while booking flight tickets, CyberGhost can still be used for several purposes. Torrenting, streaming or browsing the internet – it's all possible and easy.
Price-wise, this is among the cheapest providers, yet among the best. All in all, a damn fine deal for your hard-earned cash.
3. NordVPN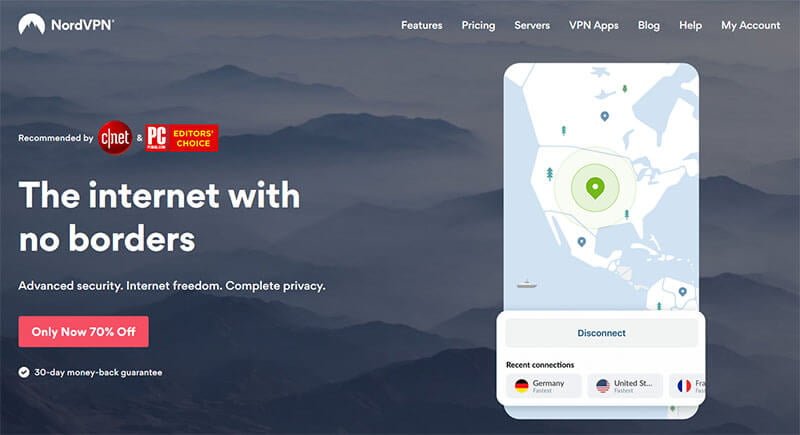 NordVPN comes from Panama, and as such, it's one of the safest providers to use. Panama might not have the best internet infrastructure but this doesn't mean that the provider doesn't work flawlessly. From there, it operates 5,500+ servers worldwide, in 59 countries.
As you can see, NordVPN focuses on server density and not strictly the number of locations. Since there are "only" 59 countries available, it's slightly inferior to the previously-mentioned providers, hence it's put on the third spot.
But, don't let that discourage you. We've reviewed this provider recently and it showed how good and versatile it is. The connections are stable, the speeds are very fast, and the security is military-grade. Some of the features include 256-bit encryption, Double VPN, Onion over VPN, automatic kill switch, and many more.
We also like CyberSec, which will prevent ads, malware, and pop-ups blocking your view while being on the hunt for the biggest deals on flight tickets. These obstructions often contain trackers that will try to pinpoint your location, which will have an impact on the prices you're seeing online.
Using NordVPN for other purposes is also possible. It can unblock all the major streaming platforms and allows P2P file sharing for torrenting. To summarize, this is one of the best providers we've ever used!
Other Methods for Saving Money on Flights
Now, let's see how exactly to save money when flying:
1. Change Your IP to an IP in a Low-Income Country
One of the main benefits of a VPN is that it allows you to change your IP. If you're from the USA, for example, you'll see that the prices there are very high in comparison to, let's say, India. So, change your IP to a server in this country and then, look for the prices online.
We suggest using Kayak.com, which is a great website for this purpose. It allows you to search not only for flights but also for hotels and cars. You'll see that prices are much different right away. We managed to find huge differences in prices, ranging from $10 to even $100!
So, next time you seek a plane ticket, always go for a low-income country. These countries are mainly located in Eastern Europe and Asia.
2. Use an IP from the Airline's Country
Using an IP address from the airline's country can also bring you some benefits and good discounts on flight tickets. Let's say you're using Brussels Airlines, which is a Belgian company. In that case, you want to open your Virtual Private Network and choose a server in Belgium.
However, before doing that, you can use your native IP and see the prices. We tried this trick with multiple airlines and managed to save a lot of money, on average, 70 bucks or less. Having in mind that tickets can cost a couple of hundred dollars, these savings aren't negligible.
Quote that we were able to obtain for a flight London – Lisbon from February 7 to 9 (with a British IP):

Fares for the same flight but with a Portuguese IP (where Air Portugal is based):

Once again, it was not difficult to obtain a reduction of almost 10% on our plane tickets! And as we said earlier, you will sometimes be able to get even bigger discounts on your plane tickets.
3. Choose Travel Time and Days Accordingly
If you've never traveled before with an airplane, there are tricks that will help you save 5% on average. Rick Seaney, a founder of farecompare.com, says that flights from Monday to Thursday are cheaper than weekend flights, on average, by five percent.
But, the day of the flight isn't the only factor. For example, Tuesday at 3 PM is a great time for buying plane tickets. This is because you'll find the highest number of cheap seats available at that time. Just to mention, we're talking about Eastern Standard Time.
Airlines usually set up their sales on Monday afternoon. From there, the prices are distributed to comparison websites and they usually arrive on Tuesday. Finally, at 3 PM EST, in the same day, the prices are adjusted, making it the best time to go for a purchase.
You also need to take into account peak hours. They usually last until 5 PM EST, so you can book your flight at 8 PM or 7 AM.
4. Clear Your Browsing History
Clearing your browsing history is a method that might or might not work. Since websites use cookies to set their prices, clearing them out will probably reset the prices. Still, this method will work only sometimes and we can't guarantee its efficiency. This is because your location is still visible and the best way to hide it is by using a VPN.
Still, this process takes just one or two minutes, so we suggest you try it. After all, it's the only way of knowing if it works.
FAQ
Let's answer the questions we didn't answer in the article on how to save money on flight tickets in 2021.
Are VPNs for saving cash on flights legal?
Yes, they are. We've asked several airline companies about this and they said that there are no issues with using a VPN on their website. By changing your IP to a different country, you become anonymous, making it far safer to use the internet.
Needless to say, it brings many other benefits, making a purchase well worth it.
Can you use free providers for this purpose?
Theoretically, yes. However, free providers offer only a handful of countries, drastically limiting your possibilities. We still suggest using paid providers, as they offer 50, 60 or more countries to choose from. Because of that, it will be way easier to save money on your plane tickets.
Can you use a proxy server for saving money on plane tickets?
No, you cant. If you use it, the prices will be different because you're connected to a random server in a particular country. What country? Well, you don't know that. You might even see a higher price because the proxy provider uses random servers, just to hide your IP.
That being said, a proxy is here just to hide your IP address and nothing more. Don't use it to save cash because it isn't meant for that.