As much as it's vast space, the internet isn't always available to everyone. Better said, certain parts of the internet are inaccessible for some people. Many of you find it annoying, and to be honest, we find it annoying, too. However, for almost every problem, there's an easy solution. This time, it's no exception. In this article, we'll talk about website blocks, as well as the reasons why they occur. If you're having problems accessing websites from your school or workplace, we suggest you don't leave now. We have a couple of solutions that will help you in order to unblock and navigate on any website.

What Websites are Usually Blocked?
Website blocks don't happen without a reason. Behind every restriction on the internet, there's a perfect reason. The main reasons for this to happen are filtering and censorship. And now, think about the websites that are mostly censored. Logically, these are social media websites.
Here, we think about Facebook, Twitter, and Instagram. Twitter, for example, is blocked in China. In fact, this country has a huge blacklist of blocked and censored websites, making it one of the worst countries in terms of internet access.
What about porn sites? Well, these are even more blocked than social media sites. Countries like UAE, Iran, Turkey, China, Bangladesh, India, any many more, have all restricted pornographic content. Some governments are very strict when it comes to displaying this type of content, especially in Muslim countries.
But, can you somehow unblock porn sites in countries such as India or Bangladesh, for instance? Yes, you can.  This applies to every blocked website, including Google, which is also frequently blocked. Google is a great website for gaining knowledge about happenings in the world.
Unfortunately, by blocking it, your government prevents you from gaining useful info, making you unaware of happenings around you.
Why Do You Encounter Blocked Websites on the Internet?
There can be a multitude of reasons explaining why certain websites are blocked or censored in your country. Below are, in our opinion, the most frequent reasons:
Political Reasons
Political reasons are perhaps the most frequent ones. When the election comes, there's a strong affliction towards the opposition that wants to change the government. These people often use social media websites to display their opinions, which is why these sites might be blocked.
This happens because of political activists or simply those who talk "bad" about the government. Of course, the government may be trying to restrict certain companies or organizations, hence it blocks their websites.
We can talk endlessly about this but you get the point.
Religious Purposes
Religion is a big thing in some countries. Before we even mention them, you know some of them. Iran, Iraq, Baghdad, UAE, Turkey, and many more. There's content that goes against the ethical, religious, and moral beliefs of a particular country – porn, for example.
Even some social media websites are deemed by these countries to be malicious, hence they're blocked.
Censorship
Censorship is what you'll often encounter in countries like China and Russia. This is the main way of restricting internet access or better said internet freedom. In some countries, the government will be so influential, that it will own all the televisions and media around the country.
With this much power, it can manipulate the content displayed on TV, as well as on the internet. Luckily, you can change your IP to another country's IP address and bypass this issue. You'll see how to do so in order to unblock any website given… just in a minute.
Copyright Issues
Finally, there are copyright issues. This is a typical problem of many streaming platforms. But, VPN can help you access the US streaming platform from Mexico, for example. Or perhaps, from any other country.
Netflix has a wide array of movies and TV shows in its catalog. However, the whole catalog is available only in the US. This has to do with copyrights. For example, they buy a movie from the company and that company tells them where they're allowed to show it.
They can say that it's allowed in Canada, Germany, United States, and France, for example. If the copyright is violated, Netflix will be forced to pay a hefty fine to that company. This is why many shows and movies are blocked in other countries except for the USA.
Unblocking a Website With a VPN
The safest and most efficient way of unblocking a website is by using a VPN. This abbreviation stands for Virtual Private Network and it's, in most cases, a premium service. There are free providers out there but these aren't very good at unblocking websites.
If you're willing to pay a few dollars a month, this is where you'll see the results. For those who aren't acquainted with this service, we'll do a step-by-step guide to see how to use one for this purpose.
Step 1 – Sign Up With a Provider
The first step is to sign up with a provider. To avoid wasting your time, we made a small list of best providers for accessing unblocked websites below. You can choose from there and get back to this list.

Getting a subscription is very easy. We'll use NordVPN as an example since the screenshots are from this app. They also offer a 70% discount, resulting in a very cheap price for a 3-year plan.
Plus, they offer numerous payment methods, including cryptocurrencies, for increased security.
Step 2 – Download the Apps
When the purchase is completed, download the apps you need. We've used a PC version this time since it's very easy to use. Alternatively, you can download the app for a router if you want. When your router is equipped with this service, all the connected devices are covered.
Step 3 – Connect to the Desired Server
Now that the app is downloaded, open it. When you open NordVPN, you get the screen below.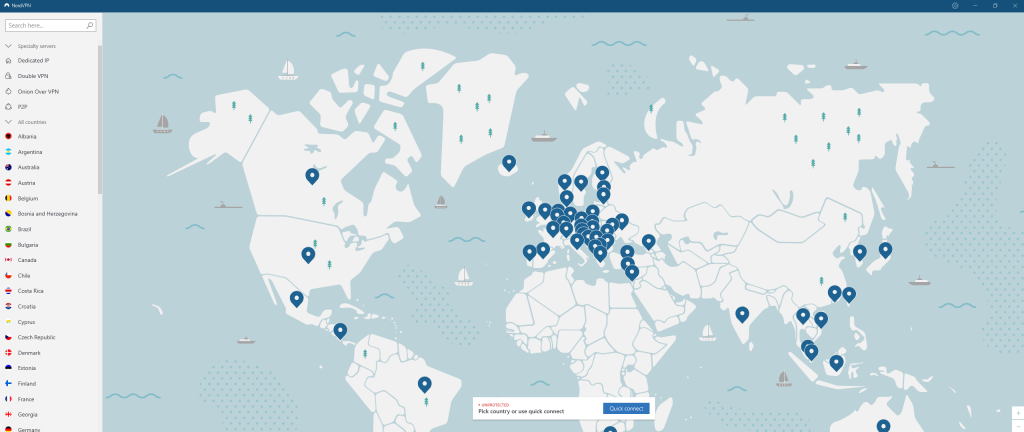 From there, you can choose a server you want and connect to it. If you want to enjoy streaming, we suggest going for the American server. If not, choose the server you want and click connect (it really depends on which blocked website you want to get access to). Wait a few seconds and you'll see the confirmation saying that you're connected.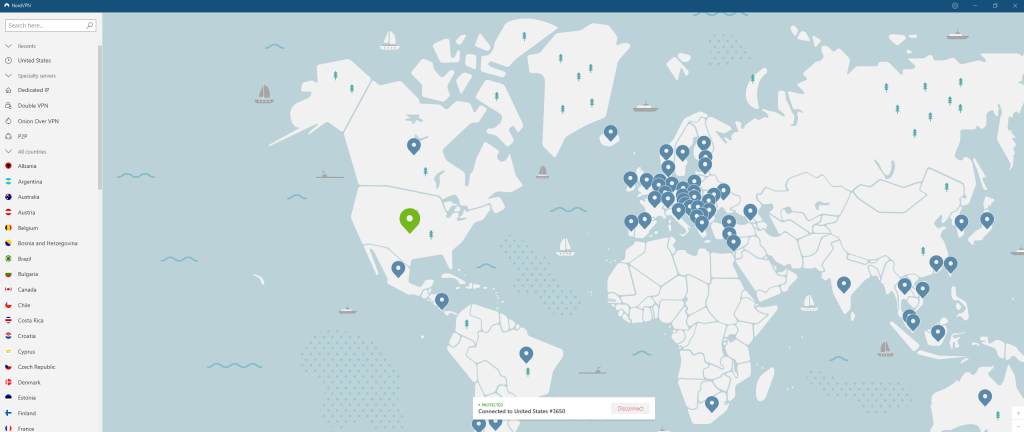 As shown in the picture above, we used the server in the USA.
Step 4 – Enjoy Anonymous Internet Browsing
With your IP changed and concealed, you should be able to access blocked websites. Not only that but also streaming websites and local television content in a remote country. With a Virtual Private Network, possibilities are endless!
Best VPNs for Unblocking Websites
Just like we promised above. This is the list of 3 best picks for this purpose. Let's see our top choices:
1. ExpressVPN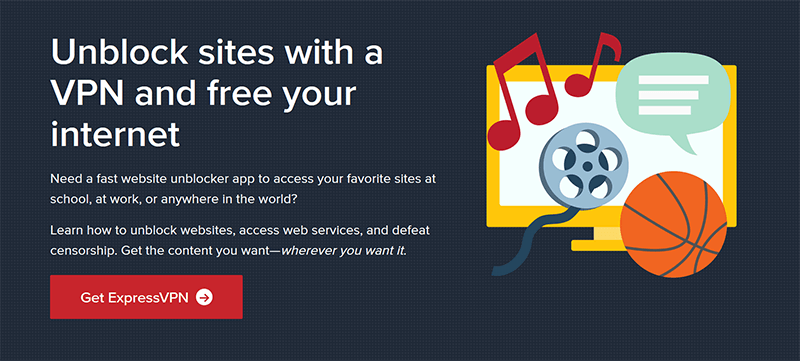 ExpressVPN has 3,000+ servers in 94+ countries worldwide. This server count is more than enough for accessing restricted websites in your school or workplace. We've tested this provider multiple times and were able to bypass even the most stubborn geo-blocks.
Netflix, Hulu, HBO GO, Sky TV, Amazon Prime, DAZN, and Disney+ were all accessible. Furthermore, ExpressVPN is the fastest provider on the list, so if you're all about streaming, know that you can do it. Security-wise, you can expect military-grade encryption here.
Needless to say, this is crucial for an efficient website unblocking. To top it all up, there's a split tunneling feature, as well as zero-log policy, and a kill switch. ExpressVPN is an all-arounder that offers a lot of everything, thus we recommend it gladly in order to unblock wahtever website.
You can get a 49% discount and 3 months free for a 12-month plan at the moment. This is the best offer from the company so far!
2. NordVPN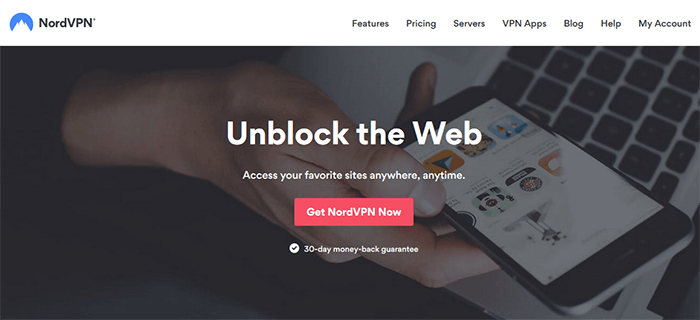 We already talked about NordVPN a minute ago but let's see what it has to offer. For the start, it has 5,500+ servers in 59 countries. Due to its high server count, you can bypass website blocks easily. For those who like streaming, for example, the provider has more than 1,000 servers in the USA.
And if you just want to access social media websites, you can use thousands of servers across the globe for that. When it comes to speed, NordVPN is very fast, almost like ExpressVPN. Geo-restrictions are also a thing of the past now, as the provider will breeze through them like they're nothing.
If you decide to buy it, at least you have a small guide above, so it'll be easier to use.
3. CyberGhost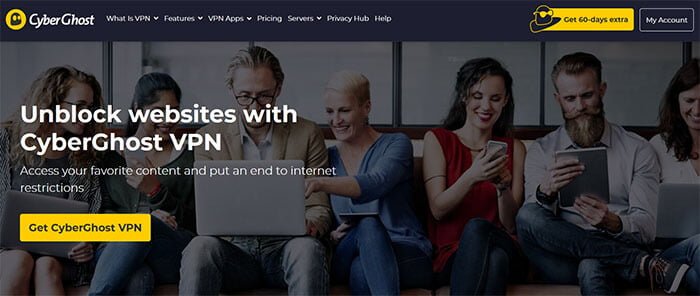 Last but not least, CyberGhost. This Romanian giant brings 6,000+ servers in 91 countries worldwide, for some stunning website unblocking. Being the largest provider at the moment, it bears its crown easily – both in terms of performance and ease of use.
Since we mentioned the ease of use, it's important to mention how easy it is to use. This is a user-friendly provider that wastes no time getting you on the internet safe and secure. We've tried unblocking multiple websites and 95% of them were accessible.
DAZN, for example, wasn't. But, Netflix and social media websites worked flawlessly. CyberGhost also has a no-log policy, 256-bit encryption, and an automatic kill switch for all platforms. Regardless of the device you're using, the provider will go guns-blazing when accessing blocked sites.
Other Solutions for Unblocking a blocked/censored Website
If a Virtual Private Network just isn't your thing, there are other solutions. Let us warn you that these aren't as efficient, though. So, don't expect them to be on the same level.
With that out of the way, let's examine the other options to unblock censored or blocked websites.
Use a Proxy Server
Whether you're at school or enterprise, those responsible for internet access often draw certain boundaries. As a result, you can't access Facebook, YouTube, Twitter or any other websites. In the worst case, you can't even access your Gmail to check your mailbox.

Luckily, using a proxy server online is very easy. But, it's not without its downsides. First, it's not as safe since it doesn't use encryption. You take another IP address and then access the site but in that process, no encryption is used.
This means that your data can still be compromised and that you're susceptible to cyberattacks. On the flip side, your IP is masked and your ISP or the government can't see you. However, if you're secretive about the websites you visit, using a proxy isn't the safest thing to do.
Use the Tor Browser
Many users know Tor as a browser for deep web. This is a true statement, hence the 'onion' logo of the company. Since it can browse the deep web, it shows how special it is from the get-go. The special thing about it is that it allows you to browse the internet anonymously.

Now, you get two advantages. The first is that you aren't under surveillance anymore and the second is that you can access any website you want. The downside is that Tor is very slow due to its strong encryption.
The best-case scenario is if you use it in combination with a Virtual Private Network. To do this, check if your provider supports Onion Over VPN or vice-versa. For instance, the providers we mentioned above support this feature (ExpressVPN being the best option).
Access the IP – Not URL
Every website's URL has its IP address. In some cases, the authorities blocked the website's URL but not the IP. If that's the case, you can use the IP to access it, rather than the address. Here's how to do it:
Windows: Type tracert websitename.com in command prompt and the IP address will appear.
Linux: Type dig websitename.com in Terminal. The IP address will now show.
Mac: Go to the Network Utility menu. Click on Traceroute and enter the website address. Press Enter and you'll see the IP:
Android/iOS: Find the Traceroute app on the Google Play/App Store. Enter the website address and you'll see its IP.
Once again, this method is not guaranteed to work but it's worth a shot.
Summary
To digress, the best method for accessing blocked sites is using a VPN. It allows you to hide your IP, thus become anonymous online, which is the main step towards accessing restricted websites.
Our recommendation is ExpressVPN, although NordVPN and CyberGhost are also great.
With the subscription bought, you can see what it means to be free, anonymous, and secure online. Of course, you can try other methods but don't expect them to be as efficient as the one we recommended.