Brazil is definitely an interesting country for many people. Located in South America, this country is home to many beautiful beaches and landscapes. To make things better, even the Freedom House gave it a 75/100 ranking for freedom. But, as always, we are here to scratch the things under the surface and see if it's really like that. Our conclusion is, yet again, that you'll need a rock-solid VPN for enjoying privacy and security in Brazil. Which one to choose, then? What is the best option? Stay with us and you'll find out in a few minutes!
Why You Should Use a VPN in Brazil?
If you already live in Brazil and you're enjoying the internet without a VPN, good for you. Just know that laws often change and your time will come if you don't take necessary precautions to protect yourself. Here's why using this service in this country is a good idea:
Avoiding ISP and Government Surveillance
Many people on the internet say that this is a free country, with excessive freedom of speech and political rights. While this may be true, we aren't so sure if it's true when talking about the internet. For more than a couple of years, this country is known for its surveillance tactics conducted on a daily basis.
There are lots of ISPs in this country, yet all of them must provide the users' IP addresses if the government says so. If you're doing something "illegal" or "suspicious", know that you can easily be exposed. Now, what the government deems inappropriate, we don't know.
It can perhaps be watching porn, torrenting or just visiting a website that you shouldn't. There isn't much info about the fines you can pay if you're caught doing something like this. However, knowing how brutal the Brazilian police are, we can assume what can happen.
Luckily for you, a service like this can alter your IP, rendering you invisible in the watchful eyes of your ISP or the government.
Staying Safe While Using Public Wi-Fi Networks
We all like public Wi-Fi networks. When we go out, we can just sit in the local cafe, drink a coffee, and browse through our beloved Instagram feeds. But, this is a double-edged sword, especially in a country like this. Brazil has a high rate of internet hacking and spying, so you never know what to expect.
Once again, visiting suspicious websites, publishing hatred-filled stuff online or gambling can probably get you into trouble. On the other hand, you can be hacked even if you just spend your time on YouTube. Hackers love these places the most because they can sweep through, steal the data, and walk away as nothing happened.
It's very strange that this happens here because the government monitors the network, though. Furthermore, the laws in this country don't allow you to be anonymous as a journalist. Unless, of course, you have a Virtual Private Network.
Journalists in Brazil MUST use a VPN in our opinion. Investigating some drug cartels or shady crimes here can lead you to get a bullet in your forehead. A service like this can at least conceal your identity online, doing you a huge favor.
Bypass Geo-Restrictions
Bypassing these restrictions is very easy, yet there are still people banging their heads against the wall. If you want to watch Netflix, for instance, you'll get a catalog catered to your country. The USA, the UK, Australia, Canada, and India have the largest catalogs on Netflix.
Unfortunately, this country isn't on this list, hence you'll get a modest Brazilian catalog. To fix this problem, you'll need to change your IP to the country you want and access the catalog you want. This applies to any website of this kind. It can be DAZN, Disney+, Amazon Prime Video, Hulu, HBO, ESPN or any other site.
Needless to say, this service will also help you remain anonymous while downloading torrents. And of course, this all applies in the opposite case, where you're abroad and want to access Brazilian local content.
Safely Access Your Brazilian Bank Account
Managing your finances in this country while abroad can be a little tricky. If you try to access your bank account using an IP from a different country, you risk freezing or flagging your account. Then, it will take days or weeks to make it work again. You'll have to go back home, visit your bank, explain the situation, and so forth.
Not to mention that you can be left without any money in a foreign country, which is even more dangerous. When you're outside, connecting to a Brazilian IP will be very easy. A VPN also allows you to find tickets at very low prices, so you can get them and fly back to your home without breaking the bank.
Best VPNs With Servers in Brazil
Traveling outside of your homeland isn't a feeling we all love. On top of that, you'll miss your favorite shows on SBT, Globo, Record or RBTV. But, if you have a service like a VPN by your side, this doesn't have to be the case. Here are the best providers with servers in Brazil:
ExpressVPN: ExpressVPN is the best option for this country. It has multiple servers here and they support almost all of the provider's security protocols. On top of that, you'll be able to enjoy high speed and unblock geo-restricted websites with ease.
NordVPN: It is an excellent provider that has 5,500+ servers worldwide. In this country, it has 31 servers that support P2P and other security protocols.
CyberGhost: CyberGhost is a Romanian provider with 14 servers in Sao Paulo and more than 6,000 of them worldwide. It's great for all purposes, except for P2P, which isn't supported in this country.
In case you want to install some of these Virtual Private Networks, you can do it with a snap of a finger. Click on the provider's name, buy a subscription, install the respective apps, and enjoy your secure internet browsing.
Best VPNs for Brazil
Wondering if this service is legal in this country? Well, take a look at this link (https://monkeyprivacy.com/is-vpn-legal). You have it all explained there. If you're done, let's see what are your best choices for this beautiful state.
1. ExpressVPN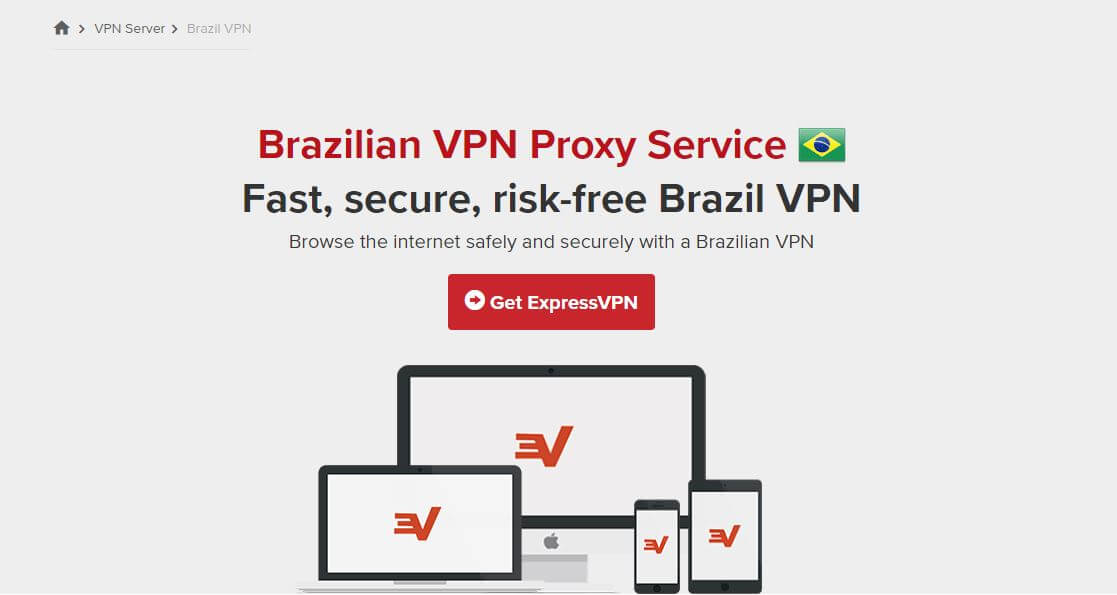 If you're all about speed and security, ExpressVPN is a perfect choice. Some of you will think that we're talking about a provider with zero compromises and the truth be told – we do. The provider comes from the British Virgin Islands, which is a perfect soil for privacy and security. As such, it gives you an almighty zero-log policy.
Since we touched on the speed, we need to make it clear how fast it is. It can easily stream 4K videos on Netflix or even 8K videos on YouTube. The important thing is that it can also unblock any streaming platform. So, if you're tired of Brazilian Netflix, you can access the American one, the British one, and many others.
Not to forget to mention customer support, which is flawless. They work 24/7 and you can ask them anything related to cybersecurity or their apps. In our experience, they're very calm, concise, and professional, and they'll fix your problems in a matter of minutes.
Last but not least, you'll get a 49% discount and 3 months free for a 12-month subscription plan. There's also a 30-day money-back guarantee, in case you don't like it.
Get ExpressVPN for Brazil : THE best option >
2. NordVPN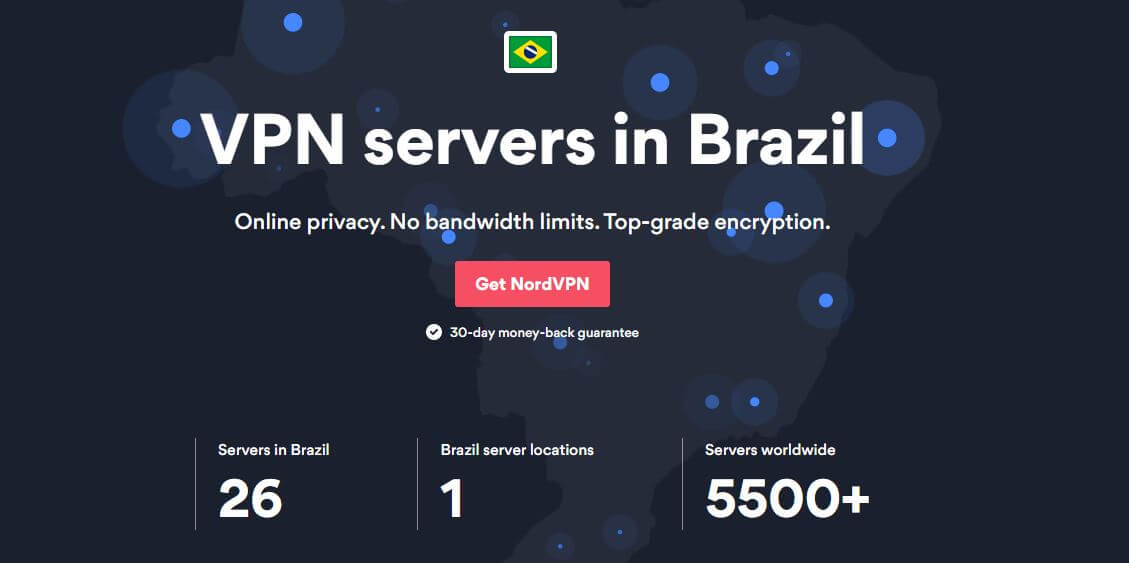 Don't we all want a cheap and reliable Virtual Private Network? If you think that's impossible to find, you're dead wrong. NordVPN is a Panama-based company that offers a handful of features at a silly price. We don't usually talk about the prices here, so you'll have to use the button below and see it for yourself.
Nevertheless, the provider offers you a no-log policy from the get-go, accompanied by some neat features. These include 256-bit encryption, Double VPN, Onion Over VPN, and all of the greatest security protocols.
The VPN servers in Brazil are well-built and are very fast, regardless of the time. Even better, you can connect up to 6 devices at the same time. Or, if you install it on your router, you can effectively cover 16 to 32 devices simultaneously, which is crazy good!
Rushed decisions are often bad. But, if you rush and buy a subscription on NordVPN's site, that's going to be one of the best decisions of your life!
Enjoy Brazilian TV With NordVPN >
3. CyberGhost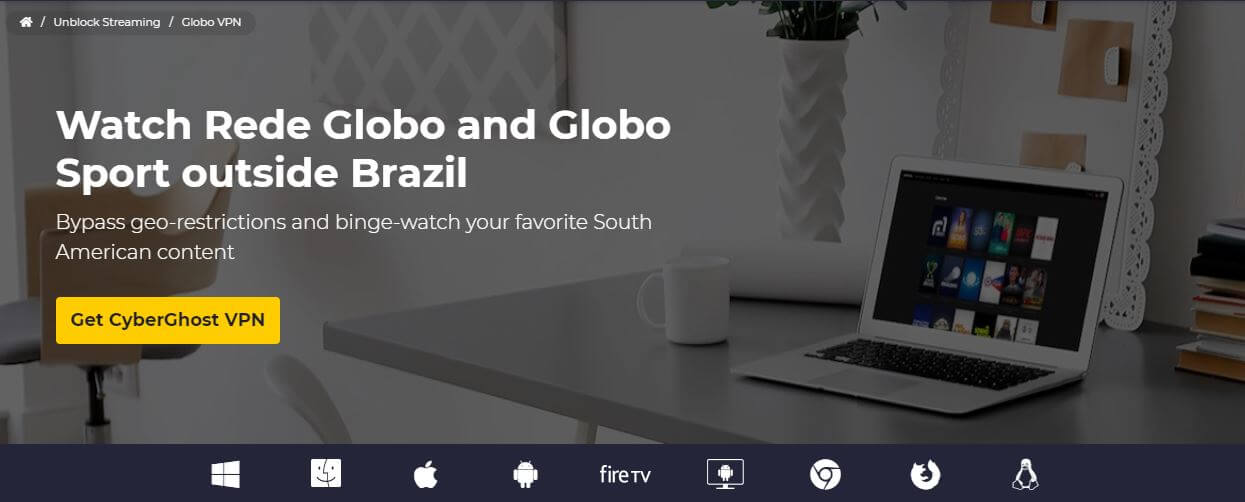 Are you willing to save even more cash? Now that your pupils are dilated, read this word – CyberGhost.
This is a company from Romania with some staggering prices and second to none features and services. The provider offers dedicated servers that are great for Brazil. You can use them for streaming and torrenting, as well as browsing the internet.
There's a beautiful combo of intuitive interface and tons of features that's just about right. If you're a beginner, you won't get overwhelmed but you'll still learn how to use it in five minutes. Security-wise, CyberGhost offers a strict zero-log policy, military-grade encryption, kill switch, and DNS and IP leak protection.
In our opinion, this is one of the best options money can get you. Click on the button and see how cheap it is – our Monkey ain't lyin'!
Visit CyberGhost for a Huge Discount >
Why You Should Avoid Free Providers?
With all these cheap providers, some of you will again consider the free ones. Well, here's what we have to say about them. The first thing you'll need to get used to is the lack of a no-log policy. Know that these companies will know your IP, sites you visit, and timestamps of your last login at EVERY moment.
The worst thing is that this data is worth a lot. And because of that, they'll not hesitate to sell it to third parties. Another thing is that you'll be pretty limited – in every sense of that word. Limited speeds, limited bandwidth, limited everything.
When it comes to bandwidth, you'll get 500MB to 2GB on average and in some cases, even 10GB (Windscribe). Just think about it – is this enough for your monthly needs? Probably not. One episode of your favorite show on Netflix is probably more than 500MB, just for comparison.
So, with the lack of security features, slow speeds, and limited bandwidth, it's hard to recommend a free VPN provider for Brazil. In fact, we don't endorse using them in countries with a high rate of government surveillance, where your privacy is of the utmost importance.
Summary
If you travel to this country, be prepared to have the time of your life. But, when you take a break in-between your partying and traveling, you'll probably want to stay in contact with your friends and relatives online.
Staying safe in 2021 was never this easy. You just need a good VPN provider and your security will see a massive boost whether you're in Brazil or elsewhere.
Our recommendation is ExpressVPN, a provider with lots to offer. It's maybe not the cheapest one but it's, by many, the best provider in the world, beating everyone else by a huge margin.
Get your protection now. You'll thank us later in the comments below.