Experienced VPN users know that free providers are rarely worth your time. With some VPNs like Windscribe and ProtonVPN, you can get a decent performance given that you pay nothing. But what about Ultrasurf VPN? It's another free VPN provider with quite an interesting name, implying that you'll surf with ultra-fast speeds. Unfortunately, that quickly dissipates as it's a free provider and honestly, it's awful. See why we don't like Ultrasurf and what we think about it in our review below.
What is Ultrasurf VPN?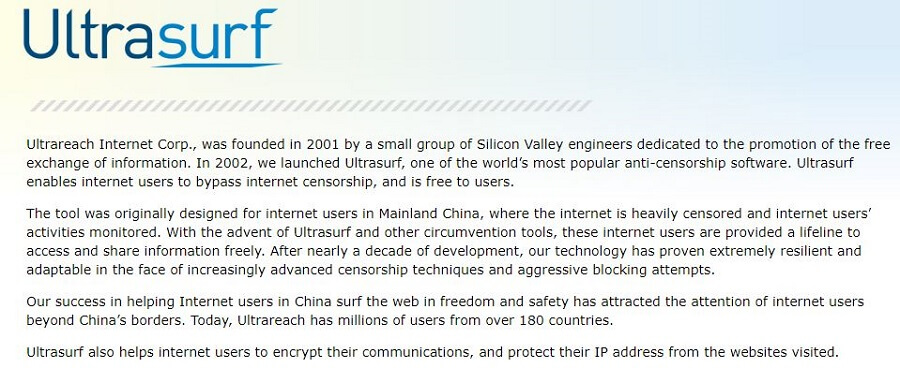 To start off our review, we need to see what exactly is Ultrasurf VPN. As we can see, this company was founded in 2001 in Silicon Valley, with the primary focus on bypassing censorship. Interestingly, this provider made its service tailored to users in China because of the harsh online censorship they encounter.
So, right of the bat, we can fathom that Ultrasurf VPN is oriented towards, security, unblocking sites, and bypassing censorship. In theory, that's a good thing, right? Well, not exactly.
The provider is based in the United States, which is not a very good location. Why? Because it's a part of the 5 Eyes alliance, known for excessive government surveillance and lack of privacy.
In other words, if the government requests that Ultrasurf VPN hand over users' data, they'll most likely do it. That is if they collect compromising data. Overall, we're talking about a very simple provider, with minimum features and an outdated website.
Don't expect anything premium here. It's a bare-bones VPN that is, luckily, free. And even as a free provider, it's vastly inferior to the likes of Windscribe and ProtonVPN. To save your time, you can freely leave this review.
However, if you're interested to see why the provider is such a disappointment, we suggest staying with us.
Compatible Devices and Ease of Use of UltraSurf VPN
Being on the market for so long, some may expect that Ultrasurf VPN did a great job of optimizing its apps for all the platforms. That is not the case – sadly. This provider offers a VPN app for Android and Windows, and that's literally everything you get here.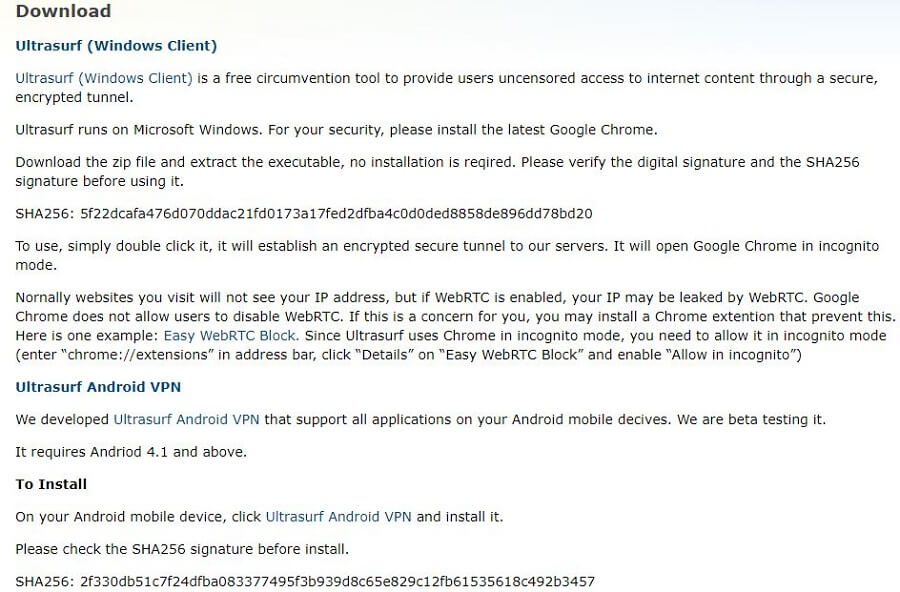 We don't like that it doesn't support other platforms, which vastly decreases its usability. For example, in the UK, almost 50% of all mobile phone users use iPhones, in which case they won't be able to use this VPN.
Ultrasurf on Computers
Despite its simplicity, we wanted to install the Ultrasurf app for our review in order to see how well it works. Since it supports only Windows computers, our testing rig comes with the latest version of Windows 10, to make the test as realistic as possible.
Now, to download the app, visit the provider's site, click on the "Download" menu, and select the app for Windows.
Once you do so, the app will download, but you don't need to install it in a traditional sense. Instead, double-click on it and the initial screen will appear: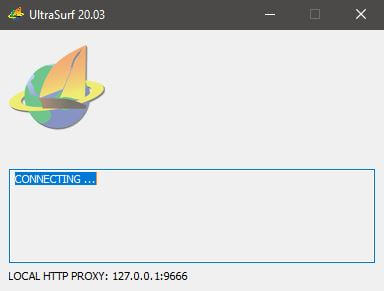 The VPN immediately starts connecting, without showing you which server it is, which is your new IP, or anything.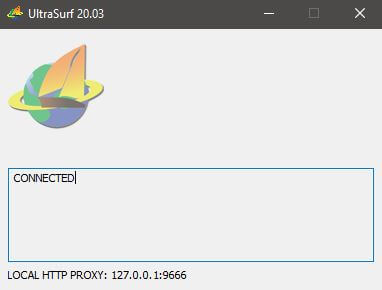 Here you go – the VPN is connected – that's it! When that happens, Ultrasurf VPN will open a new Chrome window, from which you'll need to use the provider. If you close it, the VPN will also shut down.
Does that remind you of Hola VPN? It functions exactly the same, through your browser. This made us think if this is really the service it advertises itself to be. It doesn't let you change servers manually and it works through your browser only, so yes, it's more a proxy than a Virtual Private Network.
Ultrasurf on Smartphones & Tablets
Ultrasurf VPN keeps things simple even on a smartphone. To get the app for your phone, you'll first need to have an Android device. If you don't have it… well, who cares, right? That's how this provider operates unfortunately.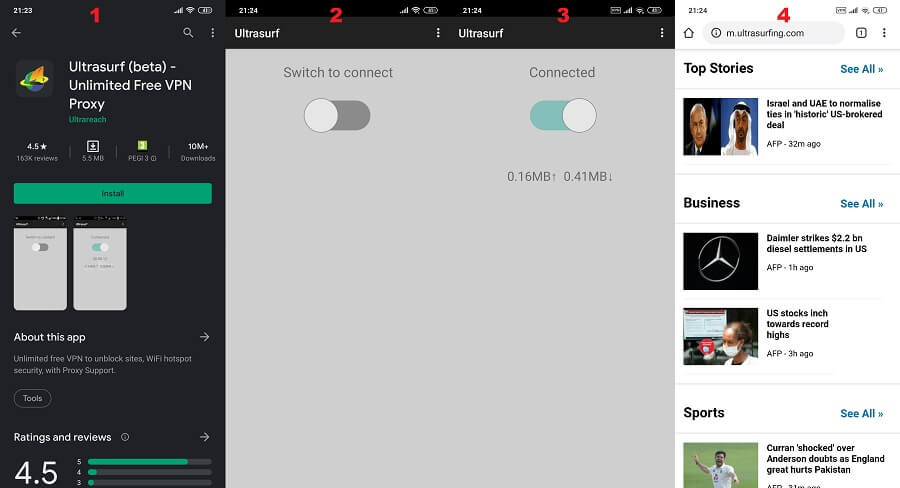 Type in "Ultrasurf VPN" on Google Play to find the app. It's quite unbelievable that this app is still in beta, despite almost 20 years that this company is on the market. And what's more baffling is that it has 4.5 stars… really?! 10M+ downloads… really?
Nevertheless, download it, open the app, and you'll see a switch – not a kill switch, but a switch to connect to the VPN server. Tap on it and it will turn green, indicating that your connection is established.
Like on the PC, Ultrasurf VPN will open a new Google Chrome tab through which you'll need to use it. We like simple apps, but when it's so simple that it doesn't have basic features, that's not what we prefer.
How Fast is Ultrasurf VPN? We Checked Its Speed!
There's one trend in the VPN world that follows the market from its inception. Pretty much all the best VPNs out there are also the fastest. Examples of that are ExpressVPN, NordVPN, and CyberGhost.
Ultrasurf VPN is a free provider with a single-digit number of servers, which isn't exactly speed-friendly. Hundreds of users can connect to the same server, resulting in unstable connections and slow speeds, due to the overcrowded server.
To clarify things in our Ultrasurf review, all VPNs will reduce your native internet speed to some extent and that's perfectly fine. But, there's a difference between 10% and 90% reduction, which depends on many factors.
For that reason, we tested Ultrasurf VPN three times during the day, using two of the servers that the provider "threw" at us often. These servers are, by the way, in the USA and Netherlands, and we're located in the US. Here are our native internet speeds:
Ping: 11 ms
Download Speed: 211.88 Mb/s
Upload Speed: 202.20 Mb/s
When using Ultrasurf VPN for this in-depth review, our ping, download, and upload speed respectively, on testing locations were:
US Server: 89 ms / 32.03 Mbps / 18.96 Mbps

Netherlands Server : 212 ms / 7.63 Mbps / 8.55 Mbps

Without a doubt, this is one of the slowest VPNs we had the chance to test. Even in our country, the speeds were atrocious, making it hard to even browse the web, let alone stream movies and TV shows.
A much better choice for that is ExpressVPN, the fastest provider on the market.
How Good is Ultrasaurf VPN for Streaming?
The provider has all the conditions to be exceptionally bad at streaming. It has merely a few servers, so it's not good for bypassing geo-restrictions. And to top it all up, the speeds are very slow, making your streaming experience all but great.
Despite that, we decided to test Ultrasurf VPN on Netflix to see if it works.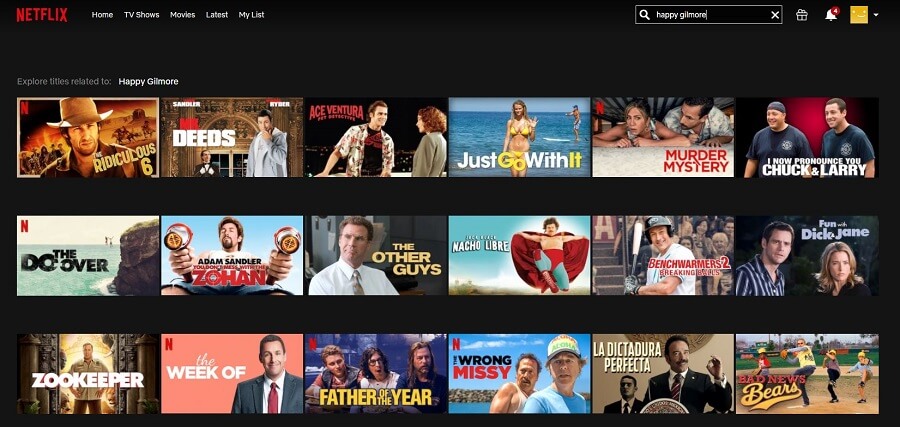 When we managed to connect to the server in the Netherlands, we tried testing Netflix NL. We typed "Happy Gilmore" in the search bar, as this show is available in this country. As you can see, we didn't manage to find it, meaning that Ultrasurf VPN can't unblock Netflix.
Next up, we have Disney+, with the infinite loading screen that wouldn't let us access the site.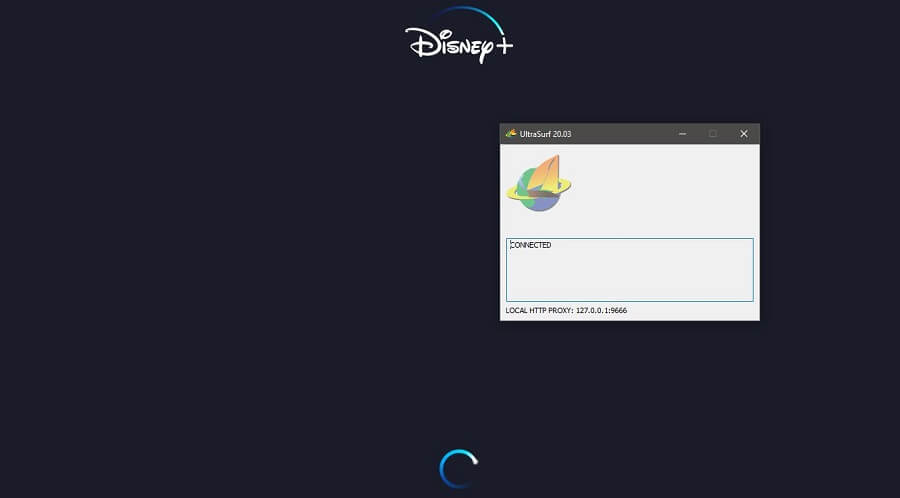 The same can be said for Hulu, that immediately detected that we're using a proxy service.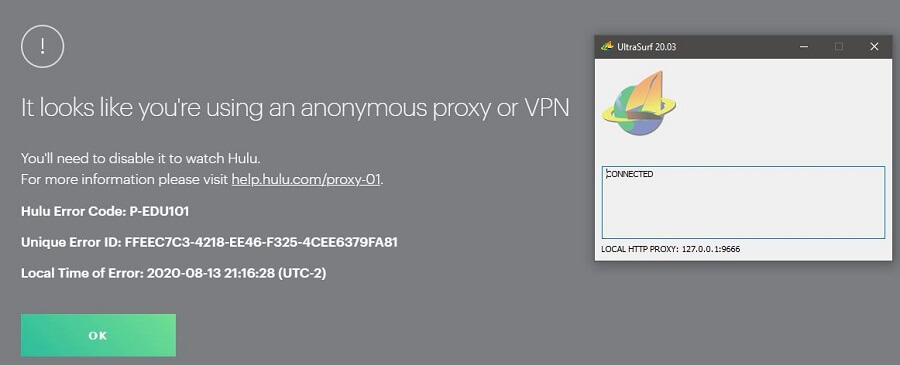 What about DAZN? It didn't work. If this is something important for you, we recommend you have a look at the best VPNs that are actually working on DAZN.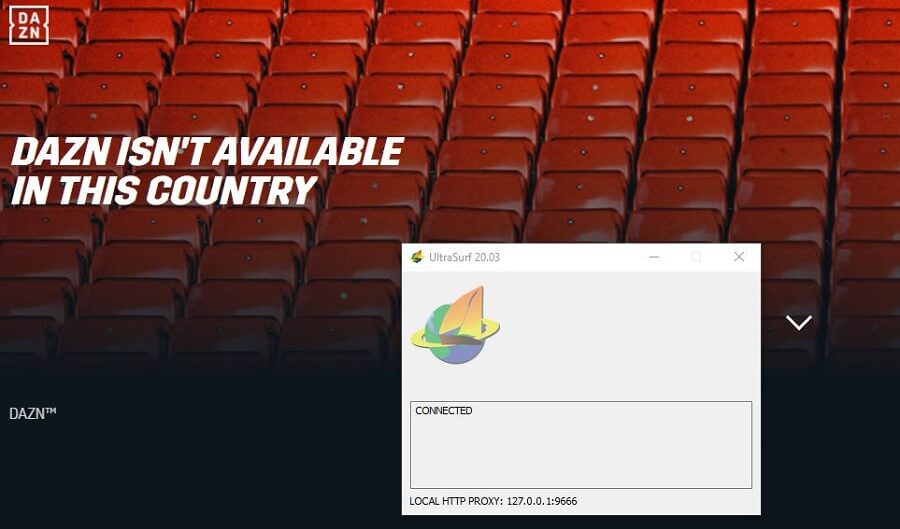 The strange thing is that Amazon Prime Video actually didn't detect that we're using this service. We managed to unblock and watch movies on it – wow!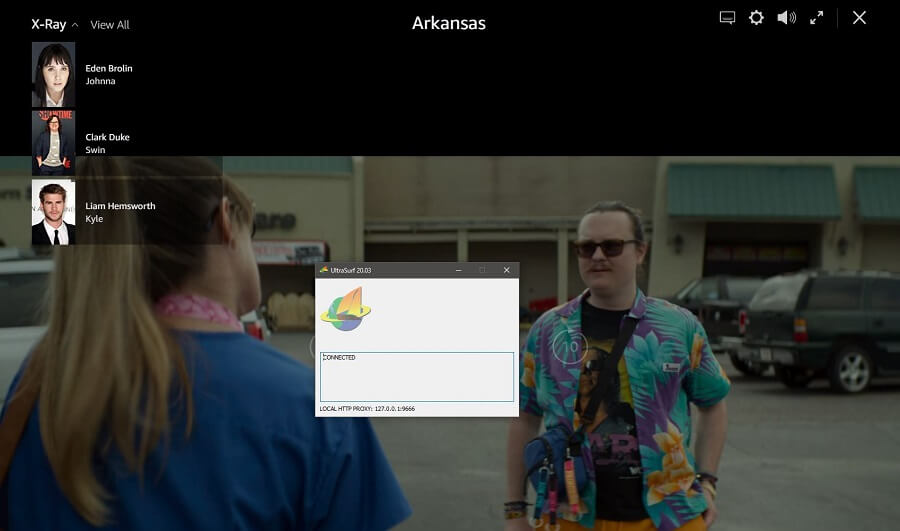 HBO GO is another platform we unblocked while doing this Ultrasurf review, but despite that, slow speeds hindered our streaming experience.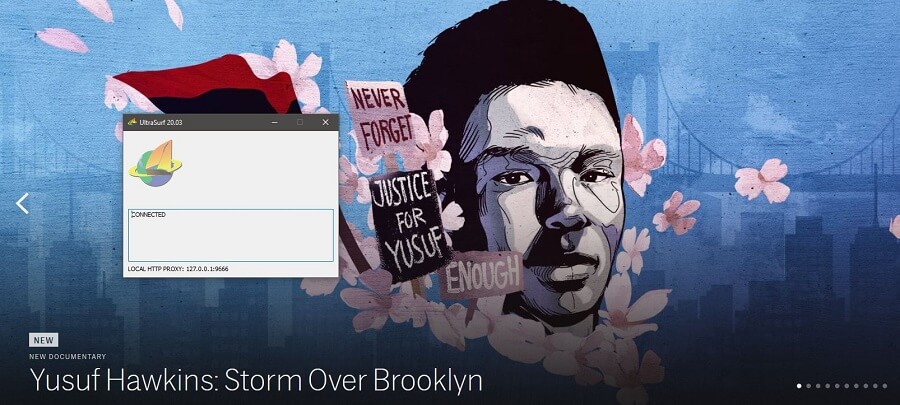 In our review, we always test BBC iPlayer if the VPN has a UK server. Ultrasurf VPN doesn't, so it can't unblock BBC iPlayer.
All in all, this provider is a really bad choice for streaming. It won't unblock sites successfully or let you gamble from abroad any time soon. We recommend CyberGhost for that, with its 7,000 high-speed servers.
Confidentiality, Security & Logs
Being from the United States, Ultrasurf VPN doesn't have good things going on for itself. It's a part of the 5 Eyes, with one of the worst jurisdictions on the planet. We can say the same for VPNs from Canada, Singapore, New Zealand, and the UK.
Another provider from the US, IPVanish, is a decent choice because of its zero-log policy, but even then, you never know what you can expect. Let's take a look at the privacy policy and see if the provider will hammer down another nail in its coffin.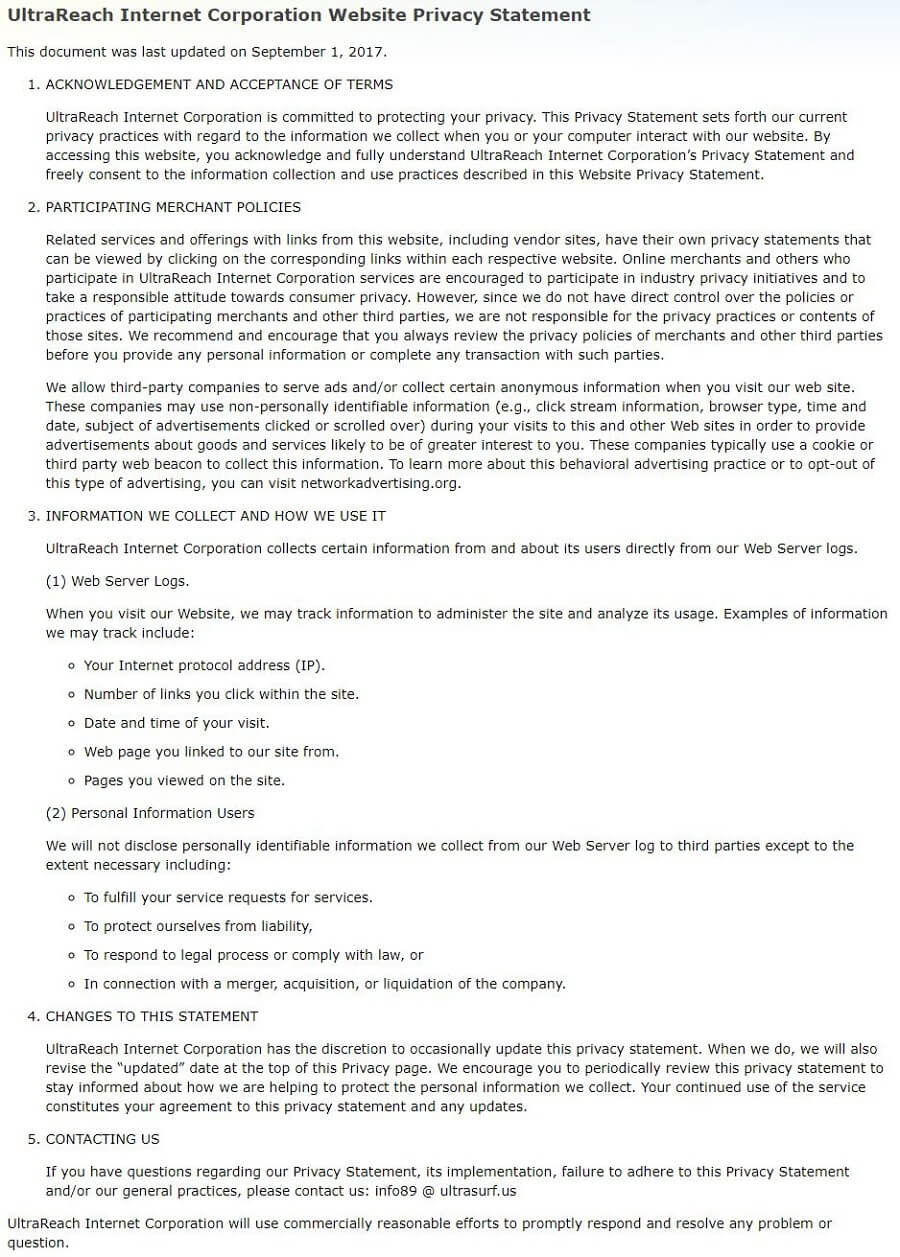 What you see above is the whole privacy policy, with no parts cut. Take a look at the second paragraph. The provider allows third-party companies to "serve ads and/or collect certain anonymous information."
Now, look at what they collect – stream information, timestamps, advertisements you clicked on or even scrolled over! What the provider collects? Your IP, timestamps, pages you visit, and so forth.
Allegedly, they collect this info only in regards to their website but that couldn't farther from the truth. The site doesn't have any ads and looks like it's made in the 90s, with no updates since.
Oh, and another info that we need is that the privacy policy is updated in 2017 last time. The developers are probably chilling somewhere, popping beers, and thinking about something else, and not Ultrasurf VPN.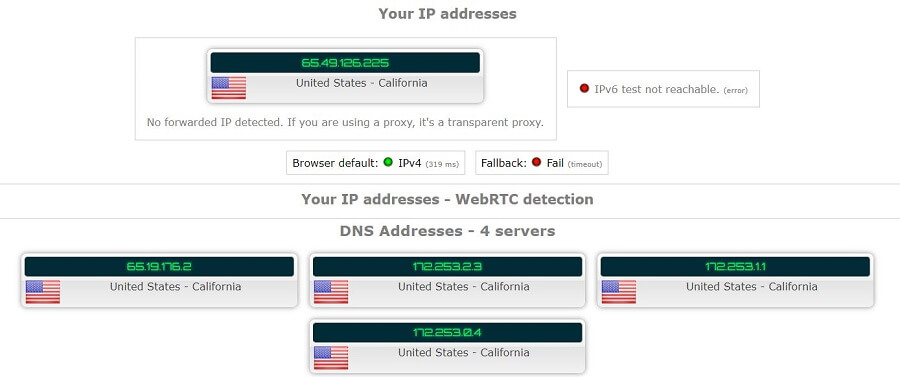 Thankfully, there are no IP leaks but only when accessing through the browser, as intended. If you close your browser (Ultrasurf) window and use another window, it'll show your IP and DNS, as if you were not connected.
As for other security features, don't expect anything. There aren't any words about encryption, no kill switch in the app, or the ability to change protocols.
Can I Do Torrenting Safely With Ultrasurf VPN?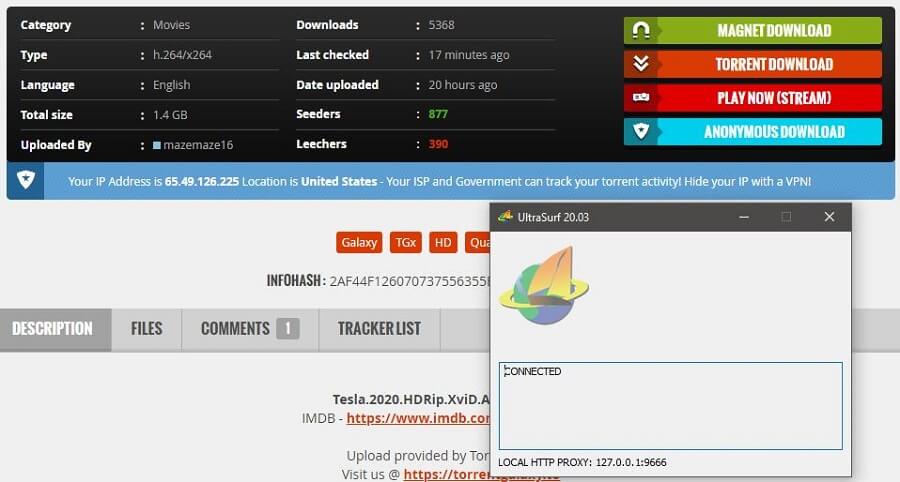 We mentioned in our review that Ultrasurf VPN is more like a proxy than an actual VPN, and that's indeed true. When we visited 1337x using the browser, it showed us a new IP we got from the provider.
And that's enough to download a torrent file, but not the contents of that file. To make things clear, you can download a small torrent file and open it in your torrent client. But as soon as your BitTorrent or uTorrent starts downloading, your connection isn't encrypted.
The reason being is because encryption is active only when in your Chrome browser. So, you can't torrent safely with Ultrasurf VPN.
Can I Use Ultrasurf VPN to Bypass Censorship?
If we visit the "About" section of the website, we'll see that the provider's goal is to provide a free service for users in China. They wanted Chinese residents to be able to bypass censorship and enjoy the internet freely.
The moment we read it, we've sent the app to our Chinese testers, to let them see if the app really works. And you know what? It sucks! Even through the browser, they couldn't access Instagram, YouTube, and Twitter, as they smashed into the Great Firewall.
Ultrasurf VPN is very bad at unblocking sites and bypassing censorship in China, that's for sure. That's not to say that it'll serve well in other countries. If you want to bypass censorship in this country, Iran, Iraq, UAE, or Russia, we recommend NordVPN with its obfuscated servers.
Pricing and Plan Options
Despite being a free provider, Ultrasurf VPN has a very disappointing offer. If free providers are what you're interested in, we can suggest Windscribe, ProtonVPN, or Hide.me's free plan.
Free providers are all but great for your privacy and speed, so if you can, avoid them. Some of the cheapest VPNs around are CyberGhost and Surfshark and they'll provide amazing performance for as low as 2 bucks a month!
How Can I Contact Ultrasurf VPN?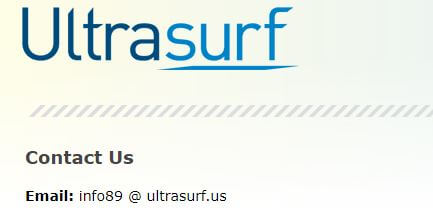 Contacting Ultrasurf VPN is a piece of cake. You just need to visit the "Contact Us" page and find the provider's email. We're glad that they could afford a business email at least – thank God!
The main issue with it is that it's practically useful. We emailed them for some general questions, only to wait for an answer for more than a few days. It looks like developers completely abandoned this project, knowing how lackluster it is.
On Google Play, it obviously gets a pass, but for PC users, this is the bottom of the barrel.
Other Things You Should Know about Ultrasurf
We pretty much said everything about the provider that you should know, but to make things completely clear, let's mention a few other relevant things.
Number of Servers and Countries
The odd thing about Ultrasurf is that it doesn't mention the number of servers and countries.
We tried connecting and disconnecting multiple times, only to get connected to either of two countries – the Netherlands and the USA.
Now, we don't exactly know how many servers the provider has, but that number is probably a single-digit one, as we said.
Number of Simultaneous Connections
To use the app, you don't have to sign up or sign in, so there aren't any limitations in terms of simultaneous connections. If you have 10 phones in your house or 10 computers, all of the devices can download the app and use it freely.
What Do Other Users Say About Ultrasurf VPN?
Even though it has more than 10 million downloads on Google Play, Ultrasurf VPN isn't a very popular and respectable provider in the world of cybersecurity. We found a few reviews from Reddit and Google Play, which we'll analyze and see if they're favorable.
The first review about Ultrasurf comes from Reddit:

This user says that the provider is more like an HTTP proxy than a VPN, which is completely true. He implies that users shouldn't use it for torrenting due to its different function, which, in all honesty, doesn't work properly – and that's bypassing censorship.

The new review on Google Play from July 2021 is all but favorable. This user complains about very slow speeds and the fact that the VPN doesn't hide your location properly. Moreover, he says that the connections are unstable and that the provider turns itself on and off constantly.
Logically, it's a one-star review for Ultrasurf VPN.
Conclusion: Should You Take It?
Let's not waste our and your time.
It's pretty clear that Ultrasurf VPN isn't worth a shot. Even for a free VPN, it's a provider that doesn't live up to the standards, although it ticks all the boxes that free providers usually come with. Slow speeds, unstable connections, small server network, and inability to unblock streaming sites.
In short, the provider is basically useless, except if your standards are all-time low. A much better and compelling solution is ExpressVPN, with the fastest speeds around and 3,000+ servers around the globe.