VPNs nowadays are jam-packed with different features that make them safe and secure. The top providers on the market are a prime example of this, as they offer flagship features for their premium users. One of the features we want to talk about in this article is called Double VPN. If you're not sure what it is or if you need it, we recommend staying along for the ride and learn more about this promising functionality.
How Does a VPN Work?
To be able to explain how a Double VPN works, we need to quickly go over how the "normal" VPN works. When you connect to a server, your connection is wrapped inside the so-called VPN tunnel.
This tunnel spans from your computer to the internet or the site you want to visit. This way, your traffic is hidden and encrypted, making it invisible. We have an image from ExpressVPN that will illustrate that for you:

As you can see, the tunnel prevents your ISP or hackers to intercept your data, allowing you to keep yourself safe and anonymous online. However, we need to bear in mind that this is only one layer of security.
You get one encryption and one tunnel, which is enough to make you safe and secure.
Double VPN – Does it Work the Same?
What about a Double VPN? Now that you know how the VPN works, you can pretty much anticipate how this functionality works as well. In short, this feature is exactly what it sounds like. Double EVERYTHING – encryption and tunnels.
This means that your traffic is now encrypted two times and that it passes through two tunnels before it reaches its destination. Theoretically, this functionality should work like this:
When you connect to the server, the encryption takes effect.
Your encrypted data is encrypted once again, adding a second layer of encryption.
This data now goes through the first VPN server, where the second layer of encryption is eliminated.
Now, with only one layer of encryption, the data enters the second VPN server.
The second VPN server eliminates the remaining encryption, making your data decrypted.
Your data now arrives at its destination i.e. the website, app, etc, etc.
We're talking about the outbound data, but the process is the same for inbound data, although in reverse. However, providers that claim to offer this feature don't always hold their end of the bargain, which we're going to talk about in the next section of the article.
Pros & Cons of a Double VPN
Before talking about benefits, let's quickly go over the drawbacks of the double VPN feature.
Cons
The configuration we described above is called "nested" Double VPN, which is the ideal case that providers should use.
The thing is that not all providers encrypt your data twice. Instead, they just send that data through two servers and call it a Double VPN, which couldn't be farther from the truth. They will add a single layer of encryption, and when the data reaches the first server, that encryption is removed.
Then, the unencrypted data goes through the second server, which can read it fully since it has no encryption. A feature configured like this is detrimental to your privacy and of course, we don't recommend it. Of course, this is a potential drawback that you might or might not encounter.
Other drawbacks include slow speeds and the inability to "chain" together the locations you want. Given that your data passes through two servers, the speeds are slower, which can make a difference if you have a low-end machine.
Furthermore, choosing the locations you want is impossible, as the provider will give you some of its static configurations. Therefore, you can't choose the two locations you want.
Pros
The main benefit of this feature is impeccable security. Let's say someone tries to intercept your traffic. He may compromise the first server and see that your data is coming from a PC. However, the hacker can't bypass the second server, so he can't see your online activity.
Get NordVPN to Enjoy its Double VPN feature >
Conversely, if a hacker intercepts the data on the second server, he can't go past the first one. In that scenario, the hacker won't be able to trace the source of the data. If you really care about your security online, Double VPN will be a great feature for you.
However, this layer of security is not very important. In 99.99% of cases, single encryption and tunnel will be MORE than enough to let you access the best torrent sites safely or remain anonymous online.
Who Offers a Double VPN Feature? What is the best choice?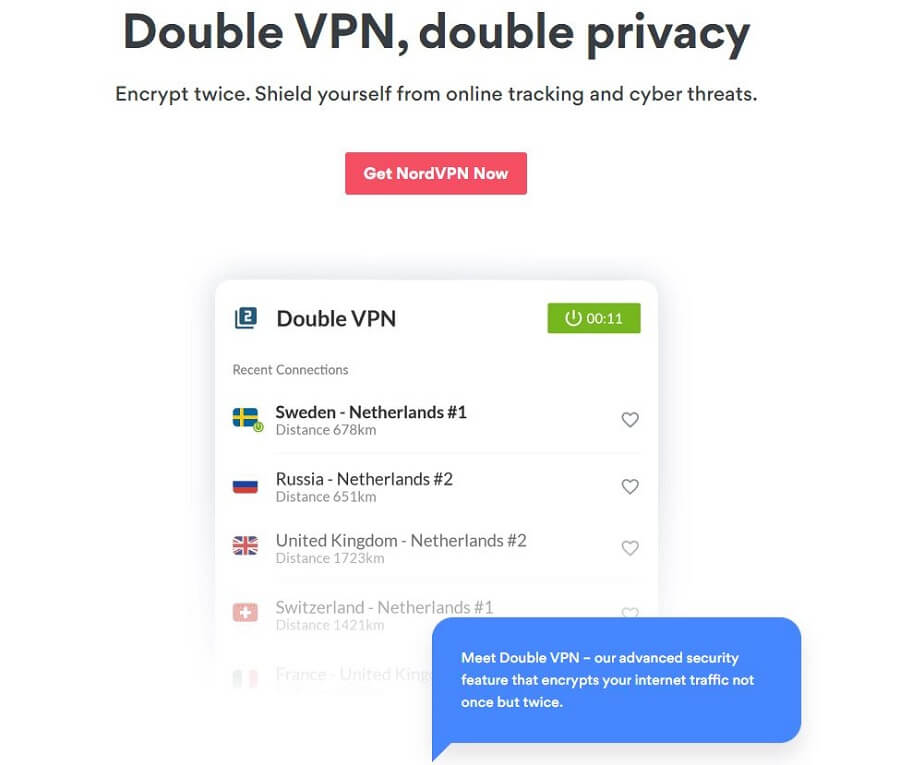 The answer is simple: NordVPN. NordVPN offers a Double VPN feature and it does it so well, that it's our recommended choice without even thinking about it. Using this feature on NordVPN service is very easy. You just have to visit the server list on the left, click on the Double VPN option, and choose from the few presets that the provider offers.
As we said, you can't choose which two countries to chain together, but that's the main drawback of every provider that offers this feature. On the brighter side, NordVPN implements it very well, offering minimum speed reductions, all while providing top-grade security.
NordVPN is great for torrenting and streaming as well, as it gives you dedicated servers (but only for P2P activities though). Plus, with its zero-logging policy, you can rest assured that no one will get their hands on your personal info.
You can check our NordVPN review here to know more about the provider.
Can I Use Two Providers for a Double VPN Configuration?
Theoretically, yes, but in practice, no. We tested this a few times, combining different providers each time. In every case, the second VPN wouldn't want to connect, despite using a different protocol.
If you're persistent, you can do a fair bit of tweaking to make it work, though. However, we don't think doing that is worth your time or effort. NordVPN is very cheap, yet it allows you to enable this functionality in no time.
Therefore, we recommend NordVPN if you want to fully take advantage of the double VPN feature and enjoy impenetrable security and privacy.