If you thought China, Russia, and the UAE are not free countries, you probably haven't heard of Saudi Arabia. This country, although having beautiful cities and landscapes, represents one of the worst places regarding internet freedom. Like any Muslim country, this one has some harsh internet laws that, if broken, can lead to some serious consequences. Because of that, we've decided to give you the name of the best VPN for Saudi Arabia. It will help you regain your freedom and prevent you from falling into the jaws of the country's government just for visiting a website.
Why You Should Use a VPN in Saudi Arabia?
Before we move on to our top picks, we must explain why using a VPN in Saudi Arabia is a must. So, without further ado, let's see why this service can be a lifesaver in this case:
Avoiding Government Surveillance
If you're a person with a weak stomach, we don't suggest reading the following few sentences. With the disclaimer out of the way, let's get into the case that transpired on 2 October 2018. That day, a well-known Arabian journalist Jamal Khashoggi visited the Saudi Arabian consulate in Istanbul, Turkey. His goal was to obtain some documents for his marriage.
However, while CCTV recorded him entering, his exit was never recorded – because he died inside. Why? Well, because he was brutally killed or better said, dismembered with a bone saw. The murder was ordered by Saudi Crown Prince Mohammed bin Salman, as the CIA concluded in November 2018.
The reason for this assassination was that he, like every journalist, voiced his opinion about the government. And, as you can see, it's very dangerous doing that in this country. Furthermore, the government there also reads and monitors your messages and browsing history.
So, even if you just visit a particular website related to gambling, porn or LGBT, you can get into trouble. Muslim countries are known for their hate towards this kind of stuff, especially porn or religion. If you live there or you're just a tourist, never speak anything about their religion. Or, if you're a journalist, have a VPN functional by your side while in KSA.
It will encrypt your internet connection, hide your IP, and let you freely use the internet. It will even be possible to play poker, despite the prohibitions and restrictions.
Unblocking Websites
You know that we always talk about geo-restrictions. But, in this country, you'll see that even social media websites are blocked. After all, this country has a 7/100 ranking on the Freedom House website, which is considered 'not free'.
Despite Netflix, Hulu, HBO GO, and many other streaming websites being blocked, the residents of this country still love watching some movies and TV shows. However, the local content there is mainly censored since the Saudi royal family that ordered the aforementioned assassination governs the country.
If you want to access some of the sites we mentioned, you'll need the best VPN out there in Saudi Arabia. Beware that only the premium providers can help you achieve this effect, though. They are rock-solid in terms of security and can easily bypass the country's surveillance and website blocking.
Torrenting Safely
Last but not least, we'll talk about torrenting. While the government in this country doesn't have anti-torrenting laws, it's important to keep yourself secure. Because, if you accidentally download something that they deem illegal or inappropriate, you can get into trouble.
Whenever you're torrenting, we suggest you use such a service. It will mask your IP, making you invisible to your ISP and the government. And with that, you can download torrents without taking risks that might compromise your security and freedom.
Best Providers with Servers in Saudi Arabia?
Traveling abroad as a Saudi Arabia resident often means missing your favorite local content. But, if you have a service like this, you can forget about this issue. Here are our top choices of VPN providers with servers in Saudi Arabia:
HideMyAss: HideMyAss is a provider we reviewed recently. While it's not the best provider in the world, it's a solid option for people in this country. It has 2 servers in Riyadh that will allow you to access local content and enjoy your internet browsing. Just know that it doesn't have a zero-log policy, so use it with caution.
VyprVPN: VyprVPN claims that it's the fastest provider in the world. This isn't true but it's true that they have some high-speed servers in Riyadh. And if you want to use it for other locations, they offer 700+ servers worldwide, which is enough, given how cheap the service is.
CyberGhost: finally, there is CyberGhost, a provider with 6,000+ servers and 24 of them in Riyadh. This Romanian giant is known as one of the best providers in the world, offering rock-solid security and a no-log policy.
Using these providers is like a walk in the park. You need to get a subscription, download the respective apps, and start enjoying your online freedom.
Best VPN Providers for Saudi Arabia
Those who aren't interested in local content might not necessarily want servers in this country. For them, we have a special list of best providers in 2021. Let's review these providers and see why they're so good!
1. ExpressVPN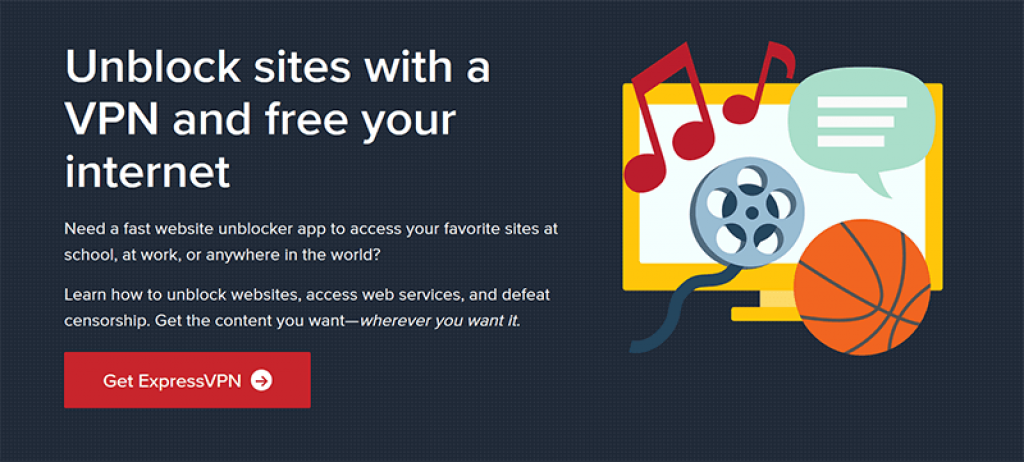 ExpressVPN is the fastest provider in the market. However, it's not without competition. Standing your ground a few years and repelling all the companies trying to take your place is a tough thing to do. Luckily, this provider never disappointed us.
Aside from its blazing-fast speeds, it's also very secure, which is crucial for this country. Coming from the British Virgin Islands, it offers a crystal-clear no-log policy. Furthermore, you get 256-bit encryption, an automatic kill switch, and DNS and IP leak protection.
When it comes to bypassing geo-restrictions, ExpressVPN is also very good. You'll be able to access Netflix, HBO GO, Disney+ or any other geo-blocked websites. Important to mention is its split tunneling feature that works flawlessly in every country.
With it, you can route one part of your traffic through your fake IP, and the other one through your real IP. For instance, you can watch Netflix with a fake one, and access your bank account with your native IP address. If all this seems too good for you, you're probably thinking if it's legal.
Don't hesitate to read our article on the legality of such a service. Also, don't hesitate to take advantage of its 49% discount and 3 months free for a 12-month plan. Plus, you get a 30-day money-back guarantee, so smash the button below and see it for yourself!
Enjoy ExpressVPN in Saudi Arabia >
2. NordVPN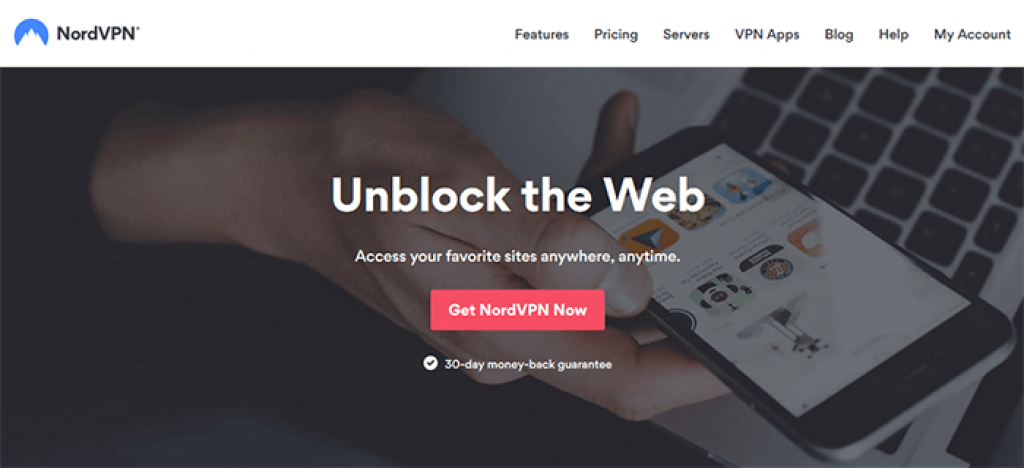 NordVPN comes from Panama. This provider successfully governs 5,500+ servers in 60 countries worldwide. This is perhaps one of the most popular VPN providers in 2021 (in KSA included) and there are several reasons for that.
The first one is that it's very fast. So, whether you're torrenting or streaming, you can enjoy high speeds. The second one is that it's very secure. Aside from military-grade encryption, it offers Double VPN and Onion Over VPN protocols.
These two are here to make your connection even more secure. We also like the addition of CyberSec, a feature for blocking annoying ads and malware. This will help you when accessing streaming sites that are almost always filled with ads.
Speaking of streaming, you'll be able to unblock Netflix, Amazon Prime Video, and other sites easily. Right now, NordVPN has a huge discount for a 3-year plan, so if you're going to make a choice, make it soon. The discount will soon expire!
Stay Safe With NordVPN in Saudi Arabia >
3. CyberGhost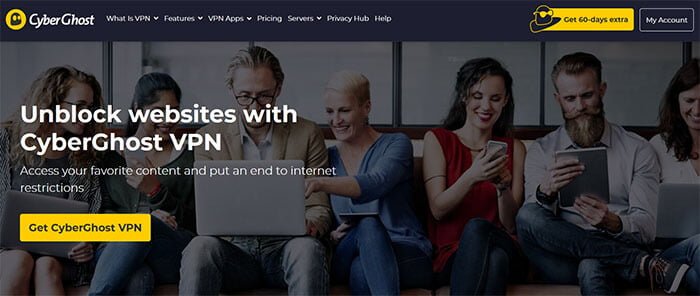 We'll mention CyberGhost once again because it's a fantastic provider. Not only does it have servers in Saudi Arabia but it also has ~6,000 servers worldwide, in 91 countries.
If you get tired of your local Arabian content, you can always connect to the US server and watch some Netflix or HBO. The provider has dedicated servers for this purpose, and they work very well.
The dedicated servers are here either for torrenting or streaming, so you can enjoy these activities as intended. Since it's from Romania, far from the 14 Eyes, you get every security feature you can possibly imagine. 256-bit AES encryption, a no-log policy, DNS and IP leak protection, and so forth.
If you're a newbie in the world of cybersecurity, we suggest you go for CyberGhost. It's very easy to use, the apps are lightweight, and it costs like a pocket change per month.
Enjoy CyberGhost Features in Saudi Arabia >
Summary
Saudi Arabia is a country that'll leave you with lots of beautiful memories if you visit it. It's a very rich country with a well-developed infrastructure with only one downside – the lack of internet freedom. But, if you're traveling there on your vacation, you now have plenty of choices to choose from.
Our suggestion is, as always, ExpressVPN. This provider has everything you need for browsing the internet safely and anonymously in any country. While it's not among the cheapest VPN providers you can use in Saudi Arabia, we promise you that you'll get every dollar worth when you buy it.
If you want to save some cash, you can go for CyberGhost or NordVPN. These two providers are excellent in almost every regard.