Ireland is an island among the largest islands in Europe. The great thing about this country is that it's free in terms of internet access and political rights. But, as Great Britain, its neighbor country, has a very strong connection with the 14 Eyes alliance and NSA, there are some concerns regarding safety and privacy. The easiest way to stop worrying about this is to secure your internet connection. To do that, you'll need a reliable VPN. And if you don't know which one to choose, say no more – we're here to help you!
Why You Should Use a VPN in Ireland?
If you live in Ireland and you're enjoying your internet freedom without a service like a VPN, you'll probably ask why do you need it. Below are the reasons for using a Virtual Private Network in this country:
Accessing Foreign Streaming Sites
The United Kingdom is one of the best countries for streaming online. The popular BBC iPlayer platform is available only there, and if you've ever accessed it, you know how good it is. However, this country isn't on the same level as the countries from the UK, mainly because it isn't a part of the UK. Because of that, BBC iPlayer isn't available in Ireland without a VPN.
And because of that, they don't have the richest streaming catalogs, especially when we talk about Netflix. Netflix is a platform that rapidly expanded in the past few years. Nowadays, it's a home of more than 5,000 shows and movies which, unfortunately, aren't accessible worldwide.
So, if you want to access bigger Netflix catalogs from this country, you'll need to somehow change your IP to the American one because the USA has the largest catalog. A Virtual Private Network is here to do exactly what we said.
Many streaming platforms fall into this ballpark and not just Netflix. We can name HBO GO, Sky TV, Hulu, Disney+, DAZN, Amazon Prime Video, 10Play, and many more. Services like those are not usable in this country, so don't hesitate to get a subscription if you want to enjoy streaming.
Staying Safe While Using Public Wi-Fi Networks
Whenever a country has free internet access, it means that the government isn't very keen on conducting surveillance. The Freedom House report gave Ireland a 97/100 ranking, which is on par with Denmark – another free country from Europe.
This is, however, a double-edged sword. If the government isn't protecting the network, hackers can sweep through it and steal crucial information about the users. Public Wi-Fi networks are like a sanctuary for hackers. They can hack the network, steal data from dozens of users, and leave as nothing happened.
Although this doesn't happen very often, it's important to stay safe whenever using the internet in public. Having your data stolen means compromising your entire life, especially if the hacker gets to your bank account or PayPal.
Unblocking Torrent Websites
In 99% of the cases, you can access the internet freely in Ireland. But, there's always that 1% that pierces our eyes. If almost all the websites are accessible, what could potentially be inaccessible? As the title says – torrent websites.
The Internet Service Providers from Ireland have a nasty habit of blocking different streaming and file-sharing websites. For example, the largest torrent website, The Pirate Bay, is blocked for a few years now. Other torrenting sites include RARBG, Putlocker, and a couple more.
Interestingly, the ISPs also blocked EZTV, which is a legit streaming channel. While many people used BitTorrent without problems a few years ago, things have changed a lot since then. In 2021, ISPs are speculated to plan on using a three-striker copyright violation policy.
This means that, if you're caught downloading copyrighted material, you'll receive one warning. After receiving the third warning, your details will be provided to the copyright holder and you'll get into serious trouble.
For that purpose, it's better to pay two or three dollars a month for a VPN that is working properly in Ireland than having to pay 1,000+ dollars when you're caught torrenting.
Best VPNs with Servers in Ireland
If you're from Ireland and traveling abroad, you don't have to worry about missing your favorite local content on RTE1, TV3 or TG4. With a VPN, you can get an Irish IP address and stay in touch with your homeland. Here are our top providers with servers in this country:
ExpressVPN: ExpressVPN has 3,000+ servers in 94 countries worldwide. A portion of these servers is located in Ireland and these servers support all the protocols and features that the provider offers. Simply put, it's your best choice.
NordVPN: It is a very large provider that owns 5,500 servers in 60 countries around the globe. With over 60 servers in this country, you'll never run out of options, regardless of your internet activities.
CyberGhost: CyberGhost is a provider from Romania that boasts 6,000 servers worldwide. In Ireland, it has 44 servers in Dublin, supporting all the security features from the provider.
Getting to use your chosen provider is very simple. Click on one of these three choices, buy a subscription, install the respective apps, and enjoy your anonymity online. Oh, don't you know what a VPN is? You can learn more about it on our website.
Best VPNs for Ireland
As we always do, we'll give you the best VPN choices for Ireland (as you've just seen, they also all have servers here). Here are our top picks for our Irish friends:
ExpressVPN
NordVPN
CyberGhost
That's not all! We'll review these providers and see why they're the best choices.
1. ExpressVPN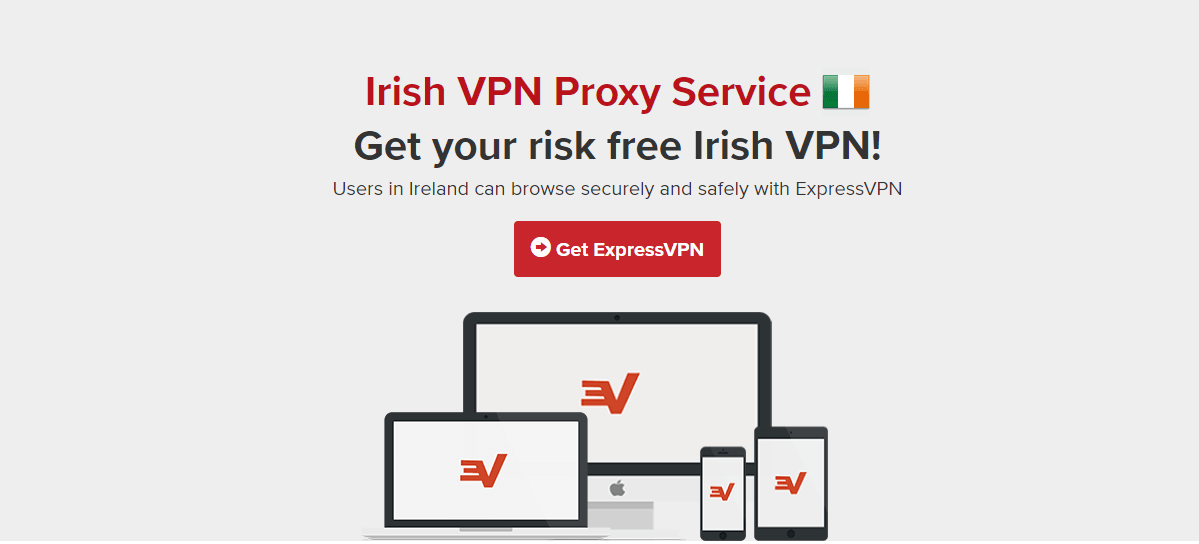 ExpressVPN is the king of the cybersecurity. It's a company formed in 2009 and in 2021, it has more than a decade of existence. Being here for that long, this provider mastered what it takes to keep you safe and secure online.
For the start, it's the fastest VPN provider you can in Ireland. Not only it can stream 4K content easily but also unblock geo-restricted websites with ease. Just name the website you want and you'll see how swiftly it works. We managed to unblock Netflix, DAZN, Disney+, 10Play, ABC, and many other streaming sites.
We also like the addition of P2P support, which is excellent for torrenting. In this country, you'll also want a no-log policy if you plan on engaging in P2P file-sharing. Well, this company is based in the British Virgin Islands, far from the 14 Eyes, meaning that you'll get it.
As we speak, ExpressVPN offers a 49% discount and 3 months free for a 12-month subscription plan. If you want zero compromises, fast speeds, and secure connections, we suggest you get this one. You can do that by clicking on the button below, in which case, the discount will be applied.
Grab ExpressVPN's 49% Discount Here >
2. NordVPN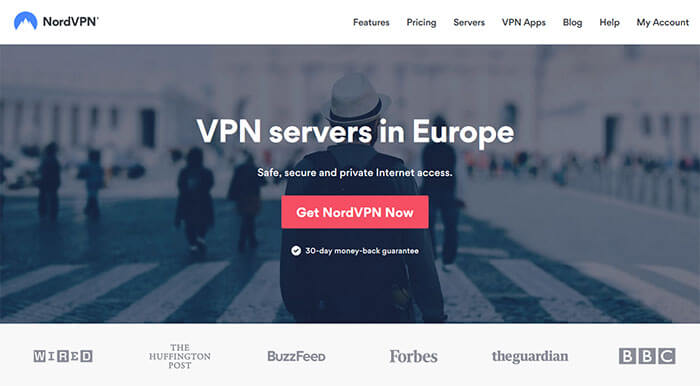 NordVPN is a behemoth in terms of server count. As we mentioned, with 5,500 servers worldwide, you'll never run out of choice. While its best VPN servers aren't in Ireland, these are more than sublime for any of your internet activities.
Torrenting, streaming or browsing the deep web – it's all yours, buddy! Plus, it is also possible to use its application on Fire TV, which will enhance your streaming experience. By connecting to the USA server, for example, you'll gain access to Netflix's largest catalog and from there, you're free to watch whatever you want.
Security-wise, NordVPN is built like a tank. It has military-grade encryption, a no-log policy, obfuscated servers, and much more. We also like the addition of Double VPN, a feature for routing your traffic through two different servers, for added security.
If you want to browse the deep web, as we said, you can use their Onion Over VPN protocol for pairing it with the Tor browser. All in all, this is one of the best choices in 2021 and you won't regret buying it.
3. CyberGhost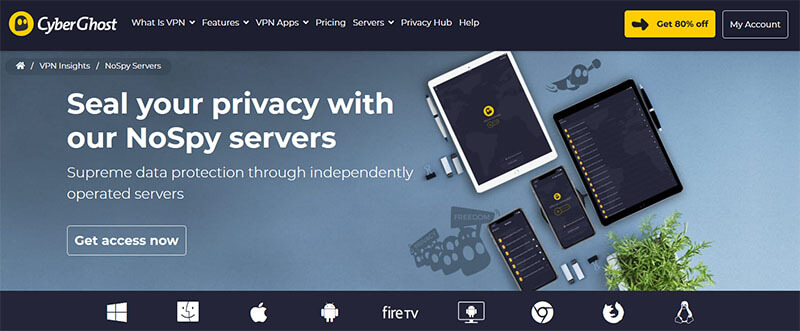 CyberGhost calls its users "ghosties" and we find that kinda cute. But, what's also cute is that the provider rocks! The addition of dedicated servers is one of the best features you can get here. With them, you'll be able to adapt your connection to either streaming or torrenting.
The provider will offer you the best servers for the purpose you've selected and all you need to do is to establish a connection. Also, if you don't want to spend a fortune on a service like this, CyberGhost offers some cool discounts this year. Not only it is dead cheap but also very simple to use, making it a perfect choice for newbies.
Saving some hard-earned cash on a VPN for Ireland is possible. You just have to know where to look. If you've already become a ghostie, you know how great CyberGhost is!
Get a good deal on the 3-year subscription from CyberGhost >
Summary
To summarize, having a service like a VPN in Ireland is always a good idea. However, even if you don't have it, you won't get into very serious trouble – for the most part! Don't forget that the government won't turn a blind eye to torrenting anymore, so you'll still need to somehow hide your IP address.
On top of that, if you want to stream all the latest and greatest content, you'll also need the best provider out there. That decent provider is the one we recommend – ExpressVPN. As we said above, this is one of the best, if not the best providers on the market.