There is a huge choice of options for streaming TV in the UK. Some of the most popular include ITV Hub, BBC iPlayer, My5 and 4OD. Between them, the streaming services offer access to soaps, documentaries, music, sports and more, providing you reside in the United Kingdom. If you venture outside of the country, you will find that you cannot access the sites. Not to worry as we know a trick to unblock and watch British TV in Canada and it is still working in 2021.
Not only does our trick allow you to bypass the geo-restrictions to get access to television from the UK it also allows you to unblock any websites. For instance, you can stream UK Netflix while abroad, and you can access numerous other sites that might be restricted.
So let's take a look at how you can beat the restrictions to stream British Television.
Why and how geo-restrictions are placed?
Once outside of the United Kingdom, streaming sites such as My5 and BBC iPlayer will not work when you try to sign in.
Instead of seeing your favourite TV shows, you are greeted with a notice telling you the website is restricted.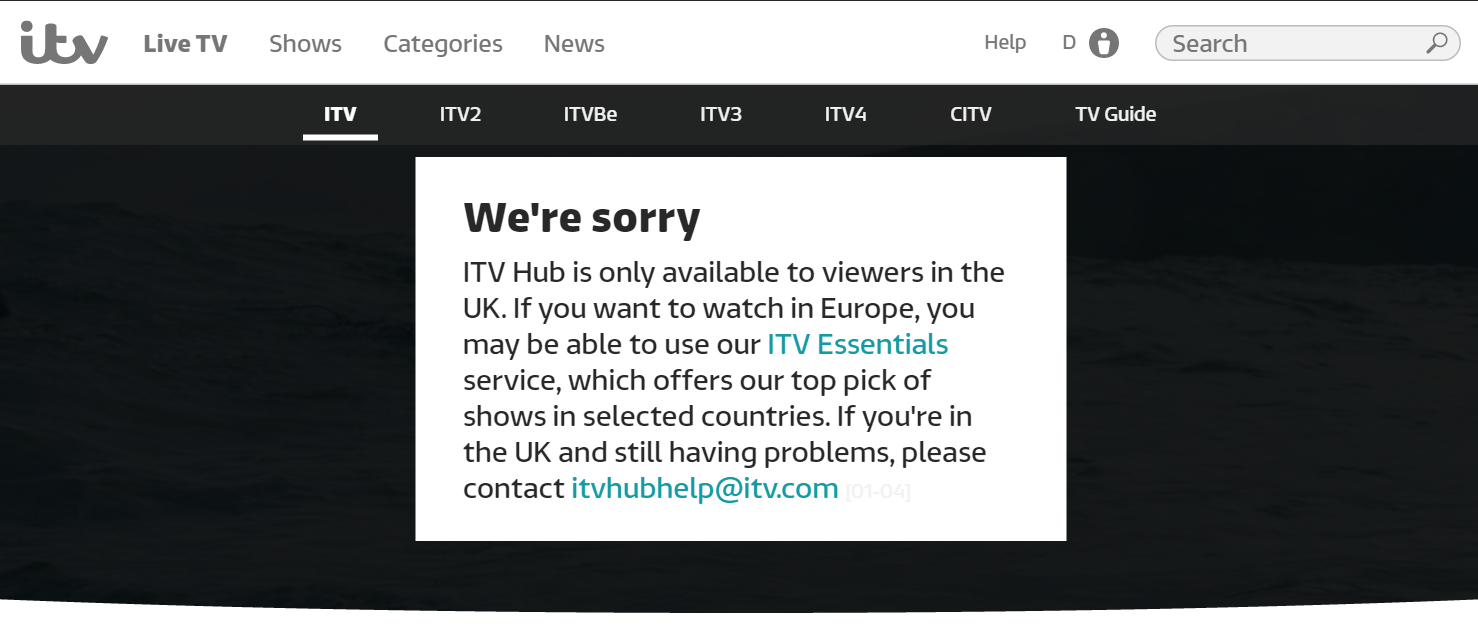 This is because the programs British TV channels show are not licensed for showing outside of the UK and the site knows exactly where you are located.
When you visit the streaming website, it takes notice of your IP address and it will show that it falls within the range of IPs for Canada, not the UK. Therefore, a block is placed on showing you the content.
Get a UK IP address with ExpressVPN >
To be able to bypass the restriction, you need to fool the streaming service into thinking you are in the UK and you can do this using a Virtual Private Network.
How changing your IP address with a VPN works?
When you change your IP address using a VPN you can fool the streaming service into thinking you are still inside the United Kingdom by masking your own IP and taking one on from the country.
At the same time, you also reside behind an encrypted tunnel, which means any information sent over the internet cannot be read.
Therefore, a VPN is the trick to unblock and watch British TV in Canada and it provides anonymity and privacy.
Steps to gain access to British television while in Canada
To change your IP address and mask your own you can follow the steps outlined below.
1. Sign up for a plan with a provider
The first step is to choose which VPN you want to sign up with and choose a plan.
Three top providers that are extremely good at unblocking geo-restrictions are ExpressVPN, NordVPN and CyberGhost.
All of the above providers offer a range of plans with superb benefits. ExpressVPN is the leading provider and it offers huge savings of 49% on a one-year plan.
The provider also offers a six-month plan and a pay monthly one. So, choose your preferred length of plan and go ahead and sign up, then move onto the next step.
2. Download then install apps
To be able to choose a server from the United Kingdom you need to download an app and install it on the device you want to use to get access to streaming services.
For instance, while in Canada you might use your mobile device to stream BBC iPlayer or access any other UK TV channels. Alternatively, you could access channels or websites on your Windows or MacOS computer.
At home, you can use the VPN on any device that connects to the internet if you install it on a compatible router.
So, choose apps for your devices, and then install them.
3. Find the icon and launch the app
The next step to beat blocks and watch television from the UK while in Canada is to launch the app using the icon left by the installation.
A dashboard opens up and this is where you can choose a server that is based within the United Kingdom. ExpressVPN offers access to a range of servers in the country, along with thousands more around the world.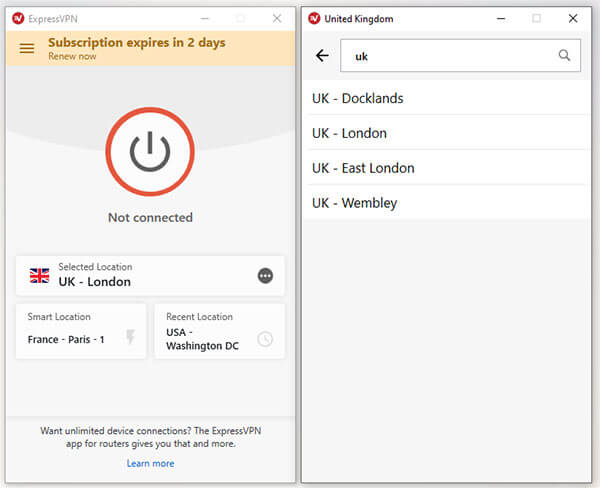 4. Choose a UK based server
It is important to bear in mind that if you want to have the streaming service believe you are located in the United Kingdom you should not connect to a server based in Canada. Instead, you need to choose one from the UK.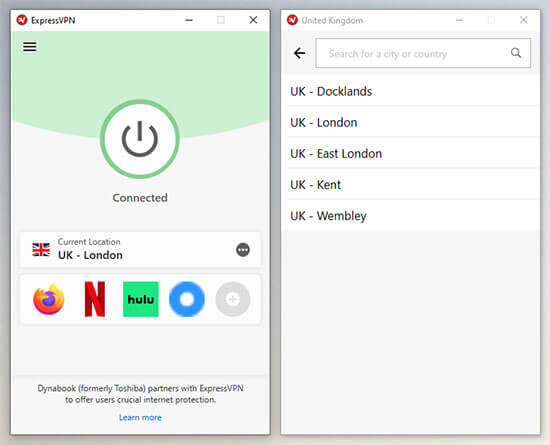 So go ahead, choose a server, and press the "Connect" button to establish a connection to that server.
5. Visit BBC iPlayer or any other British streaming service
When the connection is established, your own IP address is masked. Along with this, you are behind an encrypted virtual tunnel.
You can now visit the streaming service of your choice and watch British TV Shows from Canada.
The benefits of choosing ExpressVPN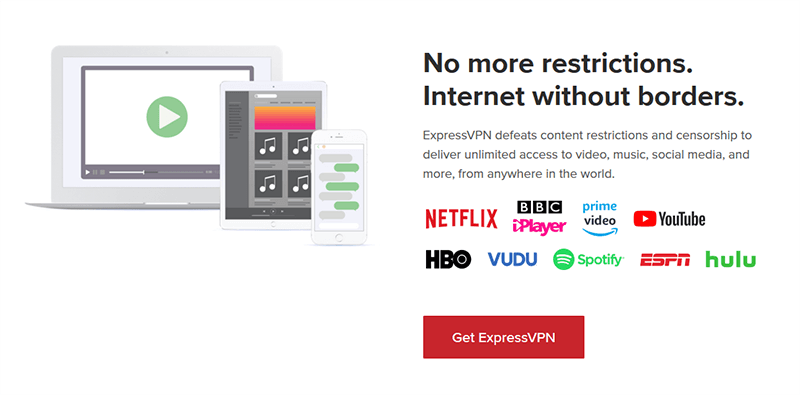 ExpressVPN is our number one choice of provider to watch UK Television (whether it's BBC, ITV, Sky…). It offers numerous features to help you unblock and watch British TV in Canada along with remaining anonymous and secure online.
The provider offers military-grade 256-bit encryption with the OpenVPN protocol, which is the most secure. It also offers numerous other protocols.
DNS leak protection and a Kill Switch are also included. The latter ensures that if the connection to the server drops the internet connection stops. This means that no information can leak outside of the encrypted tunnel.
ExpressVPN offers a choice of UK servers, all of which allow you to watch free British TV channels by streaming online.