The countries in the Middle East might not be the richest in the world. However, Kuwait is still a country with one of the highest internet penetration rates in this region. Still, its residents have lots of problems with constant censorship and geo-restrictions that prevent them from enjoying the internet fully. If you're planning your next vacation in Kuwait, be ready to for this or simply get the best VPN possible. Let's see what are the best VPNs for Kuwait in 2021.
Why You Should Use a VPN in Kuwait?
Using this software will grant you online freedom but also safety and security when visiting websites. For those who worry about the legality of this service – using a VPN is legal in most countries, including Kuwait. With that in mind, let' see why using it here is a good idea.
Bypassing Censorship
Kuwait wasn't always a censored country. About a decade ago, users enjoyed their freedom online, up until 2015, where things started to take a turn for the worse. The new cybercrime law emerged that year and immediately received a backlash from the residents, with no avail.
Allegedly, this new law is the opposite of what people want, which is freedom of expression. Since then, we started hearing about people ending up in jail, the government imposing fines, and so forth, only for speaking negatively about the government, religion or inter-continental relations.
Furthermore, many activists were targeted, resulting in massive arrests and prosecutions. One of the most popular cases is the one related to Waleed Fares. He got a 10-year jail sentence just for offending someone on Twitter.
That's not all, though. Since 2014, the government let the ISPs control the internet and block certain sites, images, and content in general. Having freedom in Kuwait without a VPN is virtually impossible, which is why you should get it.
Avoiding Geo-Restrictions
Geo-restrictions are all around us and simply put, they're the most annoying part of the internet. Kuwait is nowhere near America when it comes to online freedom, hence it doesn't have access to some of the most popular sites and platforms.
One of them is Netflix, a well-known streaming platform that counts millions of users worldwide. Bypassing this geo-restriction would require a VPN, as it allows you to change your online location and access geo-blocked sites.
Needless to say, streaming platforms such as Hulu, Amazon Prime Video, BBC iPlayer, and Disney+ are all in this ballpark. If you're planning on streaming in this country, don't even think about doing it without a decent provider.
Staying Safe on Public Wi-Fi Networks
Last but not least, you want to stay safe while using public Wi-Fi networks. Many of you sit in cafes all day but you forget one thing – your online safety. Despite being password-protected, public networks don't have any encryption, leaving them vulnerable to the watchful eyes of the hackers.
They can sit there, pull out their laptops, and hack their way into your phone, stealing your data and compromising your online identity. But, if you're using a VPN in Kuwait, you'll hide the IP address you get from the router and instead, assign yourself a new VPN-given IP address, rendering yourself invisible to the hackers.
Best VPNs With Servers in Kuwait
This country isn't very VPN-friendly, so there aren't many servers there. However, we managed to find two of them that will work reliably, more or less. Let's take a look:
HideMyAss: HideMyAss is a UK-based provider with 1,000+ servers worldwide, of which 2 of them are in Kuwait City. It has solid speeds and unblocks almost every major platform. Although it's not our go-to option, it's great for this country.
PureVPN: PureVPN definitely isn't the best VPN provider on the market but it has 3 virtual servers in Kuwait. It unblocks Netflix but it also keeps logs, so use it carefully, especially when watching porn or visiting the Darkweb.
How do you get these providers? It's quite simple. Just click on the provider's name, get a subscription, install the apps, and enjoy limitless internet browsing in Kuwait or any other country.
Best VPNs for Kuwait – Our Top 3 Picks
What if you're from this country and you just want a Virtual Private Network for all purposes? Well, that's fine – here are the best providers to use in 2021:
1. ExpressVPN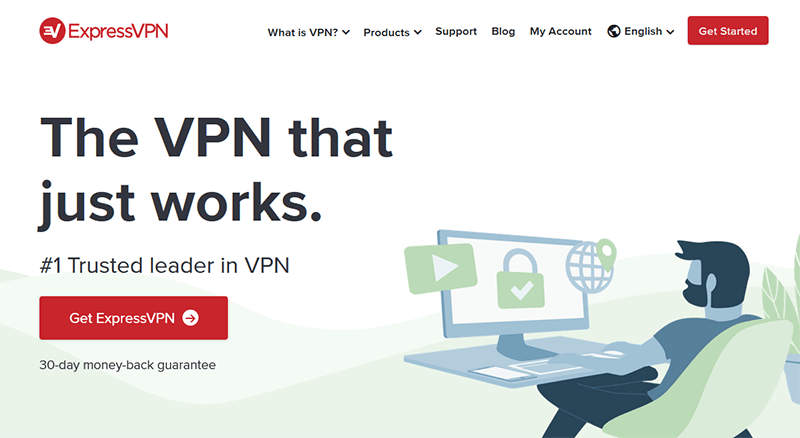 ExpressVPN is an epitome of quality, speed, security, and reliability. It's the fastest VPN on the market, offering neck-breaking speeds for enjoying Netflix or local TV content in Kuwait. With its 3,000+ servers in 94 countries, finding the one you need will be easy, and so will bypassing geo-restrictions.
Speaking of that, ExpressVPN unblocks every major streaming platform. We managed to unblock Netflix, Hulu, DAZN, HBO GO, ABC, Hotstar, and many other platforms. Another thing worth mentioning is security. In case you're scared that someone's watching over you, ExpressVPN will cover you in a VPN-laden shroud so that no one can get close.
There's 256-bit AES encryption accompanied by a kill switch. The provider even protects your IPv6, meaning that there will be no leaks that will compromise your identity. Of course, the zero-log policy is here and it's one of the best we've seen.
ExpressVPN has 24/7 customer support, leaving you some room for questions and doubts. It supports up to 5 simultaneous connections and even lets you use a router with it, which is super neat. Finally, there's a 49% discount and 3 months free for a 12-month subscription plan.
Get a 49% Discount On ExpressVPN >
2. NordVPN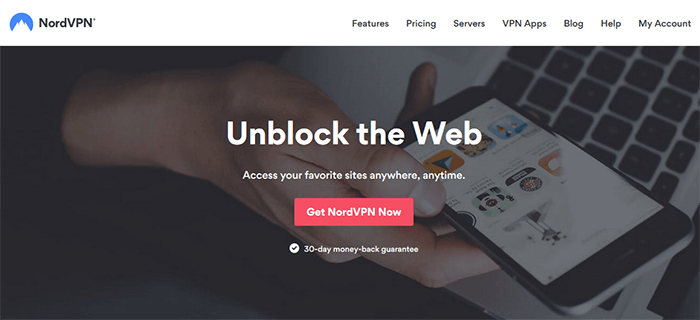 NordVPN is located in Panama, which brings many security perks. Not only it is secure like Alcatraz but also has some fast speeds for enjoying the internet. We managed to play games with it, enjoy Netflix, gamble or just browse through our social media accounts.
The provider has 5,800+ servers in 59 countries, and with a server network this big, you'll never be left without choices. We found it particularly great for blocking ads and trackers, using CyberSec. For added security, there's Double VPN which will route your internet traffic through two different servers.
There's support for routers, which will allow you to protect up to 32 devices in your household. And should things go south, 24/7 live chat support will bring everything back to place in a matter of minutes. All in all, a very good choice for Kuwaiti residents.
Enjoy the Internet in Kuwait With NordVPN >
3. CyberGhost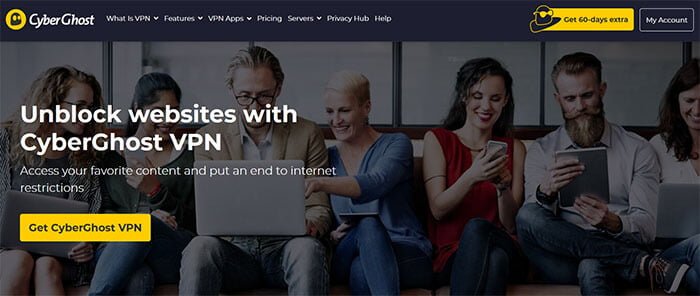 If you want a VPN that won't break the bank, yet give you blazing-fast performance while in Kuwait, CyberGhost is the one to buy. Its 3-year plan is dirt-cheap and the quality of the provider is undisputed. For the start, it offers whopping 7,000+ servers in 90+ countries, which is the largest server network in the world.
Those who love streaming will probably use its dedicated servers for that, as well as for torrenting, which CyberGhost allows gladly. Security-wise, it has military-grade encryption and even an automatic kill switch for every platform.
We like that it supports OpenVPN, too, since it's the most used VPN protocol, and also the best at the moment. CyberGhost doesn't work in China but on the other hand, it's excellent for streaming and unblocking content. Netflix US works flawlessly and so does HBO GO, letting you enjoy streaming to your heart's contempt.
Wanna save some cash on a high-quality provider? Smash the button below!
Summary
Let's wrap up our guide like a burrito. Using a Virtual Private Network in Kuwait is almost a necessity these days. With the government clenching its grip on the internet space of this country, the only way to counter the effect is to use a quality provider, such as ExpressVPN.
It will free you from the leash and let you explore the internet with full freedom. Get it today and you'll get 3 months FREE for your annual subscription – that sounds awesome!