Out of all Grand Slam tournaments, Wimbledon is for many the greatest one. It plays on the grass and as such, it's very unique, but also challenging for many players. With 2021 Wimbledon out of the way, it's interesting to see who will be the next champ in 2021. But, the question is – how do I access and watch Wimbledon live stream easily? Well, let's find that out in our in-depth guide!
Where to Watch Wimbledon Live Stream for Free?
With so many places to watch sports online, it's hard to find the one that extensively covers your favorite sport.
Some platforms are focused on UFC, some on football, and some of them try to cover every major sports event. The main "flaw" with these sites is that they're mostly premium. This means that you have to pay for a subscription in order to enjoy live streaming.
And make no mistake – we're talking about very high prices that ordinary people sometimes won't be able to afford. So, what's the solution?
The solution comes in the form of a free streaming platform, such as RTS. RTS is a group of Swiss TV channels, broadcasting an array of content, ranging from sports to TV shows, movies, and entertainment shows.
This group of channels has a website called rts.ch which groups all of the TV-broadcasted stuff together. If you visit the Sports section, you'll find many live streams, and not only tennis (Wimbledon in particular) but also sports like football and basketball.
However, the main issue here is that it's available only in Switzerland. But, there's some good news – we know how you can access it from anywhere in the world! Keep reading to know how to watch 2021 Wimbledon on a free live stream.
How to Unblock and Access Wimbledon Live?
To unblock any website you want, we recommend using a VPN. A VPN will allow you to change your online location, and as a result, access foreign sites that aren't available in your country.
You just need to connect to a VPN server, which will give you a new IP. This also means that your native IP is protected thanks to military-grade encryption that hides you from the watchful eyes of your ISP and hackers.
Wondering how to use this service to watch Wimbledon live on a free TV Channel? Here are the steps:
1. Subscribe to a Virtual Private Network
The first thing to do is subscribe to a VPN provider. Not all of them will be efficient for watching Wimbledon, so we recommend ExpressVPN – a proven solution.
2. Download and Install the App
When subscribing, remember your credentials. Then, download and install the app you're going to use, open it, and sign in with the credentials you provided a moment ago.
3. Connect to a Swiss Server
Now, it's time to connect to a Swiss server in order to access RTS. Under the connection button, click on the country that appears to open the server list. Scroll down and find Switzerland.
Double-click on it and wait for a few seconds to establish a connection.
4. Visit RTS and Stream Wimbledon LIVE
With the connection established, you got a Swiss IP that will let you access RTS and watch Wimbledon on this free TV Channel. You can do so when the tournament starts, in 2021.
Best VPNs to Watch Wimbledon Live Stream
A reliable VPN will always come in hand if you want to enjoy a smooth streaming experience. Fortunately, we have a list of the top 3 picks for watching Wimbledon live, so you don't have to wander around and search.
1. ExpressVPN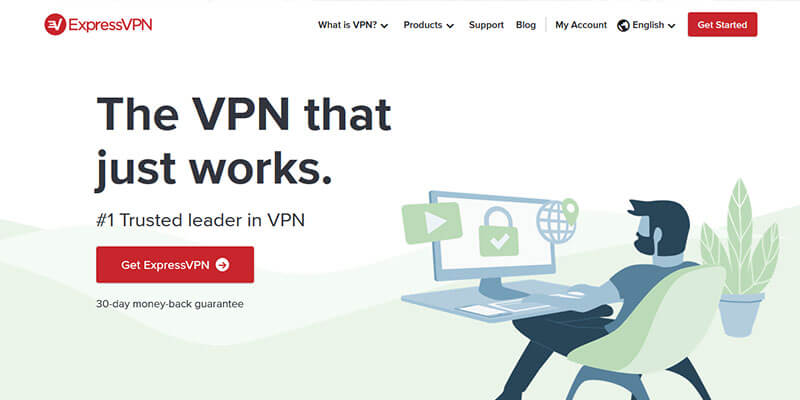 ExpressVPN is regarded as one of the best VPNs ever, and given its placing on our list, we can only agree! There are many reasons for that, one of them being exceptional streaming capabilities. Which are necessary in case you want to watch Wimbledon live stream on a free foreign TV channel.
Its 3,000+ servers are capable of unblocking sites like Netflix and BBC iPlayer, giving you leeway to enjoy favorite shows. Furthermore, the provider works well with RTS, a site that allows you to watch Wimbledon, so you can indulge in some exciting matches.
Another great thing about the provider is its speed. It's easily the fastest VPN around, and for streaming, that's pretty much all you need! Many of our readers use phones to access Wimbledon live stream, and that's okay.
This is a great VPN iPad provider, also available on Android and iOS systems. Needless to say, it'll allow you to watch sports smoothly, given that you have a stable internet connection. Security-wise, ExpressVPN fails to disappoint.
There's 256-bit encryption that will provide complete protection thanks to a reliable kill switch. Being from the BVI, you can also expect it to respect your privacy, which is reflected in its crystal-clear zero-logging policy.
Lastly, ExpressVPN lets you protect up to 5 devices simultaneously, offering unlimited bandwidth for all users. All of this comes at a lukewarm price that is reduced by 49% for an annual plan. On top of that, you get 3 months FREE, making it an unbeatable deal!
Access Wimbledon Free Live Stream With ExpressVPN >
2. NordVPN

There are not many providers out there that could fight equally with NordVPN. This VPN is exceptional for streaming but also staying secure while visiting the dark corners of the internet. It packs 5,600+ servers in 60 countries, making it great for bypassing geo-restrictions.
Wimbledon lovers will be surprised at how good performance it has. You'll unblock RTS and access your live stream that'll work with no hitching, stuttering, or any annoying sensations. Platforms like Netflix, Hulu, and Disney+ are also on this list and NordVPN will unblock them in a snap of a finger.
Speed-wise, it's enough for all bandwidth-hungry activities, including torrenting. What we like about NordVPN is its focus on security. Military-grade encryption is keeping your connection safe, while IPv6 leak protection prevents accidental IP/DNS leaks.
For added security, there are Double VPN servers, and if you're from China, obfuscated servers will bypass the Great Firewall. NordVPN offers its services for a very affordable price and even a free VPN extension available on Firefox and Chrome.
Unlike ExpressVPN, it gives you 6 simultaneous connections, which is a tad better. There's router support, too, allowing you to protect up to 16 or 32 devices in your home. Of course, all of the devices will be able to stream Wimbledon live!
Lastly, there's a consistent ad-blocker that crushes all the annoying ads and pop-ups. This will remove unnecessary junk from your screen and give you cleaner web pages. Hurry up and grab its 2-year plan while it's still on a discount – you'll get a 30-day refund period on top of that!
Live-Stream Wimbledon With NordVPN >
3. CyberGhost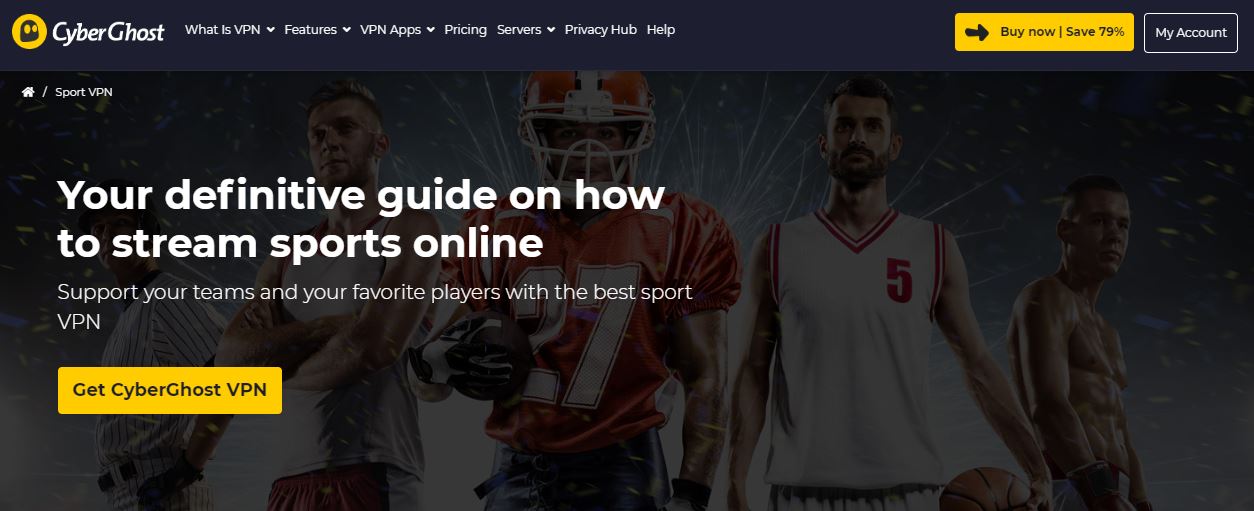 CyberGhost is focused on bringing premium performance while keeping the price as low as possible. And you know what? They did it! One of the highlights of this provider is its server network – 7,000+ servers in 90 countries. Such an astounding result!
These servers are very capable, especially in terms of streaming and torrenting, thanks to dedicated servers. Streaming servers are our main concern here, and logically, they'll let you unblock RTS and watch Wimbledon live stream.
What they also provide is the ability to watch Amazon Prime Video US, BBC iPlayer, Hostar, and dozens of other platforms. Due to the large server network, you don't have to worry about speeds. Servers will never be overcrowded, hence you can enjoy stable speeds and connections.
CyberGhost includes a very useful ad-blocker. It will block ads, trackers, and malicious sites, providing full protection. For the price, it's great that you get 256-bit encryption and an automatic kill switch, should the connection snaps.
The downside is that it doesn't work in China. However, given its affordable price, we can forgive that. You'll still get 7 simultaneous connections, unlimited bandwidth, and responsive 24/7 customer support.
CyberGhost's 3-year plan is very cheap and includes support for all major platforms. On top of that, there's a 45-day money-back guarantee, which is the most generous offer you'll get.
Enjoy Streaming Wimbledon on a Free TV Channel With CyberGhost >
Free VPNs for Wimbledon Streaming – Do They Work?
Should you use free VPNs for watching 2021 Wimbledon tournament? Not exactly.
Free VPNs are exactly what they sound like – free and limited. If you've ever used Windscribe or TunnelBear, you know what we're talking about. These two providers give you up to 10 GB or 500 MB respectively, which is far from enough to enjoy streaming.
One tennis match, depending on its length and footage quality, can take you more than 1 GB of data. You'll agree that even 10 GB isn't enough for blasting through the entire Wimbledon stream.
Also, take into account slow speeds that will hinder your streaming experience. With free VPNs, you'll hardly be able to enjoy High Definition quality, let alone higher resolutions. Some of them are so bad that they can't unblock basic platforms, instantly making them bad for this purpose.
Our main issue with them is the lack of privacy. You get none of that here! These providers store logs and personal information, which they later sell to third parties. This is one of the ways they earn money and it's very perfidy if you ask us.
To avoid these issues altogether, we suggest getting a premium VPN from our list in order to watch without troubles Wimbledon tennis tournament. Our recommendation is, once again, ExpressVPN, but other providers from the list are worth a shot, as well.
Excited for the new Wimbledon winner? It's going to be such an amazing tournament!