Netflix subscription is a pretty powerful thing that will let you access this platform from anywhere in the world. However, depending on your location, Netflix will display a different catalog of movies and TV shows. For that reason, you might want to change your online location to fool the platform into thinking that you're from another country. That's very simple to do, especially if you follow the little trick we prepared for you.
Change your Netflix Region With a VPN
If you like traveling, you can go to the country you want, and access its Netflix catalog. We all know that this solution is expensive and let's be real – no one would travel because of this streaming platform. But, there's a much cheaper solution that will cost you merely a few dollars a month.
That solution comes in the form of a Virtual Private Network. A VPN is a great tool for staying anonymous online but also unblock all Netflix catalogs in a snap of a finger. This software lets you change your online location, thus giving you access to foreign, geo-blocked platforms.
All you have to do is connect to the server in another country, the USA, for instance, and you'll browse the web as if you were from there. Furthermore, the service obfuscates your real IP address, making you invisible to the watchful eyes of hackers, ISPs, and the governments.
For the price, this is THE best investment you can make. After all, privacy is what all of us need and long for, yet it's found in traces nowadays, due to social media and government surveillance.
How to Use a VPN to Change Netflix Region?
Even if privacy doesn't concern you that much, although it should, a VPN is a MUST if you want to change your Netflix region quickly. In this section, we'll give you our simple solution on how to do that in a few simple steps. Our step-by-step guide is below:
1. Subscribe to a Virtual Private Network
To be able to use this service, you first must purchase a subscription. The reason we say purchasing it is that free providers aren't going to cut it – more about that later. With only the premium providers being capable of changing countries on Netflix, our recommendation is ExpressVPN.
It's a provider we tested multiple times, that always worked. Right now, it offers a 49% discount and 3 months free for a 12-month plan. And if you don't like it, a 30-day money-back guarantee is in place.
2. Download & Install the App(s)
Once you get it, you can immediately download the app or apps you want. If you're on the PC, download the setup file and install it. On a smartphone, just install it from the Google Play/Apple Store. Open the app and sign in with the credentials you provided upon purchase.
3. Connect to the Server You Want
As you can see, the app is very simple to use and navigate. The minimalistic interface you see is going to stick to your hear pretty fast. Under the connection button, click on the country that appears to open the server list.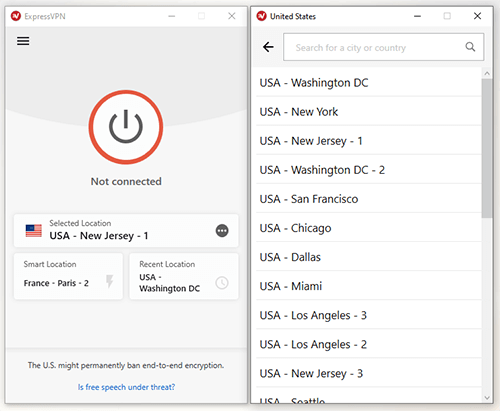 The server list is right, and we can see that our choice was the US server. You can unblock ANY Netflix region you want. It doesn't have to be the US one. For example, you can connect to a VPN server located in the UK and access the UK catalog.
Just choose the server from the country you selected and use the connection button to establish a connection. ExpressVPN can literally make you change location in a second, whether it is Japan, Canada, UK, USA, France, Germany…
4. Enjoy Netflix in a New Region
The moment ExpressVPN connects, you are assigned a new IP address, which will allow you to watch Netflix from other countries. Visit the streaming platform's website and enjoy favorite shows and movies.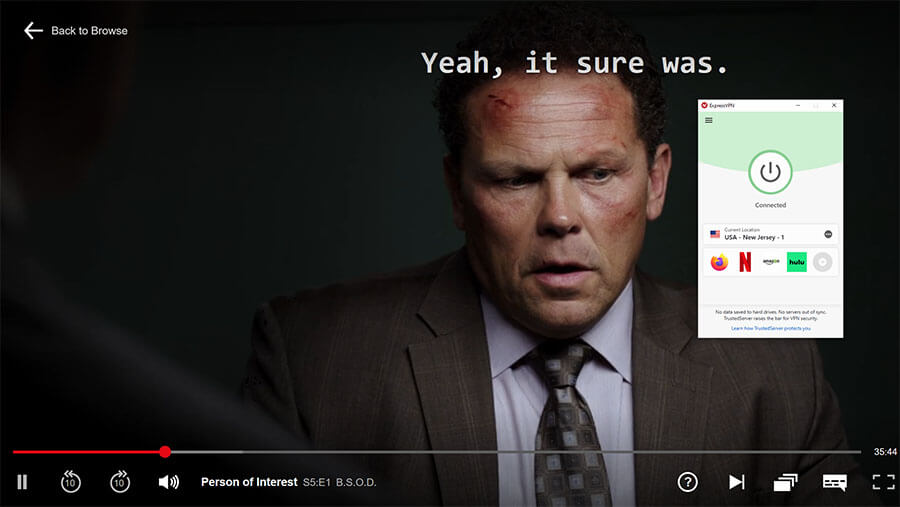 Very easy, as we promised!
Best VPNs to Change Netflix Region
In the past few years, Netflix really upgraded its anti-VPN measures, detecting even some of the top providers on the market. That's why it's extremely hard to find a provider that will reliably unblock it as time passes.
Luckily for you, we did all the heavy lifting, so you can just click on the provider you want, and enjoy this platform to the fullest. Our top 3 VPNs for changing country on Netflix are below:
1. ExpressVPN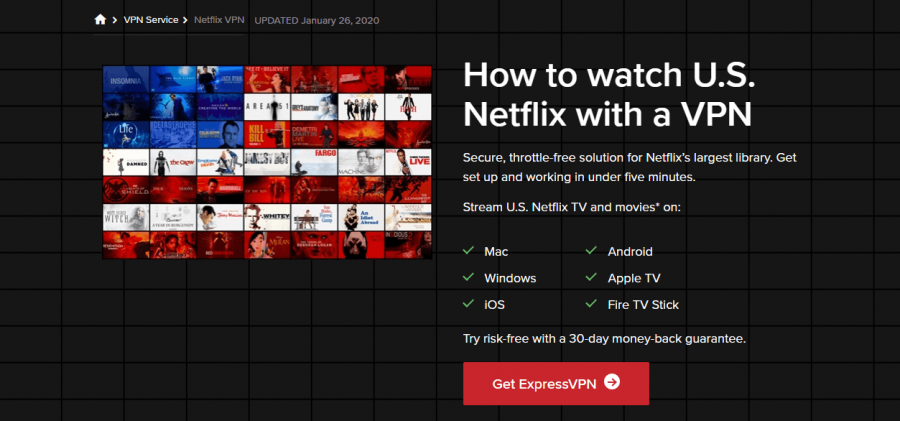 ExpressVPN is the most reliable provider that your money can buy. Looking at Trustpilot's score, it has 4.7 stars, with overwhelmingly positive reviews. Many reasons stand behind this ranking, especially speeds, that are enormously fast. This promises a good streaming experience that will keep you coming for more.
The provider is also the champ when it comes to unblocking streaming platforms. Apart from Netflix, it unblocks Disney+, Hulu, Prime Video, DAZN, HBO GO, and BBC iPlayer. If you're a streaming addict, ExpressVPN will cover up all your needs, thanks to 3,000+ servers in 94 countries.
In terms of security, you also get top-notch treatment. Military-grade encryption wraps around your connection like a snake, while a kill switch makes sure that you're always safe and secure. Split tunneling is here, as well, giving you the possibility to use your native and fake IP simultaneously, for different purposes.
Users who buy it will be glad to have unlimited bandwidth, as well as 5 simultaneous connections on the same account. ExpressVPN's 24/7 customer support is available through live chat, capable of solving even the most complex VPN-related issues.
A 49% discount could be yours if you smash that button below. But don't smash it completely – we need more people on this bandwagon!
Unblock ANY Netflix Catalog With ExpressVPN >
2. NordVPN

NordVPN is a resounding name in the VPN industry. If you've ever used this kind of service, you've probably heard about the provider. It can be found even on YouTube, as many satisfied tech-related channels use it. The provider packs more than 5,600 servers in 60 countries, which is a very serious and impressive number.
These servers are not only abundant but also reliable, offering stable connections and a 99.9% uptime. We like that NordVPN unblocks pretty much every platform, including Netflix. Changing the location on Netflix is easy with the provider.
Click on the location you want, and boom – you're done. NordVPN will easily unblock Amazon Prime Video, Sky TV, and ABC, as well, if you want to watch them. For security, the same 256-bit encryption is set, a kill switch is also here, with the addition of features like Double VPN, CyberSec (ad-blocker), and obfuscated servers.
NordVPN recently introduced a NordLynx protocol based on WireGuard, which will give you much faster speeds, so you can stream 4K content on Netflix with ease. Lastly, the provider gives up to 6 simultaneous connections and 24/7 support available through live chat.
Everything you need is packed in a robust package that the provider gives for a silly price!
Change Region on Netflix With NordVPN >
3. CyberGhost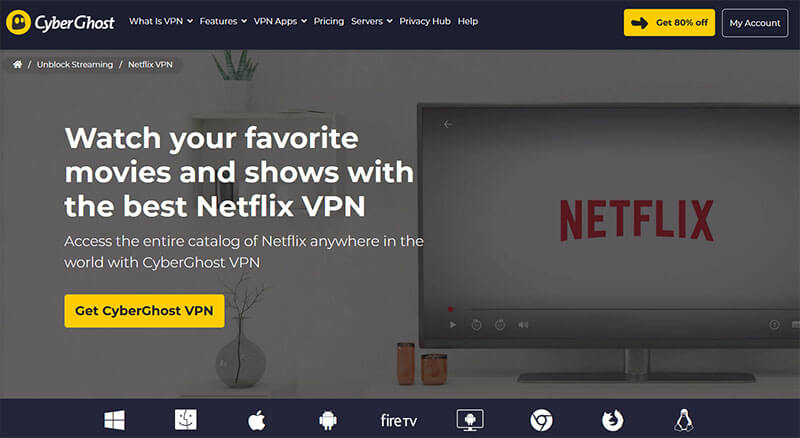 Last but not least, we have CyberGhost, which is one of the best providers out there. It is, in fact, the best European provider, located in Romania. This is a great country for privacy and security, which is why the provider maintains a clear zero-logging policy.
Now, let's talk about changing region on Netflix. CyberGhost is capable of doing so, both with its dedicated and non-dedicated servers. With 7,000+ servers in 90 countries, you'll easily find the catalog you want.
Although it doesn't work in China, CyberGhost is still decent for accessing Hulu, Disney+, HBO GO, and BBC iPlayer. The speeds are pretty impressive, sometimes even faster than what NordVPN is offering. ExpressVPN is still the fastest, though.
CyberGhost sports all the standard features – 256-bit AES encryption, a kill switch, DNS/IP leak protection, and an ad-blocker. Moreover, support for OpenVPN and IKEv2 is here, so you can alter the protocols if one doesn't cut it.
Unlike the previous two providers, CyberGhost offers 7 simultaneous connections. That's pretty impressive considering the price, which is really minuscule. We recommend its 3-year plan with an insane discount, that even includes 2 months FREE.
Get CyberGhost for changing location on Netflix >
Are Free VPNs Capable of Unblocking Netflix?
What about free VPNs? In our experience, people are willing to save money on a thing like this, rather than cigarettes and alcohol. Well, guess what – a VPN costs like a pack of cigarettes but per MONTHLY basis.
If you still wish to avoid paying for this service, we suggest reading further, as we might change your mind.
Free VPN providers are very limited in what they can give to you. For the start, they're pretty slow. So slow, that even 1080p videos are sometimes a challenge. This means that streaming movies and shows, while changing your country on Netflix, is going to fall into the oblivion.
The second thing is that they're not secure. Usually, they use weaker encryption. Instead of 256-bit, they use 128-bit, which isn't necessarily bad, but it's much weaker. The worst part, for us, is that they sell your data to third parties.
Since they're giving you services for free, they must make revenue somehow because maintaining VPN servers is very expensive. Rather than keeping things private, they sell your personal data, as well as your browsing activities.
Not to mention that they CAN'T unblock Netflix, and that's a fact! Free providers rarely unblock this platform, and if they do, they offer limited bandwidth in most cases, so you can't binge-watch your favorite shows.
The final nail in the coffin is that they implement annoying adds that will hinder your browsing experience and slow it down significantly.
We don't recommend free providers for any purpose, and not just this scenario. Avoid them at all costs and stick to the premium ones – they'll never work behind your back!
What about Proxies?
Once again, there's no workaround for the solution we mentioned above. On the internet, you'll find dozens, if not hundreds of DNS proxies that promise miracles to you. Yet many of you, like a fish, bite the bait and see that none of the other solutions are superior to a VPN.
Netflix already mastered the technique of blocking proxies, so it's highly unlikely that they will work. Furthermore, DNS proxies offer very few countries that you can actually choose from. It's always 5 or 6 of them, and they're not popular for enjoying Netflix or streaming in general.
This makes it way harder to access the library you want. From a security standpoint, using proxies is just asking for trouble. Unlike VPNs, they don't encrypt your connection, leaving you vulnerable to hackers and DDoS attacks. Plus, your ISP still sees your online presence, so it can monitor your online activities easily.
The same thing applies to proxies – avoid them at all costs.
Which Regions Can I Use for Watching Netflix?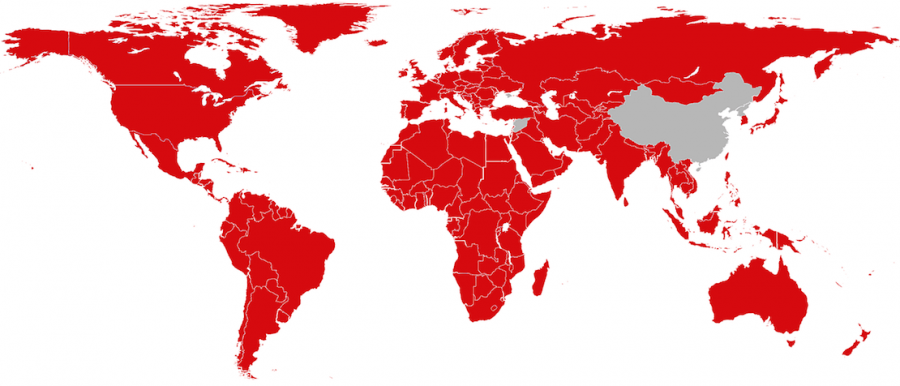 Netflix started out as a US platform, which was exclusively available for that country. However, with the rising popularity, the platform quickly expanded to the rest of the world, leaving out just a few countries. We can't count down all the countries that are available, but you can see the world map above.
Obviously, the countries painted in red can access the platform, while countries in grey will find it impossible to gain access. The countries in which you can't watch Netflix are:
China
Syria
North Korea
Crimea
ALL other countries can easily access the site, although not every country will see the same catalog, as we mentioned. Some of the most popular catalogs that we recommend are Netflix US, UK, Brazil, Canada, India, and Germany.
Of course, if you have a catalog that you want, and that's not in our recommendations, feel free to access it.
Summary
Let's sum up our guide now. Changing the region on Netflix is very easy, as we had the chance to see. With a provider from our list, you'll easily be able to do so. Beware that not every provider can unblock every catalog, though.
ExpressVPN can unblock almost every catalog, making it the best choice for this purpose. With enormous speeds that it gives and the ability to unblock many other streaming platforms, it'll be a loyal companionship for years to come.
Even if you're from China or Syria, you can freely access the internet with this provider. Now that you have it, get ready for a new long-term relationship – and a good one at that!
Frequently Asked Questions
⚠️ Is it possible to use my Netflix account abroad?
Of course ! However, be aware that once in a foreign country, you will only have access to the local Netflix catalog. For example if you are on vacation in Spain, you will only be able to enjoy the films and series available on the Spanish catalog.
Unless you have a VPN like ExpressVPN. In this case, you will be able to hide your IP and change your location on Netflix. This will allow you to take advantage of the American catalog from Spain, for example.
? Why Netflix changes depending on the country I am in?
For the simple reason that Netflix does not have the same rights from one country to another. For example, Netflix may have acquired the rights to broadcast a movie in the US, but not in Canada.
? Can I use a free VPN on Netflix?
We do not recommend it because the vast majority of completely free VPNs are not able to change your location on Netflix effectively. This is what we have seen with VPNs like Windscribe, TunnelBear, ProtonVPN, Hotspot Shield …
Instead, prefer the 30-day money-back guarantee offered by ExpressVPN if you don't want to go broke, and still manage to change your Netflix region.
? What are the biggest Netflix catalogs worldwide?
The most widely supplied Netflix catalogs are currently the American (5900 films and series), Canadian (6000 films and series), and British (6200 films and series) catalogs. If you want to access these 3 catalogs, use the best VPN on Netflix: ExpressVPN.