Struggling to keep up with the latest shows on Al Aoula or Al Maghribia? Or perhaps, you can't access your Moroccan bank account from abroad? That's because you have a foreign IP address that won't work in these cases. Luckily for you, changing your IP address can be done in a few steps, so even if you're a dummy, you'll get into it quickly. Let's see how to get a Moroccan IP address easily.
Use a VPN to Change Your IP
VPN stands for Virtual Private Network and this software is here to keep you safe and secure online. However, it has one crucial possibility that many people take advantage of – bypassing geo-restrictions. See, if you want to access local content from abroad, you must use this service. No proxies no Tor, and no similar solutions.
This service wraps your connection in a so-called VPN tunnel, keeping you hidden from your ISP, hackers, and the government. As soon as you connect to a server in a foreign country, this effect starts to appear. Here's an image that will explain this better:

Now, how can this help you? Well, you can connect to a Moroccan server and with that, get the Moroccan IP you need. This tunnel will protect your connection with military-grade encryption and you'll get both safety AND access to local content in your homeland.
The great thing is that you can change your IP in a few steps. More about that in the next section.
How to Get a Moroccan IP Address from Anywhere in the World?
Are you hell-bent on enjoying Al Aoula, 2M TV or Aflam TV from abroad? Don't stress out anymore – here's how to do it from anywhere in the world:
1. Get a Subscription
Getting a subscription is necessary if you want to use the premium features of this service. Although we always recommend ExpressVPN, this time, it doesn't have servers in this country. Instead, we'll recommend CyberGhost, a provider with a couple of servers in Morocco.
It's a very cheap provider, even cheaper than ExpressVPN, so buying it shouldn't be a problem for most of our readers.
2. Download and Install the Respective Apps
CyberGhost lets you download the apps as soon as you buy it. Download the app for your platform, log in with your password and username, and you'll be greeted by the home screen. You'll see how easy it is to use the provider in just a second.
3. Connect to a Moroccan Server
On the left side, there's the server list. Scroll down, find Morocco and just click on it. Now, the connection will establish in a few seconds and you'll see when that happens on the home screen.
4. Enjoy Moroccan Online Content from Abroad
With the connection established, you can enjoy local TV channels, use your bank account from abroad, and so forth. Just for your information, next time you want to connect, you'll use just the third step because you already bought a subscription – capiche?
What are the Benefits of Getting a Moroccan IP Address?
Residents of this country know what benefits they can get when using a Moroccan IP. But, if you just want to get one for whatever reason, know that you can get these benefits:
Accessing Netflix Morocco and Local Channels
As of 2016, this country received a Netflix catalog – and it's a pretty extensive one. You can enjoy Morocco: Love in Times of War or any other shows that you like. Furthermore, accessing local TV channels will be a breeze.
We mentioned some of them above but know that you can access virtually every channel under the country's jurisdiction. This way, you can inform yourself about local news or watch favorite shows.
Using Your Bank Account from Abroad
Banks will almost always lock you out of your account if you're accessing it with a foreign IP. To prevent that, use the IP from your country and you'll have no problems. Otherwise, you might have to solve the issue in person, which is impossible if you're far away.
Staying Anonymous Online
Last but not least, a Virtual Private Network lets you always stay anonymous and preserve your privacy online. You can achieve this effect as soon as you connect to the server of your choice. It's THAT easy!
Best VPNs to Get a Moroccan IP Address
Here is our list of the best providers for getting a Moroccan IP address easily:
1. CyberGhost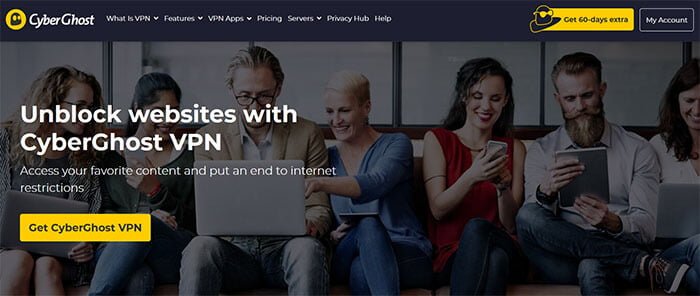 CyberGhost offers 6,200+ servers in 91 countries and has 24 virtual servers in Rabat. Not only are they very fast but also support P2P, so you can stream and torrent as much as you want. This is a no-log provider that offers military-grade encryption and IPv6 protection, preventing your ISP from seeing that you're using it.
The addition of dedicated servers is one of the highlights. Dedicated servers are here for Netflix, Hulu, HBO GO, Disney+, and other major platforms. CyberGhost also has decent speeds, so you don't need to worry about stuttering and endless buffering.
We know that you need the best VPN for this purpose and CyberGhost is, without a doubt, a top choice. It's very cheap and if you grab a 3-year plan, you'll get an insane discount.
Get a Moroccan IP With CyberGhost >
2. HideMyAss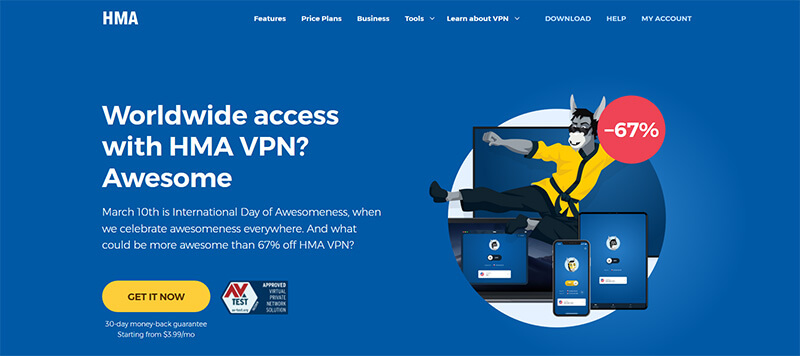 HideMyAss, as some of you know, isn't the provider we always go for. In fact, we rarely recommend it because it's overshadowed by other providers. This time, though, HMA has 2 high-speed servers located in Morocco, so it's a very good option.
Although it has just 1,000+ servers worldwide, the provider covers 290+ locations and 190 countries. The server network is, this way, much more widespread, covering more exotic locations. HMA offers a free trial, too, and although it's not impressive, we're glad to have it.
Speed-wise, the provider is stellar and will allow you to browse the internet smoothly. It also unblocks Netflix and Moroccan local channels and packs 256-bit encryption to protect your connection.
Since it stores some logs, we'd be very careful online. It doesn't allow torrenting, which is logical since it's located in the UK, a 14 Eyes member.