As the most populated country in South America, Netflix did a great job providing a lot of local content for the Brazilian people. However, if you are currently visiting this country and you are craving to watch a show that is available only on American Television, then you might have an issue. This is quite common and doesn't happen only in Brazil, but also in any other country that is not the United States. We will be discussing the reasons why down below. For now, it is important that you know geo-blockades are something that can be effectively solved. 
You will not need to invest a lot of effort into solving this problem as long as you know a thing or two about Virtual Private Networks. To help you, we have created a list of the best options to unblock US TV for free while in Brazil.
Let's dive right into it!
Why Can't I Watch US TV in Brazil?
As we have mentioned above, geo-restrictions lie behind the common problem of not being able to stream American TV channels. Slow down before you start blaming the Brazilian government or the local cable operator because these have nothing to do with it.
In fact, it all has to do with licenses that are sold by US TV providers. This is the main reason why you won't be able to watch most of this content for free. Frankly, the algorithm doesn't consider the fact that you may have subscribed to the channel/streaming platform while in the country.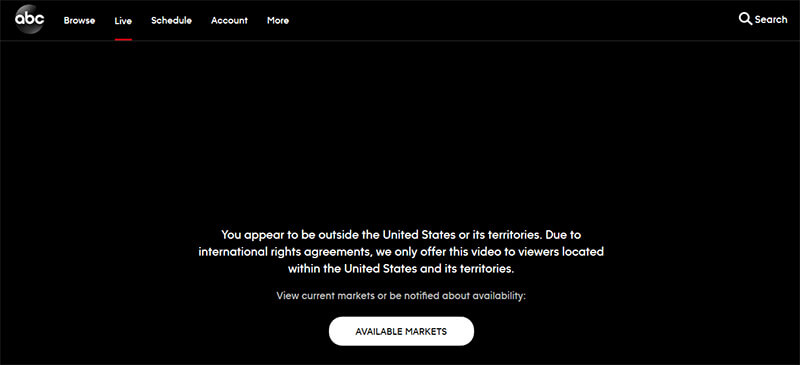 What matters is your current location. Given the fact that you are visiting/working in Brazil, you will find it impossible to unblock this content without some kind of a trick.
Luckily for all of us, there are more than a few solutions. While the proxy has been massively popular over the past few decades, the last few years have been dominated by VPNs.
Solution – Use a VPN
If you want to watch US Television outside of the country, you will need to install a Virtual Private Network. This is a service that encrypts your private communication and tunnels your internet connection to the desired location that is not your real location.
Given the fact that geo-blockades are determined by your IP address, this is an effective solution for this matter. What happens is that your original IP address is hidden from the ISP operator, while you get to use one set in the US.
By using encryption in the form of 256-bit AES, as well as leak protection instruments such as a kill switch, you stay safe and secure from third parties.
How To Use a VPN?
Now that you know how a VPN works, here is how to use it in order to unblock, access and watch US TV Channels while being in Brazil (or elsewhere):
Sign up for and download your chosen VPN
Sign in using your credentials
Open the servers list and choose one that is located in the United States (as you can see on our screenshot below)
Click connect and watch your favorite US TV shows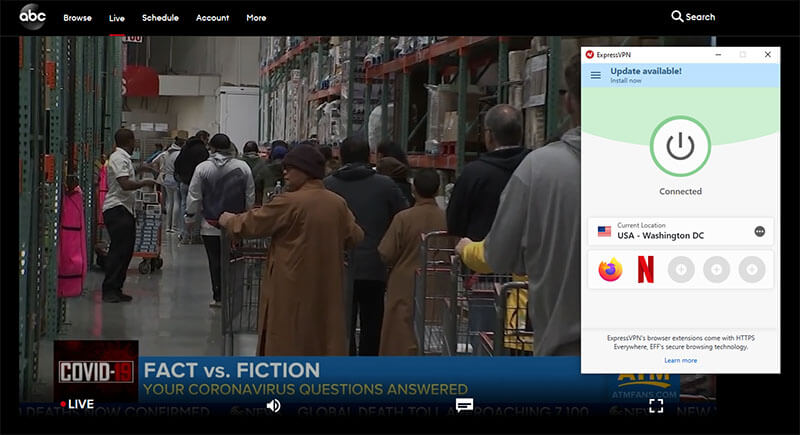 VPN to Choose to Watch US TV in Brazil
We understand that, in the sea of VPNs, you might have a hard time distinguishing which one is good for this matter. If the relevant ads were true, then you would be fine subscribing to almost any Virtual Private Network.
However, most providers aren't able to stream content in the United States across the globe. The main issue that is encountered is server speeds, as well as connection stability. Still, we found that a few leading names do a great job. Let's take a look.
ExpressVPN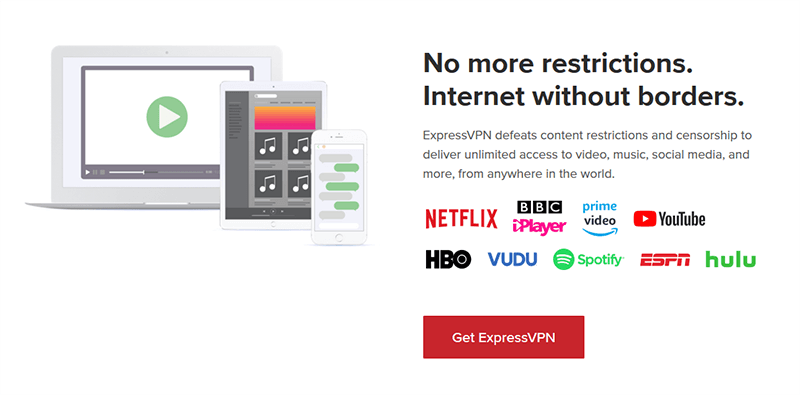 As the best premium VPN, ExpressVPN is a choice that is ideal for anyone who is on a more flexible budget. Set in the British Virgin Islands, it offers a strict no-log policy and a robust security aspect.
Also, the usability and compatibility of this VPN are according to all the industry standards. However, probably the best that it has to offer is the incredible server speeds. Thus, we found that, although at quite a distance, US servers worked fast when connecting from Brazil.
You can access some free TV channels that stream MotoGP races using this Virtual Private Network.
You should also know that, much like CyberGhost, ExpressVPN is focused on customer satisfaction and has an effective live chat! Overall, it is a fast, secure, and safe choice that you won't regret! Click here for more infos about the provider:
NordVPN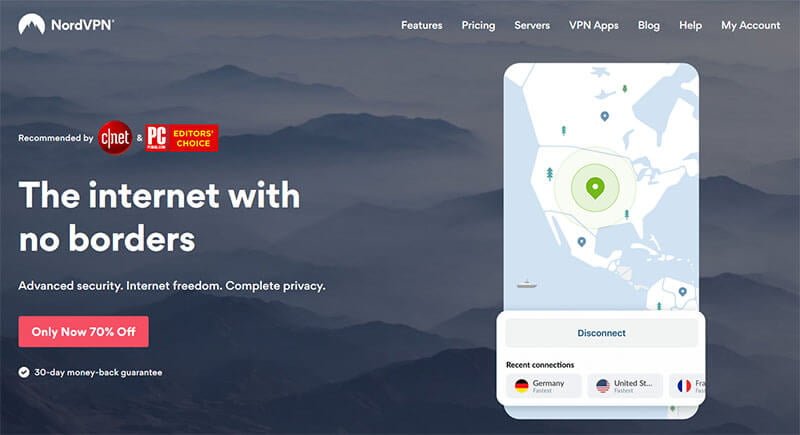 Talking about providers that offer safe, secure, and reliable service, it is impossible not to mention NordVPN. Based in Panama, it does a phenomenal job of unblocking more than 150 streaming sites across the globe. In fact, if you can't access Disney+ in your country, then, the VPN is the solution you need!
Are you looking to watch Fox, ESPN, CBS, or stream Netflix, Hulu, HBO GO for free from Brazil? If so, NordVPN looks like a superb choice. The main reason for this is because of a sizable server park that you get to work with.
There are more than 5,500 locations in around 50 countries. Of this number, at least a couple of hundred are in the United States. This means that you have a plethora of servers to connect from and watch your favorite content.
Not to mention, it offers reliable leak protection and a set of tunneling protocols that allow compatibility with most popular devices!
CyberGhost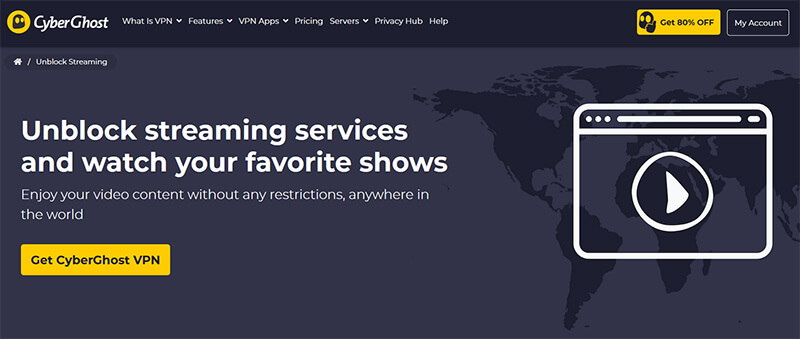 The last option that you can rely on for this matter is CyberGhost, which is seen as the most user-friendly VPN on the market. It takes just a few simple steps to install it. Plus, it works with any device that you can think of.
When it comes to the server count, it does even better than NordVPN, with more than 7,000 locations across the globe. Thus, it is safe to call CyberGhost a global provider that can successfully unblock content while you are in Brazil.
One of the best things about it is the explicit connectivity that we encountered while testing a couple of its servers. Additionally, if you were to come across any issues, they would be effectively solved within minutes by their customer service.
Lastly, it comes at a great price, with $2.75 per month being realistic with a 3-year plan! To get this great price, click the button below.
Wrap Up
For anyone who is tired of Brazilian Television, there is a simple solution. While US TV is seemingly blocked in Brazil, unblocking it with a VPN can be done within a few simple steps.
We have provided clear instructions on the best options, as well as what you can get out of these. Now, it is your turn to choose between a few leading names (ExpressVPN, NordVPN, and CyberGhost) and enjoy every moment of internet anonymity and free access!