If you are looking for a reliable VPN and the best alternative to Windscribe, that might be for a couple of reasons. The first one is that you are having issues with geo-blockades, and you want to access local Netflix content outside of your country. The second one is that your idea is to enjoy torrenting and P2P transfers, and you can't really do that if you are subject to DMCA sanctions.

For users that don't have an option to pay a monthly subscription fee, some providers offer both free and paid plans to make the anonymous browsing more accessible. One of those is Windscribe.
Through this article, we will highlight what Windscribe is all about, discuss its downsides as well as potential alternatives. Without further ado, let's get right to it!
What is Windscribe VPN?
Finding the Virtual Private Network that suits your needs depends on a couple of elements. This includes the speed, security features, privacy policy, as well as overall performance of the provider. Not to forget, the price that can go from affordable to pretty expensive depending on the provider that you decide on.
Windscribe is a Canadian-based VPN that was founded as a relevant alternative to the popular US providers. As we have mentioned above, their service does offer both free and paid plans. The latter features more than 500 different servers.
On the other hand, their free-of-charge option is limited to 10GB of data transfer a month. You also only get access to 14 servers. Still, no matter which option you subscribe to, we can say with confidence that the overall usability is quite good.
The installation process is simple for most devices, including macOS, iOS, Android, Linux, and Windows. Additionally, this service is highlighted by industry-standard encryption and tunneling protocol that comes in the form of OpenVPN.
However, there is a couple of aspects in which it is falling far behind NordVPN, ExpressVPN, and CyberGhost.
Downsides of Windscribe
No matter which plan do you subscribe to, the performance is almost the same except the fact that the server park is quite limited if you decide to go for the free option. But why would you be looking for the best alternative to Windscribe? Let's see together.
Canadian jurisdiction
The primary concern that we have with this provider is the fact that it is based in a country that is part of the 5 Eyes alliance. What this means is that in case any of those governments ask for your browsing data or privacy info, Windscribe will need to share it.
This, along with Canada not having the friendliest data retention laws, is quite an issue because you want to get anonymous browsing out of a VPN.
Slow Servers
It is a fact that connecting through any VPN, your internet speed is going to slow down. However, how big is the sacrifice will determine whether one service is worth it or not.
Unfortunately, we didn't find that Windscribe offers good performance in the EU, US, as well as Asia and Australia when it comes to the stability and speed of bandwidth.
The one that we had the best experience was the US server with upload and download speed dropping by 40%, which was due to our proximity to the location.
However, things were much worse with the UK as well as the Sydney server, where we experienced drops of 70% ass well as ping spikes up to 180ms and 250ms.
This made the VPN almost unusable, especially for streaming HD and online gaming. You know understand why you would need an alternative?
Sketchy Server Park
As we have mentioned above, their paid option offers around 500 servers in just below 60 countries. On the other hand, the free-of-charge plan comes with 14 locations.
However, the issue that we have with this is that the large paid server park doesn't seem to be that reliable. Once we subscribed, we found that 50% are not up, including those set in New Zealand, most of Australia, as well as Asia and 30% in the US.
The fact that you will get just a portion of what is promised is surely not something that you would expect out of a reliable VPN.
Bot Support
Last but not least is the fact that you can't rely on their customer support. The fact that there is a chat feature is a good start.
However, the issue with this is that you are not talking with a real person. What this means is that you will be getting a general-purpose response, and in most cases, be forwarded to an email inquiry.
Their email ticket service also takes at least a couple of days to respond. Which means you are on your own in case you encounter any service-related issue.
Our Favorite Alternatives to Windscribe
It is a fact that Windscribe is a fine choice if you are on a sensitive budget, and you want to get average performance. Still, if you decide for the paid option, and you want optimal security and privacy, then you will need to look elsewhere in order to find the best alternative possible.
We suggest the upcoming three names as the best options out there:
ExpressVPN
ExpressVPN is our favorite VPN in 2021. As such, it stands among the leaders in terms of security and privacy. It does offer a 100% anonymous browsing with no logging and an industry-standard tunneling protocol and encryption network.
Much like NordVPN, it is highlighted by a considerable server park that comes in the form of 3,000 different servers in more than 90 countries. The best thing is that it effectively unblocks content in China, Russia, and Saudi Arabia.
Not to forget, the speeds offered by this service is what makes it one that you will definitely fall for. And lastly, it offers 5 simultaneous connections per account, keeping you completely safe online.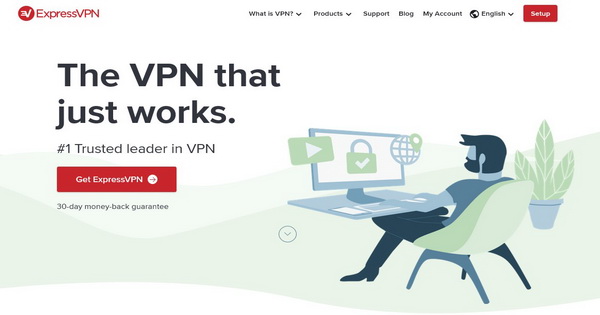 Why choose ExpressVPN over Windscribe?
The clear answer is because of the great speed that this provider offers. Compared to Windscribe, you are looking at excellent connectivity and fast servers in all of the featured locations.
Thus, you will be able to unblock streaming sites. Plus, you can enjoy online games and torrenting without any connection issues.
Why is ExpressVPN better than Windscribe?
Yes, it is on the pricier side, but considering its overall performance, ExpressVPN is worth it. This includes robust security features, as well as a user-friendly logging policy, and explicit overall compatibility!
Get a subscription at ExpressVPN.com >
CyberGhost
It is CyberGhost that is probably the best alternative for those of you looking for a cheap VPN. Keep in mind that the plans are still quite affordable, below $3 a month for the 3-year plan.
Based in Romania, this is another VPN that has a splendid server park. It boasts more than 6,000 servers you can connect to. Also, it has good device compatibility. Why? Because you can install it on any popular device as well as smart TVs, gaming consoles, and routers.
Lastly, it is highlighted by a superb live chat that is up 24/7, and professional and friendly operators run that.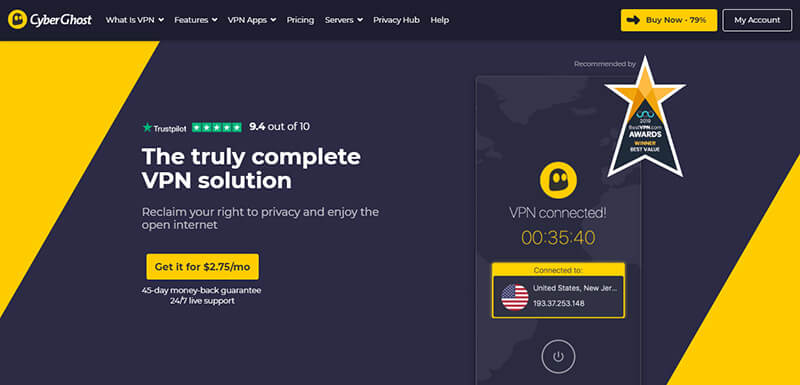 Why choose CyberGhost over Windscribe?
CyberGhost is clearly better than Windscribe in every way. It is for this reason that we recommend it if you are looking for an alternative. This is true in regard to streaming, P2P downloading, or simply its privacy policy.
Why is CyberGhost better than Windscribe?
Well, for a couple of reasons. Firstly, you will get to enjoy more versatile VPN features and not have to worry about leaks or malware risks. Additionally, accessing content worldwide is going to be much more straightforward, given the vast server park.
Not to forget, their live chat is there to settle any issue asap. At the same time, the overall usability of this service is hard to compete with.
Get a subscription at CyberGhost.com >
NordVPN
As one of the leading names for the past couple of years, NordVPN has established a huge fan base and for a good reason. It is situated in Panama and is as such a great option for anyone who wants to enjoy 100% anonymous browsing.
Given the fact that you will not be subject to any data retention laws, you will be able to enjoy unlimited torrenting and P2P transfers. This service comes with several security instruments, including stealth mode, and kill switch that works together to keep you from third-parties and other internet-related risks.
The best thing about it? NordVPN is known for its exceptional ability to access streaming platforms across the globe.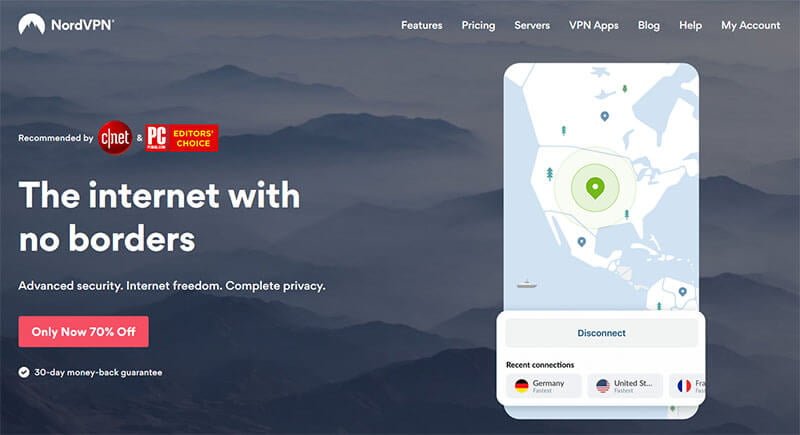 Why choose NordVPN over Windscribe?
The main reason why NordVPN is a great alternative is because of the enormous server park that is offered by this provider. You are looking at more than 5,600 servers in just above 50 countries.
This is a considerable upgrade compared to what Windscribe offers. It ensures that you will be able to connect from almost every part of the world.
Why is NordVPN better than Windscribe?
While it doesn't offer a free trial or a plan for which you don't have to pay anything, NordVPN has a myriad of advantages over Windscribe. Firstly, it is reliable, secure, and highlighted by a strict no-log policy.
Additionally, it offers unlimited browsing and fast servers that you can rely on. Not to forget, NordVPN has an active customer service that should help you get any issue settled within minutes!
Get a subscription at NordVPN.com >
The Best Free Alternative to Windscribe
There is no doubt that the aforementioned three options are the ones that you can put trust in. However, all do come at a cost, apart from the fact that CyberGhost offers a 7-day free trial.
For this reason, we have prepared a completely free option that can suit those on a tight budget.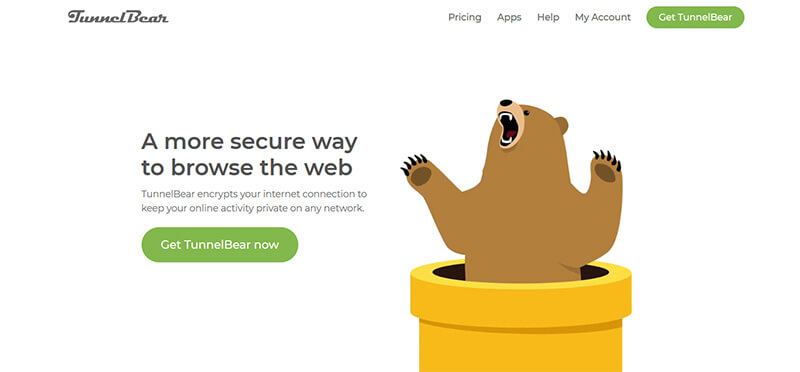 TunnelBear
Much like Windscribe, this service is based in Canada, which is not the best location for privacy-friendly jurisdiction. However, TunnelBear seems to be highlighted by a no-log policy; thus, the gravity of this is not immense.
What is good about TunnelBear is that it offers more than 300 different locations that you can experience on their free plan as well. However, keep in mind that it is limited to 500MB per month. This is quite low if you were hoping to stream and torrent.
Why choose TunnelBear over Windscribe?
The answer is simple – you are getting a larger server park. You are also getting an array of tunneling protocols to bypass the restrictions with.
Why is TunnelBear better than Windscribe?
Well, while it is highlighted by a 500MB limit, TunnelBear does offer better server speeds and unlimited torrenting, which can go a long way for most users. Also, a strict no-log policy that Windscribe is not able to claim.
Wrap Up
We are not looking to undermine Windscribe. It is a fine free option as long as you don't have high expectations for server speeds and torrenting.
On the other hand, if you are comparing it to paid options, including NordVPN, ExpressVPN, and CyberGhost, it doesn't stand a chance.
Thus, we do think that anyone who is looking to install a VPN for something more other than just regular browsing should opt for one of the mentioned alternatives. And be sure that every dollar invested is sure to pay off multiple times!