Having a VPN by your side grants privacy and security online. South Africa is a country where censorship and lack of internet freedom aren't problems. In fact, this country is rated as 'free' in the Freedom House report. However, that doesn't mean you can't be a victim of cybercrime or avoid government surveillance. If you're packing your bags for South Africa, you might want to get a quality VPN before you get there. And which one should you get? Let's see.
Why Do You Need a VPN in South Africa?
Despite being a free country, having online protection in South Africa is always much-needed. It's enough to recommend a VPN for this reason alone. But, every country has its own reasons for using the service, so let's see what reasons we're looking at here:
Bypassing Geo-Restrictions
We get it. The country is free to enjoy all the fruits of the online world and that's as awesome as it gets. But, what about streaming on foreign websites? Does South Africa have a Netflix catalog? Sure. Is it the biggest one? No, it isn't!
People often want to unblock Netflix US from abroad because it offers the largest movie and series catalog, which is understandable. And little do they know that they can't do it without the best VPN by their side. If we take other platforms into considerations, the same will apply.
South Africans love watching not only Netflix but also HBO GO, BBC iPlayer, Hulu, Amazon Prime, Disney+, and so forth. If you're not from the USA or UK (BBC iPlayer), you're pretty much doomed in this regard.
Avoid geo-blocks with ExpressVPN >
But, a VPN lets you change your online location in a single click, making it seem like you're in a different country. That way, you can easily access all the platforms and sites that this particular country offers. Pretty neat, isn't it?
Torrenting Safely
People in South Africa engage in P2P activities quite often. And to be honest, who doesn't? While there aren't strict laws when it comes to torrenting, this is still a risky business. Now, don't take this for granted but residents of this country don't often get punished for torrenting. Either the laws aren't in place or it's not a top priority.
Nonetheless, when downloading torrents, you're probably going to violate copyright and as such, you're eligible for a fine or for jail time. To avoid this, you want to hide from your ISP that monitors your network.
It's very simple and with the best VPN usable in South Africa, it's entirely possible. It will obfuscate your IP address, rendering you invisible to the watchful eyes of your ISP and the government.
Staying Safe on Public Wi-Fi Networks
Being a popular tourist destination, this country attracts a decent number of tourists each year. Because of that, the country has lots of public Wi-Fi networks scattered around, allowing them to connect easily.
While the networks are password-protected, they're not encrypted, leaving them vulnerable to hackers. Of course, if you connect to it without a Virtual Private Network, you're vulnerable, too! They can hack the network and steal data from the device you're using on that particular network.
Since you get an IP address from that router, you need to enable this service, change your IP, and that way, they can't do anything to you because you're practically invisible to them.
Best VPNs With Servers in South Africa
South Africa, luckily, is home to many VPN servers, so even the most popular providers have servers there. Here are the best VPN options with servers in South Africa:
ExpressVPN: ExpressVPN is the best provider on the market, with servers in South Africa. It has 3,000+ servers in 94 countries and offers the fastest speeds on the market. Ideal for streaming and gaming.
NordVPN: NordVPN offers tons of features for an affordable price. It has 30 fast-speed servers in this country, great for all online activities.
CyberGhost: CyberGhost gives you incredible value for the money. Apart from solid speeds and impeccable security, it also offers 10 servers in Cape Town.
To get the VPN provider of your choice, simply click on its name above, subscribe, install the apps, and connect to a South African server. Now, you can enjoy your online freedom anonymously.
Best VPNs for South Africa
If you're just a resident of South Africa and you need an all-around VPN provider, you're in for a treat. Here are our top 3 picks:
1. ExpressVPN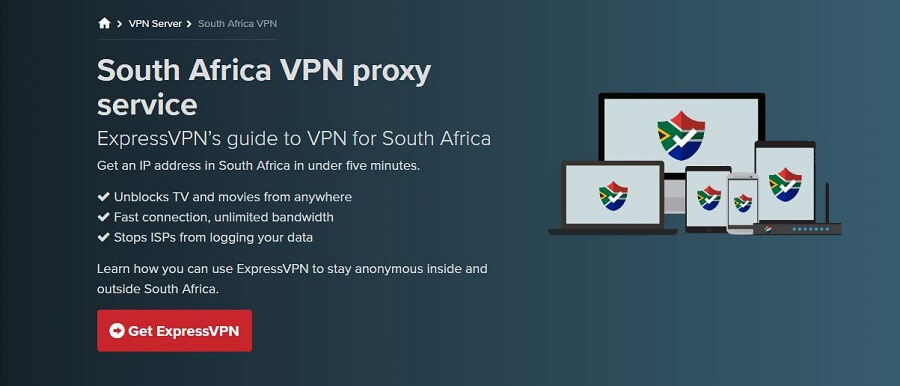 ExpressVPN is a well-known name in the VPN industry. With its bleeding-edge security and fast speeds, it's the best choice for this country. We said that it offers thousands of servers worldwide, giving you the possibility to bypass geo-restrictions easily.
South Africans will love it not only for its speeds but also its ability to unblock Netflix, Hulu, HBO GO, and local channels from abroad. In our tests, it showed great results when it comes to security, too. It comes with military-grade encryption coupled with an automatic kill switch.
A kill switch is here to shut down your internet connection in case you're VPN connection breaks, making it impossible to accidentally leak your IP. We also like that it doesn't store logs, which is going to light up privacy lovers.
Last but not least, it offers a 49% discount and 3 months free for an annual subscription plan. And if you don't like it, there's a 30-day money-back guarantee.
Get ExpressVPN for South Africa >
2. NordVPN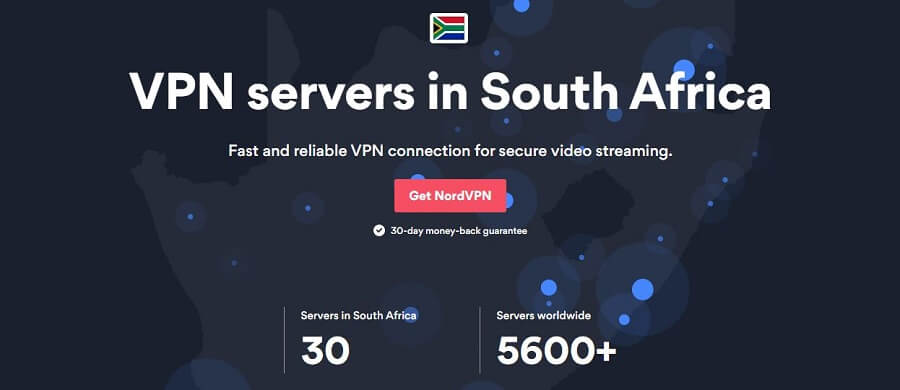 NordVPN dominates the market since its inception in 2012. With almost a decade of existence, it managed to develop 5,700+ servers 59 countries, which is definitely an imposing number. Users enjoy the provider's speeds but also rock-solid security that's hard to beat at this price point.
The provider is from Panama, hence it doesn't store logs. 256-bit encryption is used and with an automatic kill switch, it guards your back as long as it's enabled. The addition of SmartPlay is also a great one, as it allows you to enjoy streaming safely.
And in case these annoying ads make you anxious, its CyberSec feature will block them. Streaming lovers will, once again, love it for being able to unblock Netflix US and other popular streaming platforms. All in all, it's an affordable VPN that is working in South Afirca and that offers superb performance.
Enjoy NordVPN in South Africa >
3. CyberGhost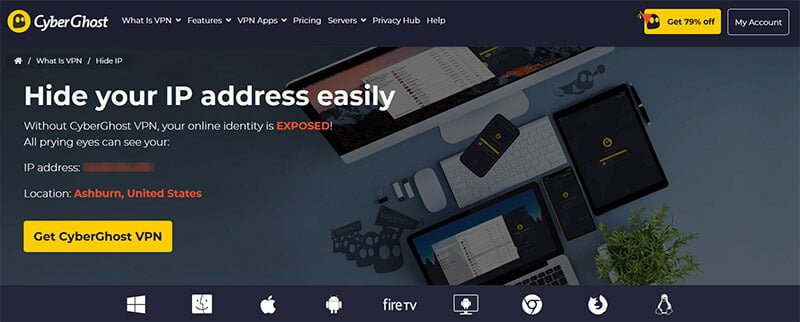 CyberGhost is in a league of its own, especially when it comes to the price-to-performance ratio. This is among the cheapest VPNs out there but it offers 7,000+ servers in 90+ countries worldwide. That's pretty insane, you'll agree.
Furthermore, it's a great provider for those who aim for high speeds. This will make your Netflix or BBC iPlayer streaming far more enjoyable. And speaking of them, there are dedicated servers for unblocking these, and many other platforms, so it's easy to stream whatever you want.
South African people will love its simplicity and affordability. On top of that, CyberGhost doesn't store any logs, making it perfect in terms of safety. Security-wise, you can expect 256-bit AES encryption, a kill switch, and DNS and IP leak protection.
Generally speaking, it's a great provider for the money, as you can see in our full review here.
Unblock Sites in South Africa With CyberGhost >
Summary
Wrapping things up, we have a few more words to say. Staying safe and secure online is always a good thing in today's day and age. If you still ask yourself "Do I need a VPN?" Yes – you do need it, and in South Africa, too!
Our recommendation for this country is ExpressVPN. It's simply the best one you can get in every department, being its speed, security, or unblocking sites. Get it now and you'll get its 49% discount!