Global surveillance isn't anything new. Since the Cold War era, and even earlier, governments found the way to spy on the residents of countries worldwide. Nowadays, people are more aware of this bizarre trend and are searching for more info about 5, 9, and 14 Eyes alliances. Today, we are going to talk about these intel-sharing alliances and see how they impact your privacy and security online. Needless to say, we require your full attention because this topic is VERY important.
5 Eyes – Where it All Started
To fully explain everything about these 3 alliances, we need to go back in time, when 5 Eyes emerged. This alliance was initially known as UKUSA and it was an intel-sharing agreement between the United States and the United Kingdom.
The goal of this alliance was to spy on the former USSR during the Cold War era. One of the most impressive things about it is that it dates back to 1946, in the post-WW2 period. Over the following years, UKUSA grew rapidly, focusing more on mass surveillance, rather than spying on the USSR.
This meant that now the citizens were those under surveillance, which was bad news for privacy. Later on, more English-speaking countries joined in – Canada, New Zealand, and Australia. With the UK and US, we can count 5 countries in total, which is how the term 5 Eyes became popular.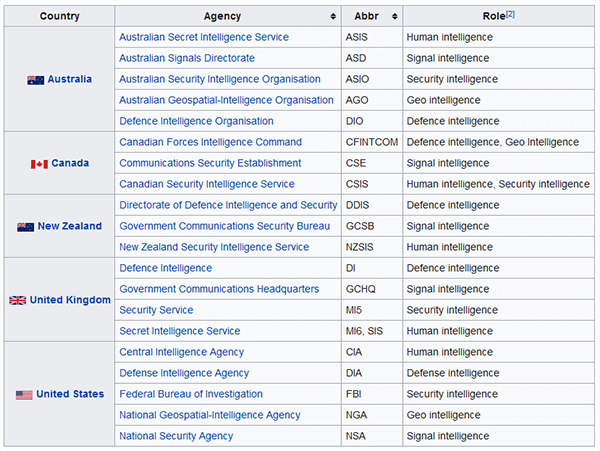 During the Cold War, 5 Eyes developed a multitude of spy stations around the planet, with the ability to intercept multiple types of info – telephone calls, emails, online traffic, etc. This project is called Echelon and with it, 5 Eyes can read information from different satellite relays in the world.
9 Eyes & 14 Eyes
It's easy to realize that "Eyes" in these expressions mean countries. So, if there are 5 Eyes, it means that 5 countries are in the data-sharing alliance. As this spying allegiance grew, more and more countries started to jump on the bandwagon.
Most notably, 9 Eyes means that there are 4 more countries aside from the English-speaking ones. The other four countries are the Netherlands, Norway, France, and Denmark. Beware that 9 Eyes exist for much longer than we anticipate.
Given that 14 Eyes was founded in 1982, it's speculated that 9 Eyes date all the way to WW2, shortly after the inception of 5 Eyes.  Nevertheless, with the addition of Germany, Italy, Spain, Sweden, and Belgium, 14 Eyes was complete.
Interestingly, even this largest alliance aimed to disrupt the USSR communications and intercept data. In other words, 14 countries, including third parties, were joined together against the former USSR. Of course, their goal later expanded to much wider surveillance, which is what we encounter today.
Third-Party Contributors
Third-party contributors are the countries that aren't officially in any of the alliances, but they "help" from time to time. Since most of the info about this topic is based on leaks, we can't say which countries are contributors with 100% certainty.
However, in the past couple of years, there are a few speculations. Allegedly, countries like Singapore, Japan, Israel, and South Korea are the main culprits. These countries formed what's called a SIGINT Seniors of the Pacific. SIGINT stands for signal intelligence.
That's not all! There are a few more intel-sharing alliances, and one of them is the SCO (Shanghai Cooperation Organization). Believe it or not, this alliance includes India, Pakistan, Uzbekistan, Russia, China, Tajikistan, Kazakhstan, and Kyrgyzstan.
As we can see, third-party contributors are abundant and are almost equal to the 5/9/14 Eyes. To put it simply, there are multiple intel-sharing alliances around the globe, which results in global surveillance that violates your privacy.
Are VPN Users Affected? What to Look Out For?
Yes! The effect of these alliances is so strong, that even VPN users will suffer to some extent. What users need to pay attention to is the 5 Eyes alliance. The countries from this alliance are mostly known for government surveillance, while 9 and 14 Eyes are a bit "milder."
The prime example of that would be the USA. This country gives you total freedom online, but it also spies on your online activity. Although there's little to no censorship in the United States, knowing that someone breathes behind your neck is definitely not a good feeling.
Logically, some of the VPNs on the market are located in the aforementioned countries, which doesn't come as a surprise. After all, avoiding all of the countries we mentioned is very hard. If the VPN provider you're using is in the 5/9/14 Eyes jurisdiction, chances are that your data isn't in safe hands.
All of the countries from these alliances cooperate, hence they share information between themselves.
Know your VPN
To be able to properly choose the provider that's outside the 5/9/14 Eyes jurisdiction, you need to know it well. First, check the provider's privacy policy and see if there's any information about its location.
If the provider doesn't include any info, make sure that you contact the customer support team and try to squeeze additional info about that. The important thing is to see where the provider registered its business.
For example, its location might be the British Virgin Islands, but the business might be registered in the UK. The UK is, as we said, a 5 Eyes member, so you should avoid it. Do NOT choose a provider from 5/9/14 Eyes if you care even the slightest about your privacy. Why?
Because these countries have data-retention laws that force the VPN providers to hand out info if needed. Logically, this ruins the whole purpose of a Virtual Private Network. Since the countries share data with each other, your personal info might end up on a whole different continent.
This info can later be sold to third parties for whatever purpose. Another, more extreme step, is to not use a VPN server from these countries. If you want to be very cautious, you can do so, even if the provider is based in a country far away from this jurisdiction.
Check the No-Logging Policy
It is quite important that you get a VPN that does not store logs. By logs, we mean every bit of information that the provider can squeeze about you. VPN providers nowadays can collect basically every bit of info about their users. It can be an online history, personal info, bank account, IP address, and so forth.
To prove that, we'll use an example that transpired a few years back, with HideMyAss. This is a VPN located in the UK, in the 5 Eyes jurisdiction. In order to solve the criminal investigation, the court ordered the provider to hand over the data about the particular suspect.
Thanks to the IP address that was exposed by HMA, authorities successfully found the location of the suspect and arrested him successfully. Another case is with IPVanish, a popular US provider.
This provider basically lied to the whole user base, claiming that it has a strict zero-logging policy. However, not long after, the FBI managed to solve a criminal case thanks to HideMyAss – or better said – to the logs it stored.
A positive example of a clear and genuine zero-log policy can be the case with ExpressVPN. ExpressVPN is based in the British Virgin Islands, outside the 14 Eyes jurisdiction. In this case, Turkish police tried to extract the information bout a particular user, but with no avail.
To be precise, they couldn't find anything because the provider stored no logs, adhering to its zero-logging policy perfectly. A zero-logging policy is usually enough to make the provider trustworthy – if it's a genuine one. But, for the member of 5/9/14 Eyes, that's sometimes not enough.
Best VPNs Outside the 5/9/14 Eyes – Our Top 3 Picks
Okay. Enough lessons for today. If you're in a dire need of a reliable VPN provider, now it's time to get one outside these jurisdictions. Our top 3 providers outside the 5/9/14 Eyes are below:
1. ExpressVPN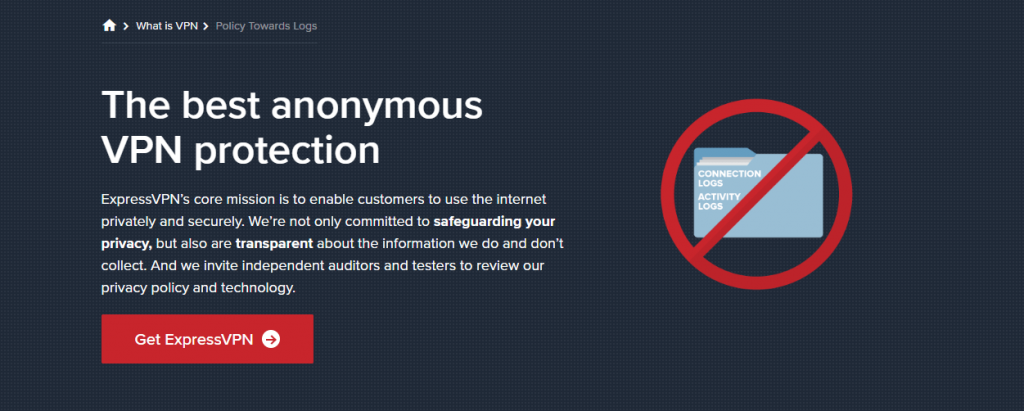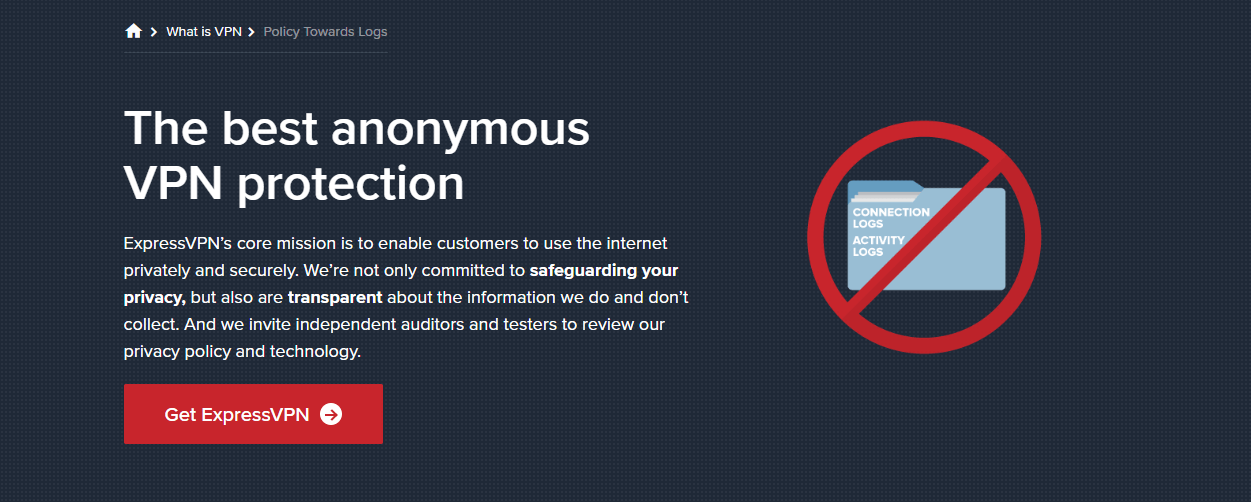 The best option on the market is ExpressVPN. This provider is a real definition of what a no-compromise deal means. Sure, it's not the cheapest provider out there, but its quality is on the whole new level when compared to other providers on the market.
ExpressVPN offers 3,000+ servers and has a zero-logging policy audited by PwC, which is one of the biggest companies in the cyber-security world. This means that the provider doesn't store logs, and on top of that, it's outside the aforementioned jurisdiction.
Security-wise, you can expect the best features. 256-bit AES encryption is here to protect your connection, while the kill switch gives another layer of security. We like the addition of split tunneling as well, which will allow you to use two IPs simultaneously.
ExpressVPN is far more from being just a secure provider based outside the 5-Eyes. It's great for torrenting and streaming, due to its fast speeds. Moreover, it allows for up to 5 simultaneous connections on a single account, letting you protect multiple devices at the same time.
Its customer support is probably the best in the business and is available 24/7. They can help you solve any VPN-related problem in no time! Lastly, if you smash the button below, you can get a 49% discount and 3 months free for a 12-month plan. Sounds good? Go get it!
Get ExpressVPN for Supreme Privacy >
2. NordVPN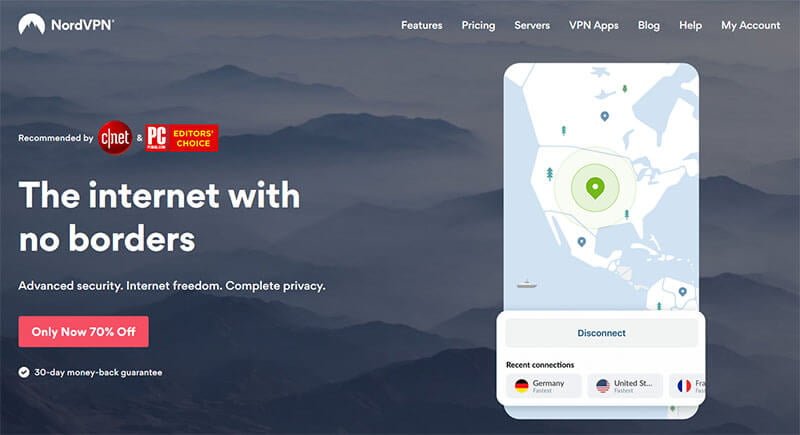 What about NordVPN? Well, this name is as resounding as it gets. NordVPN is one of the best providers ever, with 5,600+ servers in 60 countries worldwide. If that sounds like a lot, you're in for a treat. The provider is based in Panama, which is a country outside the 5/9/14 Eyes.
Panama respects your privacy, hence there are almost no data-retention laws. The good thing is that the provider offers a no-log policy, meaning that they can't hand over any data to the government. And much like ExpressVPN, NordVPN's policy is re-audited by PwC in 2021.
The provider offers superb security, which is one of the reasons to get it. Apart from military-grade encryption, there's a kill switch, Double VPN, and obfuscated servers for users in censored countries.
NordVPN also uses OpenVPN, but you can choose NordLynx, a WireGuard based solution. It will give you better security and speeds, resulting in a phenomenal VPN experience. Needless to say, it will be a great option for unblocking sites like Netflix and Hulu, but also enjoying torrenting safely.
Right now, NordVPN offers a special discount and a 30-day money-back guarantee, so don't hesitate to check it out.
3. CyberGhost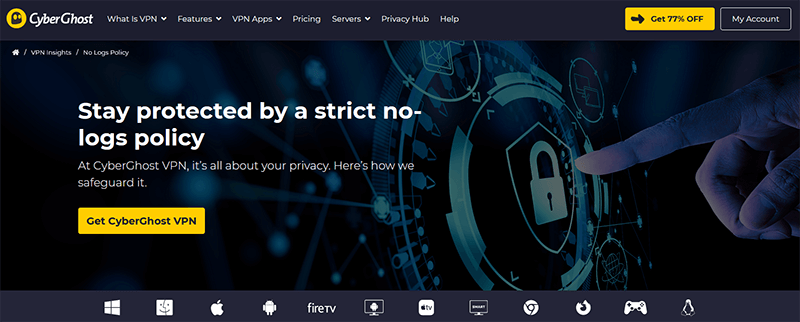 CyberGhost's Romanian jurisdiction is probably one of the best around. Romania is a beautiful country with beautiful laws regarding privacy. This country will not spy on you, nor it will collect data and sell it to third parties. As such, CyberGhost follows the same trend with its no-logging policy that screams honesty.
Although it hasn't been audited, the provider is very trustworthy. It won't collect any logs, so even if the authorities require it to hand over data, it won't have anything to give out. To top it all up, the security is very strong, making it hard for anyone to intercept your online activities.
CyberGhost is great for enjoying streaming on Netflix or HBO GO, thanks to its fast speeds. Furthermore, it offers dedicated servers for streaming and torrenting, which is convenient for using it for different online purposes.
We like that it offers up to 7 simultaneous connections on a single account, as well. There's unlimited bandwidth, which will allow you to binge-watch shows and movies, or play online games endlessly.
This is a very affordable provider that offers its features at a minuscule price. Should you decide to get it, we recommend a 3-year plan that yields the highest discount. Also, there's 2 months FREE and a 45-day money-back guarantee.