It has become easier than ever for cyber-criminals to steal your information right from under you as you browse the web, which is why VPNs have become so popular. They are designed to protect your valuable information from cybercriminals, especially when you are working on a public internet network, such as those found in a cafe or restaurant. But is Astrill VPN worth the time or money? There are other options, and we will look at if they are better alternatives. Let's get to it.
What Is Astrill VPN?
One thing that we can not deny about Astrill VPN is its sheer power and number of features. It boasts a network of over 300 servers in nearly 70 countries. Plus, it offers connection speeds that are incredibly fast.
Astrill also gives you access to geo-restricted content around the world. With all that being said, is this really the right VPN for you?
If you are looking for a VPN that will allow you to stream through your favorite streaming services such as Netflix and Hulu, then Astrill has you covered. Unfortunately, it is only capable of connecting to the US and UK Netflix catalogs and runs into some trouble when trying to connect to others.
Downsides of Astrill VPN
When you use a VPN, you expect a service that provides a fast enough speed to stream and browse the internet without hiccups.
Unfortunately, Astrill has been known to lag a little too often. This becomes a problem when you are trying to stream your favorite shows through Netflix. But that's not all. You will find below some reasons why you should look for the best alternative.
Collects Data
Astrill also claims that they do not collect data logs, but their privacy policy states that they collect data such as cookies and other personal information.
They also claim that they do not sell or trade your personal information with others, but state that the reason they collect your data is to improve and personalize your experience with online shopping and communication. We were not too happy with any data collection. And you shouldn't be either.
More Expensive Than Similar Services
The pricing is also above average, coming in at around $5.83 a month, which is quite a lot higher than most other affordable VPNs with similar features.
Astrill VPN also do not have as much support as other providers. And they do not have any 24/7 live chat, which can become frustrating when you are trying to resolve any problems you may run into when using this VPN.
Our Favorite Alternatives to Astrill
While Astrill has a few features that are worth a look, it may not be what you want. Here we present you with some of the top options and alternatives that you can use to ensure your safety and security online.
ExpressVPN
ExpressVPN is a service that gives you so much more than just internet security, and it has a lot going for it. It is one of the few truly comprehensive VPN services that boasts an impressive array of servers, as well as some excellent features that are not available from other VPNs.
Currently, the average cost for a top-tier VPN service is around $10.50, which is quite a lot cheaper than ExpressVPN costs, and they do not offer a free version of their service. But, for the level of security and the sheer number of features that you receive, ExpressVPN offers great value for money.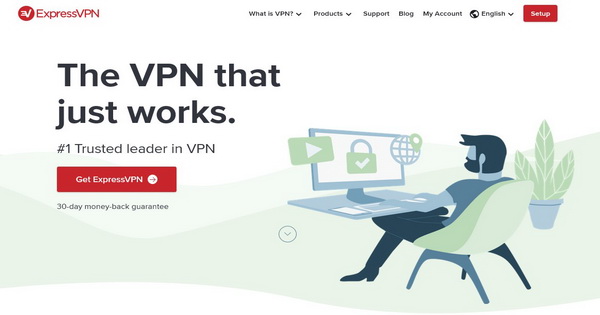 Why choose ExpressVPN over Astrill?
Again, ExpressVPN features a much larger server network that includes more than 3,000 servers across 94 countries, while Astrill only offers a little more than 300 in 49 countries.
ExpressVPN also provides some more advanced features, such as DNS/IPv6 leak protection and VPN split tunneling, while Astrill only provides a much simpler service with a killswitch.
With regards to customer support, ExpressVPN has a very reliable 24/7 live chat service, while Astrill only offers a live chat option during scheduled hours and a support ticket during others. Just for that, the provider is a very good alternative to consider, that's for sure.
Why is ExpressVPN better than Astrill?
ExpressVPN has Astrill beat in terms of the sheer number of servers, and lets you access far more international websites and streaming catalogs, whereas, with Astrill, you are limited to a mere 49 international options.
It also offers much better customer support in comparison, which is important, especially for more inexperienced VPN users. Plus, ExpressVPN is still working pretty well in China, unlike many competitors.
Get a subscription at ExpressVPN.com >
NordVPN
NordVPN claims to be the best VPN out there for use with streaming services. This VPN also offers some great coupons that make it one of the best VPNs for your money. Many folks who have tried using this type of service to stream on Netflix will have encountered a notorious error that prevents them from doing so.
One of the main benefits that NordVPN provides is that it does not appear on the list of VPNs that Netflix can detect and block. It is actually one of the best for those who are looking to bypass the new strict detection measures that Netflix has in place.
It is able to work with various international Netflix versions, including those in the US, Canada, UK, Japan, France, and Brazil, which gives it an excellent advantage over many other competitors on the market. Other VPNs are usually only capable of accessing a couple of regional Netflix catalogs, and often encounter problems while doing so.
NordVPN also goes the extra mile to make sure that you are getting the best streaming experience possible, all while being hassle-free. The FAQ on their website provides instructions and suggestions for the best servers to stream on Netflix, as well as other popular streaming services like BBC and Hulu.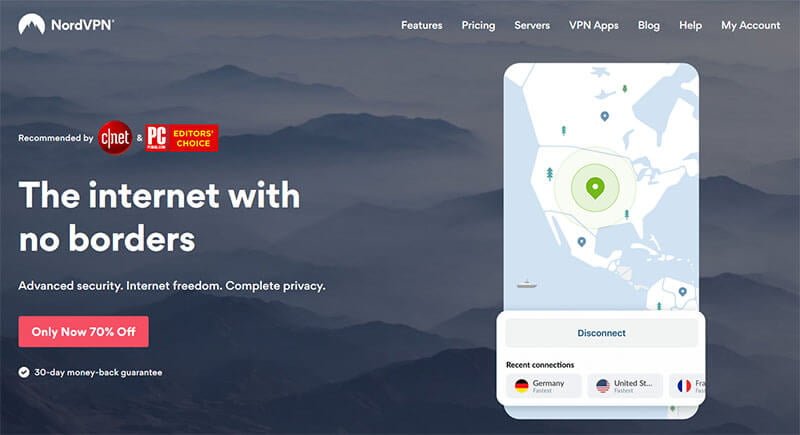 Why choose NordVPN over Astrill?
Right off the bat, NordVPN has an advantage over Astrill in that it offers a much wider range of server options, with over 5,600 servers spanning across 58 countries. Astrill only offers 300 servers. While it is in 63 countries, this is a downside.
Astrill also does not have a money-back guarantee policy, unlike NordVPN, which offers you your money back within 30 days. Isn't that a good news if you are looking at the best alternatives possible?
If you are also someone who is after features that are more innovative, NordVPN is your best choice, as it provides ad blocking, some unique security tools, and Double VPN encryption. Admit that an alternative with so many functionnalities is tempting, right?
Why is NordVPN better than Astrill?
There is nothing more frustrating than experiencing problems that you just can't seem to resolve.
This is why 24/7 customer support is so important, and NordVPN understands this, which is why they provide 24/7 live chat and customer support. Unfortunately, Astrill does not offer the same benefits as we've seen before in this article about the best alternatives possible to the provider.
NordVPN also offers more features overall, that are innovative and unique, giving you a VPN experience like no other.
Get a subscription at NordVPN.com >
CyberGhost
CyberGhost comes chock full of useful features while still being straightforward and easy to use, and their mobile clients are much more ordinary while still being extremely effective.
The company is based in Romania and provides comprehensive VPN services for over ten million users. They feature an impressive 7,000 servers spanning across 90 countries, and most of them allow for torrents, but not all.
CyberGhost also offers custom clients for Mac, Windows, Android, iOS, and more. It also includes several extra features along with standard VPN functionality. The provider allows you to connect up to seven devices at the same time, which is just above the industry standard of five.
However, it is important to know that once you have connected a device, a connection slot is used up, and you will need to log out of the devices if your slots are full, and you need to connect another device.
While this can be a bit of a pain, it usually does not take very long, and it is very unlikely that you fill all seven slots at any given time.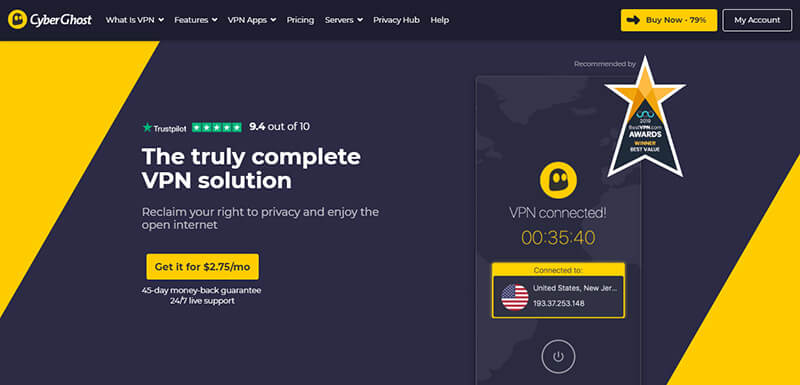 Why choose CyberGhost over Astrill?
CyberGhost helps overcome your worst territorial nightmares by allowing you to connect to pretty much anywhere in the world, regardless of your location. The option to 'Unblock Streaming' allows you to stream your favorite TV shows, even if they are only available in other countries.
Astrill is not as strong as some of its competitors and is certainly not as strong as Cyberghost. While their 'Multihop VPN' function provides some added anonymity, they create more diversions, which slows the performance of the service overall.
Why is CyberGhost better than Astrill?
The most appealing feature about CyberGhost is its low price. This is even more true when you compare it to Astrill, whose prices are generally way above average. The Romanian provider is also much richer in features and offers a 45-day money-back guarantee, unlike Astrill, which does not provide any money back at all.
CyberGhost's client is also much easier to use than that of Astrill, while still being packed with features. Do you need even more information before choosing it as your alternative? So go to its official website.
Get a subscription at CyberGhost.com >
Best Free Alternative to Astrill
We know that not everyone is interested or able to pay for a Virtual Private Network. So, we thought it would be a good idea to show you one of the best free options.
Windscribe
Even though Windscribe offers some paid options to its VPN service, the free version is the most popular option with users, thanks to its very generous 10GB monthly data limit.
Windscribe also offers some features to better hide your online identity, such as changing the timezone of your browser to match that of the Windscribe server location, randomly rotating the user agent of your browser, and deleting cookies during a VPN session.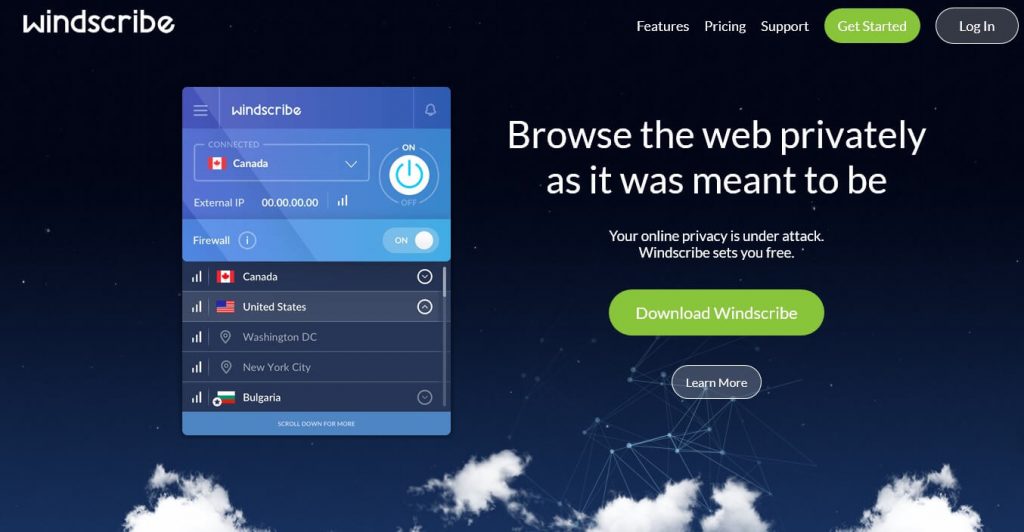 Why choose Windscribe over Astrill?
Windscribe provides excellent encryption and security features. It also has some useful privacy options, all while matching the speed that Astrill is known for. And the best part is, it's totally free! Of course, this depends on the plan you choose.
If you do decide to choose a paid option, you gain access to all of the above features. Plus you get unlimited bandwidth. Regardless of the option you choose, Windscribe does not keep logs of your activity, making it super private as well.
Why is Windscribe better than Astrill?
To state the obvious, Windscribe is free, while Astrill is not. Although you are limited to 10GB a month, it is still more than enough to browse your favorite social media and websites. But you might want to consider looking into the paid options if you want to use it with streaming services.
Windscribe also allows you to pay via BitCoin and has proven to have no information or IP leaks whatsoever.
Wrap Up
Most VPNs offer the same core service, which is privacy and security. But each also provides additional features that cater to different needs and preferences. Finding what works best for you is what is most important when it comes to choosing a VPN.
But we still highly recommend using one of our favorite Virtual Private Network alternatives to Astrill: – ExpressVPN, CyberGhost, or NordVPN 😉