France is a wonderful place to visit or relocate to and it is a very popular vacation destination for Brits. The only downside is when you want to kick back, relax, and watch Television as you cannot stream your favourite TV shows from the UK. Therefore, if you find yourself abroad, you might be interested in this trick to unblock and watch British TV in France using a VPN.
A VPN is short for Virtual Private Network. Having the best VPN in France is a good idea as it can be used to unblock, stream, help you stay secure, remain anonymous, and even more.
We are going to explain everything you need to know to take advantage of the benefits, and use it to access and watch free TV channels while abroad.
Why UK TV is blocked abroad?
Streaming websites such as ITV Hub, BBC iPlayer, 4OD and more show TV programs are only licensed for showing within the United Kingdom due to copyright.
With this in mind, the channels are restricted to anyone outside of the country. This even applies to people from Britain who travel abroad for holidays, work or who relocate to live in France.

This means that even if you have an account/subscription with the online streaming services you will still be unable to access the service to watch once outside of the country.
How British Television is restricted?
You might be wondering how the streaming service knows that you are located outside of the United Kingdom. Well, this is something we are going to answer now.
Streaming websites and internet service providers know exactly where you are located due to your IP address. This is because the IP address of the device you use to connect to the internet is revealed every time you go online.
Get a British IP address with ExpressVPN >
All countries have a specific range of addresses, which reveals the country in which you are located. The website you want to visit is matched to the IP address and this determines whether you can visit it or not.
How a VPN can help you?
The trick to unblock and watch British TV abroad, and particularly in France, is to fool the streaming service into believing you are still within the United Kingdom.
This is where a Virtual Private Network comes in. You can use this type of service to mask your own IP and get one from that country.
Once connected to a server you are able to remain anonymous as no one can find your true location. In addition, no one can see what you are doing online thanks to encryption.
Steps to unblock and watch British TV in France
So, to find out how to get around the geo-restrictions that stop you from streaming Television from the United Kingdom just check out the steps below.
1. Find a provider and a plan
The first step is to find a provider and a plan to suit your needs. Providers offer different plans based on the length of time you want to commit.
For instance, if you choose leading provider ExpressVPN it offers paid monthly plans, a 6-month plan and a one-year plan.
The biggest savings of 49% are made when signing up for the one-year plan. Plus, the provider gives you three-months free. You take advantage of big savings as you are committing to a one-year plan and paying for it upfront.
2. Choose which apps you need and download them
Once you have signed up for a plan the next step is to choose which apps you want to download. This is based on the device or devices you will use to watch television shows and programs from the United Kingdom.
Providers cover most of the standard devices, such as Windows and MacOS, or Android and iOS devices.
Some providers, such as ExpressVPN, offer manual installation of the VPN on compatible routers. This allows you to benefit from the Virtual Private Network on a wide range of devices not covered by standalone apps.
3. Install the app and launch it
Finally, you need to install the downloaded app onto the device you want to use and then go ahead and launch it.
Sign in using the credentials you made when signing up and a dashboard will open up. The one shown below is from ExpressVPN and this is where you can choose a server.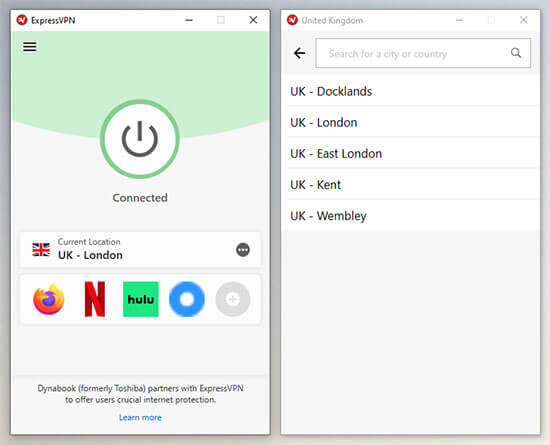 So, from the list of servers choose one in the United Kingdom and connect to it.
After that, your IP is masked and you take on an alternative one. This fools the streaming website into thinking that is where you are actually located.
Along with this, your information is encrypted. This means no one knows what website you want to visit in the first place (not even your ISP!).
The best VPN in 2021 : ExpressVPN
We highly recommend using a reliable provider such as ExpressVPN to get access to British TV, especially if you're in France. However, NordVPN and CyberGhost are good alternatives.
ExpressVPN is extremely good at overcoming restrictions abroad. It allows you to unblock and get access to British Television abroad free of charge using ITV Hub, BBC iPlayer or any other streaming service.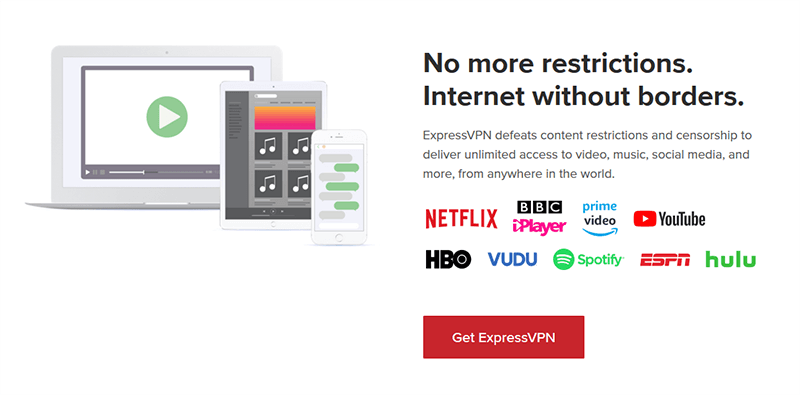 The provider offers blazing-fast servers with a wide choice in the United Kingdom. In addition, it includes AES 256-bit military-grade encryption in plans along with the OpenVPN protocol and a choice of other protocols.
A Kill Switch is another type of security measure that stops the streaming service or ISP from finding out your true location. It stops the internet dead if the server connection drops to stop any information from bypassing the encrypted tunnel.
Watch British Television in France with ExpressVPN >
To summarise
As you've seen, our trick to unblock and watch British TV in France is to use a VPN.
All you have to do is choose a reliable provider such as ExpressVPN, sign up for a plan, download the app, sign in and choose a UK based server 😉
If you have any questions despite all these explanations, please let us know in the comments.