Here, we will be briefly discussing VyprVPN, which is thought to have great potential for securing your internet connection. Is this really the case, though? Let's take an in-depth look and after, we will discuss the downsides and try to find the best alternatives to VyprVPN in 2021.
What is VyprVPN?
Frankly, VyprVPN stands as one of the oldest Virtual Private Networks on the market. It has been out for more than a decade and was founded by Golden Frog, a company that everyone knew for its internet privacy mission.
This Swiss-based provider makes bold claims when it comes to encrypting your internet communication and ensuring 100% anonymous browsing. An array of protocols, including OpenVPN, L2TP, PPTP, and IPSec, is certainly a good start.
This contributes to its overall compatibility and security in the matter of browsing the world wide web. Also, it seems to use the industry-standard 256-bit AES encryption, thus standing up to par with the leading names in the industry.
Also, we found this VPN to be quite fast, and it ensures a stable and reliable connection to almost all of its 700+ servers. If you were wondering if VyprVPN is a global provider, we can say that it is, given the 700 servers that it offers.
While maybe not the best VPN for unblocking content in China, it does a good job accessing Netflix in the US and the EU. Additionally, in case you encounter any issues, it seems that VyprVPN has effective live chat support to help resolve the problem.
While things look good so far, VyprVPN comes with more than a few cons. Unfortunately, this provider is quite confident when it comes to the privacy aspect, but we didn't find this to be the case and this is one of the reason why we will give you some great alternatives before the end of this article.
Downsides of VyprVPN
If you want to find out more about how this service works, we suggest you take a look at https://monkeyprivacy.com/vyprvpn-review/ for more details. We will be moving on to discuss the few downsides that are related to VyprVPN before talking about alternatives.
Sketchy Logging Policy
This is where things get a little bit complicated. A couple of years ago, we would be certain that VyprVPN was tracking and storing your browsing activity, although they claimed the opposite (strict no-log policy).
We found this out by going through their official website and looking up the privacy policy, as well as the Terms of Service page. It was quite disappointing to know that they keep a record of your IP address, as well as connection logs and session timings.
However, looking at the state of things today, we see that VyprVPN has improved to at least some degree. They do state they keep this info, but only for 30 days.
Thus, you can only hope that no local government requests your private info and browsing data during this time period.
Torrenting through the service is not possible
There are millions of users that install a VPN in order to have unlimited access to P2P transfers and torrenting. The main idea is to stay away from DMCA sanctions and other legal consequences.
However, VyprVPN and its parent company, Golden Frog, strongly discourage this activity. Thus, you will not be able to use a single of the 700+ servers to enjoy torrenting. Isn't that a good reason to look at a better alternative to VyprVPN?
Our Favorite Alternatives to VyprVPN
VyprVPN does have certain potential when it comes to encrypting your communication and keeping you safe from leaks and malware. However, it is seriously lacking in the privacy aspect.
Thus, we were tempted to look for substitutes that offer a pretty clear logging policy and are based outside of the 5/9/14-Eyes alliances.
ExpressVPN
When it comes to providers that are highlighted by great speeds, this is the one you can count on. ExpressVPN is based in the British Virgin Islands, which are free of any data retention policy. Thus, it is one of the safest providers on the market.
Keep in mind that, much like NordVPN, it offers thousands of servers in more than 90 countries. Also, it provides a good ability to unblock content on Netflix, Amazon Prime and many more streaming platforms.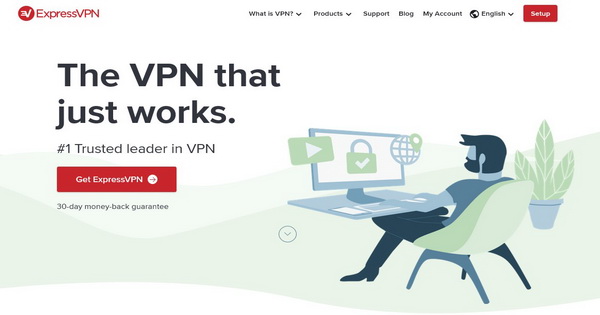 Why choose ExpressVPN over VyprVPN?
The main reason is certainly the speed that highlights this provider. We enrolled in a 1-week test session and found the speeds to be simply amazing.
Even with the servers in the US, Canada, Australia, and Asia, we didn't have any huge drops. This made it quite simple to enjoy browsing, streaming and torrenting.
Why is ExpressVPN better than VyprVPN?
ExpressVPN is slightly on the pricier side, but this is justified by its close to flawless performance. We found that the increased security and privacy aspect is quite beneficial if you want to stay anonymous.
Which is why it is for us the best alternative to VyprVPN you can get in 2021.
Get a subscription at ExpressVPN.com >
NordVPN
This Panama-based service is highlighted by a user-friendly interface and an indisputable ability to unblock censored sites.
Much like the aforementioned provider, NordVPN runs on OpenVPN tunneling protocol. It also uses military-grade encryption that comes in the form of 256-bit AES.
NordVPN does great when it comes to offering global service. This VPN has above 5,500 servers that are set in over 50 countries. This makes NordVPN one of the best provider for accessing streaming sites such as Netflix or Amazon Prime Video.
Additionally, it works great for P2P transfers and torrenting, with no logs collected whatsoever.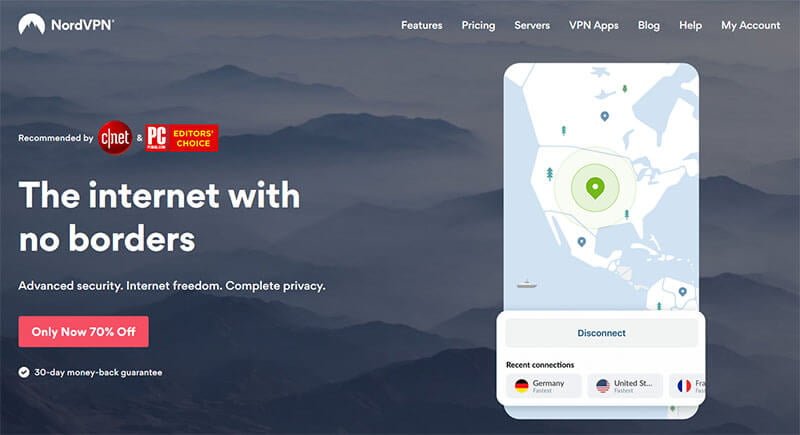 Why choose NordVPN over VyprVPN?
Again, NordVPN is simply one of the best when it comes to unblocking Netflix and other popular streaming platforms. We performed a couple of tests and found that most of its locations in the US were able to offer unlimited Netflix content.
The same goes for the locations set in the UK, and we also had luck with catalogs in France and Germany. Of all the test sessions that we performed on 35 different servers, only one did not work.
We loved the incredible usability that comes with NordVPN, as the installation process consists of a few simple steps.
Why is NordVPN better than VyprVPN?
NordVPN works great for unblocking censored content and allowing unlimited P2P transfers. This provider is quite affordable, as well. The one-month plan may not be the cheapest option available, but it is still less than ExpressVPN.
On the other hand, subscribing to this provider will only cost you $6.67 per month with the yearly plan. Meanwhile, the 3-year subscription option will set you back a mere $41.88 per year.
Overall, NordVPN is an affordable and reliable option that you are sure to enjoy.
Get a subscription at NordVPN.com >
CyberGhost
Lastly comes CyberGhost which we do consider to be one of the best alternative to VyprVPN for a couple of reasons. First, it is based in Romania and as such not a part of the 5-Eyes alliance.
Additionally, you are looking at more than 6,000 servers you can effectively connect from. Also, you have nothing to worry about when it comes to user interface given the fact that it is made simple and easy for beginners. If you are not sure about it, you can use their 45-day money-back guarantee – this will allow you to see if it works for you.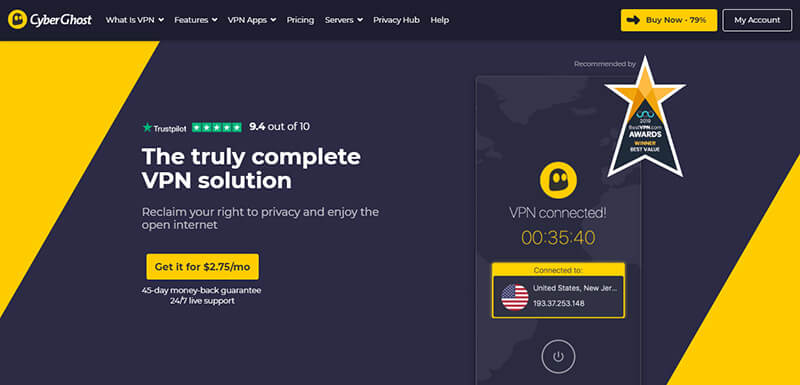 Why choose CyberGhost over VyprVPN?
When you compare it to what VyprVPN has to offer in terms of global coverage, CyberGhost does much better. Plus, it is a great VPN to use on Android.
Why is CyberGhost better than VyprVPN?
One of the main reasons is because of the customer service that is incredibly effective. The live chat feature is up 24/7 no matter your location.
Not to mention, the pricing options of CyberGhost are more affordable, and the refund policy is one you can certainly rely on!
Get a subscription at CyberGhost.com >
The Best Free Alternative to VyprVPN
Most people doubt that there is a free VPN you can put trust in. This is because, with many free options, it has been proven that your data and private info gets sold in order to turn a profit.
However, that doesn't seem to be the case with Windscribe. Which is way it is for us the best free alternative to VyprVPN.
Windscribe
As one of the most discussed providers, the free plan is probably the best one on the market. There is a 10GB data transfer limit and only 14 servers, but this is fair, considering you are not paying anything.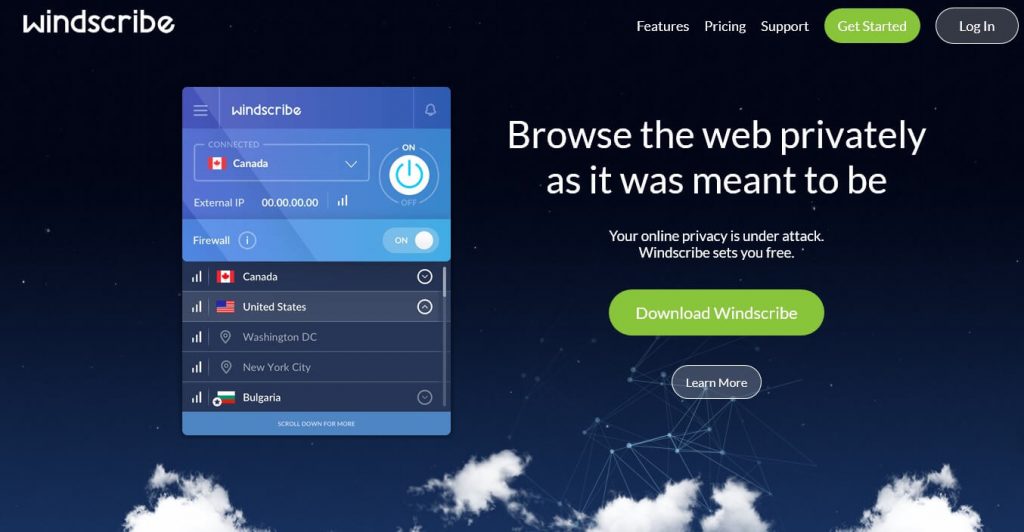 Why choose Windscribe over VyprVPN?
We love it because torrenting is not blocked so you can safely download your favorite content without a worry.
Why is Windscribe better than VyprVPN?
You will get almost the same protection and privacy policy while not paying anything. Is that enough for you to consider Windscribe as a good and free alternative? 😉
Wrap Up
We see VyprVPN as a service that has huge potential but isn't able to live up to the industry standard. This is mostly because of the country (Switzerland) that it is based in.
Thus, if you are looking to enjoy a worry-free and anonymous browsing experience, ExpressVPN, NordVPN, and CyberGhost stand as the go-to alternatives to VyprVPN!