Reading local news or enjoying favorite local TV channels – it is all possible within your country. But, what if you just need to travel abroad for whatever reason? Well, in that case, you'll need to use an IP from your country. In this article, we're going to teach you how to get a Saudi Arabian IP address in a few simple steps, thus access local content easily… and more.

Use a VPN to Change Your IP
A VPN is a powerful tool for staying safe and anonymous online. In this day and age, that's crucial. However, there's another possibility that this service offers, and that you'll need in this case. Bypassing geo-restrictions. To bypass a geo-restriction, you'll need to change your online location e.g. your IP address.
To do this, simply use a Virtual Private Network and connect to a server in another country. When you do that, the service will wrap your connection in a so-called tunnel that will keep you away from hackers, ISPs, and the government.

By doing this, you become completely anonymous and can do whatever you want on the internet. Using this service is very easy, although it sounds like something from Matrix or any other sci-fi movie. To learn how to use it in order to get a Saudi Arabian IP, read the next section.
How to Get a Saudi Arabian IP Address from Anywhere in the World?
Getting a Saudi Arabian IP address from abroad is very easy. We'll explain it to you in a few steps below, so read carefully and you'll learn it right away.
1. Buy a VPN Subscription
The first step is to buy a subscription. Not many providers have servers in this country but fortunately, one of our favorite providers do – CyberGhost. It's also one of the best solutions for KSA, generally speaking.
Right now, it offers a huge discount on its 3-year plan, making it very cheap to get.
2. Download and Install the App
Upon buying a subscription, download and install the app you need. You can do that on your Android device, Windows computer, iOS or macOS platforms. Install the app, then log in with your email and password, and you'll be greeted by the home screen.
3. Connect to the Saudi Arabian Server
On the left, CyberGhost displays its servers. Scroll down the server list and find Saudi Arabia. Click on it to begin establishing a connection and wait for a few seconds until it's done.

4. Enjoy Saudi Arabian Local Online Content
With the connection established, you're ready to enjoy Saudi Arabian local content easily. In case you want to do it again, use only the third step – connect with two clicks and you're off to a good start!
What are the Benefits of Getting a Saudi Arabian IP Address?
When using a top provider such as CyberGhost, you get tons of benefits. Needless to say, your Saudi Arabian IP address will bring you many benefits, such as the ones below:
Preserving Online Identity
This service is simply the best when it comes to privacy and security online. Thanks to its military-grade encryption and kill switch, you'll be kept safe at all times when browsing the internet. No matter the server you're using, the level of security will always be at its highest.
Accessing Local Television
Wanna enjoy MBC 1, Dubai TV, MBC Drama or Al Jazeera from abroad? The only way to do that is by using a Virtual Private Network. You can now enjoy your favorite shows and movies in your native language from anywhere in the world!
Reading Local News
If you're an old man or woman, you probably love reading some news. Whether it's political or sports news, you love staying informed about the situation in your country. Thankfully, you can now watch or read local news by using Saudi Arabian TV/sites.
Using Bank Account from Abroad
Stashing some money in your bank account is smart. However, if you're unable to access it from abroad when you need it, that's pointless. Your bank will lock you out if you're accessing it from a foreign IP.
But, with a VPN, that's not going to happen. Change your IP, grab some cash, and enjoy your time abroad!
Top 3 VPNs to get a Saudi Arabian IP Address?
Although not many providers have servers in this country, we managed to dig out 3 of them. Check them out:
1. CyberGhost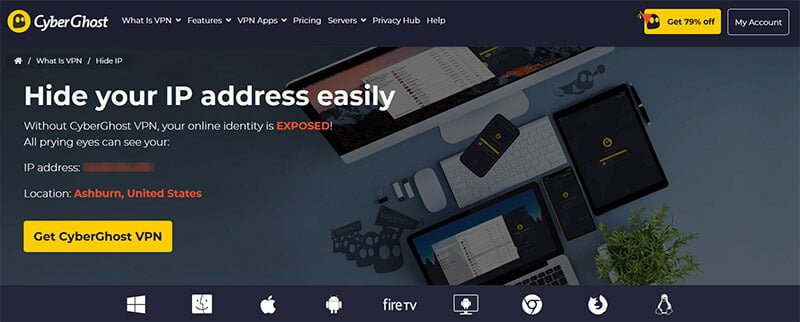 CyberGhost has 7,000+ servers in 90 countries worldwide, of which 24 of them are located in Riyadh. The provider is known for affordable prices, rock-solid security, and solid speeds. Since it's from Romania, it doesn't store logs, so you're sure that your security is never jeopardized.
Furthermore, it's great for bypassing geo-restrictions. It unblocks Netflix, Hulu, and HBO GO, as well as Saudi Arabian local TV channels. If saving cash is your priority, don't hesitate to buy CyberGhost. It offers every feature akin to top-grade VPNs and all of that for a silly price!
Change Your IP Easily With CyberGhost >
2. HideMyAss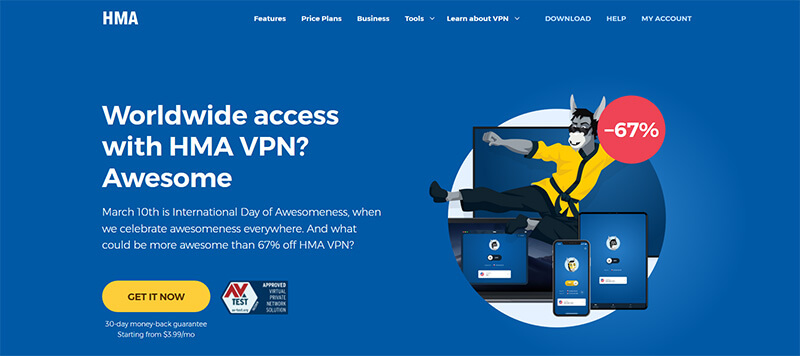 HideMyAss is a British provider that isn't always our top choice. But, since it has 1,000+ servers in 190 countries, it effectively covers Saudi Arabia with 2 servers. Using the provider is very easy and it can bypass censorship, which often plagues countries like this.
There's even a special Freedom Mode for this purpose. HMA lets you enjoy its speeds on 5 different devices simultaneously and even offers dedicated servers for streaming and torrenting. Beware that HMA stores some logs and forbids torrenting, which is a bit strange, given the dedicated servers.
Nevertheless, it's a great option for this purpose.
Get HideMyAss for Saudi Arabia >
3. VyprVPN

VyprVPN didn't give exact information about its servers in this country. When we look at the server list, we can see that it has at least one location. The provider is known for its reliability and the zero-log policy that it recently acquired.
It's from Switzerland, meaning that every data you leave will be protected by Swiss privacy laws. VyprVPN unblocks some crucial streaming services such as HBO GO and Netflix and is great for accessing Saudi Arabian channels and sites.
With a 30-day money-back guarantee, you'll be able to use it one month without losing any money.