We do our best to go through the most popular names discussing the upsides and downsides of each provider. In this article, we will be discussing ZenMate, which is said to have more than 40 million subscribers. This number includes both the free and the paid plan. Let's get right to it to see what are the best alternatives to ZenMate, as in our opinion, it is far from the best VPNs out there.

What is ZenMate VPN?
ZenMate was founded on three keywords: easy, fast, and secure. There is no doubt that these features should highlight any reliable VPN. With Kape Technologies standing behind it, you would be safe to assume that ZenMate has great potential to keep you safe on the internet.
Comparing their free and paid plan, we found that the main difference lies in the number of servers, as well as available tunneling protocols.
While you can opt for IPSec, IKEv2, and L2TP with the service that is free of charge, OpenVPN is limited to the paid plan. Also, you should know that, unlike most of its competitors, ZenMate runs on 128-bit AES encryption.
Given the fact that Kape is also the company behind CyberGhost, this comes as a bit of a surprise. However, they justify the lesser quality encryption by noting that it is the reason why ZenMate can stay affordable and still provide reliable protection.
We were quite happy to find out that this service was able to unblock Netflix in both the US and the UK. However, that seems to be where its ability to unblock geo-restricted and censored content ends.
The main issue with ZenMate and why we don't consider it to be a worthy choice is something that you can find out by reading down below. Just before the part where we will be presenting the best alternatives to ZenMate.
Downsides of ZenMate VPN
As we have mentioned above, ZenMate does have a big user base. However, we think that this is mostly due to superb advertising rather than splendid overall performance.
We tested their paid plan for a couple of days and found more than a few downsides which is why you should look at a better alternative.
German Jurisdiction
First and foremost, ZenMate is based in Germany. This is not what you want to hear when talking about a VPN that presumably protects you from third parties and legal consequences.
A German Jurisdiction means that ZenMate will need to oblige to the 9 and 14-Eyes alliances. This sets your private info and browsing data within the reach of all the allied governments and local authorities.
Things get even worse, as this provider is not able to ensure a strict no-log policy that would keep you away from these consequences.
Sketchy Logging policy
If you have ever read a VPN review, you know the importance of a strict no-log policy. Yes, most providers advertise this, but it is a fact that 80% don't stay true to it.
This is something that we found out by reviewing the ZenMate privacy policy and ToS. Unfortunately, your IP address and connection logs will be kept by the provider.
While this is justified by security reasons and the company claims it is to protect you, we don't believe this. A few leading providers, including NordVPN and ExpressVPN, are able to ensure optimal protection without storing any browsing data or logs which is way they're great alternatives.
Leak Issues
As mentioned above, one of the foundations of ZenMate was the aspect of security. However, we didn't find this to be true, either.
You will want optimal protection from DNS and WebRTC leaks in order to be confident when engaging in torrenting and other browsing activities. We put ZenMate through a series of tests and found that it failed 2 out of 6 times.
Some may say that the fact that your IP address will not be revealed 67% of the time is good, but it is absolutely not.
No one should take a 33% risk of their primary location being revealed to the ISP operator. Do you understand now why you would need the best alternative possible to ZenMate?
Unprofessional Support
Lastly, ZenMate simply doesn't pass the test when it comes to their customer service. We looked into their Help page and found that they offer a ticket system.
While the response came within one business day, it gave us a general-purpose answer that didn't help our issue.
Our Favorite Alternatives to ZenMate
Given the aforementioned flaws, we moved on in a search of the most relevant alternatives to ZenMate. Our idea was to find a couple of options that are easy to use on your home network and router (but also on computer, smartphone, tablet) and that ensured 100% anonymous browsing.
Here are the results…
ExpressVPN
Standing as one of the fastest VPNs on the market, ExpressVPN is a provider that you can definitely trust. For us it is the best alternative possible! This is not only for its strict no-log policy but also because of the vast server park that ensures global unblocking ability.
It works in countries like China, Saudi Arabia, and Russia, which is a huge plus. Also, while coming at a higher price, it offers splendid overall performance, stability, and customer service that you can rely on.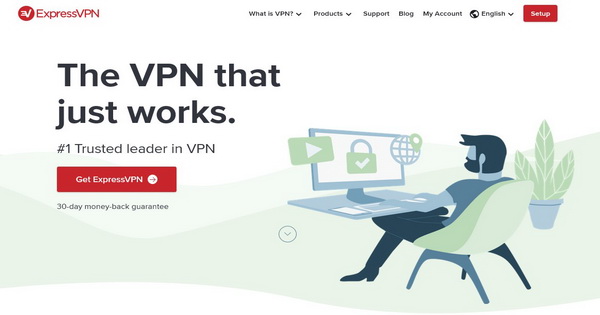 Why choose ExpressVPN over ZenMate?
The British Virgin Islands headquarters location of ExpressVPN is much better than Germany, as it is based outside of the 5/9/14-Eyes alliances.
Also, when it comes to speed, this provider does a great job. We experienced just a slight drop in both download and upload speed when connected to the US and UK servers.
Also, we were happy to see that the Hong Kong server works very well. Which is very convenient if you want to bypass censorship in a country like China.
Why is ExpressVPN better than ZenMate?
The fact that you can unblock censored content in mainland China is what makes ExpressVPN one of the most reliable providers on the market. Also the security offered is top notch!
Get a subscription at ExpressVPN.com >
CyberGhost
This article about the best alternatives to ZenMate wouldn't be any good if we failed to mention CyberGhost. This VPN is considered not only to be the most affordable but also the most user-friendly on the market. It is based in Romania and features more than 6,000 different servers, which means it has the largest server park of all.
It can unblock sites all across the globe, whether we are talking about bank accounts or streaming platforms.
While not as fast as ExpressVPN, it is still highlighted by reliable device compatibility and stable connectivity. This is true whether you are trying to use a server set in the US or Australia.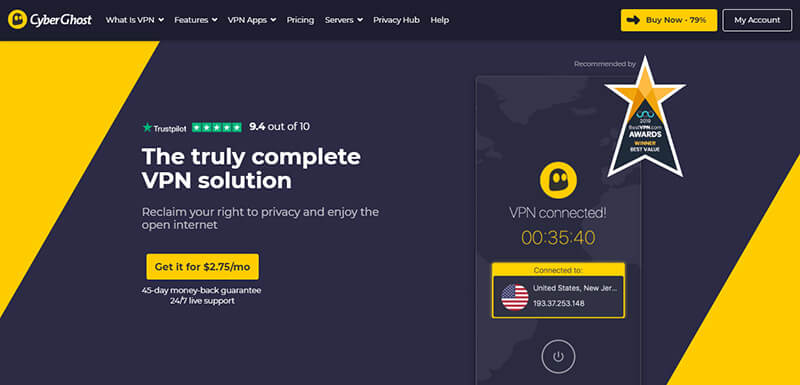 Why choose CyberGhost over ZenMate?
First and foremost, CyberGhost comes at a great price. Not only that, but there is a 45-day refund policy for the subscription options of six months and above. There is also a 14 day refund policy for shorter subscriptions.
Additionally, the customer service of CyberGhost is splendid and highlighted by a 24/7 live chat feature.
Why is CyberGhost better than ZenMate?
We would say because of its excellent connectivity, pricing options, and ability to unblock content in countries known to be extremely restrictive. Except China unfortunately…
Get a subscription at CyberGhost.com >
NordVPN
When it comes to reliable Virtual Private Networks, NordVPN is one of the top options but also a great alternative to ZenMate. Based in Panama, NordVPN is not subject to any data retention laws or the Five Eyes alliance.
Additionally, it is highlighted by an array of tunneling protocols and military-grade encryption. It is a global provider that offers more than 5,500 servers around the world.
This provider claims to effectively unblock over 150 streaming sites, including Netflix, Hulu, and Amazon Prime.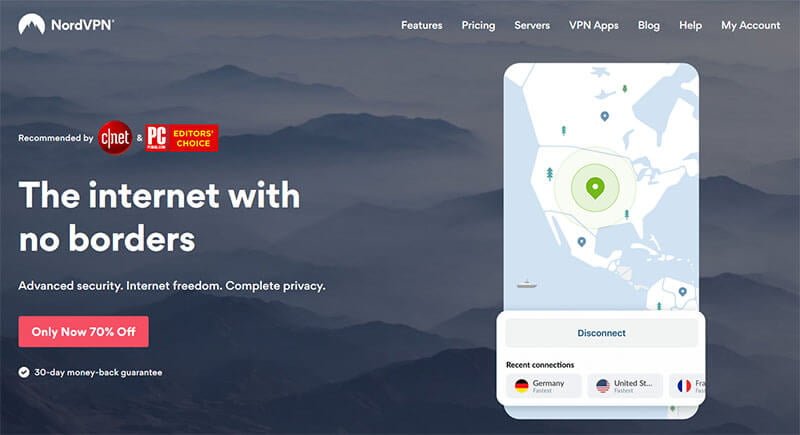 Why choose NordVPN over ZenMate?
The main reason is because of the aforementioned privacy and security concerns. NordVPN does a great job providing its users with leak-free, malware-protected, anonymous browsing.
It is highlighted by a kill switch and CyberSec, as well as an innovative feature that will connect you to the safest and best-performing server. This makes it an offer that you can trust.
Why is NordVPN better than ZenMate?
We consider it to be more reliable not only because of the protection offered but also because of better server speeds.
It also features an indisputable ability to unblock streaming platforms everywhere. This includes the US, Canada, Europe, South America, Australia, Africa, and Asia.
Get a subscription at NordVPN.com >
The Best Free Alternative to ZenMate
Lastly, we wanted to highlight a free VPN that we consider to be reliable enough given the circumstances. Still, Windscribe will never be as good as the 3 other alternatives listed above.
Windscribe
While this provider does come with both a free and a paid plan, we will be talking about the free one. With it, you can only connect from 14 different servers, but this is still quite good for a service that is free of charge.
Also, the limit of 10GB of data transfer per month is not that low unless you are streaming for most of the day.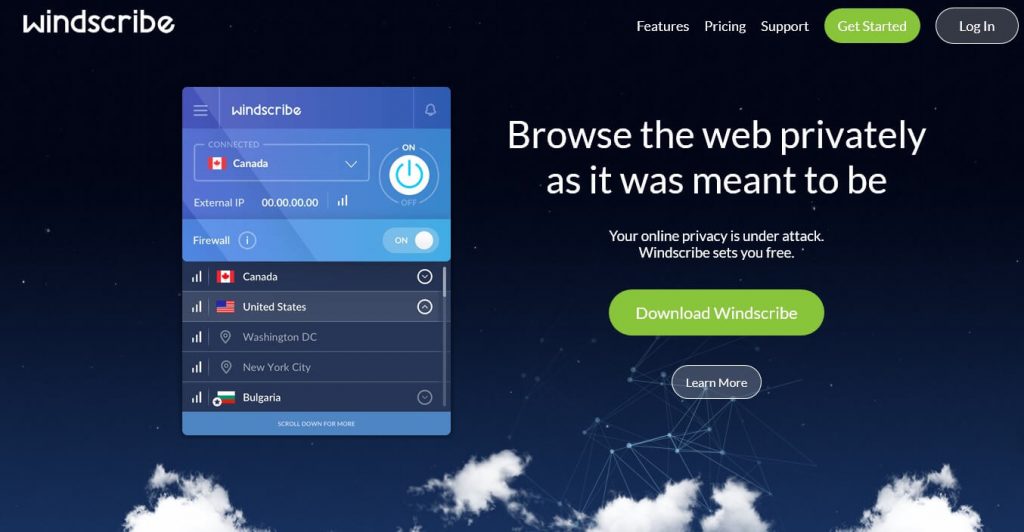 Why choose Windscribe over ZenMate?
It features a user-friendly interface and is compatible with most devices.
Why is Windscribe better than ZenMate?
It comes free of charge and is still able to provide relevant leak and malware protection.
Wrap Up
We think that all of the aforementioned alternatives are better choices than ZenMate.
This is not only because of more reliable security but also because you will have nothing to worry about when it comes to your privacy! Unblocking and watching all the content you want anywhere in the world will also be very easy (whether it is Netflix, Hulu, American TV…).
However, we have to say that our favorite is ExpressVPN – while it will cost you some money initially, you will get your money's worth.