With reports of the VPN market growing each second, it's clear that many people are getting on this bandwagon. Cybercrime is at its largest and the internet slowly becomes more and more restricted due to censorship. Are you currently thinking of getting a Virtual Private Network? If so, you need to be well-acquainted with the pros and cons of a VPN service. As much as we love it, we put our honesty on the line so that you know what to expect. Pay attention to what we have to say before buying one.
Pros of a VPN
Since the pros are much more important, let's start with them. If you buy this software, you can expect the following benefits:
Safety & Security
For your information, this is just an abbreviation for a three-word name – Virtual Private Network. As its name implies, it's some sort of network that's meant to keep you… private?! Well, that's right! Safety and security are the two most important factors of this service if you ask us.
It is what differentiates it from proxy services and other similar solutions. Whereas a proxy service will keep you anonymous, it will not encrypt your connection, leaving you exposed to whoever wants to intercept your traffic.
With a VPN, however, you can expect 100% privacy. It has 256-bit encryption (in most cases) and will use a kill switch for preventing your IP from getting exposed. Some providers, like NordVPN for example, have bonus features such as Double VPN and Onion Over VPN, which will let you use Tor with it.
The next thing is the zero-log policy that many providers have. Basically, it's a guarantee that the provider won't store your personal info when you're using it. Although not every provider has this policy, our top picks have – ExpressVPN especially.
We found its zero-log policy among the best we've seen. With all security measures in place, NO ONE will be able to track you online. Your ISP won't see what you're doing, the government won't see it, and the hackers won't be able to intercept you.
Access Blocked Online Content from ANYWHERE in the World
If you're like a majority of the world, you, without a doubt, love watching some shows and movies. Did we guess right? If so, send our monkey a banana and keep reading. Did you ever encounter an error that looks like this?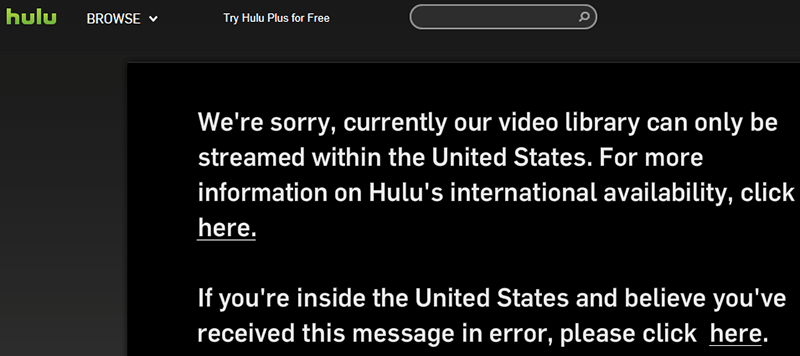 This is from the Hulu website, telling us that the platform isn't available out of the United States. That's quite a harsh message, isn't it? Even harsher than your girlfriend's break-up message. Nevertheless, this problem is called 'geo-restriction' and there's no way of fixing it without a VPN.
Sure, you can move to the USA, why not?! But, if you just want an easy way through, this service can help you. It allows you to change your online location and access virtually anything you want online. You can enjoy American, UK, Irish, Australia, Canadian, and other countries' streaming platforms to your heart's contempt.
This applies to the opposite scenario. If you're traveling abroad, you can access your favorite local TV shows from another country. We found that VPNs like NordVPN and ExpressVPN are particularly useful for this purpose. You can even use it on your Apple TV, to gain more access to certain shows and movies.
They easily unblock Netflix, Hulu, Hotstar, Disney+, DAZN, and even HBO GO. CyberGhost is also great as it offers 7,000+ servers worldwide. If you want to bypass geo-restrictions, use any of our top 3 providers that you can find here.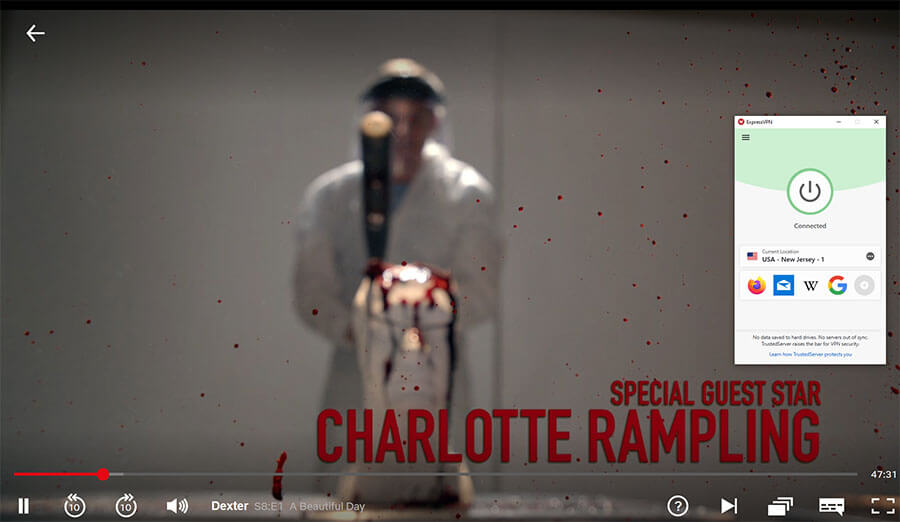 Save Money on Flight Tickets and Hotels
Depending on when you're reading this, it may be a good time to visit a foreign country. Sure, if you have the sea near where you live, you can always go on a vacation in your homeland. Still, we think that visiting another country from time to time isn't bad.
You get to learn about new cultures, cuisines and see how other people live. Now, let us ask you something. Did you know that the prices of flight tickets aren't the same for every country? Depending on where you're located, e-commerce sites will show you a different price.
For example, one flight ticket will cost less in Norway than in the USA – that's just an example, as we said. There are tons of variables here and you can't always know which country has the cheapest prices. However, what you can do is experiment with different servers.
We found that we can save up to $100 on a flight ticket, which is quite a lot! If you're traveling a lot, you can rack up more than $500 of savings a year, and that, our friends, isn't negligible. Also, hotels tend to cost less if you book a room in the same country.
An example would be this. You're traveling to Germany and you want to book a hotel room. Germans will have to pay less for that room than you. So, you get  German IP and book a hotel as if you were a resident of the country.
For this purpose, we found that ExpressVPN is very good due to its 94 countries covered. Interestingly, HideMyAss is also on this list since it offers 190 countries worldwide.
Torrenting Safely
A Virtual Private Network will let you download torrents safely, that is a big advantage! Now, you'll say – "But Monkey, I'm already torrenting without this service." Well, that's okay. However, know that if you're from the USA, DMCA will be right there to punish you for copyright infringement.
When engaging in P2P activities, it's crucial that you have some kind of protection. Since downloading copyrighted content is always illegal, this service will protect you by obfuscating your IP address, making you invisible to your ISP and government.
If you've ever visited a torrent site, you saw that each of them recommends it, right? Even if you're downloading royalty-free stuff from torrent sites, we still recommend using this service. Governments are hell-bent on putting an end to torrenting and will not hesitate to punish you even in this case.
Sure, some of them will turn a blind eye but we wouldn't risk it. Fines can be pretty hefty and in some countries, you can end up in jail! For this case, we recommend ExpressVPN – it's fast and secure, which is all you need.
Bypassing Censorship in China
China is a country with no internet freedom. We can confidently say that. If you're used to enjoying YouTube videos or browsing your Instagram account like there's no tomorrow, you can forget about it in China.
This country also has a strong firewall that blocks a majority of VPNs on the market. For a VPN to work properly, it needs to be able to bypass DPI (Deep Packet Inspections), and with that, bypass the Great Firewall of China.
It's true that not every provider can do that but at least, you get this possibility and it's definitely a big pro of VPNs. ExpressVPN and NordVPN are both excellent in this regard and will do the job every time. NordVPN has obfuscated servers for this purpose, so even our Chinese friends can enjoy more internet freedom.
Affordable VPN Prices
The last advantage is that VPNs are very affordable nowadays, you can't dispute that. Heck, there are even free VPNs, which we don't recommend but it's still here as an option.
Free providers aren't as secure as the premium ones and on top of that, they offer limited bandwidth and slow speeds. Some of them even sell your data to third parties, compromising your privacy.
Now, back to the topic, when it comes to prices, you can expect to pay a few dollars a month. That's it. If you're a smoker, tell us how much you spend on cigarettes each day. A pack of cigarettes might cost $5 and we multiply it by 30 days, you get $150 a month.
On the other hand, this service costs exactly the same A MONTH. Basically, you can get a yearly plan for less than $70 in some cases, which is dirt-cheap. There are more expensive providers like Astrill VPN which we don't recommend because of its price.
But, when it comes to affordability, CyberGhost and Surfshark are absolute champions. CyberGhost has a very affordable 3-year plan that costs way less than a pack of cigarettes. Surfshark is the same, it offers a 2-year plan at less than two bucks!
Being so affordable, there's no reason not to use it for the purposes we mentioned above.
Cons of a VPN
As always, not everything on this planet is perfect, so you can expect some potential drawbacks. The cons of a VPN are below:
It Will Slow Down Your Internet (Slightly)
The question we always get asked is – will it slow down my internet? And the answer to that is – yes, it will. But hey, hold on, that's not how you imagine it to be. You see, when you use a premium-grade provider such as ExpressVPN or CyberGhost, chances are that you won't notice much of a difference.
When using servers that aren't very distant, your speeds will be, more or less, the same. And even if you use a distant server, your speeds won't be THAT slow. The speed decrease depends on numerous factors. Server distance, level of encryption. quality of the network, etc.
The thing is that premium providers won't decrease your speed by a huge margin but will still decrease it. Now, if you use free VPNs, that's where you're going to see big decreases. In our approximation, free providers will decrease your speeds up to 80%, which is a lot.
So, when shopping for a Virtual Private Network, you've got to be sure that the product will fulfill your needs. If you're a person who loves streaming or torrenting, a fast provider would be the best solution.
Speed-wise, not many providers managed to impress us. If you want our advice, ExpressVPN is the fastest one, followed by NordVPN and CyberGhost. These are absolute must-have. All in all, the speed reduction is a small price to pay for security and privacy you get.
Not Every VPN Provider Fulfills Its Promises
We hear this very often. Some person buys a VPN with a bad reputation, get burned, and then complains how this is a scam, and so forth. Listen – not every provider delivers on its promises! While this is an individual thing, we must list it as a con because a lot of people tend to buy non-verified providers and end up being disappointed.
One provider that's notorious for this is PureVPN. This company violated its privacy policy a few times, and although it works in terms of unblocking geo-restrictions, etc, it still violated a part of its offerings.
Sometimes, the provider will promise fast speeds and torrenting and when you buy it, you see that it's turtle-like and that you can't torrent safely. All of these things happen on the market and can definitely be seen as a downside.
That's why we are here. We want you to stay secure and we gain nothing from screwing you over.
Anti-VPN Measures are Catching Up
VPNs are still a force to be reckoned with as you've seen in this article about its pros and cons.
However, platforms like Netflix, Hulu, and Disney+ have developed certain anti-VPN measures for preventing users from using the platform with this service. Unfortunately for us, these measures are getting better each day, so there's a chance that your provider might stop working for some of them.
Although it's not related to this, CyberGhost stopped working in China as of recently, for instance. Furthermore, some providers just can't unblock sites protected by these measures. Hide.me can't unblock Netflix, CyberGhost can't unblock DAZN, and so forth.
That's why it's important to buy the right one for your needs. So far, ExpressVPN worked on all occasions, even unblocking Netflix and DAZN, as well as bypassing DPI (Deep Packet Inspections) in China.
Conclusion
Despite the downsides we mentioned, the pros of VPNs heavily outweigh the cons. Sacrificing a bit of speed for security is a very rational thing to do in our opinion. The cons we mentioned are very mild and won't hinder your internet experience.
And if they do, every provider (except Astrill VPN) has at least a 7-day money-back guarantee, so you can get your money back. With all that in mind, do we recommend buying a VPN?
Yes, we do!
Privacy and security online should be your top priority nowadays and that, our friends, doesn't have its price. Or better said, it does – a few bucks a month, which is silly!
ExpressVPN, NordVPN, and CyberGhost are all offering heavy discounts this year, so be sure to check them out!