Apple TV is one of the most popular streaming platforms at the moment. It's not strange, given how popular Apple products are, in general. All from iPhones to MacBooks and software-oriented stuff from this company holds its title as being great in every sense. But, this streaming platform and device, like many others, dictate its content catalog according to your geographical location. Because of that, using a VPN to change your online location can bring you so many benefits. Let's see what are your best choices in 2021, their benefits, and how to use them.
Best VPNs for Apple TV in 2021
Let's start with the most important things first.. We'll give you 3 choices that still work with this device and platform in 2021. Our top picks are below:
1. ExpressVPN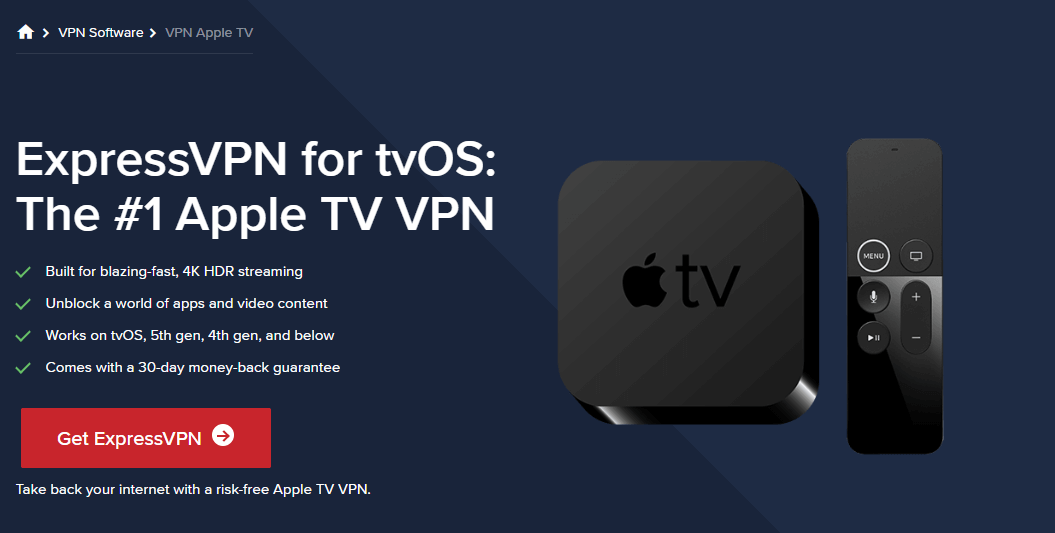 ExpressVPN must be mentioned whenever we're talking about streaming or bypassing geo-restrictions. It's easy to see why this company reigns supreme. For the start, it's blazing fast. Your streaming experience is going to be 10 times better than streaming without a Virtual Private Network like this.
To make things even better, ExpressVPN is capable of piercing through every geo-restriction. We tested it with Hulu, HBO GO, Netflix, DAZN, Amazon Prime Video, and others. Of course, we had zero problems unblocking them. With such a solution, you will be able to access any Netflix catalog, too.
This is all crucial for Apple TV. But, if you're buying it for other purposes, you'll be pleasantly surprised. Since it comes from the British Virgin Islands, it offers a no-log policy. So, even if you're watching porn or playing poker, you'll be completely anonymous.
Security is sealed-shut here. With its 256-bit AES encryption, an automatic kill switch, and DNS + IP leak protection, you'll be able to fly low under your ISP's radar. ExpressVPN offers 3,000+ servers in 94 countries worldwide, so don't expect a shortage of options here.
Lastly, the company currently offers a 49% discount and 3 months free for a 12-month subscription plan. Also, a 30-day money-back guarantee is here, so don't be afraid to try it and get your money back in case you're not satisfied.
2. NordVPN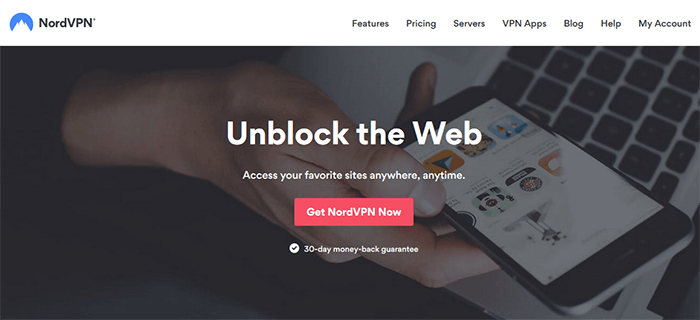 Who would think that a Panama-based company will be so big nowadays? Panama might not be as rich as the UAE but the have some rock-solid security. NordVPN, as you can guess, is stationed there. This is why it's one of the best providers when it comes to online protection.
Aside from a no-log policy, you get some lightning-fast speeds for streaming Netflix, DAZN or Disney+ to your heart's contempt. NordVPN uses 256-bit encryption and a plethora of other features to keep you tucked in and secure online.
We like the addition of Double VPN and Onion Over VPN features. These two come as an icing on the cake to an already reliable provider. Bypassing geo-restrictions is also possible and it's fair to say that it's one of the best providers in this regard – after ExpressVPN.
NordVPN offers 5,500+ servers in 60 countries worldwide. More than 1,000 of them are in the USA and 600+ of them are in the UK. These countries are known as the best ones for Netflix and other streaming platforms.
Which makes him, logically, one of the best VPNs on Apple TV!

3. CyberGhost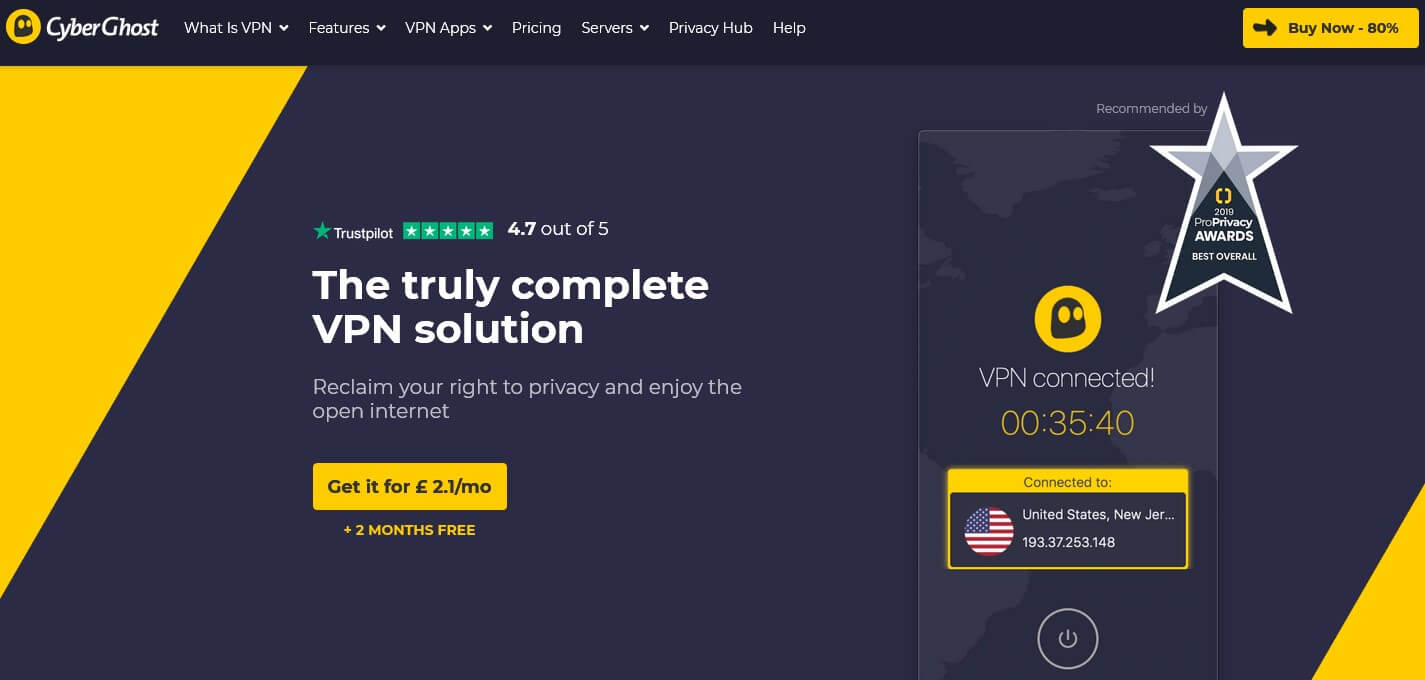 CyberGhost is a Romanian company that exists for more than a decade. It's very old, hence it had the time to progress and become one of the best providers in 2021 – which it did. Nowadays, the provider boasts 6,000+ servers in 91 countries, making it the largest one.
But, as many would say, size doesn't matter. Well, it does, especially when you're a company with millions of satisfied users. With its dedicated servers, you'll be able to enjoy streaming or torrenting as much as you want.
All servers support P2P activities, hence you can use it with BitTorrent and not necessarily with Apple TV. If Apple TV is your thing, though, know that you'll be able to stream even 4K content with ease thanks to this VPN provider. Being very cheap and simple to use, we always recommend it to newbies. In 2021, it's no different.
CyberGhost is a great money-saving option that won't disappoint you, even in your toughest times. We can confirm it will help you unblock and watch Netflix, Hulu, HBO and many other platforms on your Apple TV.
How to Install a VPN on Your Apple TV?
Apple TV, although it has a cut-down version of iOS, doesn't support Virtual Private Networks. It means that you won't be able to directly install a VPN app on your Apple TV. But, there's a workaround that we're going to talk about. The first thing to do, obviously, is to buy a subscription from one of the providers from above.
Scroll back and take a glance at our list. Our recommended option is ExpressVPN, as it supports routers, which is obligatory for this process. Now, if your router doesn't support VPNs, we recommend getting a pre-configured one from ExpressVPN's website.
If you're not sure, you can always visit the provider's website and check the list of supported routers. Alternatively, if your router isn't supported, you can set up a virtual router, which isn't easy if you're not a tech enthusiast.
Because of that, we're going to go with the assumption that you have a fully-supported router. With all that in mind, here are the steps:
Sign up with ExpressVPN.
You'll now get an email for Setting up ExpressVPN. If you click on the link, it will lead you to your account.
Here, click on Set Up on More Devices.
There are tons of supported devices but on the left side, you'll see the option called Router. Click on it, select your router type, and then select Download Firmware.
Now, connect your router to your computer with an ethernet cable. Be sure to connect it to your LAN port, and not the WAN port. The LAN port is usually blue and you can clearly see its label.
Disconnect your router from the internet now. You can do this in a variety of ways. One of them is to unplug the internet cable – the yellow one.
On your router's package, there's a link for accessing the router's setup. Type in the link in your browser and press enter to visit it.
Sign in with your username and password, which is usually 'admin' – for both.
Find the Router Settings tab, click there, and then click on Connectivity.
Look for the Manual section. Here, click Choose File and select ExpressVPN's firmware that you downloaded in step 4. Click Start.
For successfully installing the firmware, your router will need a restart. This notification will show up, so just click OK.
When the router is restarted, you'll be redirected to expressvpnrouter.com. Sign in by entering 'admin' for both username and password.
Plug in the yellow internet cable again and your internet connection will be established.
Sign in to your ExpressVPN account.
If prompted, use a 23-digit activation code to activate your account.
ExpressVPN is now installed on your router, allowing you to use the VPN on Apple TV seamlessly. Congrats!
Advantages of Using a VPN for Apple TV
Now, let's talk about the advantages of using a Virtual Private Network on this platform.
Bypassing Geo-Restrictions
Geo-restrictions are probably one of the most annoying things on the internet. Netflix, Hulu, HBO, DAZN, and Disney+ are just some of the websites that carry this problem. Netflix, for instance, has the largest catalog in the USA. Although it's available worldwide, other catalogs are much smaller.
But, in the case of Disney+ and DAZN, we are talking about a complete geo-restriction. If you try to connect to some of these, you're probably going to see a message like this – Sorry, this website isn't available in your country.
As you can use all these streaming platforms on Apple TV, it directly applies to it. By having a VPN by your side, you'll be able to expand your catalog greatly. You can access content made for the British audience, as well as American, Canadian, Greek or any other audience.
Just be sure to choose a provider with lots of servers and the ability to bypass geo-restrictions.
Avoiding ISP Throttling
ISP throttling is a type of problem that appears during streaming. Once again, Netflix is a company that made many cable TV providers obsolete. It allows you to stream your favorite movies and TV shows, even those that your cable TV provider doesn't broadcast.
For that reason, ISPs are often employing bandwidth throttling, to make your streaming experience choppy and stuttery. This can also happen while torrenting because you use huge chunks of internet data.
Simply put, your Internet Service Provider slows down your internet speed, to prevent you from enjoying these activities. However, with the ability to hide and alter your IP, you can avoid this problem altogether.
When the provider can't see you, it can't manipulate you – simple as that 😉
Summary
Apple TV is a well-crafted platform that offers thousands of quality content at your hand's reach. With a VPN, you'll be able to get more content, regardless of your geographical location.
Our recommendation is getting a fast, stable, reliable, and secure provider for this purpose. A provider that ticks all the boxes is ExpressVPN. If you decide to buy its subscription, you'll get support for every major device and platform, making it easy to access your movies and TV shows from anywhere.
If you need more info about the setup on a router, don't be afraid to visit ExpressVPN's website. You'll find lots of useful guides there.