Most people would like to get unlimited VPN features for free. In theory, that's rarely possible, given how valuable this service is. And on top of that, free providers are almost never a good deal. But, if you want to save some money and still enjoy what this service has to offer, this may be the right article for you. Today, we're going to give you our top 3 unlimited free VPNs that you can get right now.
Free VPNs – How Unlimited They Really Are?
Let's clarify something before we get to the nitty-gritty of the subject. When it comes to this service, there are usually three types of them – paid, free, and free "premium." The first two types are pretty clear. You either pay for the service or you buy it.
However, the last type can be interpreted in two ways. A provider could be premium, but also have a free plan on the side, such as Hide.me. Or it can be premium VPN and give a money-back guarantee that lets you use it without limits and risk-free for 30 days.
In this section, we're going to talk about really free providers. Those that are free by default, and see if they're unlimited as they claim to be. Here are a few things to look out for.
Speeds and Bandwidth
When you use a free provider, you can expect limited speeds that are very slow when compared to premium providers. The speed reduction of every provider is mandatory, but it's only like 10 to 20 percent, depending on the server location and a few other factors.
This is, a small price to pay for rock-solid security and privacy. Free VPN solutions (that are all but unlimited), on the other hand, give you VERY slow speeds, reduced by up to 90%. In other words, if your native internet speed is 100 Mb/s, it'll be reduced to just 10 Mb/s.
Moreover, these providers give you limited bandwidth, as well. A good example of that would be TunnelBear that lets you use only 500 MB a MONTH. Even for a mobile phone, this number is silly. Windscribe, however, gives you 10 GB, which is an "okay" number but not for streaming and torrenting.
Right off the bat, we see that free providers are not unlimited in this regard, so we can toss our theory into the water. Oh, and also, be sure to check a complete review of the Windscribe service on our site. If you want a free provider, this is among the best choices.
Lackluster Security Features
Security is yet another problem to worry about here. Security is the most important factor in a VPN if you ask us. Actually, its whole purpose is to keep you safe and secure online. Well, free providers are often below the industry standard when it comes to security.
Instead of 256-bit encryption, they'll use 128-bit. Furthermore, they'll often limit you to only one protocol – OpenVPN or IKEv2. The worst thing is that some of them don't even include a kill switch, which is the main downside.
A kill switch is useful for preventing you from exposing your IP and DNS to the prying eyes of hackers, ISPs, and the government. In case the VPN connection breaks, a kill switch reacts by shutting down your internet connection, keeping you safe and secure.
Without it, your connection continues to persist and you're left vulnerable.
No-Logging Policy… or Lack Thereof
No logging policy is very important for privacy. If a provider has it, it means that it doesn't store any compromising logs that would violate your online identity. Unfortunately, almost EVERY free provider stores logs regarding your personal info and browsing activity.
A prime example of this would be Hola VPN. This is a completely free provider that not only stores logs but also sells them to third parties for revenue. After all, free providers must earn somehow, given how expensive maintaining the VPN servers is.
Remember – whatever free VPN provider you're using, you'll face AT LEAST one of these problems. Whether it's limited speeds, bandwidth, or security, some of these issues will arise the moment you start using them.
Best UNLIMITED Free VPN in 2021
Wait, didn't we just say that unlimited free VPN providers don't exist? Well, sort of. But, by limited, people often think about bandwidth because it's necessary for browsing the web. Among all the free providers with unlimited bandwidth, there aren't many of them that are worth your attention.
For that reason, we went for ProtonVPN, a Swiss magnum opus. ProtonVPN is the best provider from this country, and it's a premium one, by the way. While its price isn't the cheapest, you get plenty of security features.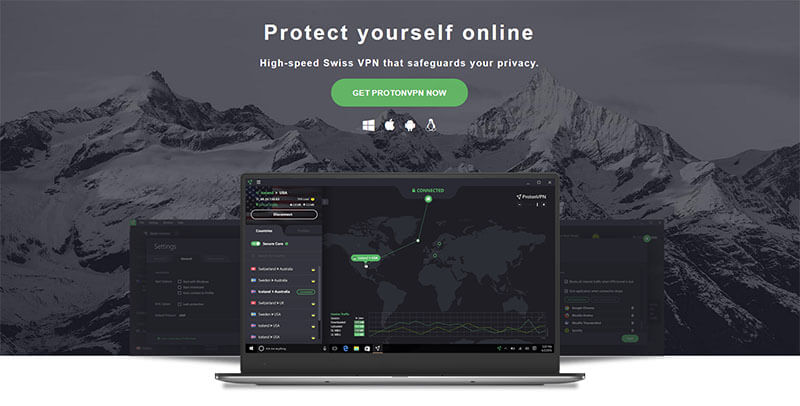 Of course, that is if you use a paid version.
What do you get with a free version? Well, for the start, unlimited bandwidth, which is something that very few providers offer. ProtonVPN cut corners somewhere else and that's the speed, number of simultaneous connections, and limited countries.
You get only 3 countries, one device, and medium speeds that are around 3 Mb/s. Users who love torrenting will have to come to terms with the fact that P2P activities aren't supported. So, if you're using this provider, you'll be limited only to streaming and browsing the web.
ProtonVPN is, generally speaking, a very good provider with a high emphasis on security. With its Secure Core servers, it's highly unlikely that you'll ever get compromised. We like that it's from Switzerland, too. This country is outside the 14 Eyes, which allows the provider to have a zero-log policy.
This is the best free VPN out there, but it's not our top paid provider if you're planning to buy it. That would be ExpressVPN.
How to Get a Premium and Unlimited VPN for Free?
It's pretty evident that premium VPNs are your best unlimited choice, but on the other side, you can't get them for free.
Or can you?
Well, there's a small and easy trick that will allow you to get providers like ExpressVPN and NordVPN completely free. Both of them offer a 30-day money-back guarantee, which means that you can use a VPN for a month and get your money back if you don't like it.
To do so, visit the provider's website and choose a plan that has a money-back guarantee. Since our recommendation is ExpressVPN, we'll use it as an example. You can get your money back even for a monthly plan, so get that plan, use it, and right before the period ends, request money back.
In this case, you've basically used a premium provider for free for a certain period. And if you like it, you may decide to buy it in the future or perform this trick on another provider.
Best Free Premium and Unlimited VPNs – Top 3 Picks
Using the trick from above, you can get pretty much every premium and unlimited VPN provider free of charge. To save your time, we've come up with the three best Virtual Private Networks for this purpose:
1. ExpressVPN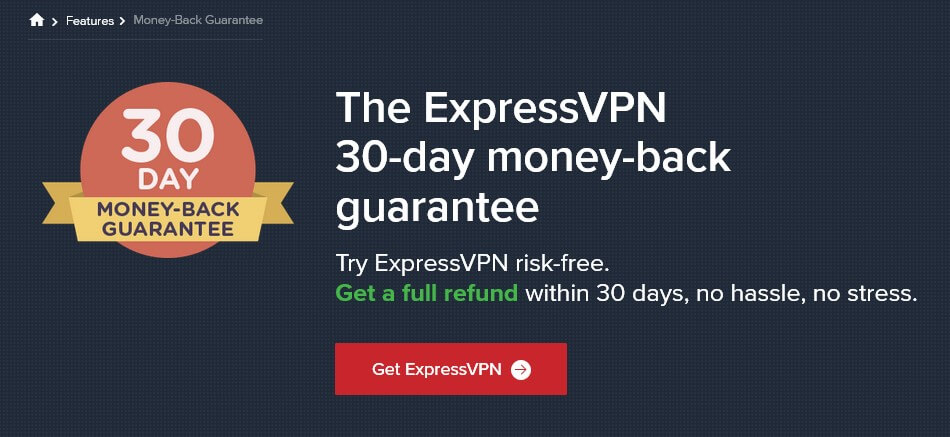 ExpressVPN is the best provider on the market for quite some time. It packs 3,000+ servers in 94 countries worldwide, which is more than an impressive number. This is a great VPN for iPhone, but also Android, Windows, macOS, and Linux operating systems.
With native apps for all platforms, ExpressVPN will effectively cover all your needs. ExpressVPN even supports routers. By connecting a VPN to your router, you can protect every device that connects to that router. It can either be 16 or 32 devices simultaneously, depending on the router you have.
Now, in terms of performance, this provider is a crown-bearer. Its speeds are the fastest around, allowing you to enjoy streaming and even torrenting if you want to. Being from the British Virgin Islands, ExpressVPN adheres to privacy-friendly laws with no government surveillance that will violate your privacy.
It has a crystal-clear zero-logging policy audited by PwC, which is a big plus for the provider. In terms of security, you can expect all the latest and greatest features. There's 256-bit AES encryption coupled with supreme IP/DNS leak protection for maximum security.
ExpressVPN also offers split tunneling, which may be useful for more demanding users. And if you want to protect more devices, there are 5 simultaneous connections available on the same account.
Lastly, those who decide to buy it will get a 49% discount and 3 months free for an annual plan. If not, you can enjoy 30 days of TOTALLY FREE use with all of the features and servers we mentioned above.
Get ExpressVPN Free for 30 Days >
2. NordVPN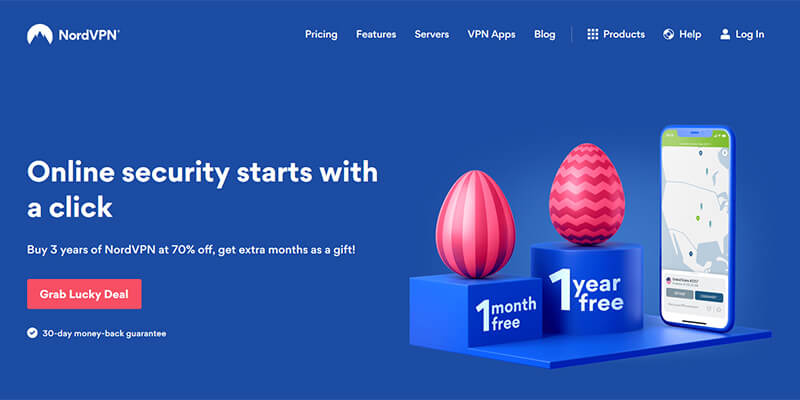 NordVPN is yet another provider that offers unlimited data for unlimited internet surfing. You may not be a good surfer, but online surfing with NordVPN is as smooth as a baby's skin. The provider is one of the best on the market, packing a huge server network of 5,600+ servers in 60 countries worldwide.
Quantity is very important, but so is quality, and NordVPN is perfectly aware of that. All of the servers are rock-solid in terms of security and capable of torrenting and streaming. Despite all of that, the provider includes dedicated servers for these purposes, which will let you enjoy them even more.
NordVPN is great at unblocking sites like Netflix, Hulu, and HBO GO, letting you stream in the highest resolutions. For added security, there are obfuscated servers for users in China, as well as Double VPN, to add another juicy layer of encryption.
Similarly to ExpressVPN, NordVPN gives a 30-day money-back guarantee that will let you use it risk-free. The good thing is that it applies to all plans, so you can go for a monthly one and save some cash on the way. Apart from that, this is a Panamanian provider, which is, once again, outside the 14 Eyes jurisdiction.
This grants you a zero-logging policy that will protect your privacy all the time. Plus, military-grade encryption is here, coupled with an automatic kill switch for every platform.
NordVPN gives you not 5 but 6 simultaneous connections on the same account. And as an icing on the cake, there's 24/7 support capable of fixing even the most stubborn VPN-related issues.
3. CyberGhost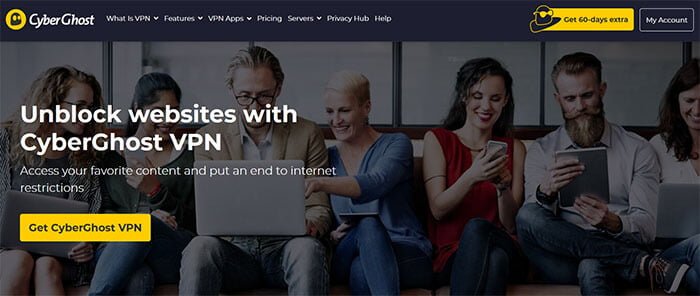 Another unlimited provider is CyberGhost, which is known for its affordability and ability to provide premium features for a good price. CyberGhost is one of the best cheap providers right now, with impeccable security and a zero-logging policy.
CyberGhost is from Romania – one of the best jurisdictions in the world. It's far from the 5/9/14 Eyes, promising superb privacy and security. Much like other providers above, it's capable of unblocking platforms like Netflix, Disney+, HBO GO, and Hotstart, which will let you binge-watch favorite shows.
To make things easier, there are dedicated servers (out of 7,000+ of them) for streaming and torrenting, as well. Torrenting will be very smooth, thanks to the very fast speeds that you get here. CyberGhost wraps its package up with 256-bit AES encryption and a reliable kill switch.
A good addition is an ad-blocker that will effectively block trackers and advertisers that "follow" you online. With it, your pages will load much faster, resulting in smoother browsing experience. CyberGhost is the best choice for long use, given that you go for at least a six-month plan
It has a 45-day money-back guarantee, while a monthly plan has a 14-day guarantee. If you're willing to give more money right away, you can use CyberGhost risk-free for 45 days. After all, you'll get this money back after this period ends.
Enjoy CyberGhost for 45 Days Free >
Summary
To summarize, we've now learned how to get a free unlimited VPN the easy way. While free providers are great for saving cash, we can't recommend a vast majority of them. Windscribe may be a good choice, but it isn't unlimited because of its bandwidth limitations.
ProtonVPN is your best pick if you don't want any bandwidth limits. However, it doesn't support torrenting, which may be a deal-breaker for some users. We don't recommend free providers mainly because of privacy issues that you won't even know about.
You don't want anyone to snoop around your back, even if you're not doing anything "suspicious" online.
ExpressVPN, on the other hand, is still the best deal. You can take advantage of its 30-day money-back guarantee and use it for 30 days completely free. As mentioned, with its no-logging policy, you'll enjoy a completely anonymous browsing experience.