Belgium is yet another country with relatively free internet access. Sure, you can't enjoy beautiful islands and beaches here but at least, you get more online freedom. Why do I need a VPN in Belgium, Monkey? Well, let us tell you something – you always need it, and as much as it's a free country, it's not without its flaws. In this article, we'll see what are the best providers for this country and tell you why you should use one. 
Why Should You Use a VPN in Belgium?
Whether you want to stream, watch porn or place some bets, you'll need this service to preserve online identity. Here's why you should use a VPN in Belgium, in particular:
Bypassing Mild Censorship
Belgium is a country from the European Union, so it shouldn't have any censorship, right? Wrong. Now, you don't need to be concerned too much because you'll still be able to use Instagram, Facebook, Twitter or YouTube. However, there are some limitations when it comes to certain "illegal" sites.
If we take into account The Belgian Code of Criminal Procedure, the government should block the online content that is "immoral." And you can already guess what it is – gambling and even some gaming sites without the Game Committee license.
Even worse, the ISPs can block the content the government deems inappropriate without any warning. Their Anti-Piracy Federation can simply issue a request and before you know it, the site or the page of the site is blocked.
As a prime example, we can use The Pirate Bay, a torrenting site that you can't access in this country. Despite being mild problems, as we said, you'll still want to play games, gamble or enjoy torrenting occasionally.
In that case, a VPN that is working perfectly in Belgium will help. It will hide your real IP, making it impossible for the ISP to mess up with your internet access.
Avoiding Government Surveillance
What about government surveillance? Well, in the past decade, Belgium was pretty privacy-friendly. The citizens enjoyed free internet access, without having the government to breathe behind their necks. But, little did they know that the terrorist attack is awaiting them.
After the tragedy that poor Belgians went through, the government decided to take more control over the internet. Since then, a new law merged, giving Belgian authorities full rights to monitor, access, and share information from the internet.
That's some really bad news, especially since they can monitor your chats and phone calls! All the ISPs in this country are forced to respect this legislation, and so are the instant-messaging apps such as Viber and WhatsApp.
Do you want them to know what you're communicating with your mother, brother or girlfriend? We guess that the answer is negative, and if it is, you're the right candidate for having a VPN. By hiding your real identity, you become invisible to the ISP, so it can't see what you're doing online.
Unblock Geo-Restricted Content
Unblocking streaming platforms is one of the main issues nowadays. With so many different platforms, it's hard to choose the one for you. Netflix, Hulu, HBO GO, Disney+, BBC iPlayer, and many others, are strictly limited to their native countries.
The first four platforms are from the USA, while the last one is from the UK. Belgians will surely want to unblock Netflix US or perhaps watch BBC iPlayer as if they were from the UK. Either way, having the best VPN for Belgium will let you change your IP address to another country, letting you access the platforms easily.
You can even watch all the content you want on Amazon Prime in this country. Just connect to the US server, visit the site, and enjoy streaming.
Best VPNs With Servers in Belgium
For Belgian residents abroad, a VPN with servers in their homeland might be a salvation. Here are the best providers with servers in this country:
ExpressVPN: ExpressVPN is an exceptional provider with 3,000+ servers worldwide. It has more than a few high-speed VPN servers in Belgium, granting you access to favorite sites and keeping you safe and secure.
NordVPN: NordVPN offers thousands of servers worldwide and 85 P2P-friendly servers in this country. Needless to say, it's among the best providers on the market.
CyberGhost: Finally, CyberGhost lets you take advantage of its 108 servers in Brussels and enjoy high speeds, streaming, and even torrenting.
Choose the provider you want, subscribe, install the respective apps, and enjoy your favorite online content – it's that easy!
Best VPNs for Belgium
If you're a resident of Belgium and you need a VPN provider for all intended purposes, you still have lots of choices. Here are the best VPNs for Belgium:
1. ExpressVPN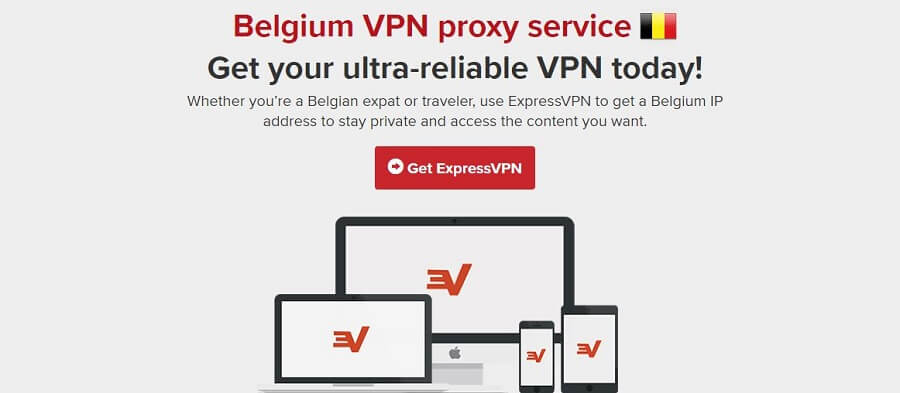 ExpressVPN will spoil even the most demanding users. It's as fast as lightning and offers impeccable security. In our tests, it unblocked Netflix US and Amazon Prime Video, so you can stream some TV shows on your lazy Sundays.
We like that it uses 256-bit encryption and in conjunction with a kill switch, it keeps you from accidentally exposing your real IP address. Split tunneling is also here. With it, you can split your traffic into two parts, where one will go through your native IP and other through your VPN-given IP.
Belgians will like that it supports up to 5 simultaneous connections, as well as its customer support, which is one of the best on the market. A 49% discount and 3 months free for a 12-month plan are still here, so don't hesitate to grab it!
Stay Safe Online in Belgium With ExpressVPN >
2. NordVPN

NordVPN is here to make the best out of your money. Offering 5,800+ servers in 59 countries, you get to enjoy a lot of variety and locations online. And to make things better, every server has decent speeds, capable of torrenting and streaming without buffering.
In terms of streaming, NordVPN is a powerhouse. It unblocks not only Netflix but also BBC iPlayer and RTBF in Belgium. To block annoying trackers and ads, there's CyberSec and if you want to access the Darkweb, there's Tor Over VPN support.
Being from Panama, NordVPN doesn't store logs, which is a big plus if you are looking for the best VPN for Belgium. If you're going to buy it, know that it offers a huge discount on its 3-year plan and gives you a 30-day money-back guarantee, no questions asked.
Enjoy Privacy and Security in Belgium With NordVPN >
3. CyberGhost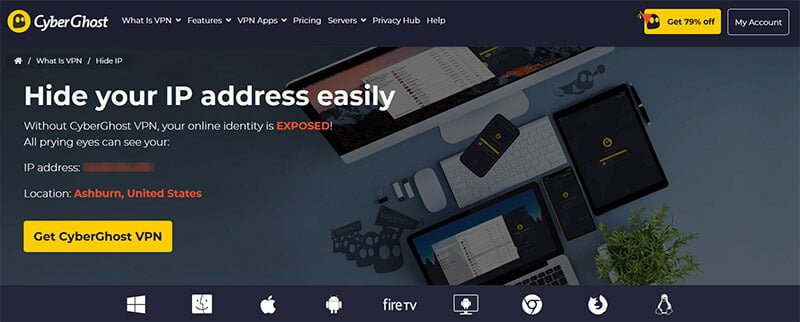 Saving cash on a quality provider is quite easy, you just have to know in which direction to go. Well, you can go in the direction of Romania, where CyberGhost resides. This provider gives you all the fancy features at a minuscule price and the best of all – it WORKS!
CyberGhost has dedicated servers for streaming and torrenting, to make your experience more secure and give you better performance. Its 256-bit AES encryption is going to keep you anonymous online, while IPv6 leak protection will prevent any accidental IP leaks.
Not to mention that it has 7,000+ servers worldwide, which is an imposing number. Given how silly its price is on a monthly basis, the value for the money is at its highest.
Unblock Sites in Belgium With CyberGhost >
Summary
To summarize, using a VPN in Belgium will bring you lots of benefits. Enhanced privacy, superb scrutiny, and the ability to unblock geo-restricted platforms. Our recommended choice for this purpose is ExpressVPN.
During our testing, it exceeded in every way and proved to be the best choice on the market. Get it now and you'll receive 3 months free on top of your annual plan.