The Bahamas is, by many, the ideal destination for a vacation. These beautiful beaches, delicious cuisine, and exotic culture are something you want to visit at least once in your life. But, you know how it goes. After some exploring, you want to go online and brag about sitting under a palm whiles other work. Going online in the Bahamas can be dangerous without a VPN, so you want to make sure you're safe and secure while doing so. Let's see what are the best providers for this country.
Why You Should Use a VPN in the Bahamas?
When we look at the Freedom House list, this country has a 91/100 ranking, which translates to 'free'. So, why the heck would you need a VPN in the Bahamas if there's no censorship or surveillance? Here's why:
Bypassing Geo-Restrictions
You didn't think you would have free access to Netflix or Hulu from these islands, did you? That would be too good to be true. Netflix is, as you know, the best when in the US variant. Hulu, on the other hand, allows you to watch it only from the US, which is also the case with Disney+.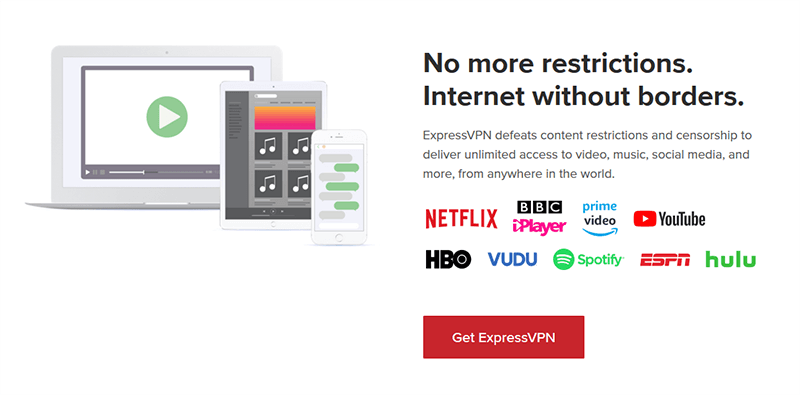 These are just a couple of geo-restricted platforms. Have no doubt that there are at least 100 more. So, how can you access them from this country? With the help of a Virtual Private Network, of course! It allows you to change your online location, thus access geo-blocked platforms.
With a VPN that is working perfectly in the Bahamas, there's a possibility to watch Hulu, Netflix or any other platform you want.
Staying Safe on Public Wi-Fi Networks
As a tourist destination, the country has tons of Wi-Fi network scattered across the islands. The good thing is that you can always access them and the bad thing is… well, that they're not safe.
By being unprotected, you can easily "give" the hackers your bank account info and other crucial data, which will jeopardize your privacy.
This service will encrypt your connection with a tunnel, so you'll be soaring under the hackers' radars. You can even proceed to sports betting without any blocking since the government and ISPs can't detect you.
Avoiding ISP Throttling
Speaking of ISPs, we suspect that they have something to do with the poor internet speeds in the country. There are two major ISPs here – Cable Bahamas and BTC. The first option is very popular and almost all households and companies use it.
However, we found out that many of them complain about constant speed drops and unstable connections. This can be due to the network quality or due to ISP throttling. We personally think that it's the latter. ISP throttling is when the ISP slows your internet intentionally, for different reasons.
It can be because you're streaming on a third-party platform, torrenting or accessing illegal sites. Either way, a Virtual Private Network could potentially solve this issue if ISPs are guilty of slow speeds, and not the network quality.
Best VPNs with Servers in the Bahamas
Even Bahamian residents sometimes travel abroad – crazy people! Jokes aside, if you're traveling abroad, you'll have a hard time accessing ZNS-13 and Nassau/Freeport from a foreign country. That doesn't have to be the case if you have a VPN with servers located in the Bahamas. Here the best two choices:
ExpressVPN: ExpresssVPN, our favorite provider, has a couple of servers in this country. Enjoying your local content will be a breeze, thanks to its fast speeds and stable connections. It also has 3,000+ servers in 94 countries worldwide.
CyberGhost: CyberGhost has 6,200+ servers in 91 countries around the globe, of which 48 of them are in Nassau. Although these aren't physical servers, they support P2P, so even torrenting is possible here.
To get a provider you want, click on its name, get a subscription, download the apps, and enjoy what it has to offer. These are at the very top of our VPN ranking, so you can keep your expectations sky-high.
Top 3 VPN for the Bahamas
Staying at your homeland for a majority of your life is easy, especially if you live in a country like the Bahamas. For that case, you just want a quality VPN provider that doesn't necessarily need to have servers near you. Here are your best options:
ExpressVPN
NordVPN
CyberGhost
Let's review them and see why they're awesome.
1. ExpressVPN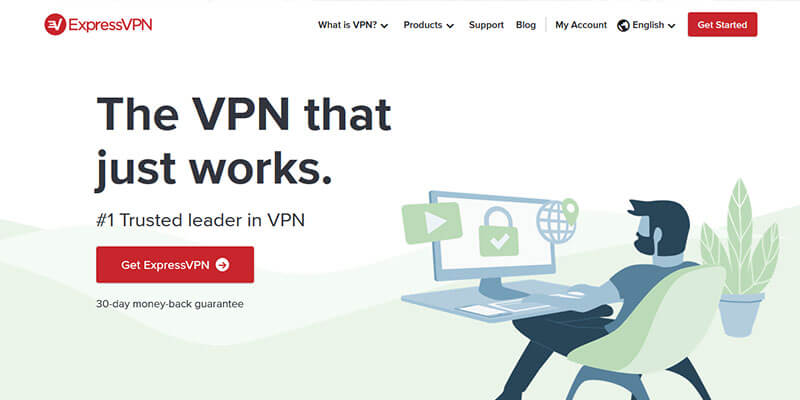 Breaking the bank for a quality provider is pointless when you have this one. Sure, this isn't the cheapest option but its quality is remarkable. ExpressVPN is stationed in the BVI, giving you a plethora of security features.
A no-log policy is here and it's transparent as your window. Furthermore, you get 256-bit encryption and DNS leak protection for keeping you as secure as possible. One thing we like about it is that it unblocks Netflix and Hulu in a single click.
So, when you're laying down under the palm tree, you can enjoy Witcher or Narcos effortlessly. 24/7 customer support is also here and if you want, you can connect up to 5 devices simultaneously, creating your VPN-laden network.
Right now, the provider offers a 49% discount and 3 months free for a 12-month plan. Get it while you can and no need to thank us – just give our Monkey a banana, he's starving!
Get ExpressVPN's 49% Discount >
2. NordVPN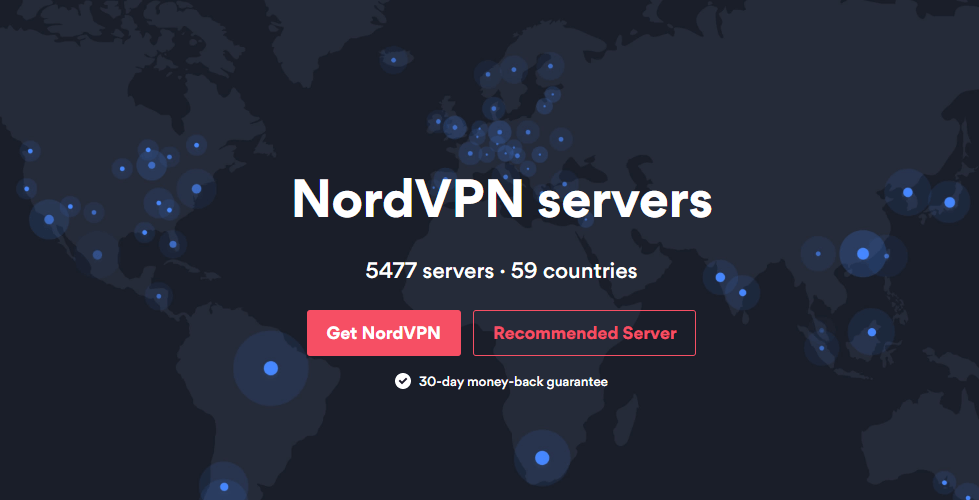 NordVPN has a strong presence online. Even if you don't know what a VPN is, you've probably seen it on different YouTube tech-related channels. Well, rightfully so. It's a Panama-based company with 5,500+ servers worldwide. Being so gigantic, you'll never be left without a choice.
The security department here is also rock-solid. Aside from the features we mentioned about ExpressVPN, you get CyberSec, Double VPN, and Tor Over VPN. All of these are here to add a thick, juicy layer of security on your connection.
If you don't know what these are, you can read our full review – we talked more about them there. Nevertheless, this provider won't cut any corners. You get exactly what you pay for and before you ask – yes, it unblocks Netflix and even porn sites. Albeit, you probably won't need the latter if you're visiting beaches often.
3. CyberGhost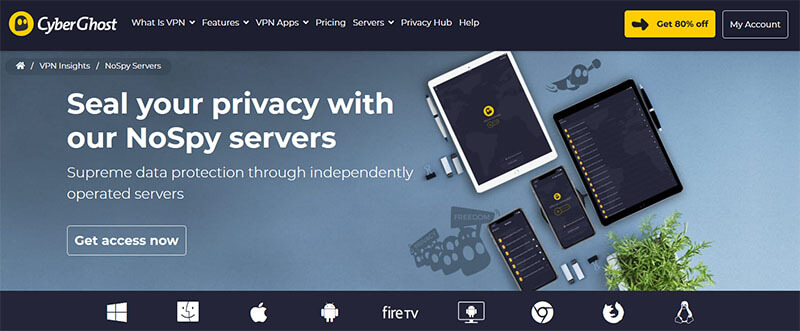 We already mentioned CyberGhost. Even from the few sentences above, you can see how good it is. Its dedicated servers feature is perhaps the highlight here. You can choose the servers dedicated to either torrenting or streaming, which will enhance your experience, whatever you choose.
For example, there are servers for Netflix, Hulu, Disney+, Amazon Prime Video, and so forth. Speed-wise, CyberGhost is very fast, making streaming and torrenting a breeze. Being from Romania, it's out of the 14/9/5 Eyes jurisdiction, meaning that security is on the highest level.
Saving your cash is probably a priority, so we'll mention that this is among the cheapest options around. Its 3-year plan costs slightly more than a pocket change, yet gives you all the much-needed features.
Why You Should Avoid Free VPNs?
Free providers may be a good short-term solution. However, if you're planning on staying safe online for a period of time, you don't want to use them. This is because they lack lots of features that the premium providers have.
A no-log policy is often lacking, as well as strong encryption, and fast speeds. The lack of a zero-log policy means that the provider stores info about you, which it can later sell and earn revenue – that happens a lot, by the way.
With weaker encryption, turtle-like speeds, and limited bandwidth, your experience will crumble the moment you try enjoying streaming or torrenting. For that reason, while in the Bahamas, consider using a premium VPN provider and avoid the free options.
Summary
If you already packed your bags, it's time to pack one more thing – a quality Virtual Private Network. Our recommendation is ExpressVPN, the best provider in 2021. Whether you want to torrent, stream or just browse the internet in the Bahamas, this provider will breeze through it.
Sure, you can save some cash by using CyberGhost but know that it's not as good as ExpressVPN. After all, you get what you pay for in both cases, so it's your call.