Just when you think that it's the 21st century and that everyone uses the internet freely, countries like Malaysia are here to prove your wrong. This country, although being beautiful and diverse, offers you no freedom online. And to make matters worse, the government's grip on the internet is stronger each day, resulting in constant censorship and surveillance. But, you, our beloved reader, have come to the right place today! We're going to talk about the best VPNs for Malaysia, so you can forget about these problems altogether.
Why You Should Use a VPN in Malaysia?
Every day is a good day for learning something new. For example, you're now going to learn why using a VPN in Malaysia is a good idea. If you're planning your vacation here, pay close attention to the following words!
Bypassing Censorship
The main problem in countries like this is always censorship. After all, all countries employ some sort of censorship but on a mild level. Here, however, it's a different situation. The amount of pressure on the internet makes threatens your security and privacy, making it impossible to ever feel like not being watched here.
Let's start with frequent website blocking. The government will block any site, page or image that even remotely speaks about the laws in the country. For that reason, some Facebook pages and YouTube videos are already censored.
Furthermore, it's easy to get into trouble here for what you say online. One Saudi journalist even got deported by authorities for insulting Muhammed, the prophet, in 2012 via Twitter. The worst thing is that this all applies even to tourists.
So, if you come here and you don't know what you're doing, prepare to face the consequences. Or just install a VPN and enjoy your freedom in Malaysia – your choice!
Avoiding Government Surveillance
How does the government know which sites to censor and which to leave? It's logical – because they're watching over the internet! The Malaysian government has a special program for monitoring your online activity in real-time.
As they say, this was initially made for tracking the users watching porn. However, it's a clever disguise for a program that collects all your data and sends it to the national data library. This data contains virtually everything that the government needs for tracking you.
The IP address, download/upload history, usage details, and locations. Not only it is intrusive but it also puts you at risk of suffering the consequences for your actions online. Malaysia isn't going to treat you like a baby if you make a mistake.
Accessing Geo-Blocked Sites
Geo-blocks are all around the internet and as their name implies, they prevent you from accessing content not suited for your country. Tons of popular websites fall under this category. Netflix, ABC, Hulu, and HBO Go are only one of them.
Unfortunately, this country can't access any of these, so you'll need a workaround. Perhaps, a service that allows you to change your IP to the other country, thus letting you enjoy some of these sites. Of course, a VPN will help you fix this issue easily while being in Malaysia.
With a decent provider, enjoying some late-night Netflix & Chill session will be a breeze, regardless of your location!
Best Providers with Servers in Malaysia
Traveling abroad often means missing your favorite local content in your homeland. That can be history as of today. Here's are the providers for accessing TV3, TV9, 8TV, TV2 or any other local content easily:
ExpressVPN: ExpressVPN is the best provider for all purposes. Thankfully, it has servers in this country, supporting all the security protocols and even P2P file-sharing. Get it and experience the internet in its full glory!
NordVPN: This Panama-based VPN provider offers 5,500+ servers worldwide, of which 10 of them are in Malaysia. These are fast-speed servers that will allow you to access local content effortlessly.
Surfshark: It is a very cheap provider that will spark your interest. These guys are all stacked up in terms of servers, so they covered this country, too. If saving money is your priority, this is the perfect option.
If you want to buy a VPN right away, click on the name of the provider, get a subscription, download the apps, and enjoy. You'll get some big discounts when using our site, so either go for it or give our Monkey a banana – or both!
Best VPN Providers for Malaysia
Those who don't travel a lot and live perfectly fine in this country will need a reliable companion for all online purposes. Here are the brief reviews of these providers:
1. ExpressVPN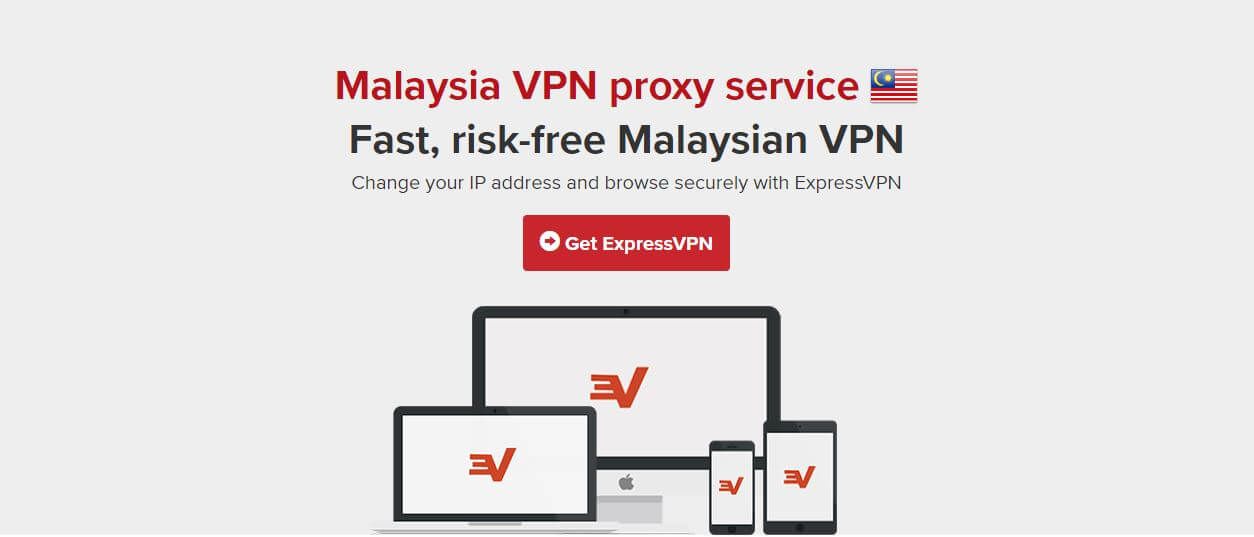 Wondering how fast you can go? With ExpressVPN, it's infinitely fast. This is the best provider not only in terms of speed but also in terms of security, ease of use, server count (3,000+ servers) and support. Security-wise, you get all the features you would expect.
A no-log policy, military-grade encryption, kill switch, and DNS and IP leak protection. ExpressVPN goes one step forward and gives you split tunneling, allowing you to split your internet traffic to your IP and the VPN tunnel.
For Malaysia, there isn't a better VPN option. It's fast, secure, and can bypass geo-restrictions easily. Gaming, streaming, torrenting, and browsing will be buttery-smooth. And before you ask it – yes, you can unblock Netflix!
With its excellent 24/7 customer support, tons of features, and top-notch services, ExpressVPN is the best provider for years to come. Oh, and they also offer a 49% discount and 3 months free for a one-year plan, so it's worth checking out.
Enjoy ExpressVPN's Fast Speeds >
2. NordVPN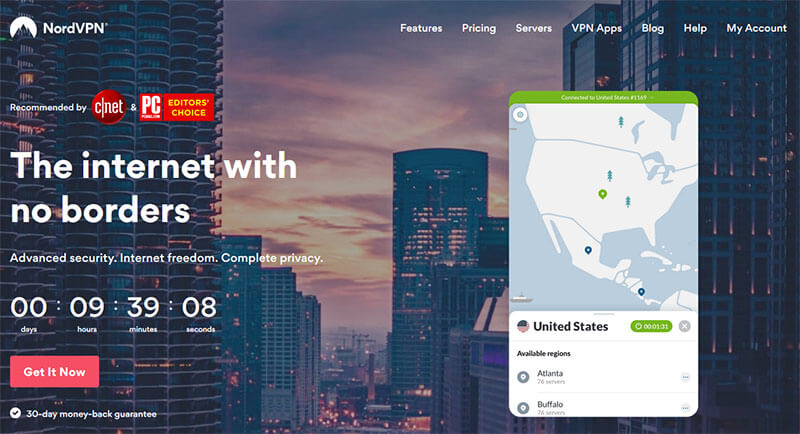 Remember those 5,500+ servers we mentioned before? Sure you did – this isn't something you'll forget easily! NordVPN is a provider that many of you already know of. It's very cheap, yet offers top of the line performance in 2021.
Not only it is blazing-fast but it also gives you tons of features. For instance, CyberSec, an ad-blocker, as well as Double VPN and Onion Over VPN. All of these will keep you secured and tucked in like a baby. For this country, you'll be happy to know that it doesn't keep logs since it's from Panama.
And given how large the provider is, you'll never run out of options. Our advice is to use it on your router and protect all the devices in your house with a single account. With NordVPN, possibilities are endless, which you'll see if you buy it.
Check NordVPN's Rich Offerings >
3. CyberGhost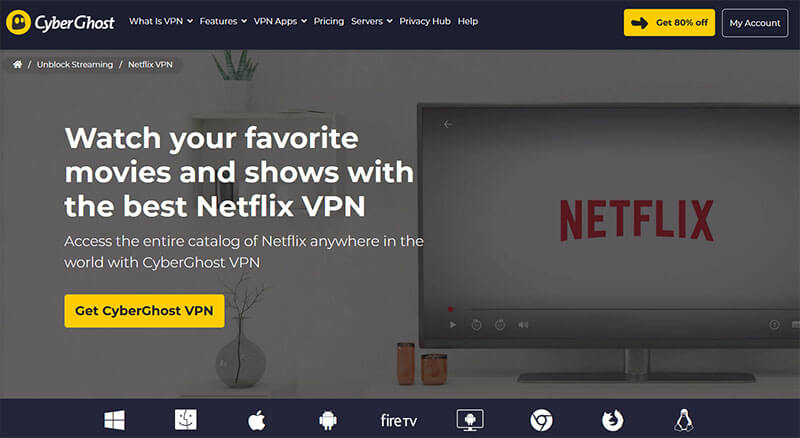 When talking about CyberGhost, it's hard not to mention its 6,200+ servers in 91 countries worldwide. It's the largest provider based in Romania, in a country of Lord Dracula. Have no fear, though, CyberGhost is one of the most user-friendly VPNs we've seen so far.
The provider is VERY cheap and on top of that, you get stunning performance. Dedicated servers, military-grade encryption, kill switch, DNS and IP leak, and many more features are to be expected. Plus, it can unblock Netflix and other popular streaming platforms.
If you're keen on buying it, know that you'll get a 45-day money-back guarantee for a 3-year plan. Have you heard of a provider more generous than this one? We haven't either!
Why You Should Avoid Free VPN Providers?
Wanna go free? Just think about all the features we mentioned above. And now, imagine having 30% of them. Would you still use a VPN in Malaysia? Probably not. Well, that's how free providers are. You get weak encryption, and they usually don't have a no-log policy.
This allows them to store logs and if needed, sell them to third parties. Believe us – this happens more often than you think. Apart from that, the speeds are very slow and the bandwidth is limited to 500MB or 2GB in most cases.
Sure, some providers will give you, more or less, better performance. However, if you want to enjoy premium features, pay a few dollars a month and never look back. Should you use free providers for this country, then? You know the answer – no, free VPNs are not reliable!
Summary
With all we just said, it's clear that Malaysia isn't a country to be messed with. The government won't hesitate to invade your privacy and since you can't fight them, you can at least use the best VPN out there. We gave you some choices but our recommendation is ExpressVPN.
You can't go wrong with it. It's at a discounted price and you can get all of its features for a lot less money. If you want to save more cash, NordVPN and CyberGhost are both great options, too.