Hotspot Shield might not be the most popular VPN at first. However, if we take a look at its user base, we can see some serious numbers. With more than half a million users in 2021, this provider seems promising. But, as always, we're here to put it to the test and see if it's good as they say. This is going to be an in-depth review of Hotspot Shield, so if you want to know if it's worth your hard-earned cash, we suggest staying until the end.
What is Hotspot Shield?
When it comes to being on the market for very long, this provider is probably one of the oldest VPNs.
Its initial release was in 2005 and until 2019, the company was owned by AnchorFree Inc. Just a year ago, a new company called Pango took Hotspot Shield. Nevertheless, its user base didn't change and seemingly, it's still a popular option.
We need to keeping mind, though, that the provider is from the United States. And as many of you know, this country is a part of the 5 Eyes Alliance. This isn't very good to know, especially since it can affect privacy and anonymity online. Still, we won't make any judgments before we test it, so stay with us and learn more about this provider.
If you don't want to read the review and just want to buy Hotspot Shield, here's a button for getting a big discount for your purchase.
Compatible Devices and Ease of Use
Being so popular, we expected a whole lot from this provider in this regard. However, we still ended being disappointed because of one thing. Take a look at this image and try to notice what it lacks: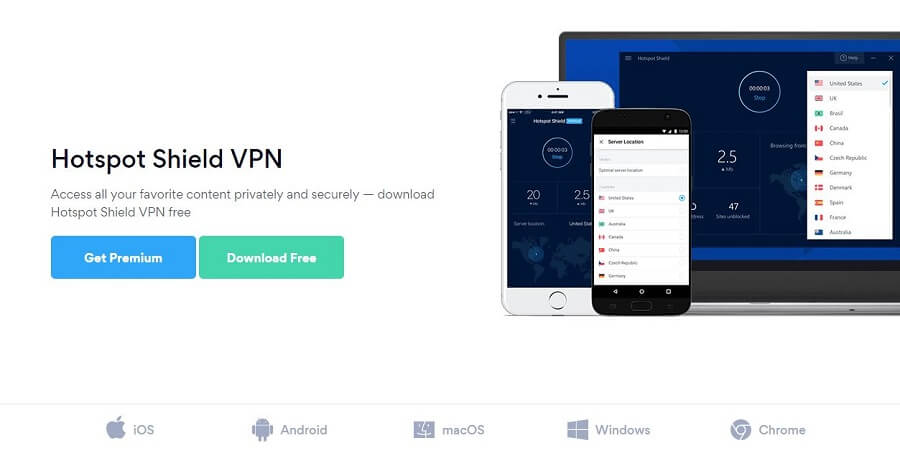 Starting from the left, we have iOS, Android, macOS, Windows, and Chrome. Of course, the last one is the Chrome extension, which is very popular nowadays. Just beware that it leaks DNS from time to time, so we don't recommend using it.
Back to the topic, did you already notice what is lacking? Of course, the router support! For that, the provider gets a big minus from the get-go. We'll talk more about that later. Let's focus on the platforms it actually supports.
Computers
When it comes to computers, Hotspot Shield supports Windows and Mac, which is fair enough. There's no support for Linux, so the Linux users will have to use a better provider – ExpressVPN, for instance. Nevertheless, we're going to examine the installation process on Windows 10 and see if the app is easy to use.
The first step is to buy a subscription. When you do that, you'll need to create a password and download the setup. The first screen looks like this: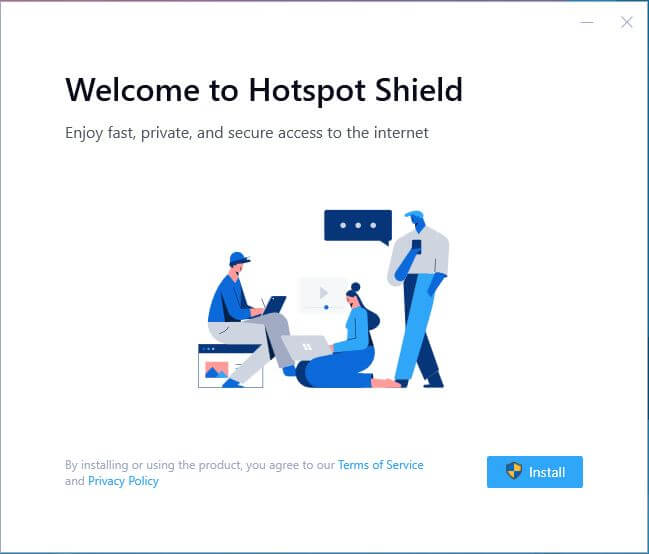 The only thing you need to do is click Install and the setup will start. You'll see something that looks like this…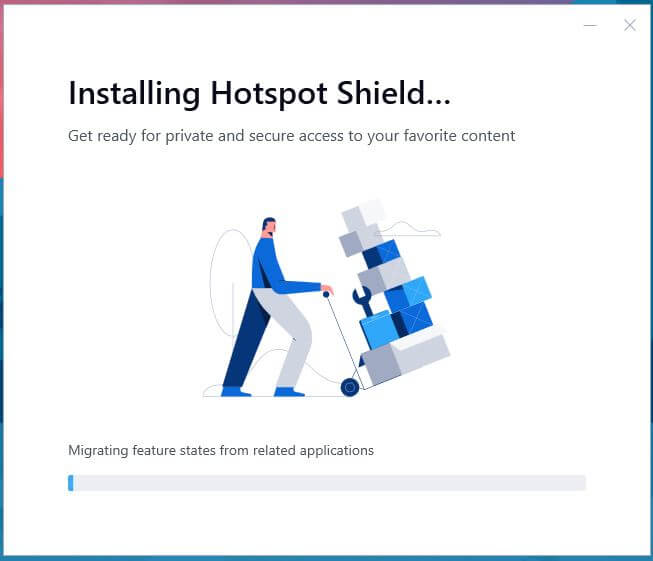 and boom – it's done in 10 seconds. The provider wastes no time, hence it opens the app for you right away. Here's how it looks: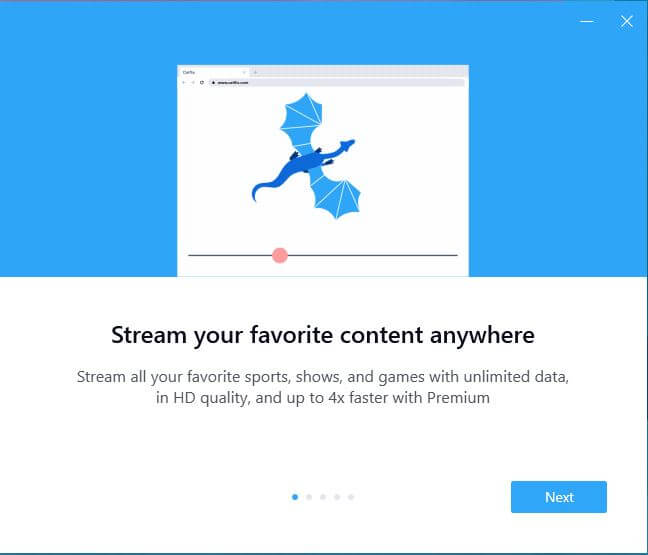 Click Next several times and when the app opens, this is the home screen you're going to see:
As you can see, we're not logged in yet. To do that, you need to click on the three horizontal lines in the upper-left corner, click Login, and type your credentials: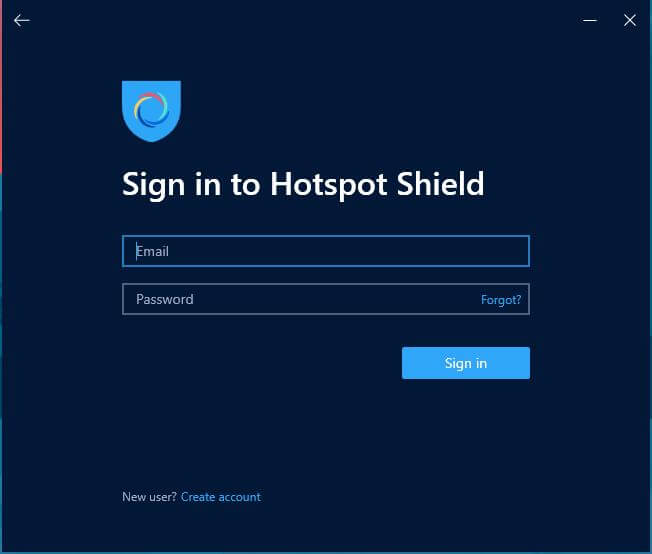 When you do that, the app will return you to the home screen that looks exactly the same. Click on the country in the lower-left corner of the app and from the server list, choose the server you want. The connection will be established in a few seconds: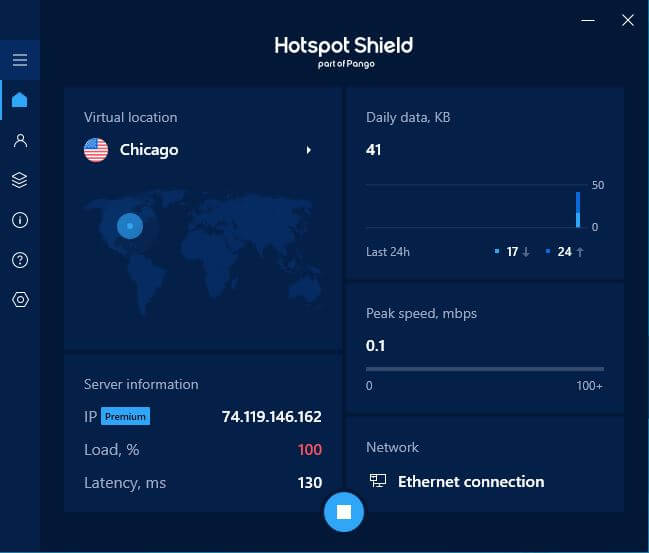 It's very easy to use and it looks very good. Just look at this interface – it's like from the sci-fi movie! You also get animations while the app works on establishing a connection, which is a nice addition. All in all, the Windows app looks phenomenal and is simple to use – approved!
Smartphones and Tablets
Smartphones and tablets are very important today. We know many people who don't have computers in their homes, yet have high-end smartphones. There are two types of people – those who like iOS and those who like Android.
As we always do in our reviews, we'll examine the installation process of Hotspot Shield on Android devices. Rest assured, this process looks the same on iOS, so if you're an iPhone user, you don't need to worry. The first step is, of course, to get the app from the Google Play Store, as shown in picture 1.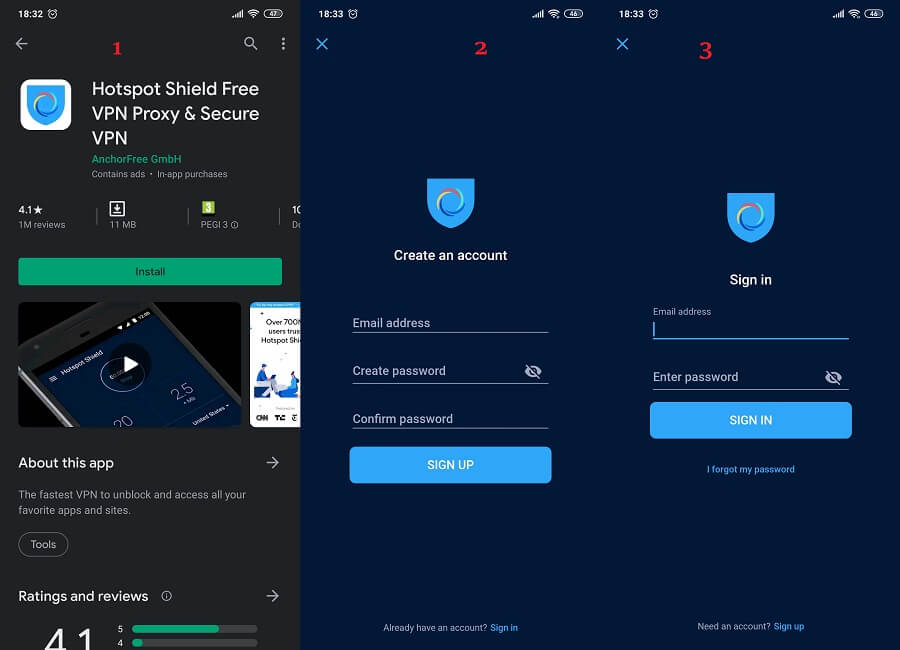 Install it and open the app. In picture 2, you can see the first screen that offers you to make an account. Since we already bought it, we need to sign in, so we tapped on it in the bottom part of the screen. The login screen is shown in picture 3.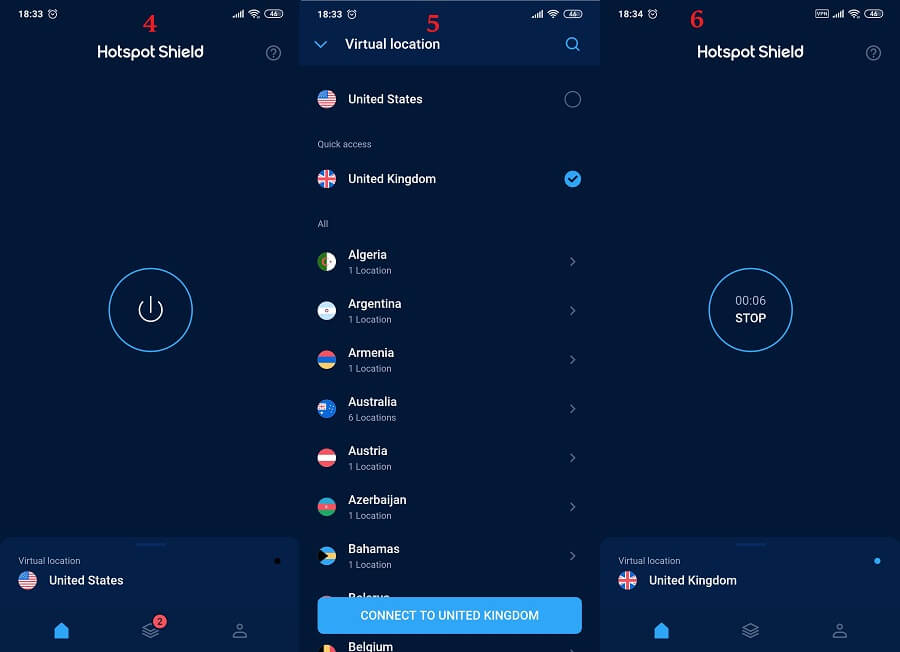 We like that the app lets you log in from the get-go, unlike the Windows app. In picture 4, we can see that the app looks, more or less, the same as on PC. Click on the country below (the US, in our case) to access the server list shown in picture 5.
Choose the server you want and click on the blue button at the bottom of the screen. We connected to the United Kingdom and you can see how that looks in picture 6. Clean, simple, and intuitive – props to Hotspot Shield!
Other Devices
Unfortunately, the provider doesn't support other devices. With no router support, you can't use it for gaming platforms, Roku, IPTV boxes, Smart TVs, and other devices. Such a shame because the provider isn't among the cheapest and for the price it costs, we expect a hell of a lot more.
We'll talk more about its price later. For now, let's just say it's not exactly the best money-saving option.
How Fast is Hotspot Shield? We Checked Its Speed!
Some of the American providers we already tested weren't very impressive when it comes to speed. IPVanish was decent but when compared to our top providers, it isn't that good. How does this one stack? We'll see that now. Before we do that, let's mention the fact that all providers reduce your internet speed to some extent.
This depends on the server distance, level of encryption, quality of the network, and so forth. There's a big difference between 10% and 90% reduction. Some providers like ExpressVPN or NordVPN will reduce your speeds by very little. And on the flip side, free providers will do that by quite a margin.
For that reason, we need to talk about how we did our tests. We did 3 tests in the morning, 3 in the mid-day, and 3 in the evening, for 3 different locations. Furthermore, we kept the best score and used the best location when that was possible. Our physical location is in the USA (non-VPN test) and we used these 3 locations for testing:
The United States
The United Kingdom
Australia
Without using a Virtual Private Network, our internet speeds are:
Ping: 11 ms
Download speed: 211.88 Mb/s
Upload speed: 202.20 Mb/s
Now, with Hotspot Shield enabled, our ping, download, and upload speeds respectively, for 3 testing locations, are:
US Server: 63 ms / 94.53 Mbps / 121.75 Mbps

UK Server: 125 ms / 67.30 Mbps / 78.64 Mbps

Australian Server: 380 ms / 28.22 Mbps / 30.97 Mbps

Even when using a server from our country during our review, Hotspot Shield decreased our speeds and increased our ping dramatically. Commenting too much about these speeds would be pointless. You can see the results and you can see that they're far from being good.
Just take a look at Australia – we got a ping of 380 ms, which made our browsing experience a mess! Plus, our download and upload speeds decreased by ~7.5 times and ~6.5 times respectively. Hotspot Shield isn't fast and is, in fact, one of the slowest VPNs we tested to date.
How Good is Hotspot Shield for Streaming?
The good thing about these American providers is that they usually unblock Netflix easily… usually! Well, this provider is hell-bent on crushing our expectations. Sure, we managed to unblock it but not on every server. For example, it worked well on the Canadian server, while the US and UK servers couldn't unblock it.
Interestingly, we found out that some users managed to unblock it with the UK server, while the Canadian server didn't work. So, if you're interested in Netflix, know that it's a bit of a gamble. Whether or not you want to roll that dice, it's up to you. Let's see if other streaming platforms work well.
We'll start with a warm-up – HBO Go. Here are the results: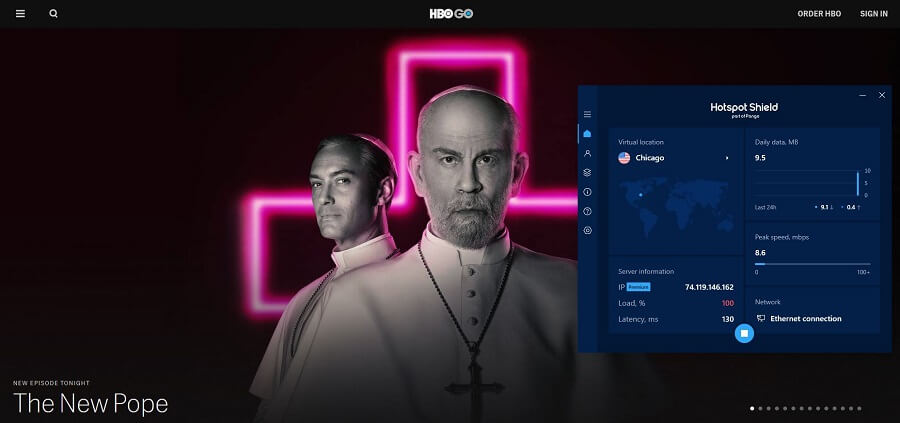 Luckily, HBO Go was unblocked successfully. The following platforms are harder to unblock for providers out of our top 10 list but let's see how this one fares. Below is the screenshot of Disney+: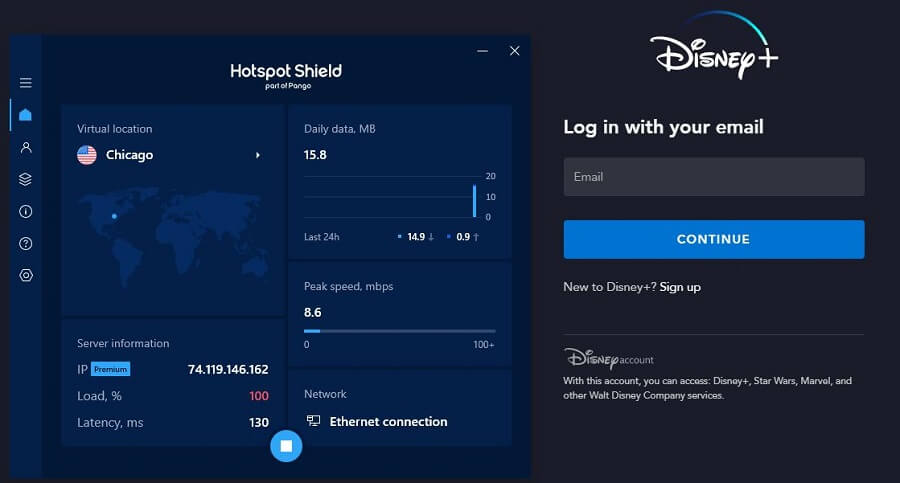 Hotspot Shield successfully unblocks Disney+ and we didn't get any infinite loading screens. What about BBC iPlayer, then? Well, here's a screenshot of that: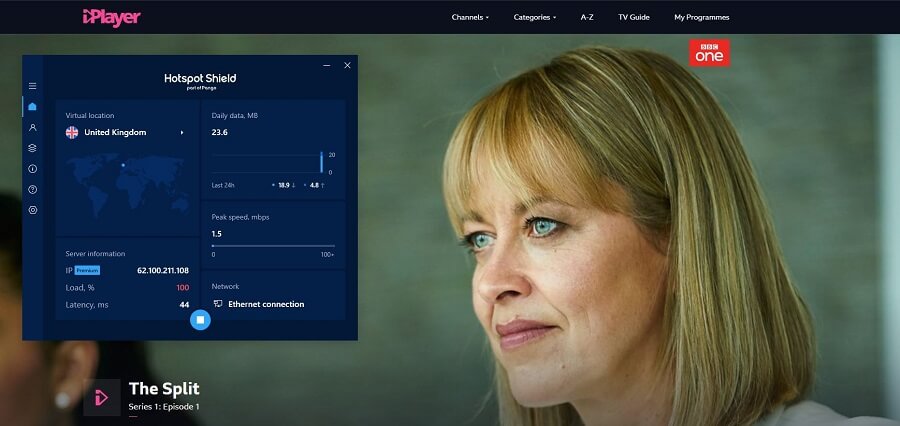 BBC iPlayer worked flawlessly. Usually, when it doesn't work, you'll get a message saying that you're not from the UK and so on. Here, we didn't encounter that, and just for the reference, we unblocked it with a single attempt. Finally, let's check DAZN: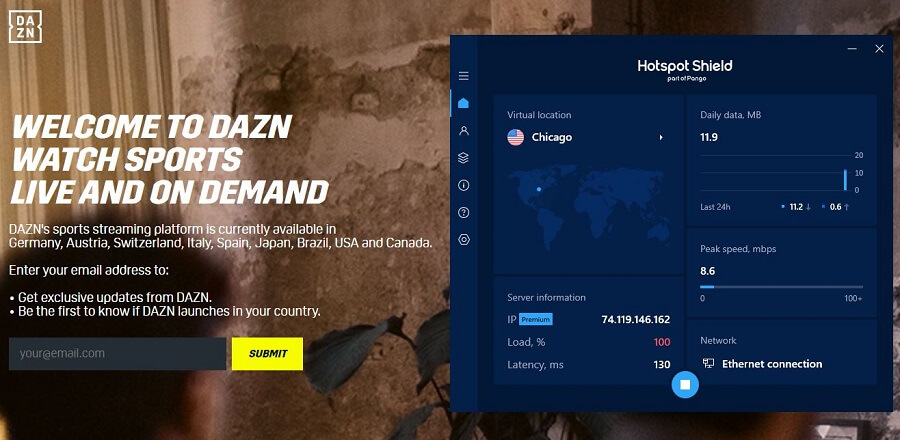 Unfortunately, DAZN can't be unblocked. But, with all these platforms working, we can't complain too much in terms of unblocking geo-restricted sites. To summarize, Netflix works sometimes, BBC iPlayer works, Disney+ works, HBO Go works, and DAZN doesn't work. Other unblockable platforms include Amazon Prime Video and Hulu.
That's not bad but with the speeds so slow, we doubt you'll enjoy your streaming even in 1080p. We encountered lots of buffering and stuttering when using the Australian server. So, to conclude this section, Hotspot Shield isn't very good for streaming, just because of its slow speeds.
Confidentiality, Security & Logs
Safety is a big part of any VPN. You know how harsh we are when it comes to this. If we see that the provider isn't safe or trustworthy, we immediately discard it and don't recommend it. Hotspot Shield is, at first, a respectable company that knows what it does.
However, they keep some things under the radar. For example, a CDT (Center for Democracy and Technology) accusation that was filed in 2017 to the Federal Trade Commission (FTC). Long story short, CDT explained that the provider misleads its users about the info they share with third parties. This is a gigantic red flag for Hotspot Shield.
Also, in 2018, a security researcher discovered, what seemed like a bug, that leaked the users' names of the Wi-Fi networks and countries. With that in mind, we checked their privacy policy and sure enough, we had a lot to see.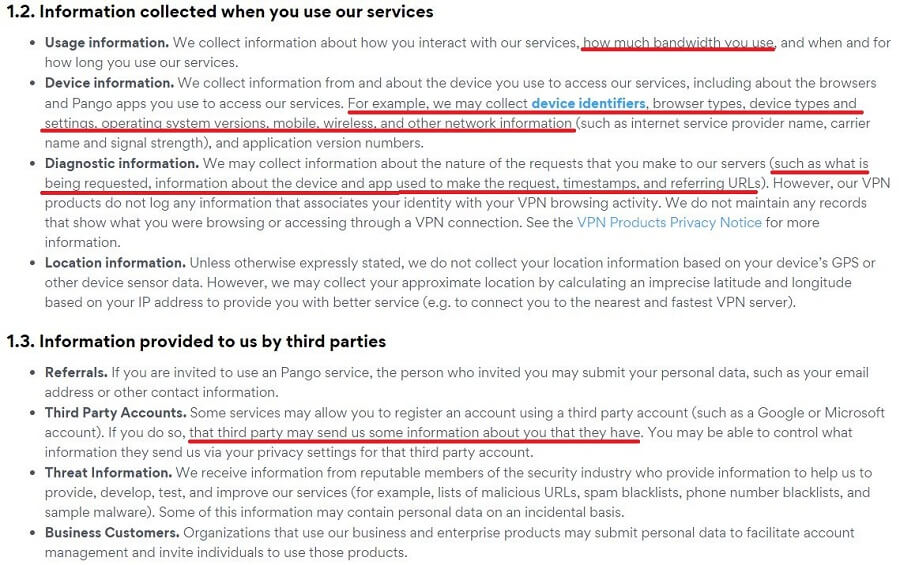 While some providers collect "some" logs, Hotspot Shield connects quite a bit of info. Just take a look at the highlighted parts of the policy. There are browser types, device types, OS versions, network information, bandwidth usage, timestamps, referring URLs, and all the stuff that will compromise your privacy.
Take your time and read it well. The link to the full policy is here. As for our opinion, we'll do what we promised at the beginning of this section of our review and say that you stay away from Hotspot Shield. For those still interested in reading the review, let's do the IP leak test: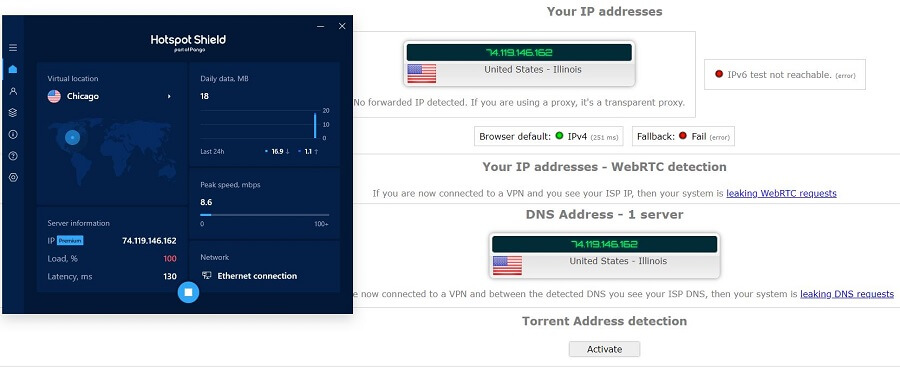 Fortunately, we didn't encounter any leaks when using the VPN app. As we mentioned, though, the Chrome extension will leak your DNS from time to time, so DO NOT use it.
Other security features include an automatic kill switch (only for Windows), 256-bit AES encryption, and only a single protocol that we'll talk about later.
Can I Do Torrenting Safely with Hotspot Shield?
Hotspot Shield is one of those providers that fully supports torrenting, which is great. However, as we always say, for torrenting, you'll need a no-log policy and P2P file-sharing support. The second parameter is already here and with their questionable privacy policy, it's very risky performing P2P activities online.
This screenshot below shows the IP we used a minute ago and is from the 1337x torrent website.

Sure, that's our fake IP and that's okay. As long as the provider keeps up with its privacy policy, you should be okay. BUT, what if it doesn't keep with it? What if they sell your data to third parties? Or perhaps, what if their part in the 14 Eyes starts having an effect?
Would the provider THEN be safe? Of course, it wouldn't be. Since the provider supports torrenting, we can technically say that you can do it. On the other hand, we'd be very careful when downloading copyrighted movies, games, music, and books when using it.
Can I Use Hotspot Shield to Bypass Censorship?
Censorship is one of the worst problems on the internet nowadays. VPNs can alter your IP address to another country, which will, for example, allow you to save money on flight tickets. By the way, follow this link to see how to do it.
What a VPN should also do is bypass censorship. When we talk about it, we usually think about China and its, seemingly, impenetrable firewall. China actively blocks Virtual Private Networks and in 2021, only a handful of them will work properly.
Hotspot Shield isn't one of them. Users online reported mixed results. Some of them use it in China and the majority of them can't do it. This means that it's also not suitable for the UAE, Russia, Iran, Kuwait, Indonesia, and any censorship-laden countries.
In short, the provider can't bypass censorship, at least in a majority of cases.
Pricing and Plan Options
Remember what we said about the price earlier? It's time to confirm it now. If you click on the button at the beginning of our review, you'll see this pricing:

The plan in the middle is a 3-year one and costs $2.99 a month of $107.64 every 3 years. On the right, there's an obsolete (you'll see why) one-year plan that costs $7.99 a month, and finally, a monthly plan costs $12.99. This monthly plan is one of the most expensive we've seen, by the way. There's also a free version of this VPN, which we don't recommend because of its limitations.
Since not many of you buy a monthly plan, let's look at the other two plans. Right away, we can recommend two much better providers that are cheaper than this one. Regarding a 3-year plan, you can get CyberGhost at $2.75 a month and you get 2 months free, which is, in total, 38 months worth of subscription.
And if you're for an annual plan, ExpressVPN offers its yearly plan at $6.67 a month with 3 months free. Therefore, Hotspot Shield is even more expensive than ExpressVPN, which is for us, insulting, to say the least. Plus, ExpressVPN is the best provider you can get – do not forget that.
Nonetheless, let's see what payment methods they offer:

Nothing we didn't see yet. Bitcoin isn't here, so you can't make a secure purchase. Not very good, considering that Hotspot Shield already isn't very safe as we've seen before in our review and tests. If you want to request a refund, you can do it via the live chat feature.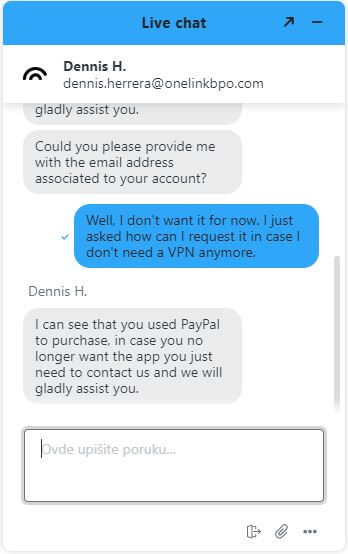 Once again, we got that wishy-washy answer in which the member of customer support thought that we immediately want a refund. After explaining it in one message, we finally got our answer.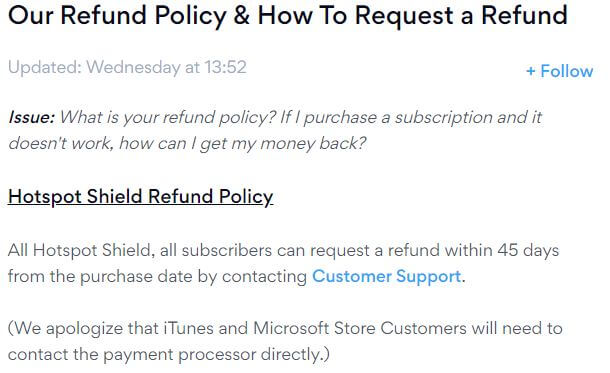 The refund policy is crystal-clear, and as it says, you get a 45-day money-back guarantee for all plans.
How Can I Contact Hotspot Shield?
Contacting the provider is easiest to do through the app. When you click on Help, these three options will appear: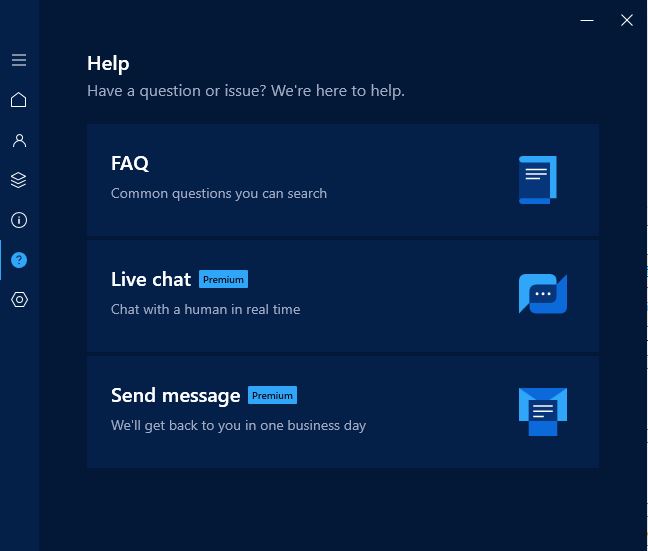 The first on the list is the FAQ section. When you click on it, a new window in your browser will open, so you can explore the FAQ's knowledge base. However, if you want immediate answers as we did, you can use the live chat, which will, once again, open in a new browser window.
There's also a ticketing system which is the last one. When you click on it, you'll need to choose the category in which your complaint/suggestion belongs, type in the message, and so forth. We're glad that the live chat is here and by virtue of that, we can say that contacting the provider is very easy.
The Special Functionalities
The special functionalities are here to enhance the basic experience that most Virtual Private Networks offer. Here's what Hotspot Shield has to offer:
Catapult Hydra Protocol
Catapult Hydra protocol is a proprietary protocol of the Pango company that represents the main feature of this VPN. Essentially, it's here to give you the maximum possible speed without sacrificing security and privacy. The provider briefly explained what it is here: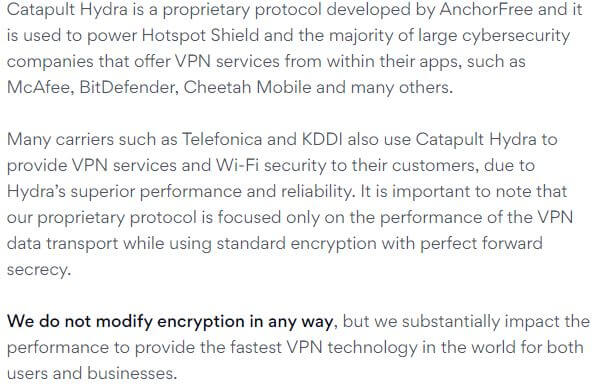 At first glance, it sounds really good. But, in our opinion, it's more of a gimmick than something reliable. First, as we saw, Hotspot Shield's speeds are very slow, making this protocol useless. Second, you're forced to use only this protocol, without support for OpenVPN, IKeV2, PPTP or any other protocols.
Being locked to a single protocol is rather… stupid. When you can change them, you can at least bypass censorship in China but here, you can't do it. Although it's a special feature, to us, the provider would be much better without it.
1Password & Hiya
There are other features you can get for free if you have a premium account. You can see them in the app: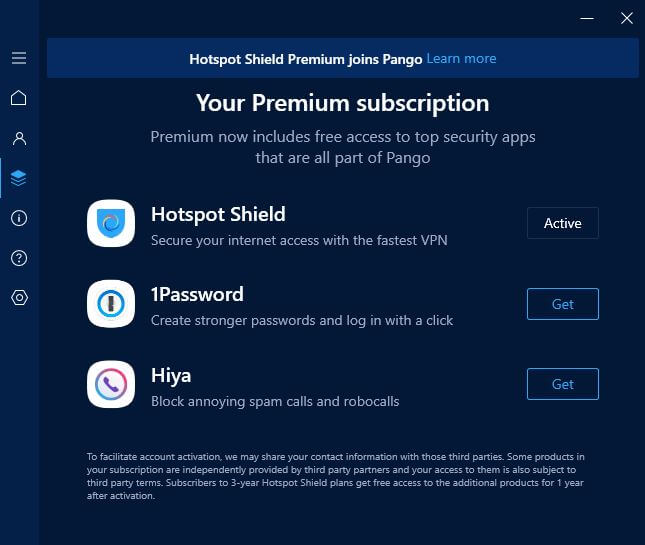 1Password is a very popular solution for storing your passwords, software licenses or any sensitive info in a virtual encrypted vault. Hiya, as you can see, is here to block annoying spam calls and robocalls, which is great if you feel like your privacy is being threatened.
Honestly, we like the addition of these two more than the Catapult Hydra protocol. You'll probably use them more either way.
Other Things You Should Know
Knowing everything about the VPN you're planning to buy is essential and for our review of Hotspot Shield, we also must know every detail, so we can make a proper conclusion later. Here are other things you should know:
Number of Servers
In terms of server count, Hotspot Shield is quite large. See the image below: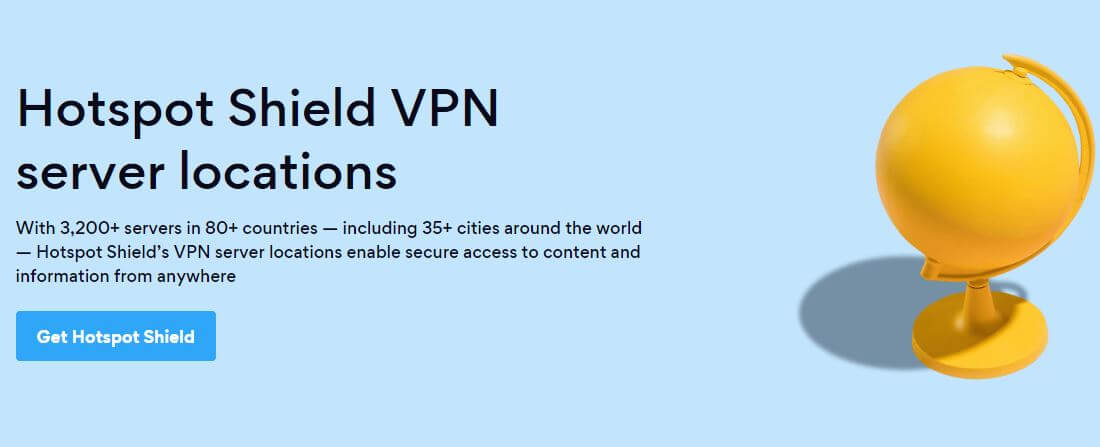 The provider has 3,200+ servers worldwide, which is on par with ExpressVPN. At least, you'll have lots of options to choose from, which will allow you to access local content from different countries.
Number of Countries
In the image above, you can see that you get 80+ countries to choose from, which is, once again, very generous. Our reason for concern is that the provider has servers in Russia, which isn't a VPN-friendly country.
Russia wanted that every provider that operates in the country provides users' logs if needed. For that reason, ExpressVPN, CyberGhost, NordVPN, and many others removed their servers from this country. With that in mind, it is possible that Hotspot Shield accepted that, so its servers still operate in Russia.
If you're going to use this provider, try not to use Russian servers.
Number of Simultaneous Connections
Since Hotspot Shield doesn't support routers, you're locked to this number of simultaneous connections:

Five of them – take it or leave it. Surfshark, for instance, is cheaper than this provider, yet offers an unlimited number of simultaneous connection, making this provider pale in comparison.
What Do Other Users Say About Hotspot Shield?
Does this American giant have a good reputation online? It's time to take a trip down the rabbit hole and see. The first station is Reddit, so let's see what its users say about the provider:

Here's the user that made Netflix work in the UK but not in Canada and the USA. This is just another case in which Netflix didn't work well with this provider and there are tons of them online. The user, at least, got a refund in the end. Now, let's glance over to the Google Play Store:

As you can see, this review of Hotspot Shield comes from a premium user and is written in 2021, so it's a recent one. Is it good? It's all but good, to be honest.
The user mentioned faulty software, poor connection, and lackluster customer support. Albeit, he says that the support is only available by email, which isn't true, as we had the chance to see a few minutes ago.
Let's see what the Apple Store users say: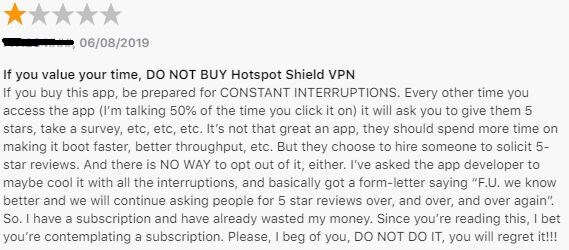 This user, interestingly, complains about constant interruptions regarding the iOS app. We didn't try this version of app, so we can't say if it's true or not. But, from what we can see, the user seems really infuriated by it. In short, the provider asks the users for 5-star reviews, which interrupts the app and bothers this iOS user.
Finally, here's a review from Trustpilot: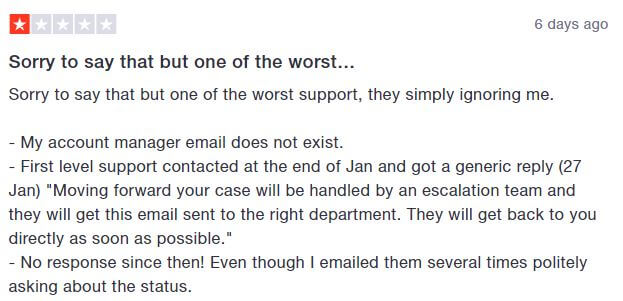 This is short feedback written a few days prior to writing this review. The user on Trustpilot complains about the support that constantly ignores him, even though he obviously had issues with the app and needed help to fix them.
Conclusion: Should You Take It?
Hotspot Shield is a devil wrapped in a beautiful body. At first glance, it looks good, has a beautiful interface, unblocks relevant streaming platforms, and allows torrenting. But, as you start investigating it more, you realize that it's not a good provider.
Simply for the fact that it stores a lot of information about its users, we do not recommend buying this provider. Other reasons for our dissatisfaction include slow speeds, expensive pricing, inability to bypass censorship, and inability to unblock US Netflix.
If you want a provider with no compromises that will cost you less than this one for an annual plan, grab ExpressVPN at a 49% discount and 3 months free. Or perhaps, if you want a 3-year plan, go for CyberGhost, as it will cost you less and give you better performance in every category.