Being a popular country in the EU, the Netherlands is an attractive tourist destination and an epitome of freedom and liberty. However, after a recent change in legislation, users' privacy might go south. Using a VPN in this country is definitely a good thing, for that reason. Whether you want to stream on foreign platforms or just stay secure online, using it is never a bad idea. Let's see what are the best VPNs for the Netherlands and why you should use them.
Why You Should Use a VPN in the Netherlands?
Countries that are EU members usually enjoy an imposing amount of online freedom. Now, the question is – why is this service needed in this country? Let's find out:
Avoiding Government Surveillance
Up until recently, the Netherlands was all about letting you do your stuff online, with minimal surveillance and snooping around. But, in 2017, things would go a slightly different route. New legislation emerged and it brought some bad news – the government can now indeed snoop around your data.
The Dutch government allowed, and in fact, encouraged surveillance and data collection. Despite being brought in 2017, the new legislation started taking effect in the spring of 2018. Needless to say, this country can be in big problems if it continues going that route.
We could possibly see the UK scenario, where the government has tightened the grip over the internet. This allows them not only to break your privacy but also to control the way you use the internet. Blocking sites and employing censorship are only some of the methods that they can use.
Furthermore, they can punish you for the "crimes" you committed or you didn't commit, and so forth. To avoid all the hassle, simply use a VPN that is working properly in the Netherlands. It will obfuscate your IP address, preventing your ISP from spying on you, preserving your online identity.
Torrenting Safely
A plethora of countries from the European Union are very strict when it comes to torrenting. Some of the countries include France, Germany, Italy, and of course – the Netherlands. Torrenting here is a devil's business because if they catch you, you'll have to pay a pretty hefty fine.
Let's just say that you'll work that month for free… if you know what we mean.
Copyright infringements are something we're definitely against but the government functions slightly different. They usually punish you just for torrenting, even though you haven't infringed any copyrights. Even some torrent sites are blocked, like The Pirate Bay, for example.
So, this service will help you access torrent sites that may be blocked AND let you download torrents safely.
Unblocking Geo-Restricted Streaming Sites
The Netherlands has its own Netflix catalog, which is quite extensive. But, Dutch residents, like all of us, want the biggest and the most extensive catalog from the USA. Unfortunately, this catalog is reserved for the US residents, so if you're outside… well, sorry!
We can apply the same principle to dozens of streaming platforms. For example, BBC iPlayer is available only in the UK, Hulu is in the USA, and a free version of Hotstar is only available in India.
Did you know that using a VPN that is working in the Netherlands lets you change your online location and bypass these issues? That way, you can watch Netflix US from the Netherlands or unlock Spotify and listen to your favorite songs.
Best VPNs With Servers in the Netherlands
Luckily for all of us, some of the best VPN providers on the market have servers in the Netherlands. Here are the best choices for enjoying some local content abroad:
ExpressVPN: ExpressVPN offers 3,000+ servers in 94 countries. Its impressive server network spans to the Netherlands, where it has servers in 4 different locations.
NordVPN: NordVPN has 263 high-speed servers in this country, all of them supporting the most advanced features that the provider offers.
CyberGhost: It is an ultra-cheap provider that has 196 servers in Amsterdam. It's P2P-friendly and is great for unblocking blocked sites.
To get a provider of your choice, simply click on the one you like, subscribe, install the apps, and connect to the Dutch server. Now, you can enjoy your favorite local content or use banking services from abroad.
Best VPNs for the Netherlands
If you live in this country and you just need a provider with great performance and lots of features, look no further. Here are the best VPNs for this country:
1. ExpressVPN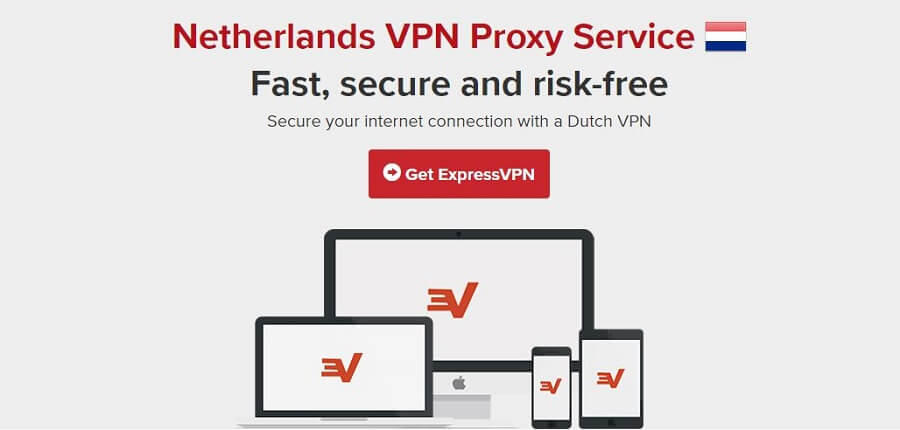 Wanna stay secure online? Or perhaps, browse the internet at neck-breaking speeds? Why not both – ExpressVPN offers a no-compromise experience at a heavily discounted price! This provider is also the fastest one on the market, leaving no space for a laggy experience or 10-minute buffering during streaming Netflix.
Speaking of that, ExpressVPN unblocks Netflix US easily and gives you access to BBC iPlayer, Hulu, Amazon Prime Video, and ABC. Security-wise, you can expect it to be impressive. 256-bit encryption is here, and with an automatic kill switch, this VPN keeps you safe and secure all the time when in the Netherlands (or elsewhere).
Connecting multiple devices is also easy, as it allows for up to 5 simultaneous connections. Even better – it supports routers! Thanks to this, you can protect up to 32 devices simultaneously in your household, depending on how much your router can take.
Finally, ExpressVPN offers a 49% discount and 3 months free for a 12-month subscription plan.
Get a Discount on ExpressVPN in the Netherlands >
2. NordVPN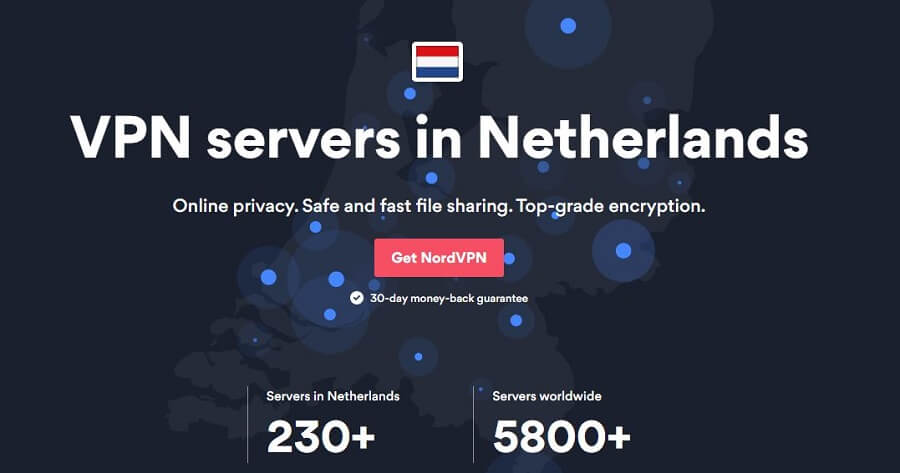 Getting discounts on high-quality providers is a piece of cake these days. NordVPN gives you a 70% discount, yet offers state of the art performance. Apart from its fast speeds, the VPN provider offers a great streaming experience if you are in the Netherlands, thanks to its SmartPlay feature.
They also know how annoying ads can be, so they included CyberSec that will clean them up. With support for the Tor browser, NordVPN even lets you explore the Darkweb, in case you aren't afraid. And if you are, you can still enjoy streaming Netflix, Hulu or HBO GO, unblocking it in a single click.
NordVPN gives you 5,800+ high-speed servers in 59 countries. This is enough for bypassing geo-restrictions and add some variety to your web-browsing activity. For this price, NordVPN is simply unbeatable.
Enjoy NordVPN in the Netherlands >
3. CyberGhost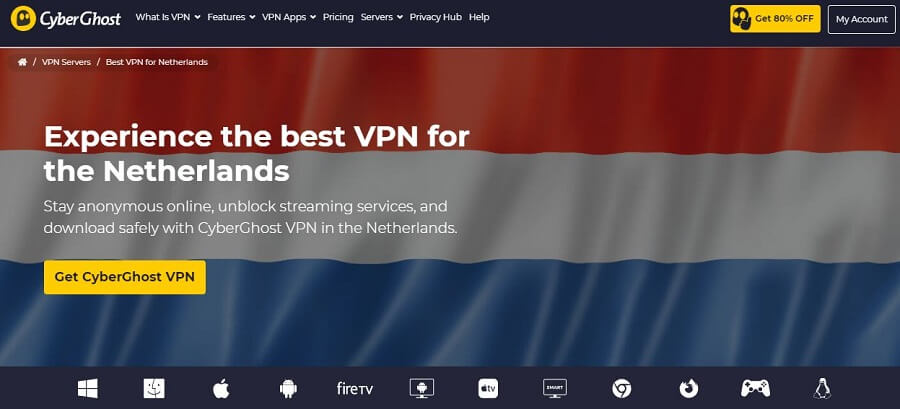 CyberGhost is significantly cheaper than the other two providers but that doesn't mean that it's bad. Honestly, it's actually pretty darn good! It's from Romania, and from there, it governs 7,000+ servers in 90+ countries worldwide. Sounds impressive, right?
Those who like torrenting and streaming will be impressed by their dedicated servers. Dedicated servers allow you to perform some of these activities safely and securely, with a maximum performance you can get.
Speaking of performance, CyberGhost did an amazing job in our speed test and is just a tad slower than NordVPN. In terms of security, 256-bit encryption is here and it doesn't keep logs, which is of the utmost importance.
Should you decide to buy it, we recommend a 3-year plan. You'll be surprised at how cheap it is!
Reclaim Online Freedom in the Netherlands With CyberGhost VPN >
Summary
Enjoying the internet in the Netherlands is possible even without a VPN. But why risk it? Why let the government breathe behind your neck? If you want to reclaim your privacy and enjoy limitless internet browsing and streaming, you should go for ExpressVPN.
This is our recommendation that will never disappoint you. Fast speeds, rock-solid security, and amazing streaming capabilities – what more to ask for? If you get it now, they'll give you 3 months FREE on top of your standard annual subscription!