New Zealand is one of the most scenic parts of the world and a firm favourite of people from the UK. After a busy day taking in the sights you might want to sit back, relax, and continue watching all your favourite shows. This is where you run into problems because if you try to stream UK TV while abroad you find you cannot watch channels. However, there is a trick to unblock and watch British TV in New Zealand to overcome the geo-restrictions.
Along with showing you the trick to access and stream live British television channels, you can also check out the best VPNs for New Zealand that we recommend and more.
How British TV channels are blocked?
Programs shown on such as BBC and ITV are licensed only for showing in that country. Therefore, even if you have an account on BBC iPlayer or ITV Hub, if you travel abroad you cannot watch British TV in New Zealand.
The restrictions are placed as the streaming service takes note of the IP address you use to connect to the internet. As all countries have IPs that fall within a specific range it is not difficult for the service to find out exactly where you are located.
Instead of being able to stream your favourite UK television programs, all you see is a notice that tells you it is unavailable in your country.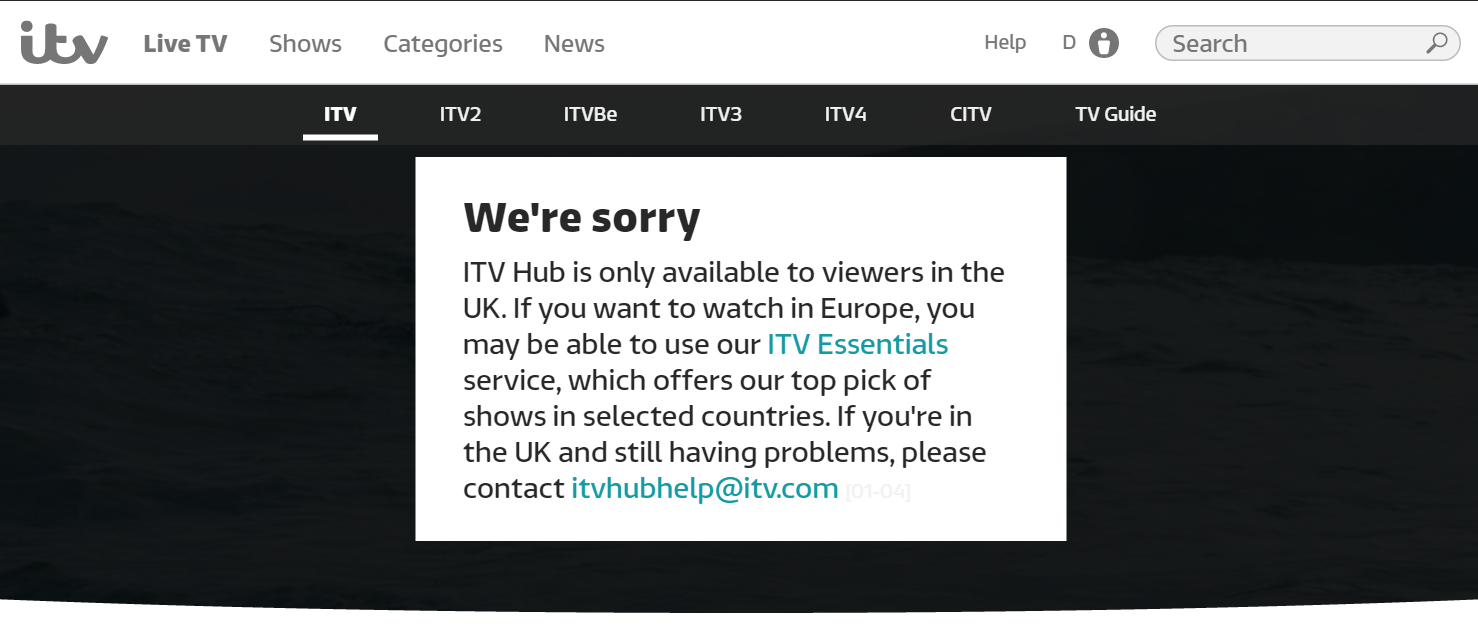 The restrictions could be avoided if only you could change your IP address and fool the service into thinking you are still in the United Kingdom. Well, this is exactly what you can do if you sign up with a VPN.
How the VPN beats geo-restrictions?
The VPN, known as Virtual Private Network, allows you to mask your own IP address and take one on from the United Kingdom.
By doing so, you fool the streaming service into thinking you are located within that country. This allows you to bypass UK television blocks on BBC iPlayer, ITV Hub and more.
Along with this, you can also use the VPN to stream and gain access to Netflix in the United Kingdom and watch DAZN wherever you are in the world.
The trick to unblock and watch British TV in New Zealand step-by-step
Now we are going to take you through a step-by-step guide to get a UK IP address and mask your own.
1. Choose a provider – ExpressVPN, NordVPN and CyberGhost are good options
The first step is to choose a VPN provider. There are plenty out there, both paid and free. However, some are better than others are for beating geo-restrictions and censorship.
When choosing a provider to get access to free UK TV channels while in New Zealand it is important to only consider providers that have good servers in the UK (link to VPN UK).
Three of the best are ExpressVPN, NordVPN and CyberGhost. All offer a number of servers in the United Kingdom that provide you with a change of IP address while masking your own.
2. Choose your level of commitment with a plan
The next step is to choose how long you want to commit to a plan. VPN providers offer different lengths of plans with the longer the commitment, the bigger the savings.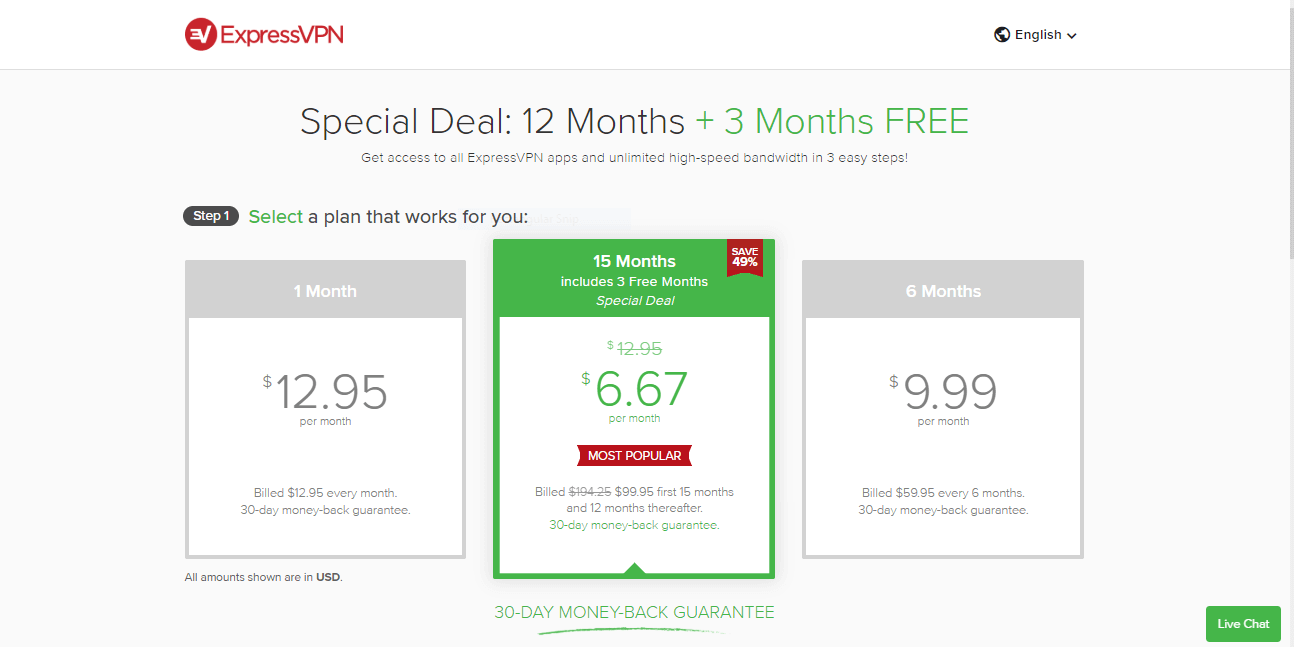 For instance, with ExpressVPN you can commit to a yearly plan and enjoy savings of 49%. Along with great savings you also get an additional three-month free. So, in total you get a plan for 15-months for the price of 12-months.
Other providers will offer similar deals on longer commitments and a range of different plans.
3. Download and install apps on devices
When you have signed up for a plan, your next decision is to choose and download apps for devices.
Providers support a wide variety of devices. This includes Android and iOS smartphones and tablets along with Windows and macOS computers and laptops.
A VPN can be used on devices such as SmartTVs and games consoles by installing it on a compatible router manually.
You can install as many apps as required on different devices. Plus, use the same plan on simultaneous devices up to the limit set by your provider.
4. Launch the app and choose a server
Find the app icon on your device and click it to launch the dashboard. This is where you choose a server.
The trick to watch free British TV channels while in New Zealand is to choose a server located in the United Kingdom as we mentionned earlier.
The dashboard shown above is from ExpressVPN and it makes it easy to pick a server in the United Kingdom. Just click in the dropdown box, choose the server and then click on "Connect".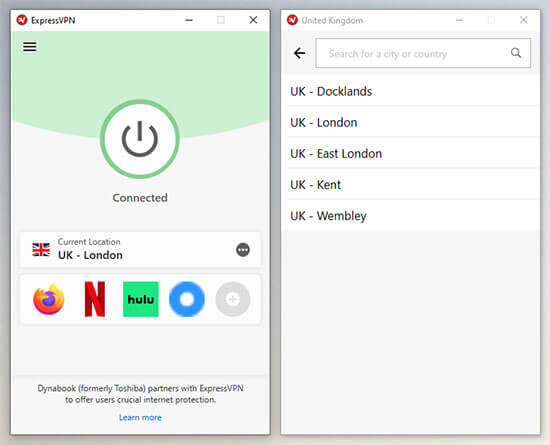 Your own IP is masked and you now have one from the United Kingdom.  This means geo-restrictions do not apply and you can go ahead and access television from the United Kingdom.
So, open your web browser and launch your favourite streaming website to enjoy all the programs you want.
Additional benefits of a VPN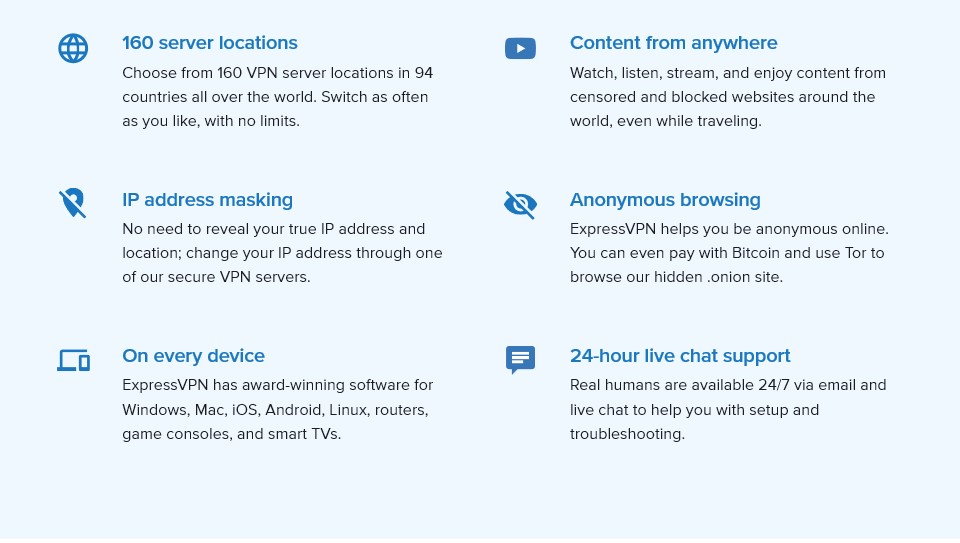 A VPN is the best solution to unblock and watch British TV in New Zealand. However, it comes in useful for many more reasons.
Thanks to the military-grade encryption provided, it comes in extremely useful to offer security and anonymity. This applies whether you are watching free to air TV from the UK abroad or browsing the internet at home.
The encryption ensures no one can see your personal information. Along with this it allows you to torrent without the ISP finding out what you download.
With your own IP address masked, no one can find out your true location. This provides anonymity when using social media and forums. It is also used to overcome censorship in countries where censorship is high, such as China and Russia.
A VPN is also useful to help you make savings using comparison websites to get the best prices on hotel rooms and flights.