When you think about using a VPN in New Zealand, you can't help but think why. The Freedom House gave it a 98/100 rating, meaning that it's a free country with no limitations. However, our team of cybersecurity experts decided to dig deeper and see if there are reasons for concern. Unfortunately, there are, especially when we talk about the country that works closely with the US government. For that reason, we've come up with a list of best providers for this country. Strap yourself and don't go anywhere – this will be an interesting read!
Why You Should Use a VPN in New Zealand?
This country is known for its beautiful landscapes and rich towns. If you're traveling there, we suggest visiting the Bay of Islands or the Sky Tower. But, we also suggest protecting your online security with a quality Virtual Private Network. Here's why:
Avoiding Government Surveillance
Once again, we'll refer to the Freedom House ranking of 98/100. The higher the ranking, the freer the country is. However, this doesn't mean that there's no government surveillance. The USA, for example, is also a free country, yet their government is unrelenting when it comes to surveillance.
In this country, the situation is the same. Don't forget that they're a part of the 14 Eyes Alliance, meaning that they're also under surveillance. This alliance is notorious for that reason, so every country that belongs to it isn't very safe and definitely not VPN-friendly.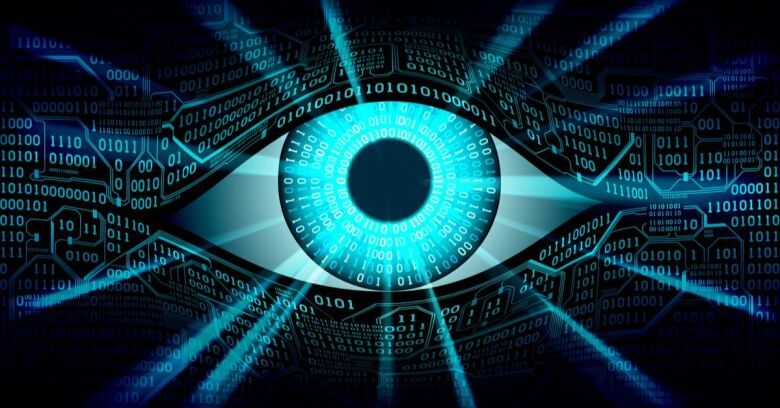 New Zealand started its spying endeavor in May 2013, when the government allowed the intelligence agency from this country to legaly spy on the residents. Just for the reference, we're talking about GCSB (The Government Communications Security Bureau).
To make things worse, this info can also be spread to other government departments. Basically, the whole government can find out stuff about you, and then, this info can be shared with other members of the 14 Eyes if needed.
Thankfully, using a VPN is completely legal in New Zealand, so you can get a subscription.
Getting Over Stubborn Geo-Restrictions
Despite being a well-developed country, it can't get over stubborn geo-restrictions that hinder your online experience. Of course, we are talking about the foreign Netflix catalogs. Some of the largest catalogs are in the US, the UK, Greece, India, and Australia. New Zealand isn't on this list.
For that reason, a service like a VPN is very welcome. It allows you to change your IP to the country you want and access your favorite content. Plus, it is perfectly possible to use a VPN with Roku, further enhancing your streaming capabilities.
Netflix isn't the only platform in this ballpark. There's Hulu, HBO, Disney+, ABC, 10Play, and others. You can access all of these from the comfort of your home with this service. So, if you're still struggling to keep up with the latest shows and movies, you know what to do!
Torrenting Safely
A few days ago, we stumbled upon this topic on Reddit. The opinions on torrenting are split. Some say that they do it for years without legal consequences and some say that you can get punished badly. Usually, your punishment won't be immediate.
You'll first get two warnings and if you violate them, a third warning will be the punishment. This is called copyright infringement, which can easily be realized on torrent sites. While some say that you should stick to TV shows and movies, we don't suggest doing even that without a VPN that is working efficiently in New Zealand.
Instead, buy a subscription, change your online location, and you'll be free to do whatever you want. Torrenting fines are getting bigger each day, so you don't want to be caught in this malicious machine.
Best VPNs with Servers in New Zealand
If you're traveling abroad as a resident of this country, you'll often miss your favorite shows on TVNZ1 or TVNZ2. But, with these providers in place, this doesn't have to be the case:
ExpressVPN: ExpressVPN is the best VPN with servers in New Zealand. The provider even has servers in India and 90+ other countries. Serves in this country are high-speed and support all the important security protocols, which is very important.
NordVPN: NordVPN has 40 high-speed servers in this country. Although these aren't obfuscated servers, they support P2P file-sharing and other relevant features for safe internet browsing.
CyberGhost: It is the largest provider on the earth. In 2021, it has 10 servers in Auckland, supporting all the greatest security features except for P2P. Still, that's enough for accessing local content.
Getting a VPN to work outside of New Zealand is very simple. You just need to click on the name of the provider, buy a subscription, and install the respecting apps. After that, the world is yours!
Best Providers for New Zealand
A good provider for this country doesn't necessarily need to have servers there. If you don't care strictly about local content and you just want something to feel safe and secure, you can go for these options:
ExpressVPN
NordVPN
CyberGhost
Let's review them from a broader perspective and see why they're very good:
1. ExpressVPN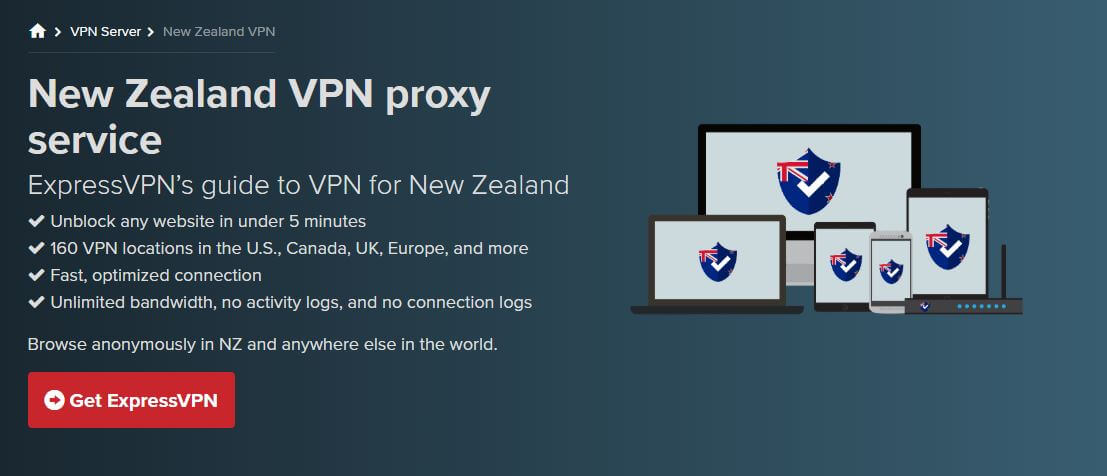 ExpressVPN is a provider from the British Virgin Islands. You'll agree that this isn't the most prestigious country but that's actually a good thing. The reason being is because they don't get the attention that the USA or the UK get. And because of that, the provider doesn't have to keep any logs of your internet activity.
In so far as speed is concerned, ExpressVPN is unparalleled. Downloading torrent and streaming 4K content will be a breeze, which New Zealand residents will love. What they'll also love is a plethora of security features. Military-grade encryption, kill switch, DNS and IPv6 leak protection are only some of them.
Customer support of this provider is also one of the best. They're available 24/7 and respond within 30 seconds of your message. So far, we had zero issues with this company, thus we recommend it wholeheartedly.
Should you decide to buy a subscription, you'll get a 49% discount and 3 months free for a 12-month plan. As an icing on the cake, there's a 30-day money-back guarantee.
Enjoy ExpressVPN in New Zealand >
2. NordVPN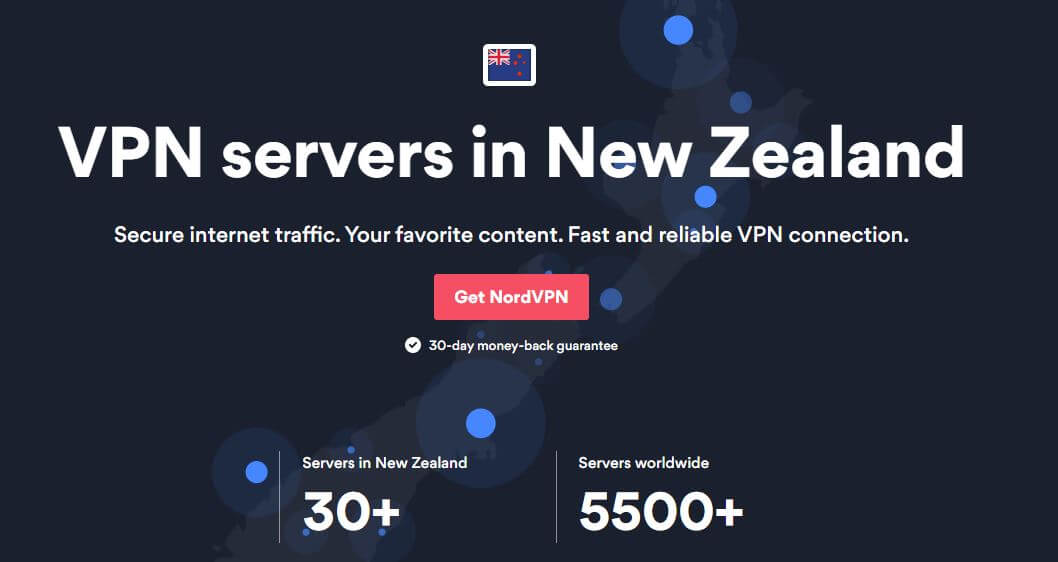 Enjoying safe and secure internet experience doesn't mean breaking the bank. NordVPN is here to confirm what we just said. It's an affordable, yet cutting-edge provider that crushes almost every other provider on the market.
Not only will it keep your wallet nice and full but also guard your devices like Cerberus. Coming from Panama, it offers a no-log policy, which is crucial for a country from the 14 Eyes. There are bonus security features such as Double VPN and Onion Over VPN.
The first one routes your traffic through two different servers, making it untraceable by your ISP. The second one lets you use Tor with this provider, for impenetrable, rock-solid security. In terms of speed and unblocking geo-restrictions, NordVPN is a humble champ, so you have all the prerequisites for a great experience.
Oh, and there's also P2P support, so enjoy your torrenting to your heart's contempt. To find out more about one of the best VPNs for New Zealand, just click the button below 😉
3. CyberGhost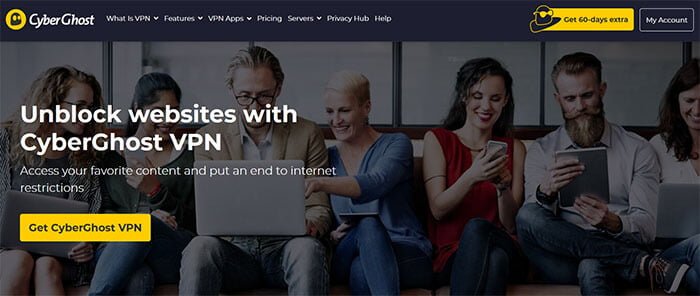 CyberGhost is the ghostie that will keep you securely online. It boasts 6,200+ servers in 90+ countries, making it the largest company in this industry. As of recently, CyberGhost received a huge boost in terms of server count, so we estimate that it will have close to 7,000 of them near the end of 2021.
Feature-wise, the provider is as rich as Rockefeller. For the start, you get dedicated servers – probably our favorite feature. There, you get to choose servers for torrenting or streaming. With this feature, you can streamline your experience and enjoy some fast speeds.
Given that the provider is from Romania, you also get a no-log policy, accompanied by 256-bit AES encryption. We reviewed this provider recently and came to the conclusion that it's one of the best options your money can buy.
Speaking of money, it's VERY affordable and great for beginners – take a look!
Enjoy CyberGhost's Cheap Pricing >
Why You Should Avoid Free VPNs?
To finish our article, we must talk a bit about free providers and why they aren't good whether you're in New Zealand or elsewhere. The first reason is that they don't offer the same level of security as the premium ones. One or two features are always missing and one of them is a zero-log policy.
Since many of them collect your data, this data can be sold to third parties for cash – which happens a lot. This, in itself, makes these providers obsolete when compared to the premium ones. Not to mention slow speeds, limited bandwidth, and average customer support.
You'll usually get 500 MB to 2 GB of data, which is small even for a smartphone. And since we're talking about budget-friendly servers, customer support is usually available through email, where you need to wait 24 hours to get a response.
All in all, free Virtual Private Networks won't give you the experience you want.
Summary
New Zealand is definitely a country you want to visit on one of your vacations during the summer. However, you'll also want to bring a companion with you: the best VPN possible. If you need a suggestion, we suggest ExpressVPN.
It's an outstanding service with a rich history of success. High speeds, stable connections, and rock-solid protection are only some of the things you'll get here. Internet freedom doesn't have its price, so don't be afraid to make a small investment – you'll get more than you'll pay for!