Japan might not be a very large country. However, it's one of the most technologically advanced countries in the world. In 2021, the experts approximate that 92% of citizens are connected to the internet. But, as with all countries of this type, we always ask one question – is the internet free? Can you visit the websites you want? Because there's no point in having a rock-solid internet infrastructure if you can't utilize it fully. In this article, we are going to answer that question and give you our top VPN picks for Japan, so stay tuned!
Why You Should Use a VPN in Japan?
As you might've guessed, we are talking about a highly-attractive country with lots of tourists each year. There's something special about Japanese food, tradition, and lifestyle.
Furthermore, the country is free in terms of political rights, civil liberties, freedom of speech, and so forth. Why should use a service like this, then? Here are the reasons:
Avoiding Government Surveillance
Let's get something out of the way. This country is free in terms of internet access and very little censorship is applied. So, you can still watch porn, gamble or access your social media profile. Sites like Instagram, Facebook, Twitter, and Snapchat are available in Japan, even if you don't use a VPN.
Still, there's another issue in the form of government surveillance. Despite being bombarded with nuclear bombs during the events of WWII, Japan has a history of working closely with the US government. This is a huge red flag because we know how the USA treats its residents. They, without a doubt, conduct surveillance each day.
This country, unfortunately, isn't much different. Now, many of you will say that this isn't important if you can access the internet freely. But, just think about your ISP knowing your every move online. Does it feel good? Probably not.
Japan is known for actively monitoring its residents and even collecting some info along the way. This info is usually your browsing history that they can pick up from the ISP. One of the reasons they do that is to prevent copyright infringements, which we're going to talk about later.
Bypassing Geo-Restrictions
Geo-restrictions are all around us on the internet. You try to access Disney+ and boom – it's not available in your country. Or perhaps, you want to watch F1 on 10Play and you're not from Australia. Well, forget about that – it's impossible.
What about Netflix, then? Well, Netflix is technically available worldwide but with a not-so-small caveat. You see, Netflix has the biggest catalog in the USA, with some of the biggest being located in Australia, the UK, Canada, India, and Greece.
And if you're from this country, you'll want to access some of these, which is understandable. Luckily for you, a VPN that is working in Japan can help you do that. By changing IP and location, you will be able to follow F1 Championship and your favorite TV shows and movies.
This applies to every geo-blocked website. Netflix, Hulu, HBO GO, Sky TV, Amazon Prime Video, DAZN, and many others can be unblocked with this tool.
Avoiding Copyright Issues (Torrenting Safely)
If you've come here to download torrents, you're in for a (mis)treat. We know that countries like Germany, France, the UK, and the US are bad for torrenting but Japan, in our opinion, manages to dethrone all of them… Unless you have a VPN!
We're talking about the country with some of the harshest anti-piracy laws in the world. Those who break the anti-torrenting law are looking to pay 10 million yen or about $91,000 when converted to American dollars. If you don't have that money, you can get a two-year jail sentence.
Either way, that's a pretty bad punishment for those using BitTorrent. And as always, there are some cases to prove this, like one in 2013, where 27 people ended up in jail for uploading copyrighted content. To make matters worse, even seeding a torrent can get you into trouble.
So, before engaging in P2P file-sharing activities, we suggest equipping yourself with the necessary protection. Otherwise, you're a target for arrest and potential legal issues that are very hard to solve.
Best VPNs With Servers in Japan
What if you just want to watch your local shows and movies in your homeland? That's not a problem! Here are the best VPN with servers located in Japan:
ExpressVPN: ExpressVPN is the fastest provider you can get now. It's as fast as Japanese ninjas with their katanas! Thankfully, this provider has some servers in Tokyo, making it great for watching some local television. ExpressVPN has an excellent application for Android, so check that out, too.
NordVPN: NordVPN is a gigantic provider with more than 5,500 servers worldwide. In this country, it has 140+ high-speed servers for making your internet browsing safer than ever.
CyberGhost: CyberGhost is a Romanian provider with the largest server count in the world. Currently, they have 44 servers in Tokyo and they support all the security features, including P2P file-sharing, which is great for torrenting.
If you've already decided to buy one of these, you can do it easily. Simply click on the provider's name, get a subscription, download, and install the respective apps. Connect to the Japanese server and enjoy your local content, that's how easy it is.
Best VPNs for Japan
Now, we are going to talk about best providers overall, that don't necessarily have to have servers in this country. Our best picks for this country are:
1. ExpressVPN

As we said before, ExpressVPN is probably the best option you can get on the market in 2021. Not only is it fast as Formula 1 but also safe and secure like Alcatraz. Whereas Alcatraz will limit your freedom, this provider will expand it to unbelievable limits, yet keep you tucked in, far away from the hackers.
The provider boasts 3,000+ servers in 94 countries, which is a pretty impressive number. With almost 100 countries at your disposal, almost the entire planet will be covered, except for some small and less-known countries. Speaking of small countries, the provider comes from such a country.
To be precise, the British Virgin Islands. This location has proven to be the best one if you want rock-solid security because they're far away from the 14 Eyes alliance. Of course, this means that the provider doesn't store any logs.
Furthermore, there's military-grade encryption, an automatic kill switch, DNS and IP leak protection. With all these features, ExpressVPN is a great all-rounder capable of bypassing geo-restrictions, torrenting, streaming, and doing any internet activity with ease.
Right now, you can get a huge 49% discount and 3 months free for a 12-month plan. Smash the button below and take a look at the best VPN for 2021!
Get a Huge Discount on ExpressVPN >
2. NordVPN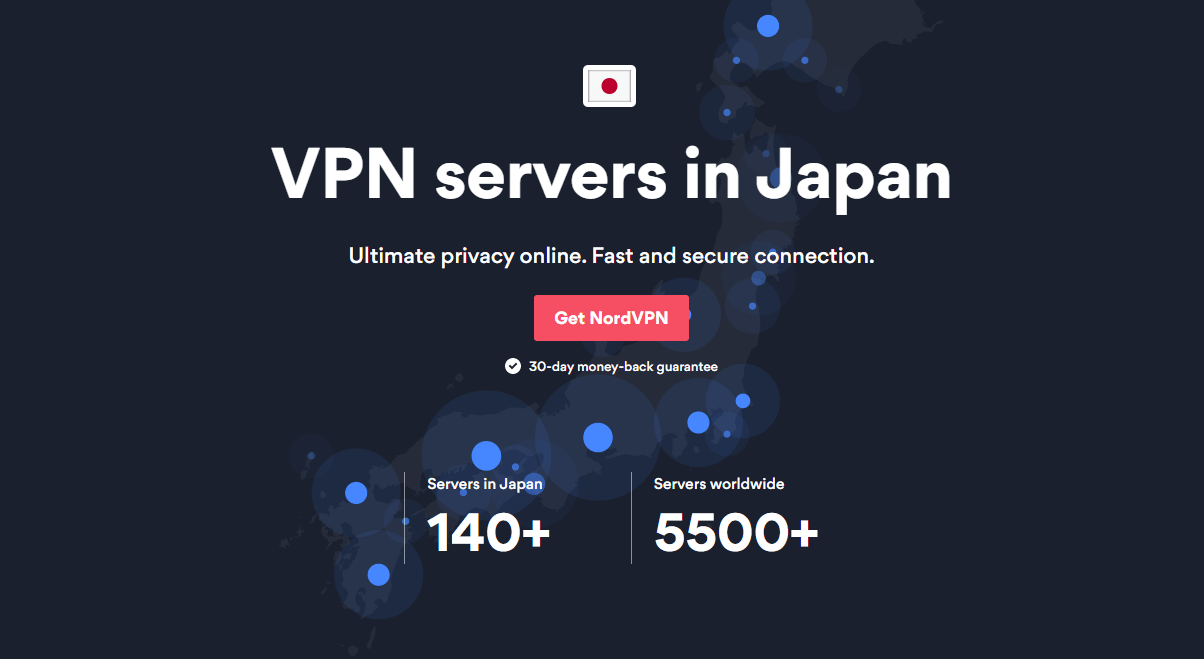 NordVPN is one of the most popular providers on Reddit, Trustpilot, and Google Play. This, however, didn't happen without a reason. The reason it's so popular lies in its quality of service. You get fast speeds, solid security, great customer support, and lots of servers.
Starting with the speeds, they're very fast. You'll be able to stream your favorite movies and sports easily. Security-wise, there's nothing that this provider doesn't have. From a no-log policy to Double VPN and Onion Over VPN – everything is here!
Even better is that this is one of the cheapest options in 2021. You don't have to sell your kidneys for a Virtual Private Network of this caliber and NordVPN proves that every day. If this provider seems interesting to you (wheter you are in Japan or abroad), don't forget to check our review of it before buying a subscription.
Grab NordVPN's Special Offer >
3. CyberGhost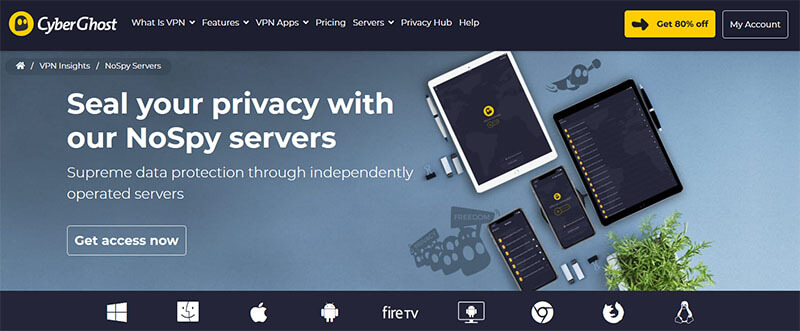 This Romania-based company, CyberGhost, is even cheaper than the aforementioned providers. Yet, it has 6,200 servers worldwide in 90+ countries. Some of the newer servers were added at the beginning of 2021, meaning that the provider is still working on expanding itself worldwide.
These servers (including the ones in Japan) are all high-speed and many of them support P2P file-sharing. On top of that, you get dedicated servers that are optimized for certain internet activities. For instance, if you want to stream, CyberGhost offers you streaming-optimized servers. The same happens with torrenting servers.
Romania is one of the most VPN-friendly countries, hence you get a no-log policy here. Not to mention standard security features that work flawlessly in conjunction with this one.
In our numerous tests, CyberGhost never disappointed us in terms of privacy and security. Because of that, we feel obligated to recommend it for a country like this.
Why You Should Avoid Free VPNs while in Japan?
Free VPNs remain dangerous for your safety, which is why using them isn't a smart decision. Some of you that use Windscribe will probably disagree now. We understand you. Windscribe is the best free Virtual Private Network but what about the others? What about Hola VPN? Or perhaps TunnelBear?
Well, these two are limited as a terrace. Hola, for instance, is known as the worst provider ever, whereas TunnelBear gives you only 500MB of data a month. Silly, isn't it? You should already have a clear picture now. Free VPN providers have certain limitations that make them bad for usage in Japan and elsewhere.
The first one is, in many cases, the lack of a no-log policy. Heck, even some premium providers lack it, like HMA! Free companies must earn money somehow, which is why they collect your data and sell it to some third-party companies. Some providers even openly admitted that.
Now, what about bandwidth limitations from above? This is a pretty common thing for these services. TunnelBear, with its 500MB of data, gives you less than your mobile phone operator. And to be honest, 500MB is nothing, even for a smartphone.
Other issues include slow speeds and the inability to bypass geo-restrictions. If you want to watch Netflix, Hulu or HBO, forget about it. Not only will you be unable to unblock these sites but you'll also experience slow speeds and limited bandwidth.
With that in mind, it will only be the question of time your megabytes will drain, leaving you to watch endless buffering. So, to summarize, free VPN providers aren't good for Japan. Therefore, don't use them AT ALL!
Summary
If you've read the article from beginning to end, you've probably made your choice already. This country isn't limited in terms of internet access but with the laws shifting in 2021, we can't predict its future. It might become the next China or Iraq – who knows?!
As always, you have to be one step ahead of the laws and prepare yourself adequately. One way to do that is to get a high-quality VPN like ExpressVPN. If you get its subscription for this huge discount, you'll see what internet freedom looks like.
It will help you conceal your IP, change it to the one you want, and keep you safe and secure when visiting the internet. What is your choice? Is it ExpressVPN or another provider? Feel free to comment below.