Hong Kong is a special administrative region of China where internet laws are drastically different. Whereas China residents "enjoy" censorship and geo-restrictions, this part of the country doesn't. However, since it belongs to China, you never know when these laws are going to change. And before you know it, in 2018, things started to take turn for the worse. Despite still being relatively free, you'll need a VPN if you want to feel safe and secure online in Hong Kong. For that reason, we decided to write this article for our HK readers.
Why You Should Use a VPN in Hong Kong?
As always, we'll start with the reasons for using such a service in this region. Although you can enjoy free internet access, there are still some aspects that can be improved with the usage of a VPN in Hong Kong. Here's what we have to say:
Avoiding Surveillance from Security Agencies
With the ever-present influence from Bejing, this China region's stability started to shake a bit. Just a few years ago, the Freedom House gave this country a 'free' ranking. In 2021, however, this degraded to a 'partly free' ranking, indicating that things have started to change.
Let's remind ourselves of the past. Hong Kong was clearly distinguished from the rest of the country in terms of civil rights, freedom of the press, and democratic freedoms. China, on the other hand, didn't have that. In the last couple of years, despite being relatively free, this region wasn't as it was before.
The main culprits for that are security agencies that constantly monitor communications of activists. While private conversations are free, publicly talking about your opinion on the government can lead you into serious trouble.
Furthermore, the government from this region allowed the authorities to arrest the residents who talk "bad" about the government or laws in the country. This decision made millions of people go to the streets and start massive protests in June 2019.
Since then, the activists from this country are keeping a low profile online because they know they're being monitored. Being arrested for something you said on the internet is a common thing nowadays. In this country, it's no exception.
On the brighter side, there's still no censorship, so you can freely access any website. And if you do, just be sure not to comment about anything related to politics or the laws. Of course, if you're a journalist and you need to report, using a VPN while in Hong Kong can save your life.
It can change your IP address with a snap of your fingers, leaving your anonymous and invisible to hackers and ISP.
Bypassing Geo-Restrictions
Being able to access your favorite streaming websites is a bliss. People in the USA can just type the Netflix website address, make an account, and watch more than 5,000 movies and TV shows. But, if you're from a country like this, things aren't the best for you. While Japan has a huge catalog, its neighbor Hong Kong doesn't.
We know that Netflix isn't the only platform people stream on. There's Hulu, HBO, Sky TV, DAZN, Disney+, Amazon Prime Video, BBC iPlayer, and so forth. These services are limited to certain countries, which, unfortunately, don't include Hong Kong. So, if you want to unblock them, you'll need the means of changing your IP to another country.
A VPN allows you to do that, as we said. On top of that, fast providers will enhance your streaming experience by eliminating ISP throttling. While ISP throttling isn't very common in this country, it's important to mention it, just so you can have a full picture.
Safely Use Public Wi-Fi Networks
12 years ago, in 2008, this region started a so-called GovWiFi initiative. Its end-goal was to transform this region into a wireless city that allows everyone to access the internet. With the operation being successful, you can now connect to the internet pretty much everywhere in the city.
This is a great thing, right? Well, yes and no. Yes because you have it when you need it and no because it's not safe. Having so many networks leaves them exposed to hackers that can sweep through and steal your data.
Furthermore, these networks sometimes don't even have a password. You don't even have to type it in. Just find the network via your device, connect, and you're good to go. But, a VPN will protect you by altering your IP, making it impossible for hackers to land an attack on you whether you're in Hong Kong or abroad.
Best Providers With Servers in Hong Kong
If you're traveling abroad as a Hong Kong resident, you'll miss your favorite local TV shows at home. But, if you have a reliable VPN, this doesn't have to be the case. Here are the best providers with servers in this country:
ExpressVPN: ExpressVPN is the best provider you can get. It has servers at 3 locations in this city and they support almost all of the security protocols that the provider offers. Other than that, you get 3,000+ servers worldwide in 94 countries.
NordVPN: This is one of the largest providers with its 5,500+ servers worldwide. In this city, you get 80 high-speed obfuscated servers for every purpose.
CyberGhost: CyberGhost has 6,200 servers around the globe, of which 106 of them are located in this city. Of course, they are great for streaming, torrenting, and browsing the internet.
Getting a provider of your choice is very easy. Click on the one you want, get a subscription, install the apps, and enjoy your internet browsing.
Best Providers for Hong Kong
Some of you don't want to strictly access the local content and that's okay. If you want to place bets, watch F1 or Netflix, you'll need a high-quality provider. Here are our best choices of VPN for HK:
ExpressVPN
NordVPN
CyberGhost
Let's review them now and see why they're great.
1. ExpressVPN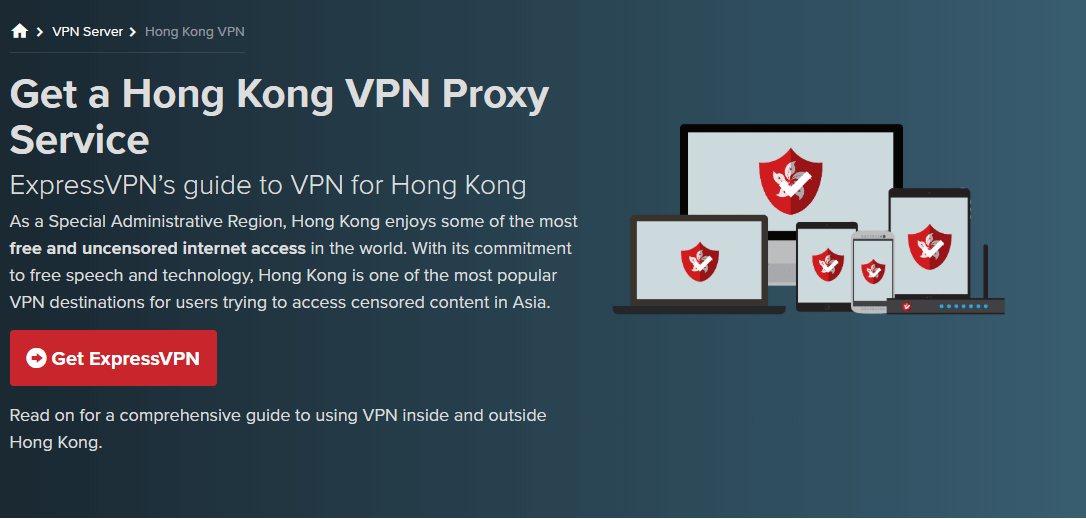 ExpressVPN comes from the British Virgin Islands, which represents an excellent ground for a service like this. Its competitor Surfshark is also stationed here, which says a lot. In terms of security, the provider is probably one of the best. Its no-log policy is crystal-clear and on top of that, you get military-grade encryption.
In a city like Hong Kong, being secure all the time thanks to a VPN is crucial. That's why there's an automatic kill switch that will disconnect you from the internet if the server crashes.
Bypassing geo-restrictions is also a piece of cake for ExpressVPN. You'll be able to enjoy the US or the UK Netflix catalog from Hong Kong, as well as numerous streaming platforms.
Since the provider supports routers, you can protect 16 to 32 devices with a single account, which is amazing. All of that, you can get at a 49% discount for a 1-year plan that the provider offers. You also get 3 months free and a 30-day money-back guarantee.
Get ExpressVPN for Hong Kong >
2. NordVPN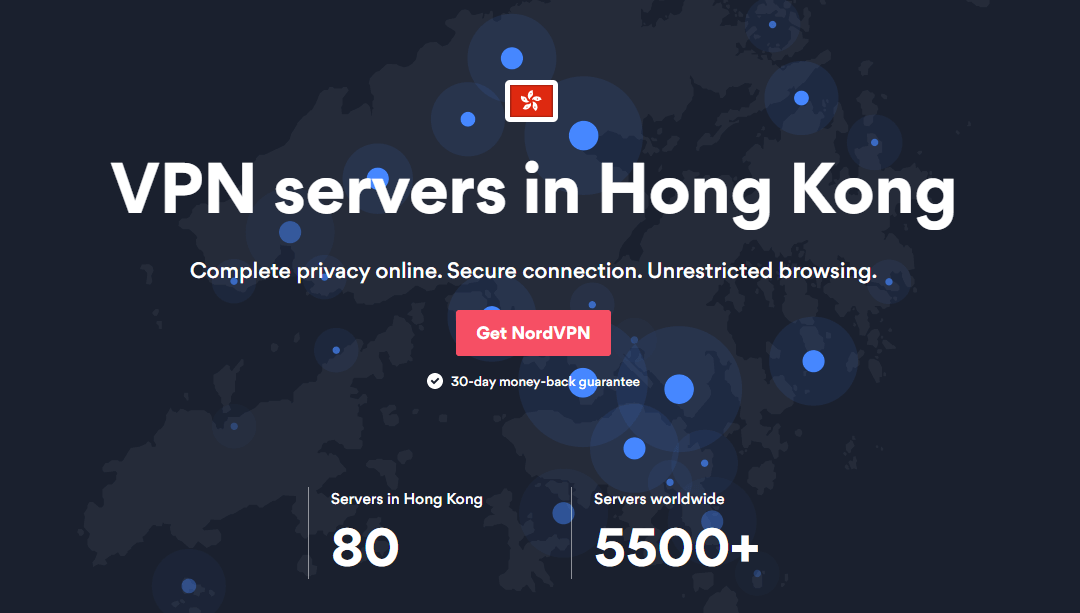 If you want a cheap provider that doesn't cut any corners, NordVPN might be the best choice. Not only is it cheap but reliable, fast, and stable. Coming from Panama, the provider offers a zero-log policy since Panama is far away from the 14 Eyes.
Since they don't keep any logs, you can enjoy gambling, porn or any kind of content you want. Speed-wise, NordVPN is blazing-fast, so even 4K videos will work smoothly. The provider offers 5,500+ servers in 61 countries, so you'll never run out of choice.
Here, you'll get an even bigger discount for a 3-year plan, so don't hesitate to visit the website below. We've also tested this provider recently and you can find the review on our website.
3. CyberGhost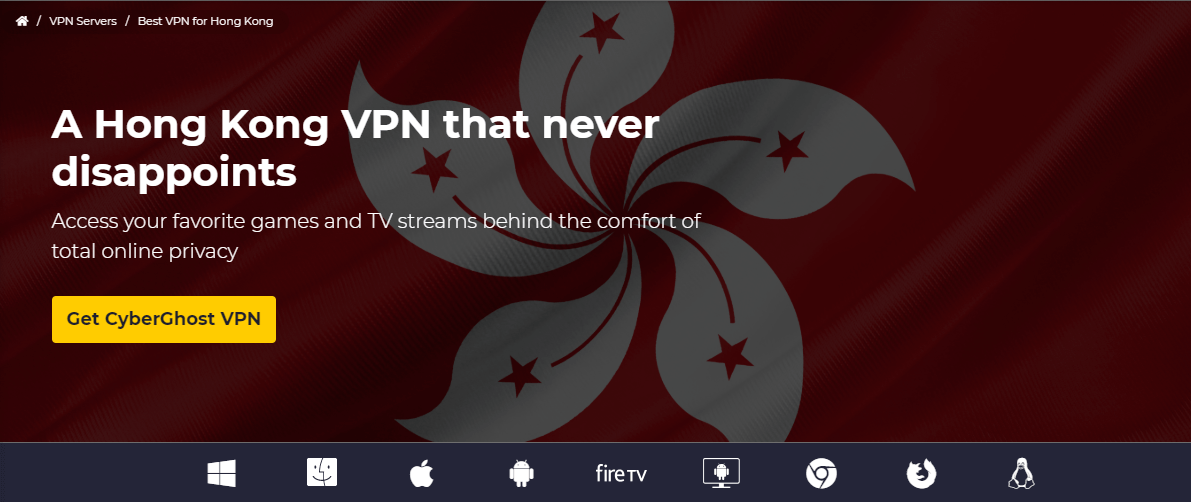 Last but not least, we have CyberGhost, a Romanian giant. Boasting over 6,200 servers, this is the largest provider you can get. These servers are carefully split into two groups – servers for streaming and torrenting. CyberGhost calls this feature dedicated servers and they are maybe the best feature of this provider.
Aside from that, you'll get a no-log policy, which is great if the Hong Kong government decides to sweep through your browsing history. With 256-bit encryption and other security features in place, CyberGhost promises to deliver some astounding performance.
If you're a newbie and you want something cheap, this is the provider to go for.
Why Free VPN Aren't Good when in HK?
Free providers are great because you save some cash and that's where the story ends. Why are they bad, though? Simply put, because they lack certain features. One of them is a zero-log policy that drastically enhances your security.
Some of them will not only collect your info but also sell it to third parties and earn good money. In terms of speeds, free providers are snail-like. This is often accompanied by bandwidth limitations that won't allow you to stream or torrent to your heart's contempt.
For this city, they won't work well because of their weak encryption and all that we mentioned above.
Summary
Hong Kong is a beautiful region of China that has thousands of tourists each year. However, we can't say that it has a bright future in terms of internet freedom. With the government's grip strengthening around the internet here, who knows what will happen in two, three or four years.
If you want to avoid these problems altogether, we suggest buying ExpressVPN. This VPN provider never let us down, it's constantly the fastest, the most secure, and can bypass geo-restrictions easily while in Hong Kong.