When it comes to laptops, there are thousands of them on the market. We have Apple's Macbooks, Microsoft's laptops, and of course, Chromebooks from Google. The great thing about this device is that it uses Chrome OS, which is a Linux-based operating system. If you know a thing or two about Linux, you know how lightweight it is. As much as this system is fast, smooth, and reliable, one thing seems to plague it – the lack of security. To avoid Google's persistent surveillance and spying, you'll need a good VPN on your Chromebook, so let's see your options.
Best VPN to Use on Chromebook in 2021
We'll start off by presenting you with the best choices for this platform in 2021. These 3 providers below represent the pinnacle of speed and security. Take a look:
1. ExpressVPN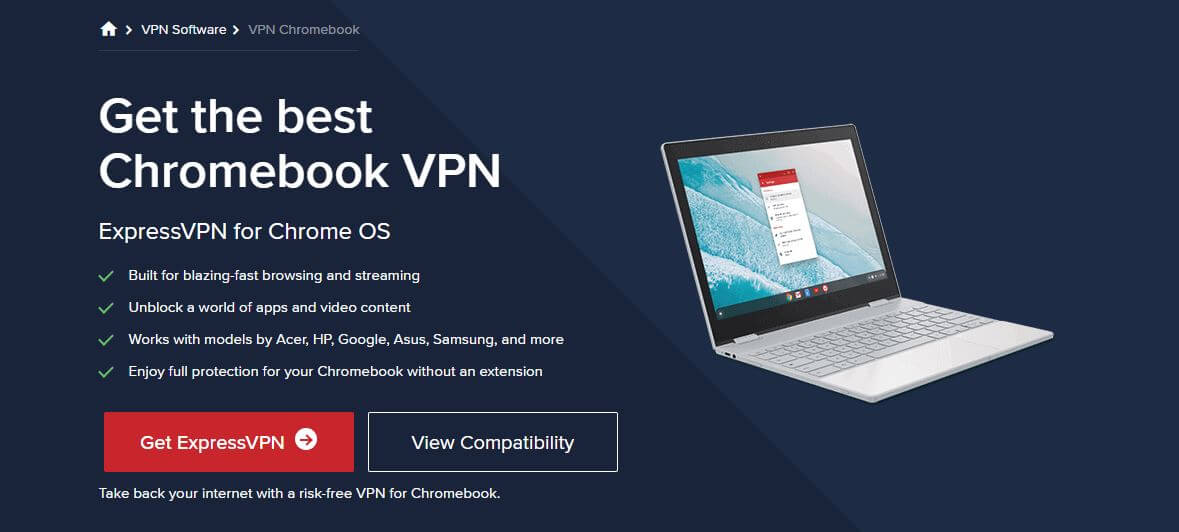 ExpressVPN is a provider many of you know something about. You probably know it's very fast and you know that it's good for all purposes.
Talking about speed, this is the fastest provider you can get in 2021. It's great for streaming, torrenting, gaming or just browsing the internet casually. The great thing is that it's from the British Virgin Islands.
This territory is great for safety and security, hence you get a no-log policy from the get-go. Plus, there's military-grade encryption, split tunneling, an automatic kill switch, and DNS and IP leak protection. All these security features allow you to pierce through geo-blocks and stay anonymous while doing so.
If you use your Chromebook to watch movies and TV shows often, this VPN provider can even unblock Netflix and other streaming platforms from the USA and worldwide. ExpressVPN is one of the references in the USA, too.
With all its jaw-dropping features and functionalities, this is your best choice. And if you're worried about the price, don't be. ExpressVPN offers a 49% discount and 3 months free for a 12-month subscription plan. Plus, you get a 30-day money-back guarantee.
2. NordVPN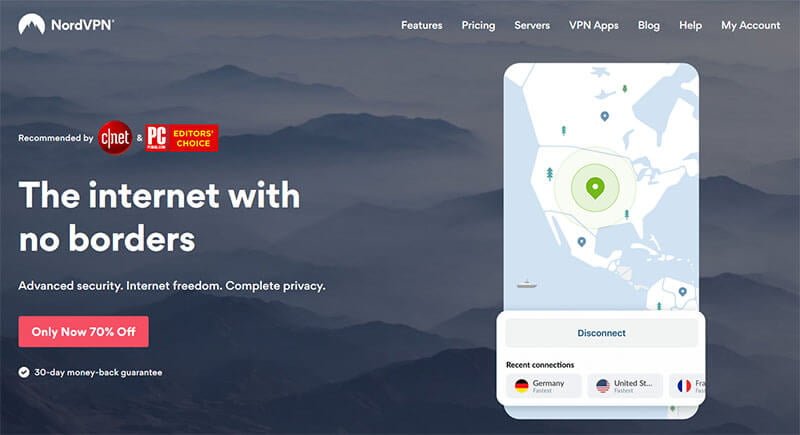 NordVPN comes from a country with beautiful beaches called Panama. Panama isn't the most-developed country, yet stations a company like this. Needless to say, this is one of the best companies in this business.
The reason why this VPN is so good to use on Chromebook is its rock-solid security. While it's very fast, it doesn't cut corners in the security department. With its 256-bit encryption, zero-log policy, and Double VPN features, you'll be safe and anonymous online all the time.
We also like the addition of Onion Over VPN, a feature that allows you to use Tor with this provider. It is a good solution to browse the Dark Web anonymously.
But, even if you use Google Chrome, NordVPN will keep you tucked in and safe as a baby. The provider also has 5,500 servers around the globe, so you'll never run out of choices.
You'll also get a huge discount here, so don't hesitate to visit the provider's website. Many times, you don't have to break the bank for quality service like this. It's enough to visit our site, get some of the lowest prices, and enjoy your internet freedom.
Make Chromebook More Secure With NordVPN >
3. CyberGhost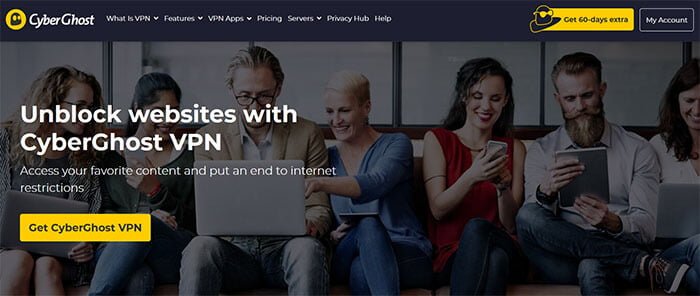 CyberGhost has 6,200+ servers as of recently and this fact alone makes it awesome. At the moment, this is the largest provider in the world, with some of the greatest features on the market.
One of these features is called dedicated servers. The provider offers special servers to unblock Amazon Prime Video, Netflix, Hulu, and many other streaming platforms.
On top of that, you get torrenting servers, so if you use BitTorrent a lot, this can come in handy. Chromebook users will like how secure CyberGhost VPN is. Since it's from Romania, you get a no-log policy clearly displayed on the provider's website.
To top it all up, there are all the standard security features you expect and the speeds are on the faster side. If you're a newbie or you just want to save some cash, CyberGhost is a great provider.
You can become a ghostie in a matter of seconds after subscribing!
Enjoy CyberGhost's Huge Discount >
How to Install a VPN on Chromebook?
To be able to use a VPN service on Chromebook, you'll need to enable Google Play Store first. From there, you'll need to install the app. Alternatively, you can use the Chrome extension but we don't suggest doing that since apps offer better protection. Here's how to enable Google Play Store:
Open Settings by opening the drawer from the bottom right part of your screen.
In the Settings tab, click About Chrome OS.
Then, choose More Info.
Here, find the tab called Channel. Click on it and then select Change Channel.
Now, look for a 'radio button' with the label 'Beta', click here and then choose Change Channel.
At this point, a beta version of the Chrome OS will start downloading and installing, so wait a few minutes.
Restart the computer.
Go to Settings once again and select the checkbox called Enable Google Play Store on Your Chromebook.
The Google Play Store setup should now open. Click Agree, install it, and sign in or sign up.
With the app installed, you can search for some of the providers we've mentioned above and install the app. Of course, be sure to get a subscription first.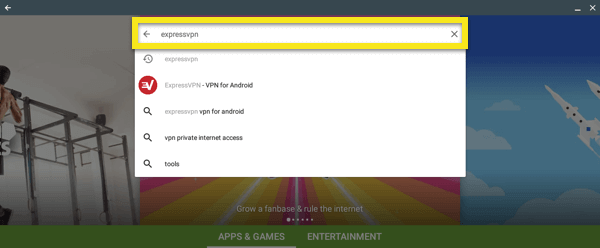 Advantages of a VPN on Chromebook
Google, as much as it's a tech giant, is a shady company. Don't get us wrong. Their software-oriented solutions are great but with spying and surveillance they conduct each day, it's hard to feel secure online. Here are the advantages of using a service like this:
Avoiding (Google's) Surveillance
Let's make something clear. All similar companies spy on their customers, whether we're talking about Microsoft, Apple or Google. But, since you're using Google's magnum opus device, you're even more exposed to its tactics. Staying off the grid and hiding from its watchful eyes has become a priority nowadays.
If you think we're talking nonsense, think again. There's a case in 2015 where security agencies caught Google spying on school Chromebooks given to young children. Despite this accusation, it's suspected that the company never stopped doing that.
Although Linux-based systems are very secure, being capable of repelling malware and viruses, the internet is a very dangerous place. And given the lack of apps for this platform, you'll often find yourself downloading third-party apps.
These third-party apps, however, are where the real threat lies. Because you don't know who's behind it. It can be a hacker that can steal info from your device when you install the app or sign in. The worst thing is that you won't even know about it!
With proper protection, you won't have to worry about this issue. When your IP is concealed, you'll be free as a bird on a branch.
Accessing Blocked Websites
Blocked websites are all around us, especially streaming platforms. These platforms are very popular, yet constantly blocked by our ISPs. If you want to access the biggest Netflix catalogs, you'll need a service like this.
Furthermore, porn or gambling sites might be blocked in your country. In that case, you'll also need something to alter your IP and access them successfully. Either way, having a VPN on your Chromebook can help you a lot in this regard.
If you're all about streaming or visiting the websites we mentioned, don't even try without this service.
Staying Safe While Using Public Wi-Fi Networks
A Chromebook is a portable device great for businessmen and those who want to stay online all the time. Because of that, you'll often connect to public Wi-Fi networks in your town or in a foreign country. Sitting in a cafe, sipping your coffee, and checking how many likes on Instagram you have sounds relaxing.
But, when you know that someone might steal your data this way, it's not as relaxing anymore. If your country has a high rate of cybercriminal, be sure to protect yourself adequately, especially when using public networks.
Risks of Using Free VPNs on Google Chromebook
Before we leave, it's important to talk a bit about free VPNs that many of you are interested in. It sounds great when you can save some cash. People are like sheep and they run for free stuff the moment they see it before even thinking.
But, little do you know, many of these free providers are not that great. If you're using Hola VPN, for instance, we suggest that you uninstall it right away. This is one of the worst free providers that will put your privacy in jeopardy.
Unfortunately, free providers lack some crucial features and a no-log policy is just one of them. This means that they do keep some logs regarding your IP, timestamps, browsing history, and so forth. With this info at their disposal, they can sell it to third parties and earn some good income, which is what they do in most cases.
Not to mention how limited these services are. You get 500MB to 2GB of data on average and very slow connections. Plus, unblocking streaming websites is practically impossible. Even if you unblock them, you can only watch an episode of a show before running out of "juice."
Our suggestion is getting a premium provider from the list above and forget about lackluster performance. You see the risks, so evaluate if it's worth the risk. For us, jeopardizing our security is the last thing we want and when using free providers, you'll risk a LOT.