Switzerland is one of the best countries in Europe to live in. It isn't a member of the EU and as such, its laws are imposed strictly by the Swiss government. To make things better, its 5th place in the World Press Freedom Index speaks volumes about the country. But, why do I need a VPN in Switerland? Well, this country is no fairytale, so there are a few things you should be aware of. Let's see which providers are the best for this country.
Why You Should Use a VPN in Switzerland?
Switzerland is home to VPNs such as ProtonVPN and as some of you know, it's a very good provider. Let's see why you should use this service in this country:
Avoiding Government Surveillance
We said that this country isn't a member of the EU and that's just one problem out of the way. In recent years, Switzerland started coming up with its data-retention laws that now require your Internet Service Provider to store IP addresses for at least 6 months.
That's one thing for concern and the second thing is much worse. The Swiss government can now monitor your private communication and if needed, use spyware to continue spying on you. This is done only in case they detect any criminal offense.
For example, if you share child pornography, sell illegal stuff online or distribute copyrighted material. The good thing is that, as they say, surveillance isn't a means of prevention. It's here only to remove doubt about whether a particular person is committed a crime or not.
We still think that this isn't a reason for celebration. What if that particular person talks about you? In that case, your data gets caught in this hamster wheel and you're off to some serious problems. Thankfully, with a new IP from the best VPN for Switzerland, the government can't spy on you.
Unblocking Foreign Streaming Platforms
Despite all the surveillance, Switzerland is still a free country, without or with minimal censorship. However, certain streaming platforms are still inaccessible here. If we take Netflix as an example, this country has its catalog and that's okay.
But what about Hulu, HBO GO or BBC iPlayer? Well, that's where things go south. These platforms aren't available in this country because of the licensing issues.
To unblock them in Switerland, you'll need to use the best VPN possible to change your online location, and access them as if you were from the country where that platform is available.
Staying Safe Against Cyberattacks
Switzerland has a pretty good internet infrastructure. Unfortunately, that doesn't keep it safe from cyberattacks. This type of attack usually happens when you're using a public Wi-Fi network. Albeit, hackers often hack bank accounts and credit card owners.
You can wake up one day and visit your bank, only to find out that your cash isn't there. The same applies to public Wi-Fi networks that aren't encrypted. Hackers can sit right around the corner, hack it, sweep through, and steal people's data.
When using a VPN in Switzerland, that's not going to happen. You get a new IP and you're invisible to the prying eyes of hackers, so they can't do anything to you.
Best VPNs With Servers in Switzerland
Luckily for us (and you), VPN providers didn't hesitate to equip Switzerland with dozens of servers, so you have a plethora of them to choose from. Let's see what are the best options:
ExpressVPN: ExpressVPN is the best provider for this country, offering fast speeds and tons of servers. It even has servers in 2 locations in this country, so you can rest assured that it'll fulfill your expectations.
NordVPN: NordVPN has enormous 5,800+ servers worldwide and offers 134 servers located in Switzerland. It's a great option for bypassing censorship and streaming.
CyberGhost: CyberGhost comes with 7,000+ servers worldwide, of which 50 are in Huenenberg and 100 in Zurich. Needless to say, the server coverage here is amazing.
To install a VPN provider of your choice, click on the one you want, install the apps, connect to a server based in Switzerland, and enjoy anonymous web browsing.
Best VPNs for Switzerland
In case having servers in your homeland isn't very important, you can use some of the best VPNs on the market. Here's our list:
1. ExpressVPN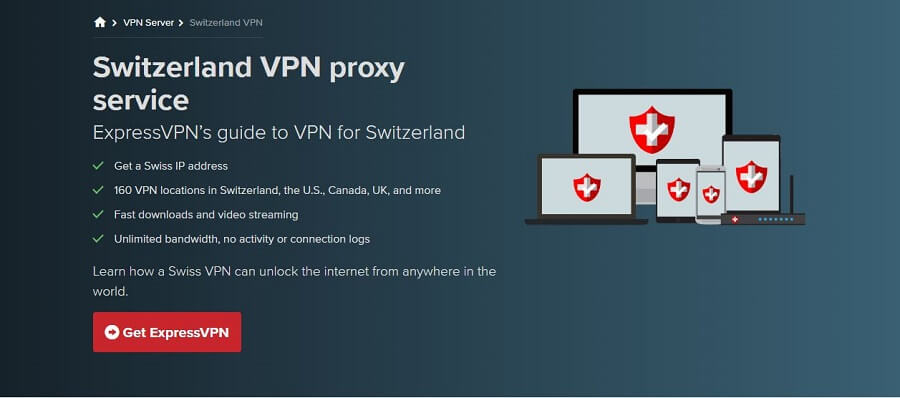 If you're like us, you hate compromises, and that's a good thing, as long as ExpressVPN exists. This provider gives you a no-compromise experience, with its 3,000+ servers, fast speeds, and supreme security.
We tested it on multiple occasions and it never failed to unblock Netflix, HBO GO or Hulu. Even the Swiss channel RTS worked flawlessly from our native country! ExpressVPN also lets you play games on distant servers with impressively low latency.
Security-wise, the provider comes equipped with military-grade encryption and an automatic kill switch. These two will ensure that your IP and personal data never slip into the government's hands. To make things better, ExpressVPN lets you protect up to 5 devices simultaneously, on a single account!
Are you going to buy it? If so, just know that you'll get a 49% discount and 3 months free for a 12-month plan if you click on the button below.
Enjoy the Internet in Switzerland With ExpressVPN >
2. NordVPN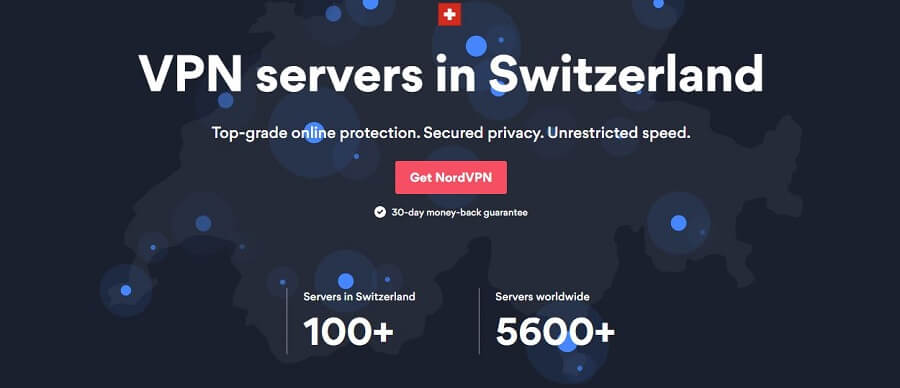 The closest someone has ever gotten to ExpressVPN is no other than NordVPN. This provider ravages the market with sheer quality and outstanding performance, giving others very little to no chance. Even the most demanding users will praise its 256-bit encryption and Double VPN that will give you impeccable security.
NordVPN also has a very useful CyberSec feature for blocking ads, malware, and trackers. Streamers will love its speeds that allow you to bump things up to 4K on Netflix and those more tech-savvy will appreciate its support for Tor.
The provider also supports OpenVPN and IKEv2 protocols, with the inclusion of obfuscated servers, which makes it perfect for China. If you're worried about the price – don't be. NordVPN is very affordable and won't break the bank.
Buying it now will grant you a 70% discount and that sounds very good.
Get NordVPN to Stay Anonymous While in Switzerland >
3. CyberGhost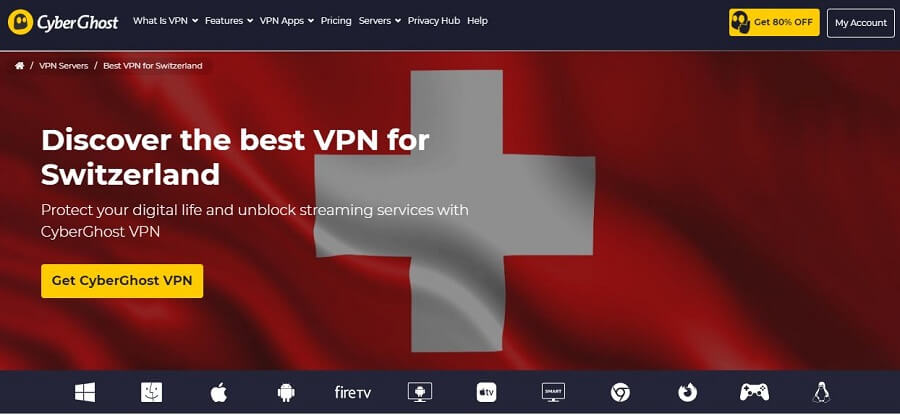 Do you know what else sounds good? CyberGhost's 3-year subscription plan. Swiss residents will probably gladly buy a VPN from their neighbor country – Romania. To be honest, this is one of the cheapest providers on the market, and at the same time, one of the best. You get 38 months for a standard price, buddy!
CyberGhost offers a rich palette of servers and comes with a zero-log policy. There's military-grade encryption, too, and for additional security, IPv6 leak protection. The provider is perfectly capable of unblocking Netflix, Disney+, Hulu, and Amazon Prime, so if you love streaming, there you go.
Torrenting is also supported thanks to its dedicated servers for torrenting and streaming. In case you want to connect multiple devices, CyberGhost supports up to 7 simultaneous connections. Of course, 24/7 support is here to fix potential problems with the connection.
Save Money on CyberGhost for Switzerland >
Summary
As you can see, using a VPN in Switzerland is, after all, a good idea. Preserving privacy and expanding your internet freedom can be done with a premium-grade provider, such as ExpressVPN.
This is also our recommendation. When you buy it, you'll unlock a whole new online world, ready for you to explore it. Switzerland has pretty good content online, so you can use it to watch your local TV shows abroad, too!